When Totty sent us photos of her almost unbelievable bathroom makeover we just had to share the big transformation. Here's her letter:
My husband and I are fellow Richmonders and have been following your blog for quite a while. I wanted to share some pics from our newly renovated bathroom. This poor room has had 2 makeovers in 4 years. It hadn't been updated since the 60's so it was in dire need of one and we unfortunately chose a bad tile guy who did a HORRIBLE job, hence the 2nd makeover this summer (I posted the full story on my blog). We were definitely budget conscious when planning this redo, but knew that re-tiling the shower & floor was beyond our skill level. We interviewed multiple contractors and felt confident in the one we chose. My husband and I did the remainder of the work- new paint, new woodwork around the window, lighting, electrical, etc. We chose CHEAP basic bone tile from Home Depot for the shower room walls and floor and then got the shower floor tile on clearance at Mosaic Tile. The wall color is Valspar from Lowe's in Natural WV37001 and the wallpaper is a commercial brand called Wolf Gordon- Wave, Champagne. The storage boxes are from Ikea and originally came with a white terry cloth covers. I just picked up a half yard of fabric from a local shop (Williams and Sherrill) and used my staple gun to create a new look. I think they might be my favorite part of the makeover! Hope you love it! -Totty
Here's the dated looking before shot: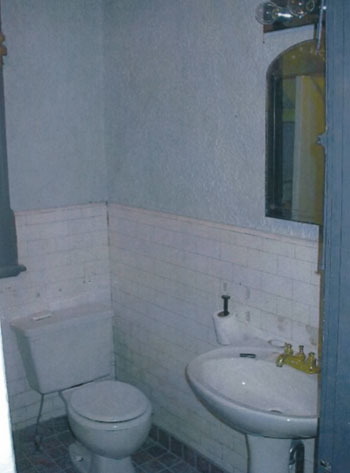 And the amazing after pics: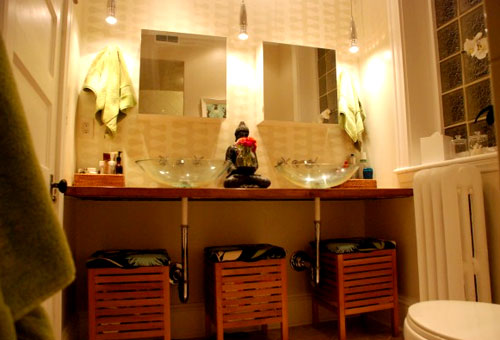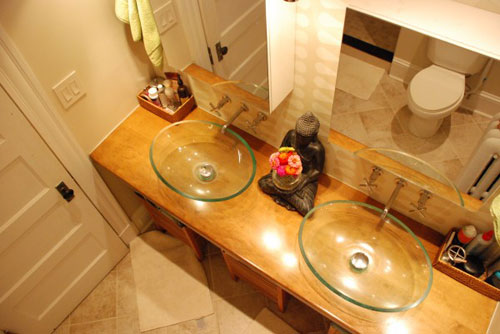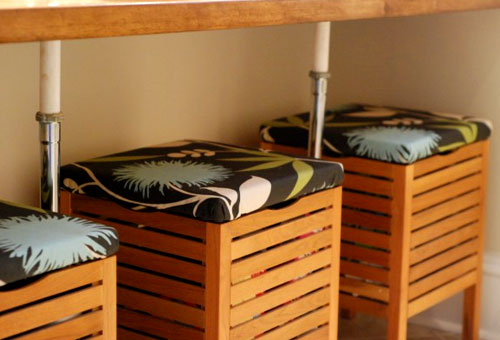 Is that not a fantastic bathroom makeover? They definitely made that room like like a million bucks with surprisingly affordable items like cheap tile and even a staple gun! You can read more about their process on their blog, and of course feel free to tell them your favorite part of their big bathroom redo right here. We can't decide between the reupholstered storage bins or the amazingly subtle wallpaper behind the sink. Lovely!