Well, thanks to the generous and wonderful folks at True Value, we now have a totally dry and completely functional basement to use for storage galore (read about how we prepped and waterproofed the former bug graveyard here and here). And thanks to a little road trip to Ikea this weekend, we came home armed with pretty much every item that we planned to snag in this basic mood board of sorts that we shared last week: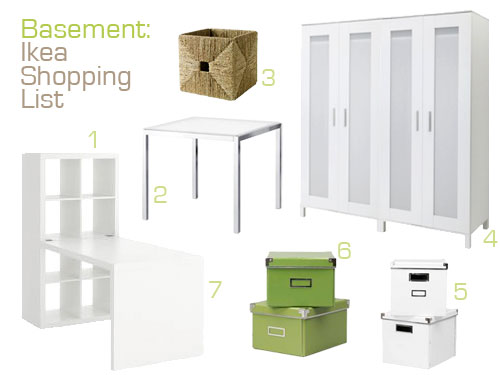 Expedit shelf (included in the total Expedit Workstation) -$120
Torsby table (already owned, so it's free!)
A woven basket or two – $17 each
Two Aneboda wardrobes – $100 a pop
A few white storage boxes – $12 for two
And a few green storage boxes to keep things interesting – $12 for two
Expedit desk (included in the Expedit Workstation) accounted for above
And the room is really coming together. Especially thanks to the floor plan we brainstormed ahead of time to see which items would work where (and which ones would provide the most function without breaking the bank):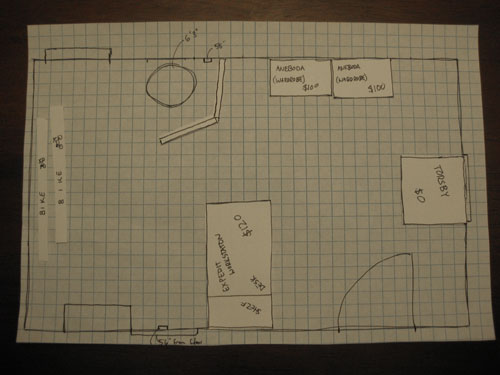 Of course we still have a lot more projects to take on (creating a new light fixture, rewrapping the water heater, building a screen to hide the ugly rewrapped water heater, dealing with the windows, DIYing a dehumidifier, etc). But here's what the basement looks like now thanks to the addition of two Ikea Aneboda Wardrobes along with an Expedit Workstation and a few inexpensive accessories (like some faux plants for a bit of greenery and these storage boxes for even more concealed stashing space). Not to mention the Torsby table and a few extra wooden chairs that we already owned. We also brought down our bikes as planned, but have even more in store when it comes to sprucing up that back wall so stay tuned…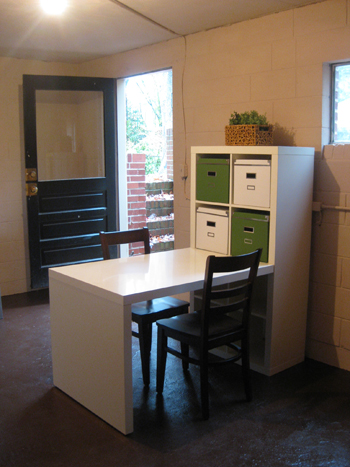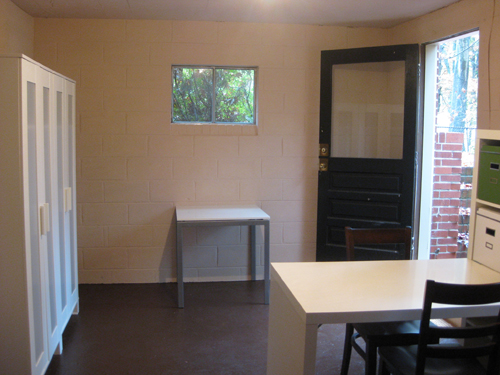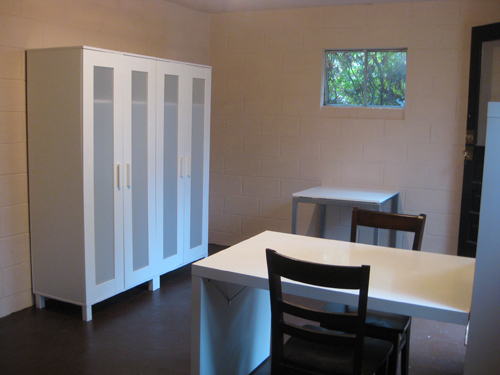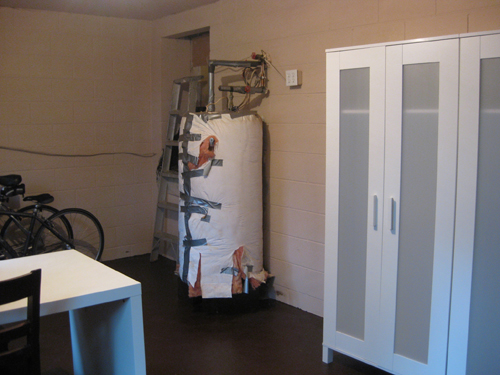 Oh and we still have to paint the built-in cabinet below, so don't mind the dingy look of it now…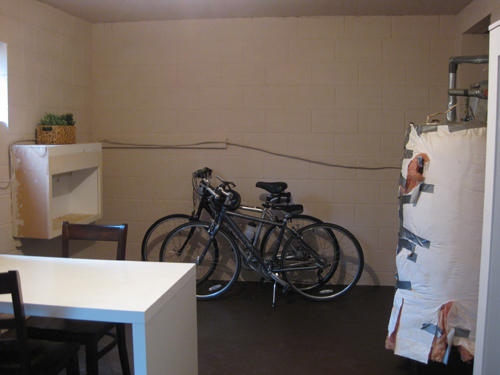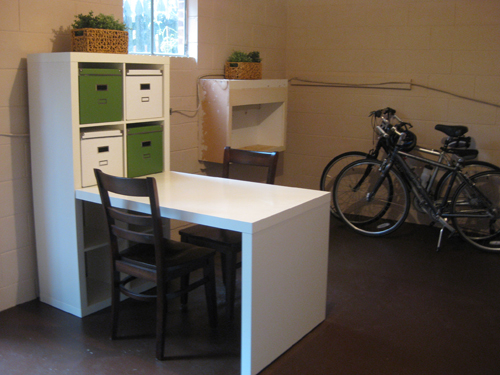 Not bad, eh? Just to refresh your memory, the room looked like this about a month ago: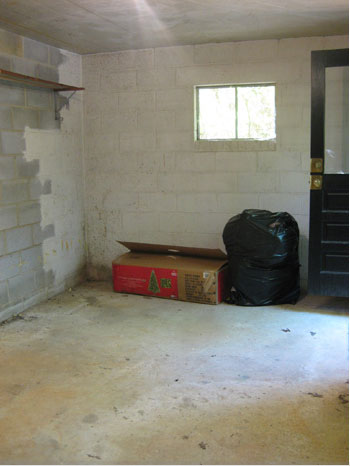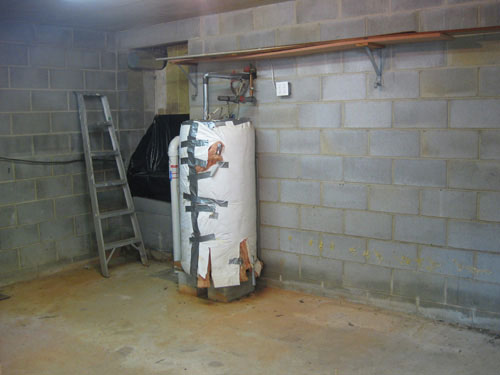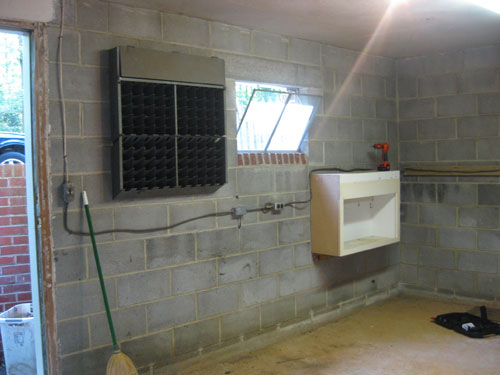 But thanks to around $350 worth of Ikea furniture (the Expedit Workstation even happened to be on sale!) and around $400 worth of prepping supplies (thanks again True Value!) we were able to take the basement from scary cinder block dungeon to a waterproofed room that's furniture ready.
Oh and we would show you the insides of those wardrobes but we still have a lot of organizing to do (am I a total nerd for feeling a little bit giddy when I say that?). So next on the agenda is going back to True Value to snag lots of awesome sealed plastic storage bins to stack tons of seasonal decor, sporting equipment and other stuff that we'd rather hide behind closed doors. Then it's on to lighting, art and hiding that wart of a water heater. Fun, fun, fun.
And speaking of house warts, do you guys have any ugly eyesores (fuse boxes? propane tanks? carpet stains? damaged hardwoods? odd trap doors? ugly outlets?) that you've successfully camouflaged? Tell us all about it.
Psst- Here's how we hid our fuse box in the den, our exterior propane tank, and some pretty gross plugs and outlets above our washer and dryer. Fingers crossed we can make that water heater disappear too…