We're back with our weekly basement update (here's where we left off) and this time we conquered the bare-bulb ceiling fixture (by dressing it up with a polished linen shade). We also snagged a vertical balancing bike rack (on sale!) since our cinder block walls make hanging weight-baring hooks and stands close to impossible) and got the ultimate surprise from Flor in the form of an awesome 5 x 8 rug thanks to their amazing carpet squares. Sure we still have to add privacy to the windows, paint the built-in cabinet near the bikes, build a screen to hide our eyesore of a water heater, and more… but here's what the room looks like these days with the new DIY light fixture, discount bike rack and fun new area rug: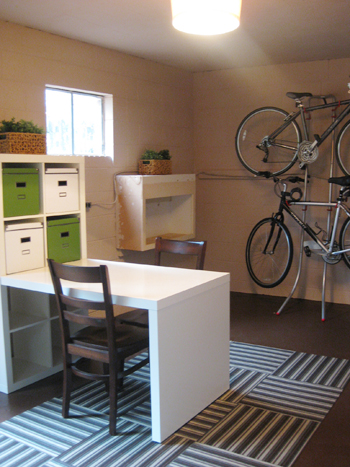 And you might wonder why the fine folks at Flor would offer us a free area rug of our choosing (other than the fact that they're insanely sweet over there) but we're actually teaming up with them for this week's giveaway so they're also dishing out a free area rug to one of our readers this afternoon (!). It's a win-win situation. And installing the floor tiles we picked (after careful consideration we went for the fun and durable Ascot Stripe variety) was super easy. They even come with simple little sticky circles that adhere all of the corners from underneath…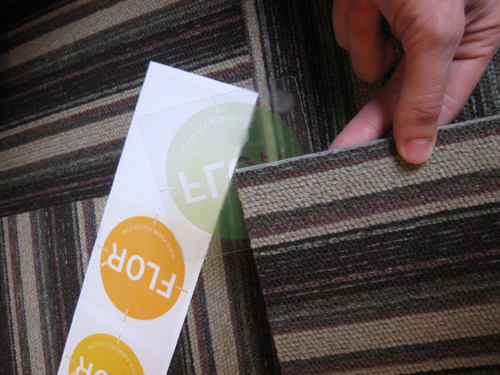 … for a seamless and secure end result.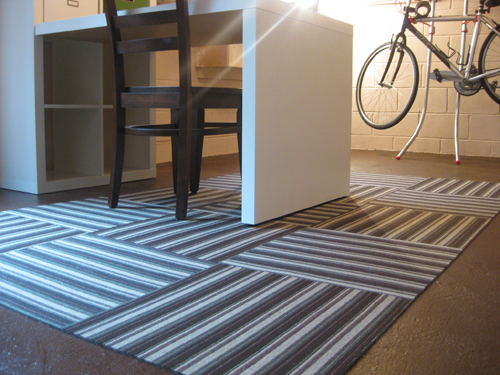 Now for the details on the bike rack. We were on the lookout for a rack that would allow us to store the bikes above one another for to maximize space and create some interest on the back wall… but the impossible cinder block walls made anything that has to be screwed or anchored to the wall totally out of the question. Enter this baby stage right (it was actually suggested by a reader in our last post- thanks Lauren!). Plus when we got to Target it happened to be on sale for $39 (down from $49) so we grabbed it and wasted no time getting both bikes off the floor. It's kind of industial-chic, no?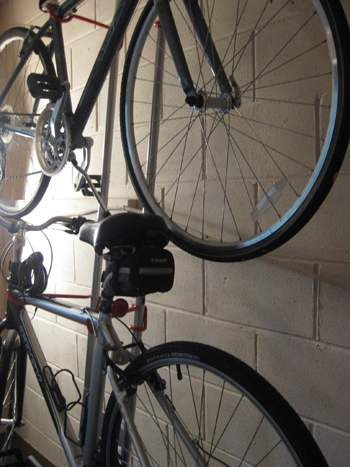 The lamp shade also hails from Target, where we were immediately struck by the chic linen look, generous size, and great price. Twenty-five beans later we got it home, removed the ceiling bulb, slipped the metal ring that's attached to the inside the shade onto the bulb, and screwed the bulb back into the formerly bare fixture box. Basically it's the same way you'd put a shade on a table lamp, but it hangs from the ceiling instead.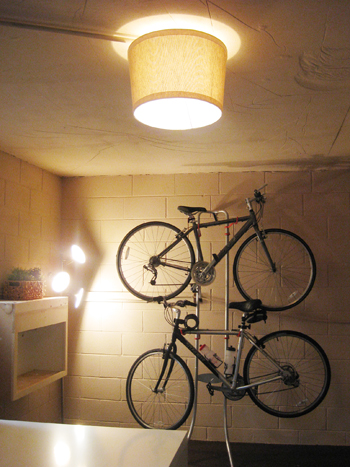 Here's a detail shot where you can see the metal ring from the shade slipped over the bulb and held in place by screwing the bulb into place in the overhead fixture box. So easy and so much cleaner looking! We also emplyed this method in the den to class up our ceiling fan (here's that link for ya).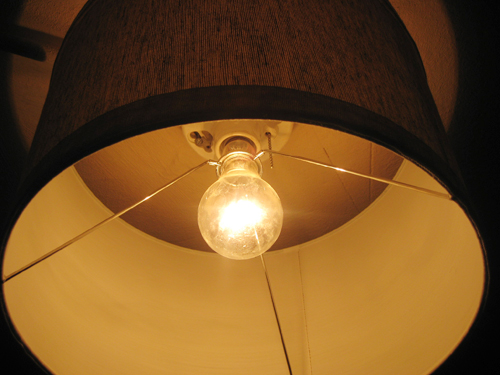 So that's where we are with the basement. As we mentioned, we still have the windows and the water heater (among other things) to address, so stick around for those updates soon. And we also plan to load up on containers and bins to store a whole mess of stuff in the armoires that we added last week so stay tuned for all the nitty gritty organizing details when we throw open the doors and bare all.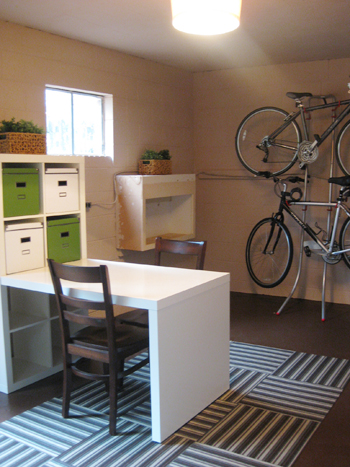 And while we're on the subject of organizing, what do you guys prefer? Clear plastic bins so you can see everything inside? Opaque bins so you can't? Wire baskets for Parisian flair? Fabric boxes or cardboard ones in fun colors? Name your favorite organization accessories at the beep. Beeeeeep.