When Monica sent her amazing dresser makeover our way we couldn't wait to share the goods. Here's her letter:
I just recently found your blog and let me tell you, like everyone else around here, I'm totally in LOVE with everything you guys do, plus your How To tips are super! My boyfriend and I just moved to a new home (rental) and like anything that is not yours, we're tying to put our stamp on it. I inherited my boyfriends dresser and I wanted to incorporate it into my kitchen nook, thus a PROJECT was born. While I love wood and before I paint anything I really think about it, I knew that the only way to make this BIG dresser shrink was to give it a coat of paint… or in our case 3 coats. We used the new Behr Premium Plus Ultra Interior Paint, which is paint and primer combined (in an eggshell enamel finish). The color we chose was "Energy Green" and WOW. We did this project INSIDE the house, and started at 11pm at night (I thought we would die from the fumes but the paint was orderless, no fumes, no smell) and the only reason we gave it three coats is because we wanted it to be a bit darker. But it really was great after two. We dressed the finished product up a bit with accessories and the results were amazing. I love how it came out and I hope you like it as much as we do! – Monica
Here's a "during" shot (with Monica's friend sanding away):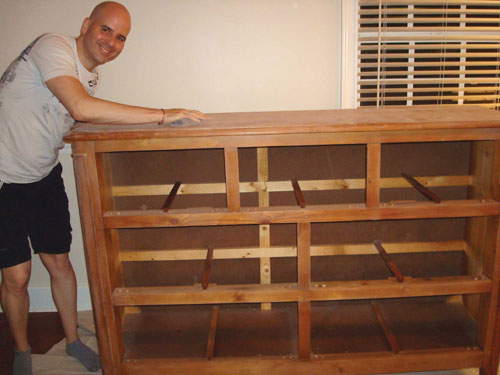 And here's the amazing after: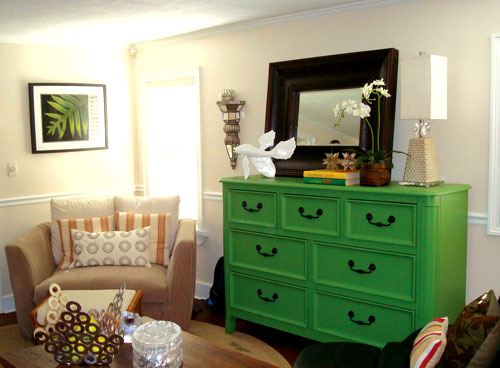 Is that not a gorgeous transformation? It totally makes the room, and we love the contrasting hardware in the deep ebony finish (which looks great with the chunky chocolate mirror). We also have to say that hanging that mirrored sconce-type piece on one side of the dresser and balancing it with the luminescent lamp on the other side is totally genius. Thanks so much for sending the photos our way Monica! Oh and don't forget to drip in on her blog to see what else she's up to. Now what say you our lovely readers? Do you guys adore that shot of happy green paint? Are you ready to grab a paint brush and go to town? We certainly are.