Our readers have officially scored a hat trick with Better Homes & Garden's Kitchen + Bath Makeovers magazine. Like Lindsay and Jessica before her, Christina's affordable kitchen makeover (which we shared as a Reader Redesign back in February) landed in the magazine's "Do It For Less" section after they saw it here on YHL. Yeah, we're doing the happy dance right along with them.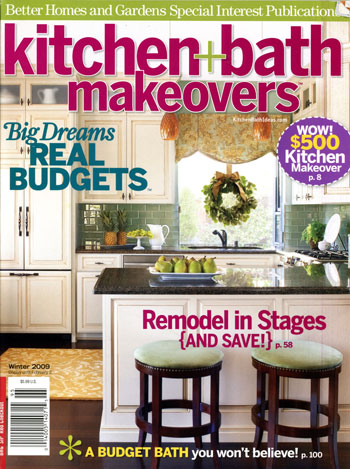 Here's Christina's and her husband Trevor's starring page that shows off their dramatic $1,400 kitchen transformation (and no we didn't forget a zero on that number). Plus it was a total gut job (they even replaced appliances, the floor and the cabinets for that unbelievable price). Congrats Christina and Trevor on the feature! Well played, handy homeowners. And thanks for giving us a shout out! We're totally blushing.
Note: click the image below to enlarge the article and check out our original post about their kitchen right here.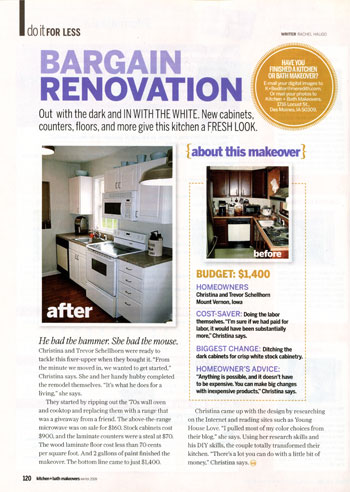 And on the subject of amazing kitchen makeovers on a seriously enviable budget, what's the best deal you've scored when it comes to your kitchen? Have you snagged a secondhand appliance on craigstlist, negotiated a killer deal on cabinets, or even found hardware on ebay? Do tell. Here's the story of how we took home a free dishwasher along with a super cheap faucet and sink back in the day. Don't good deals make you feel like the king of the world? It can't just be me…
Images courtesy of Kitchen + Bath Makeovers.