Archive for September, 2009
Since we couldn't cram all of your questions into last week's video, we're bringing you the follow-up where we're tackling more funny and random personal questions that were submitted before last week's big blogiversary extravaganza by our curious readers via Twitter and Facebook. We're basically back to answer a few more of those quirky queries that had us laughing and cringing as the camera rolled ("what was your first thought when you first saw your house?", "what chore don't you trust the other person to do?", "when do you guys get a chance to work out?", "does Sherry wear her pajamas all day since she works from home?"). And this time I promise Sherry controls that potty mouth of hers a little bit better (see what we mean by watching Part 1). And enjoy Part 2 below on Vimeo or over here on YouTube.
Oh, and for those who can't watch the video, here's a quick recap of what we cover:
I don't trust Sherry to load the dishwasher (a total surprise to her) or mow the lawn, she'd rather I not do toilets and prune things. I think I can agree with that.
We think we discovered our true "Petersik Style" a few months into blogging, once we refined our home's color palette.
Sherry's interest in home decor definitely spurred mine, but I've always taken an interest in design and enjoyed flexing my creative muscles.
Sherry's looks can be attributed to a combo of DNA, make-up and lots of photoshop.
We're a one-car household and we drive a Nissan Maxima now, but dream of getting a used Honda Element (if I had my way) or a used Nissan Rogue (the ride Sherry and I actually agree on). And somehow I make Sherry think she's pregnant in this answer.
We use our living/dining room to entertain (and eat the occasional sloppy dinner that might ruin the couch in the den), but other than that, Burger's the main occupant of that room (he likes to sit on the back of the couch and gaze out the window).
Sherry likes to credit our punny writing style to her copywriting background, but I reveal that we really have our weird dads' senses of humor to thank. Shout out to Tom and Ken.
We usually read blogs or magazines, but when we crack open a book it's either pink-covered chick lit (Sherry) or nerdish non-fiction (me and sometimes Sherry too).
Sherry's first impression of our house was "we have to have it" and mine was "that's A LOT of yard work."
Even though she works from home, Sherry manages to change out of her pajamas 99% of the time – but still misses the old days in NYC when she got all gussied up for work and tottered around in 4″ heels (I had no idea she was 5'2″ for the longest time).
We decided to get a chihuahua because I wanted a cat, but Sherry's allergic. Hence our cat-sized dog, Burger – whose manageable size makes him a breeze to travel with.
Sherry only runs when being chased (working out just isn't her thing), but does go on long walks with Burger (in addition to banging out all of those sweat-inducing home improvement projects). I'm a runner and I go on my lunch breaks.
We know there are probably still questions out there, so feel free to hit us up with more. After all, we're Talky McTalkersons when you get us going. We can't promise they'll all be addressed in another video, but you know we hate to leave any question unanswered…
Click here for Part 1 of our Q & A video series, where we tackle things like "when will you have kids for crying out loud?" and "when are you getting your own TV show?"
&nbsp&nbsp&nbsp
When Yansy sent us her amazing forest-inspired bedroom makeover we couldn't wait to share the play by play. Here's her letter:
I wanted to share with you my finished master bedroom since you were the inspiration behind the Forest Wall. I would love to know what you both think of it. Of course I borrowed the idea from your old dining room chalk project. But instead of doing chalk and sealer I just used white chalk to trace the pattern on the wall and painted over it instead. I didn't copy the pattern from anywhere (it's something I came up with and that's probably why it took me 5 hrs from start to finish). I would suggest that people use chalk first as opposed to going right to paint, that way they can make sure that they are happy with the end result (great idea guys!). After months of trying to come up with things to do in this room (and since the wallpapers I like cost a small fortune) I decided to create my own. I must say I'm very pleased with the way it turned out! Thanks for the inspiration! -Yansy
Here's the room before the big makeover: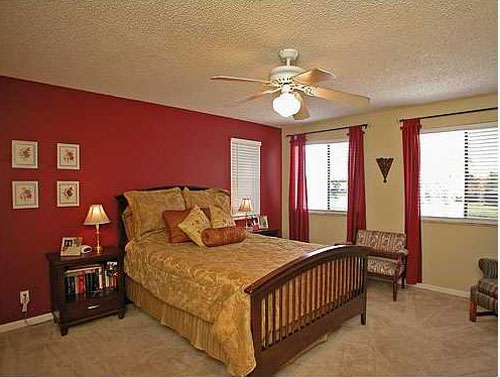 And here's the same space after Yancy's awesome DIY Forest Wall: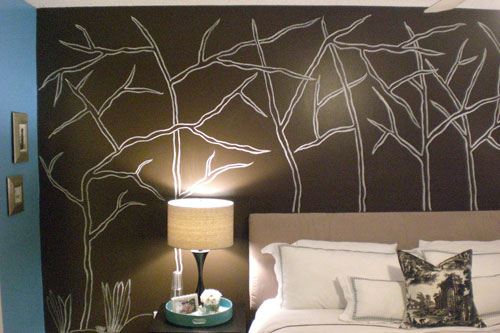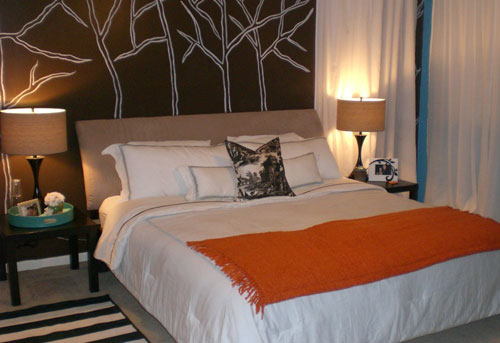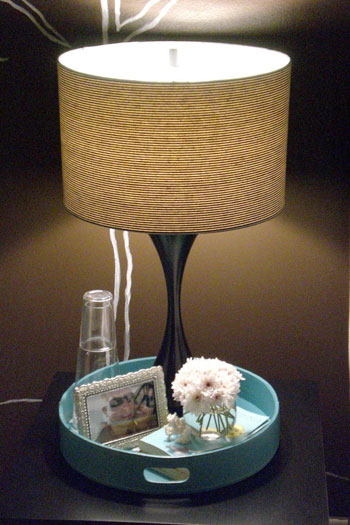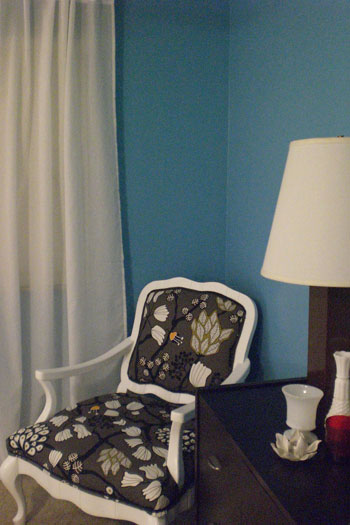 Isn't that an amazingly lovely bedroom to retire to after a long day? Thanks so much for sending the gorgeous before and after photos our way Yansy! What do you guys think? Do you love how she created her own wallpaper of sorts for a fraction of the cost? Oh and don't forget to drop in on her blog to learn more about her project from start to finish!
&nbsp&nbsp&nbsp