Archive for April, 2009
Oprah has inspired me (how many guys have ever said that sentence?).
A few days ago, I was making dinner. Sherry was watching Oprah in the other room (i.e. drooling over Nate Berkus in the other room). That's when I overheard Oprah say "I love seeing what's on people's bookshelves." I realized I do too, and so does Sherry, so we thought we'd ask.
Pick a bookshelf or bookcase in your house and tell us 3-5 items on it that say the most about you (and why, if you'd care to explain). Maybe there's a book you're especially proud to have read, or one that you're slightly embarrassed to own? Perhaps there's a special family photo, travel souvenir or collection that you like to display? Or heck, it could even just be a decorative accessory that you think is especially telling of your style. We can't wait to peek into your world through your bookshelf description. Sound off at the beep. Beep.
Well it sounds like you guys have a range of tips and tricks when it comes to dressing up your home in a flash, based on the comments left on our latest giveaway. But it seems to be some simple combination of cleaning (dusting, vacuuming), tidying up (emptying sink, hiding toys) and setting the mood (lighting candles, spraying air fresheners) for the most part. And although, EvY did bring up the cat lamp idea again (if anyone's feeling adventurous), we'd highly recommend sprucing things up with this week's prize from Fresh Leaf Designs instead.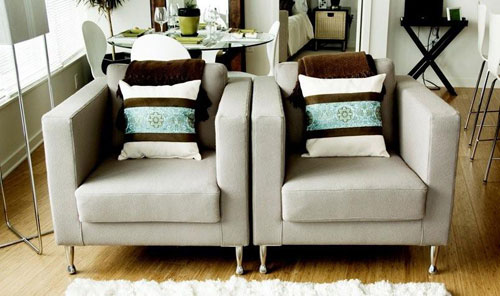 The prize, as you recall, is one of Fresh Leaf Designs' innovative Cushion Corset pillows that comes with a coordinating throw pillow for an extra punch of color. Our lucky winner will have their choice of these three sets (black, green or rose) so we're very curious to see which set it will be. But I guess you guys are more interested in hearing about the big winner. Well, the randomly-selected lucky person is…  Melissa Anderson. Congrats!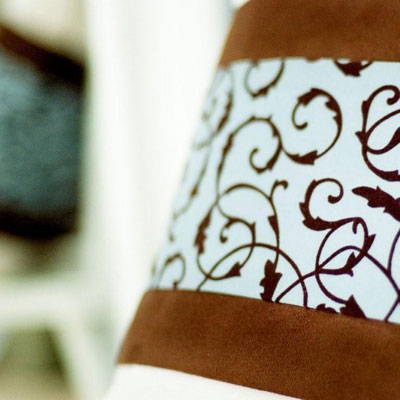 Melissa, we hope you'll share your pillow pick with everyone (not to mention photos of them in their new home). And for everyone else, better luck next week. After all, this giveaway was a cinch but next week's will be pretty E-Z too (hint, hint).
PS: Since we have Twitter to thank for this giveaway, we thought you might want to follow the mastermind behind these Cushion Corset pillows here: @freshleafdesign. And of course you can follow our decorating and home-improvement related musings right here: @younghouselove.com.
Got questions about this freebie? Learn more on our Giveaway FAQs page. Images courtesy of Fresh Leaf Designs.
That's right, we have after pictures for ya! We're over the moon about Eve's stunning dining room makeover and we're here to share her amazing transformation. Back in February, Eve contacted us for some decorating help with her dining room, so we supplied paint color suggestions for the fireplace, wall, and trim around the room along with a few accessory ideas for the window and the table that would really make all the difference in her space (without breaking the bank). Here's her letter:
When I first contacted you for help I promised myself that not only would I implement your recommendations immediately, I would also immediately send the after pictures. Here I am three months later – but I have an excuse… I cannot believe that such a simple thing like paint color can have such a grand effect. I LOVE MY ROOM NOW! The change was so immediate and so wonderful, I wish there was a way to capture the feeling of the room in my pictures. The new curtains made quite a difference too, and a quick trip to the basement helped me to uncover a white mirror I had purchased for my daugther's room and never hung (it found a home on the fireplace wall). The paint colors you suggested are colors I would never have chosen, even as I made the purchases I was nervous of the end result. I'm so happy I trusted you. Walking into the house now gives me a sense of peace and order. At first my family and I felt like we were living in someone else's house. Now we want the whole house to feel this way! You guys are awesome, THANK YOU!!! THANK YOU!!! THANK YOU!!! THANK YOU!!! THANK YOU!!! – Eve
Here's the before picture of Eve's dining room (she wanted our help making it more "glamorous and luxurious"):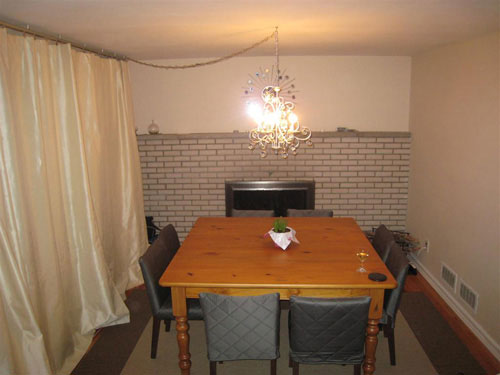 And here's the super fabulous after thanks to a few easy and affordable recommendations: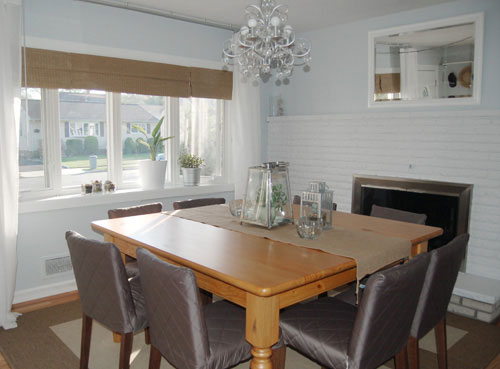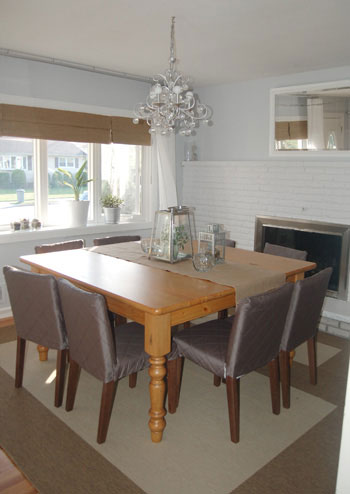 The difference is night and day, eh? But if you look closely you'll see that it only took a few inexpensive changes to totally transform this room: painting that dated fireplace, bringing in a new wall color, adding a larger mirror above the fireplace, hanging new curtains and blinds on the window, and bring in a pretty tan runner to break up the large wooden table. And because we love a good budget breakdown, here's Eve's:
Wall paint (Glidden's Silver Plum): $23
Fireplace paint (Glidden's Ready Mix White): $23
Mirror: free from basement
Curtains & blinds (Ikea Ofelia Rund curtains, Target clearance jute blinds): $33
Plants & planters in window (planters from Ikea): $28
Tabletop accessories (from Pottery Barn & Ikea): $50
TOTAL: $157
If that's not proof that style is accessible at any budget, I don't know what is. Fabulous job Eve! We actually also suggested that Eve stain or paint the table more of a mocha color but she has yet to tackle that project as she feels it's a bit more involved than painting the walls or hanging new curtains! And although a darker table would really polish things off nicely in the future, we love the room just as it is- and we're so thankful that Eve sent us the fabulous after pictures!
What do you guys think? Did Eve not do an amazing job executing the big dining room transformation?
Update: We sadly can no longer find the time to take on client commissioned mood boards (we now whip up general inspiration boards instead) but if we ever reinstate them we'll make a big announcement!