Quick… try to guess what had us drilling into our bedroom wall late last night.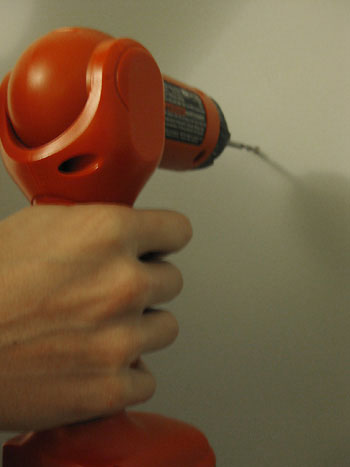 Well, remember the lurrrvely ZGallerie sconces that I got for my bday back in March? You know, the ones that looked good in every room. Here they are in the guest bedroom to refresh your memory: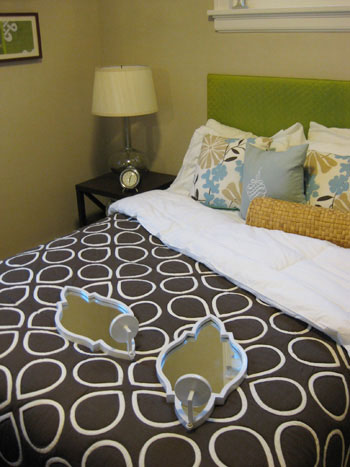 We ultimately decided to hang them in the master bedroom so we could enjoy them a bit more regularly- and as luck would have it, they also look fab with our blue and white duvet- who knew those babies would be so versatile?!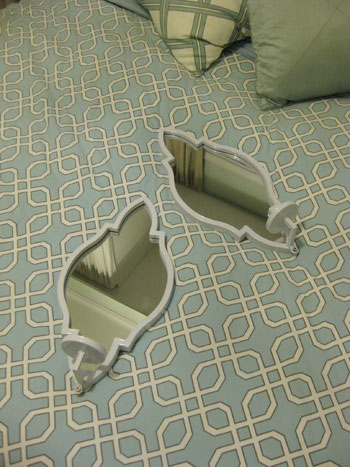 Here they are all purrrty on the wall. I love the staggered placement (John's idea- he's quite the decorator) and the way the mirrors bounce around the candlelight so liberally.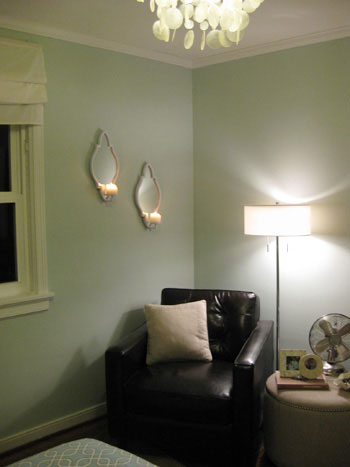 So what had us whipping out the drill again last night? A belated birthday gift from none other than the fabulous folks at ZGallerie! We COULD NOT EVEN BELIEVE IT when a package arrived with a third sconce and a sweet note saying "We love your site. We thought you needed one more sconce for your bedroom. Happy birthday!"
How cool is that?!
They certainly didn't have to send us a sconce to make us love them (they had me at ceramic rhinoceros– and of course I'm equally obsessed with their faux clam shell that we use as a fruit bowl). But now we love ZGallerie even more. Thanks so much Gordon and the gang! Here's our third sconce hanging out with his friends looking all smug and gorgeous: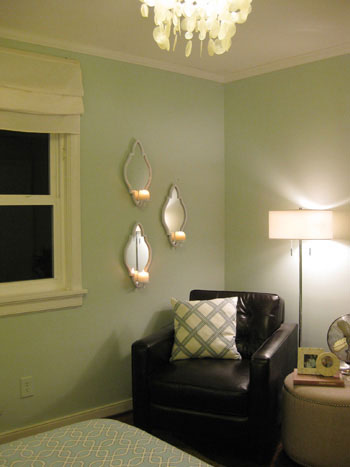 And in the interest of paying it forward, we thought we'd take the opportunity to toss out some simple hanging tips when it comes to heavier items (especially heavier items that will hold flaming objects).
1. Have someone else (around here it's John) hold things in place so you can take a step back and look at their relationship with other things in the room. This can save a lot of redrilling (and cursing) when you realize all too late that you've hung everything too high or too far to the left.
2. We like to use plastic anchors and screws to ensure that heavier pieces are super secure for the long haul. Just use a power drill to create a hole that's slightly smaller than the anchor and use a hammer to knock the anchor into place (flush with the wall). Then go a little more than halfway into the anchor with a screw (not too far, you have to leave a bit of the screw out so you can hook things over it).
3. When you're hanging items directly above each other, and want to ensure that they're on the same vertical line, use the string trick. Hammer or screw in your top nail or screw, then tie something semi-heavy to a piece of string or twine (we like to use a nice weighty ballpoint pen) and hold the string from the top nail or screw so it hangs down and creates a foolproof vertical line that you can follow to mark the lower spot for the item that you want to hang directly below the top one (using a ruler or yardstick isn't as accurate because you could inadvertently hold it at a slight diagonal and not realize it until your objects are hanging all askew on the wall).
Hope it helps! Happy hanging…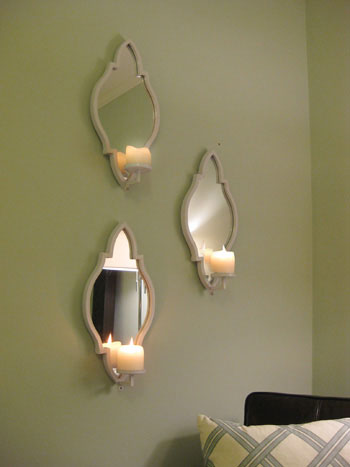 And thanks again to the lovely folks at ZGallerie for having such amazingly fabulous things and sending such a sweet b-day gift my way!
Wanna know what else we're sweating from ZGallerie these days? Check out this purple faux coral, this turquoise plate and bowl, and this gorgeous glammy pillow. Oh and don't forget to enter C20 at checkout to get 20% off all regularly priced accessories. Happy shopping…