A few months ago HomeGoods came a lot closer to home. Hence the celebratory "holla" in the title of this post. Yeah, I'm psyched. The closest location used to be in Short Pump (about twenty five minutes from our house) but a new one recently opened right in Chesterfield Towne Center (a mall that's about eight minutes from our door). Score. So we thought it would be fun to run around with our camera and take some photos of whatever caught our eye (just like we occasionally do at Target, Ikea, and even the other HomeGoods location). Let's go virtual shopping, shall we?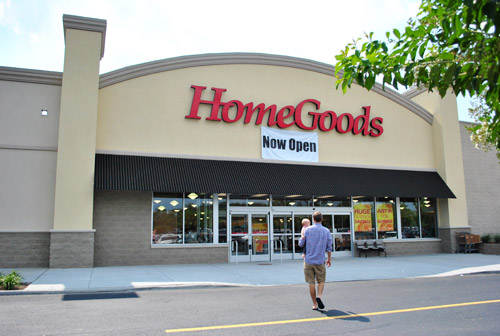 This cheerful turquoise bench ($150) caught my attention right away. Apparently Mr. Pony likes it too. Only in HomeGoods can you take a photo like this. Seriously, a giant iron horse checking out a garden bench? Check.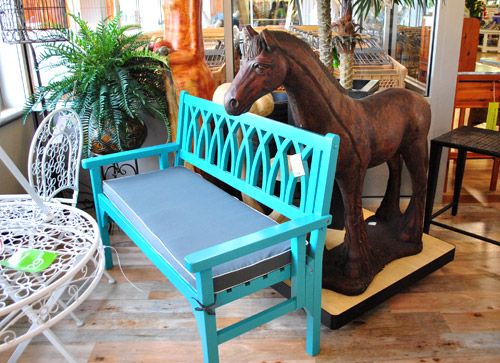 These little grellow ottomans ($80) were cute and functional thanks to the pop off tops. They'd look so good in an all neutral room in lieu of a coffee table to shake things up and add some color.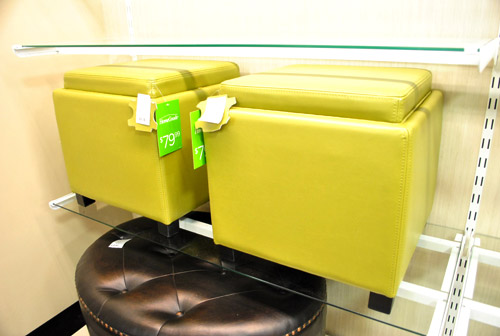 The ones that got away were these white bowls ($3 for the small salad/cereal ones and $8 for the bigger ones). I'm in love with the faceted gemstone-like shape. Should've gotten those. Darn.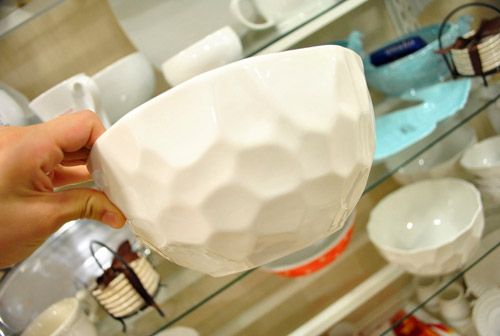 The aisle marker that said "Library Decor" had us laughing. You know, since everyone needs faux books and a magnifying glass for their library.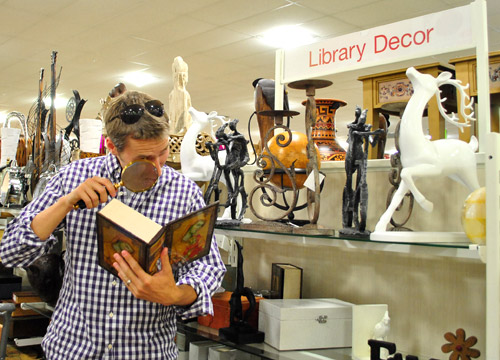 I liked this sweet mauve velvet and linen-esque pillow ($35):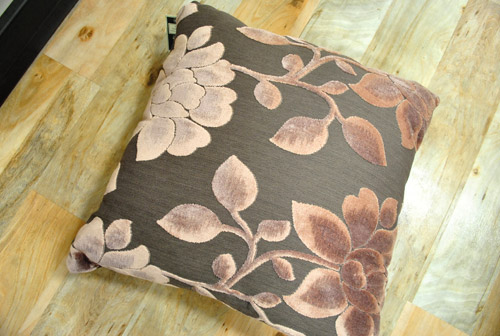 This gorgeous stripey velvet guy had me drooling too ($30):
I almost took this guy home with me ($24), but I kind of have a pillow problem so I vowed to give them a rest for a while. Sniffle.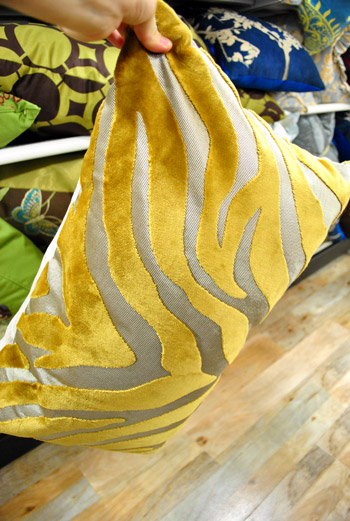 But I did take this $22 planter home with me. There's not much in the way of scale when it comes to this pic, but it's a huuuuge metallic bronzy-brown planter with tons o' texture thanks to the wavy sculptural shapes around the side. I'm smitten. Photos to come when I find a final resting place for him (I figure he can house magazines or even rolls of wrapping paper in a gift wrapping corner- or a plant, duh).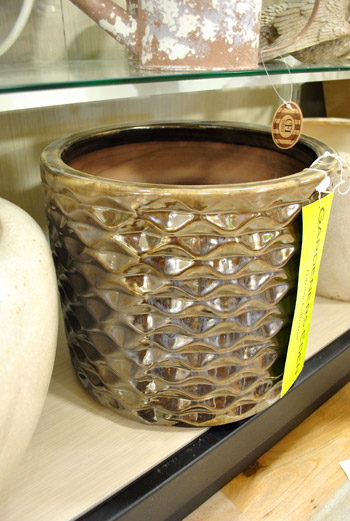 Then we had some fun with a giant watering can: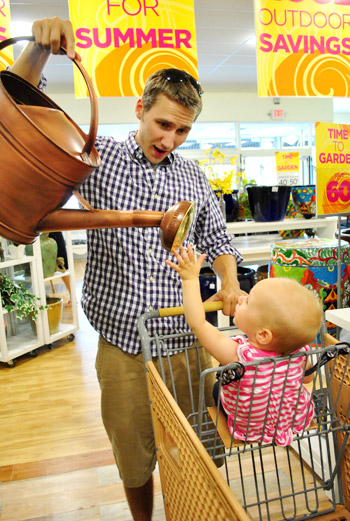 Here's my favorite little shopping partner. Her "Eggy" (a yellow egg from Easter) kept her happy the whole time that John and I snapped away. Smooches to Grandma (aka: Nonna) for introducing Clara and Eggy. They're a shopping match made in heaven.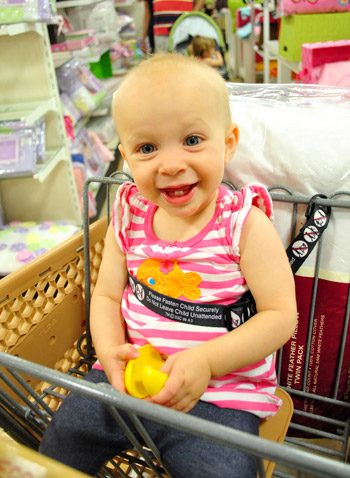 Along with my metallic planter we also got two $19 Ralph Lauren pillows for our bedroom (our pillows were all flat and easily over 5 years old- time for new ones):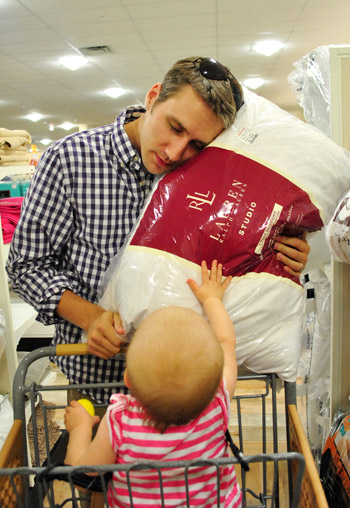 John didn't have a little yellow egg to keep him company, but he did have a little too much fun in the pet aisle. Check out his wearable cat carrier and "I heart my cat" mug. The best things about the cat carrier was that the box's tagline was: "no pet left behind." For some reason that had me snort laughing. Update: I've since been enlightened that these carriers are for saving animals in emergencies, and now completely understand and endorse their function – we have not one but two doggie-carrier bags for Burger – safety first!).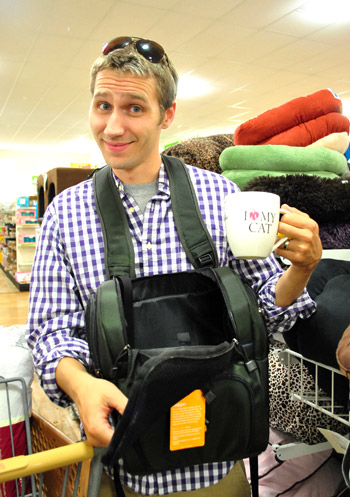 This cheerful yellow lantern ($17) had me at hello. Up on a mantel, the top of a console, or an armoire it could definitely add some happy to any room.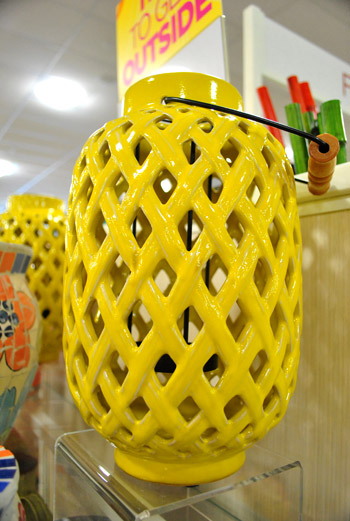 John and I both fell hard for this industrial meets rustuc Hooker table. But even though it was marked down to $299 from $699, it was still too rich for our blood. But it's gorgeous and so inspiring. Maybe someday we'll master the whole welding thing and DIY something. Oh to dream…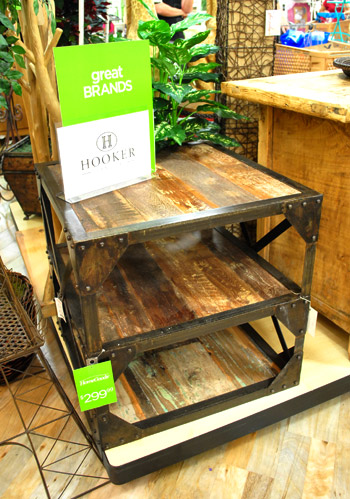 This mirrored table ($70) was really similar to this $199 one from West Elm. So glam… and so hard to photograph.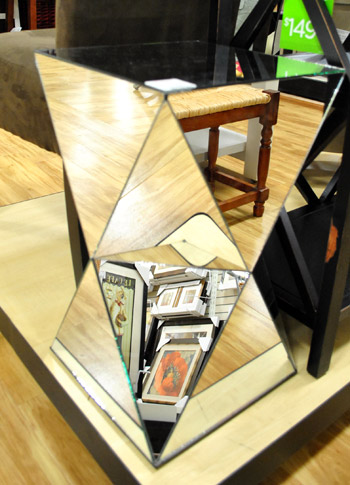 This $49 lamp kind of reminded us of the metallic round-based ones that we have on our console table (from Marshall's). We're just suckers for clean white drum shades up top and some textured metal sheen down below: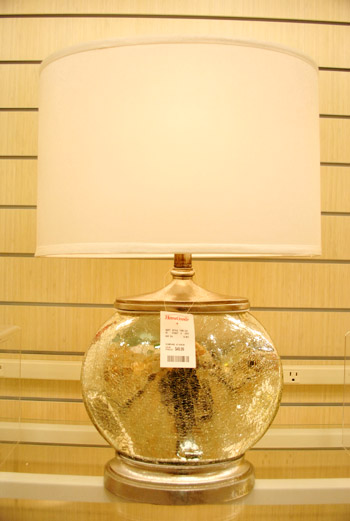 This $29 botanical canvas was kind of fun and oversized. It could be great in a bathroom where you'd worry about prints or photographs getting all clammy and wrinkled.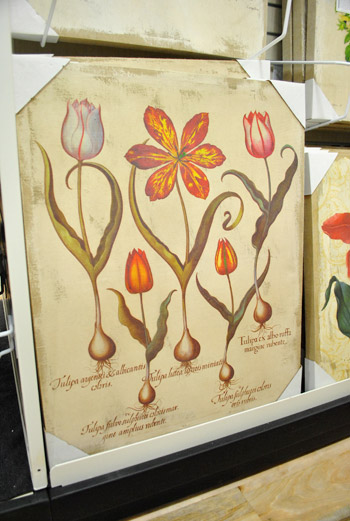 This giant capiz mirror ($129) would be one of those room-making things when hung over a fireplace or above an entryway console table. Anything capiz = my jam. Seriously, I'd drool over a capiz bust of Screech from Saved By The Bell. Make it capiz and I'm in.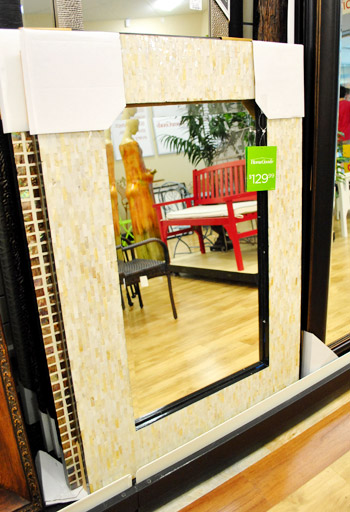 This $129 chair was cool. I could picture it pulled up to a desk instead of a stuffy office chair for a totally inviting little bill-paying and laptop-trolling zone.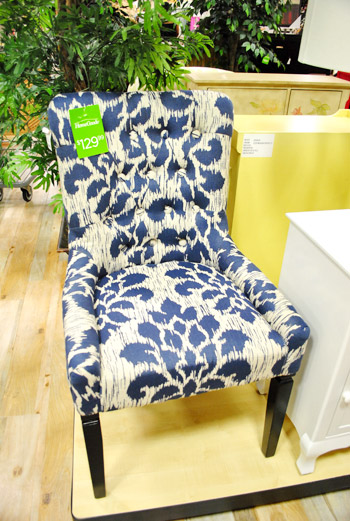 This cool Moroccan-inspired black pouf was $80, and I could definitely see it in any sort of living space to add texture and a splash of the exotic. It might even look cool in a nursery. I know that seems weird, but it would add plush sophistication without posing any sort of hazard since it's squishy and baby friendly. I can picture it pulled up to a charming clean-lined glider with a floofy white flokati rug. Mmm.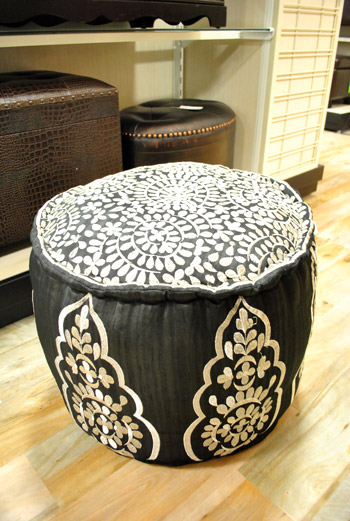 So there you have it, a quick little virtual shopping spree through HomeGoods. Have you guys seen anything there that you're loving lately? Have you snagged new bed pillows or a jumbo planter that you plan to use indoors? Do you read faux books in your library with a posh magnifying glass? Come on, somebody tell me they do.
Psst- We weren't paid or perked for this post, we just like HomeGoods. Like a lot.