As mentioned in our crazy-weekend-teaser post last Thursday, we slipped through two different Ikeas in two different states two days in a row (one just to poke around and the second to decorate Carrie's awesome new high-rise apartment). Well, here are a few photos we snapped during our just-browsing trip. What's not to love about these fabulous finds? Oh Ikea, you're the banana to our peanut butter sandwich.
First we have this awesome red glass hutch. We've been oggling this thing since last year so it had to make our Ikea favorites round up: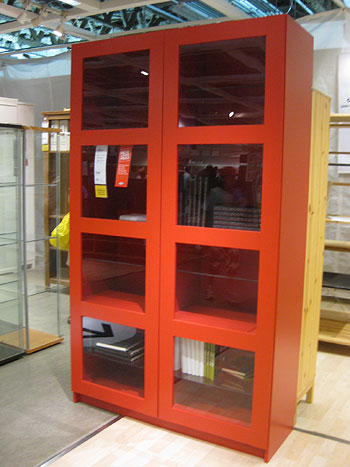 And wouldn't it look awesome in a living room with these punchy curtains…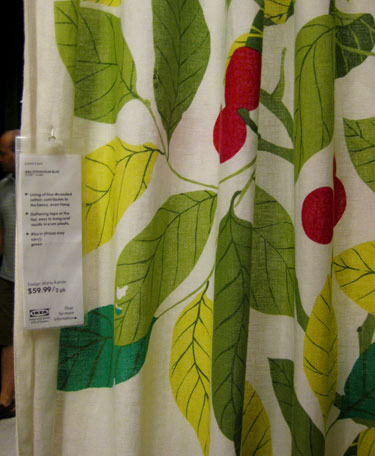 … and these sleek little red side table lamps?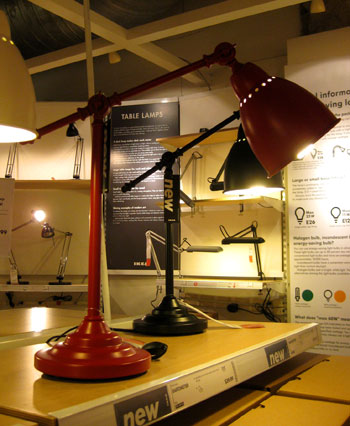 If the rest of the room was neutral, those few pops of color would really go a long way- all on an Ikea budget!
And speaking of implementing a few Ikea ideas en masse, we love these hanging basket pendant lamps with the punchy table runners and the slate blue color on the back wall (Try Benjamin Moore's Bella Blue for something similar). It's practically a room to go!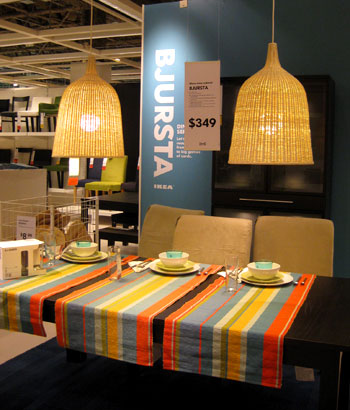 If you're looking for something a bit softer, these new tone on tone botanical curtains totally had us at hello: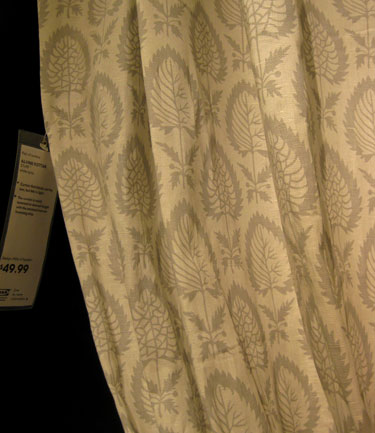 We also loved how these two curtains came together to form a gorgeous layered look. The top panel is a sheer with some white swirls and we just placed it in front of a leafy green curtain for ooh la la elegance. We love the almost-lattice effect that it evokes: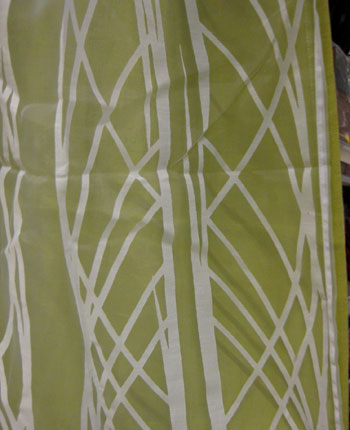 And sticking with the patterned golden-green accessories, we love this geometric duvet cover that adds modern jute-like movement to any space- all for just $19.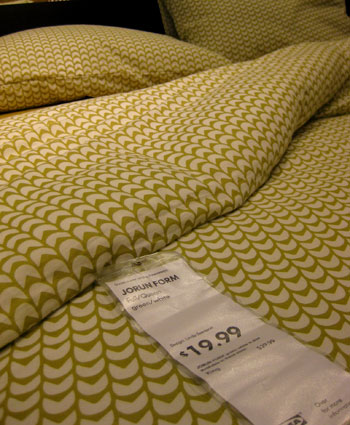 And for slightly more than $19, this amazing kitchen concept had us drooling. We especially loved the oversized dark pendants and cabinets paired with the super light countertops and mosaic backsplash. Dramatic but still totally liveable and classic.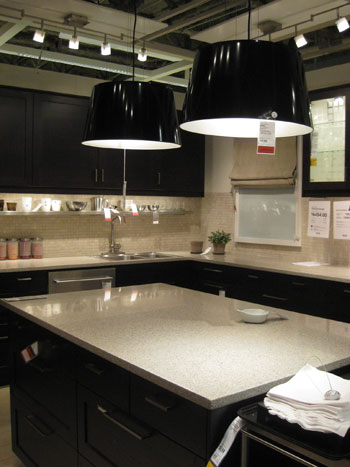 Here are two oversized pendants again, this time in white above a gorgeous oversized parson's dining table. A piece like this wooden beauty will virtually never go out of style, and we love the curvy chairs they paired with such a boxy table.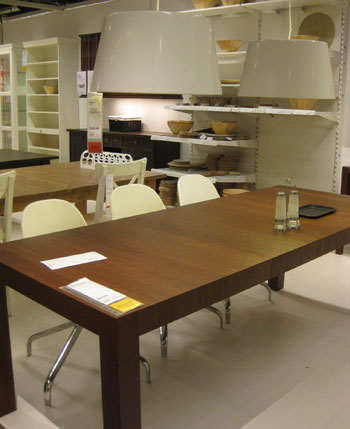 Look there's John, being reflected in one of the best Ikea deals ever. This floor mirror is giant. It'll practically double your room's perceived size. And it's $99 (as opposed to this dead ringer from CB2 which is $300 more!). Heck at that price you can get two to flank your media cabinet or even splurge for a sconce for either side like they did below.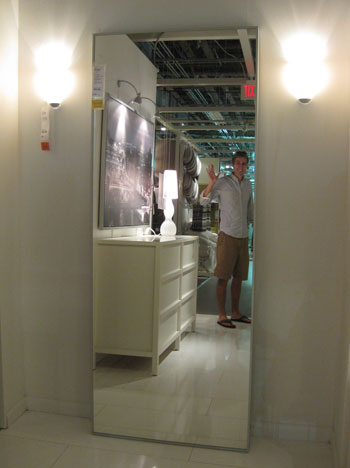 There were also tons of fun finds in the marketplace, like these intricate and exotic little elephant drinking glasses…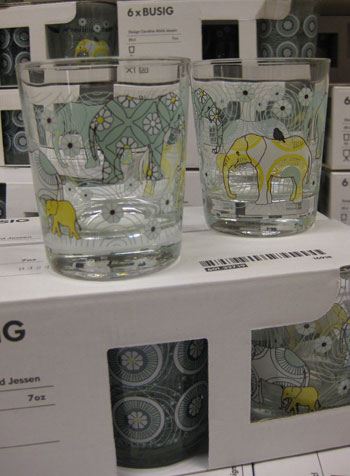 … and these delicate printed OJ glasses (we actually snatched up a set of six for $6).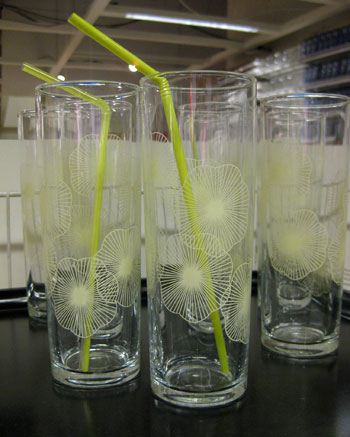 And you guys know we're suckers for all things natural- so these woven planter baskets get us every time. We love the idea of using them beyond the holding-plants agenda, like as chic little wastebaskets or even a place to corral magazines next to the couch. Heck you can even top some of the bigger ones with a round of glass to create a super cool living room side table.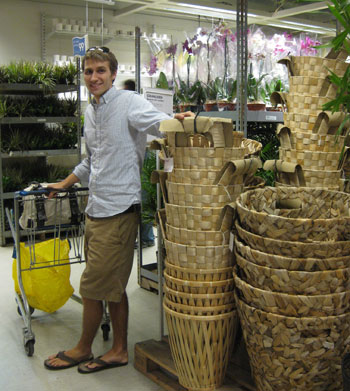 And on the subject of woven wonders, have you guys seen the latest basket pendant that just came out this month in the new catalog (the hemisphere-shaped beaut on the right)? We love the vintage-modern-meets-beachy vibe that it has going on.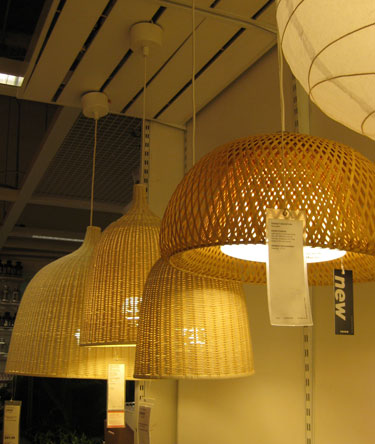 And we can't forget these oldies-but-goodies that we've been loving for ages. White Ikea planters are so cheap (sometimes under a buck!) and so sleek for popping plants into throughout your home that you really can't go wrong snagging a few each time you visit. Plus they can also be used a chic little storage containers for everything from toiletries to keys. We're always sure to have a few extras on hand… just in case.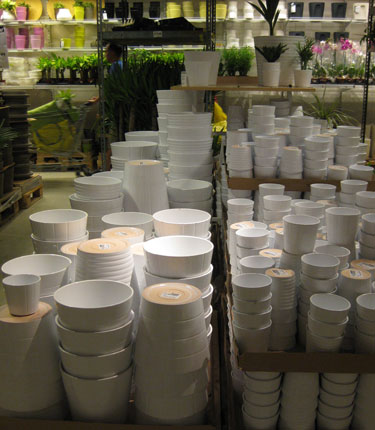 When it comes to rugs, we must admit that sometimes we think Ikea is hit or miss, but this bold and gorgeous orange-swirled circle rug is a showstopper in any room (check it out in one of the homes we House Crashed here).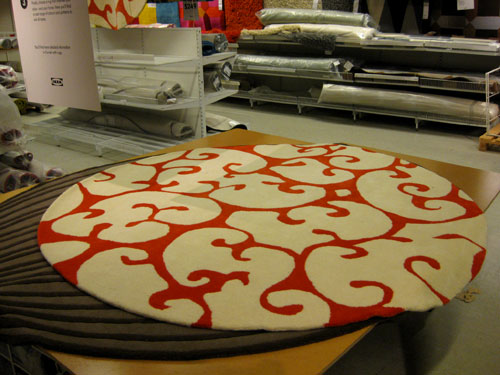 And this little square rug woos us to no end. If only our bathroom was bigger- how cute would two of these look in front of a nice big double sink? Sigh.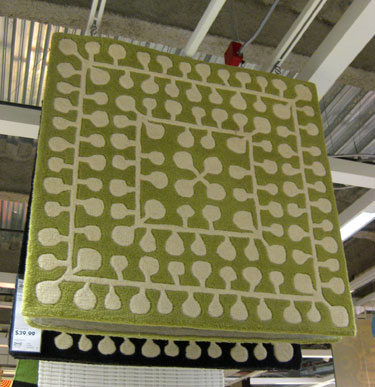 So that concludes our camera-in-hand-Ikea roundup. For more info on the items featured above (prices, measurements, etc) just head on over to Ikea's website– or better yet, swing through Ikea whenever you get a chance. We like to think of it as the equivalent to a ball pit or a moon bounce for adults. There's just so much zipping around and grinning like a fool.
And while we're on the subject of favorites, sound off about your favorite Ikea items (old or new) and feel free to include links to them so we can all check 'em out (either in your flickr photos of your home or on the Ikea website). Think of it as a book club meeting except it's an online Ikea catalog club gathering. And of course we should point out that we are in no way affiliated with Ikea nor are we receiving any compensation for this gushing little post. We just like 'em and we think most of you guys do too! So let's chat Malm and Lack and all those other funny names that have become a part of our decorating vernacular. Spill the Expedit beans.