Perhaps one of our most decor-related wedding creations right after our big day was this shadow box that I whipped up to capture the cheerful spirit of our special day. All it took was a bit of leftover yellow fabric from our table runners, a festive printed lemon and lime napkin, our stamped place cards held down with river rocks, our lemon topiary invitation, our save the date photostrip, our gladiolis bulb favor bag complete with another photostrip (that reads " plant one… on us"), and the post card that we had made from our favorite wedding photo (which we sent out to all of our guests as a thank you note).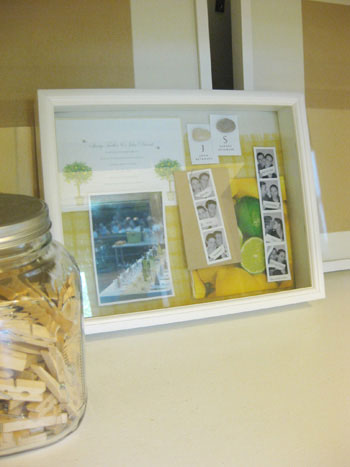 Two years later it's still proudly displayed in our laundry nook in front of two larger white frames (which we use to obscure the pipes and plugs on the wall behind our washer and dryer) with nothing but simple tan wrapping paper inside. Sometimes the best art is in the gift aisle on clearance at Target!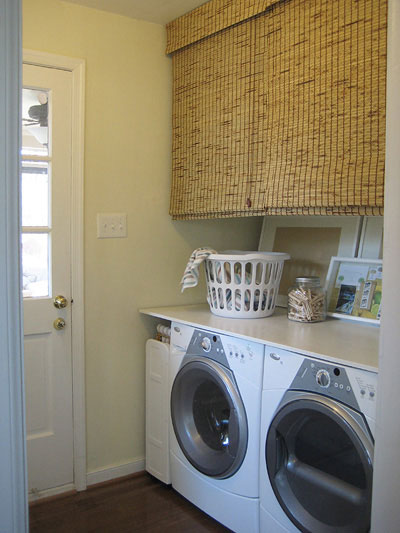 We also framed a few of our favorite photo strips (three per frame) above the console table in the living room among some other black and white art to create a little mix & match gallery: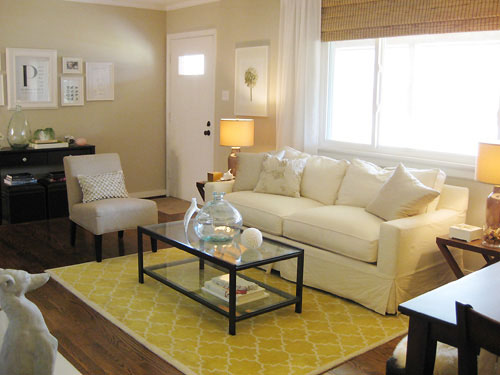 So what about you guys? How have you memorialized your special day in your home? Any fun art projects to share? Any giant wedding portraits above the fireplace? Any hand-made albums out there? Do tell.