Nope, we didn't find out that we're having twins. There's definitely just one little guy or girl in there (we actually found out the bean's sex the day before Christmas Eve and will be revealing it shortly so stay tuned for that…). But we also discovered two unexpected and totally amazing holiday gifts waiting for us in our PO Box when we checked it one last time before heading over to John's family's house on the 24th.
One item was a box from one of our lovely readers who attached a note that said she enjoyed our blog regularly and referenced my love of ceramic animals. Of course I could hardly contain myself as I tore open the package to see what little white creature would be joining my faux-managerie. And I literally squealed with glee when I learned it was a small ceramic peacock in the most clean and elegant snow globe I'd ever seen. I'd actually been eying this baby from West Elm for months, so imagine my surprise when it arrived out of thin air from sweet Katie in Texas. What a fantastic and unexpected gift! Here's my regal little peacock in all of her fine feathered white ceramic glory: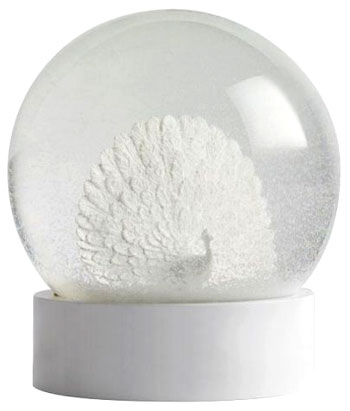 And here she is living it up on our living room side table after a little snowstorm ensued: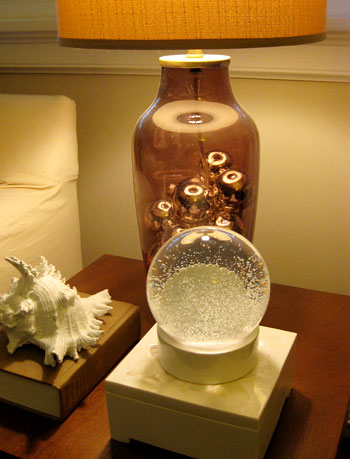 Isn't that fun? We're so glad to have something decorative to post about since we actually received a ton of baby stuff from the family for the holidays so we didn't think we'd even have a holiday gift post because there was nary a home-decor-related object in sight. But we said there were two surprises right? Well, back to that. The other item in our PO Box was a large flat envelope, which also came with a sweet card from another one of our readers named Steph (coincidentally also from Texas- my you guys are kind down there!) saying that she enjoyed keeping up with us and our blog and wished us a very happy holiday. And look what we found inside: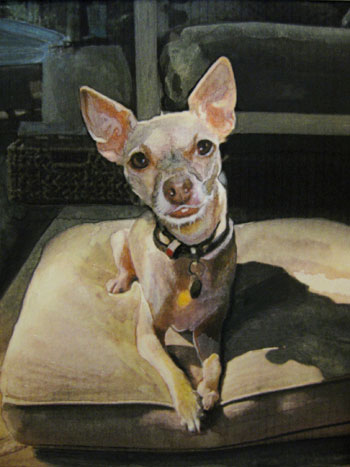 Yes that is custom art work of our furbaby Burger! And yes we are in love with it. Of course the sender mentioned that she knew we adored having portraits of our beloved four-legger around and she thought this one could be added to our existing collection: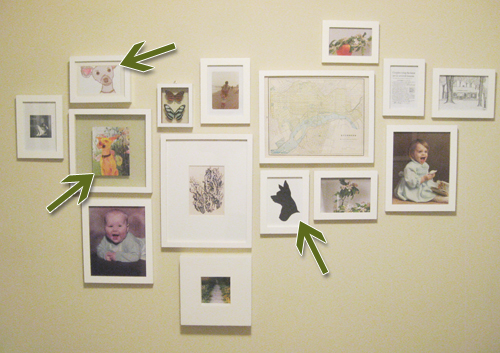 Isn't it a fantastic little ode to our favorite pooch? We just kept staring at it in awe (so pretty! so realistic! so generous!). So that's how this post about holiday house stuff came to be. The kindness of strangers. Well, except that we consider all of our readers to be friends, and this is exactly why. Thanks Katie and Steph! Two gushing thank you notes are already in the mail…
But what about you guys? Did you get anything home related for the holidays? Any huge surprises like a new car or twins or a leopard print snuggie? Do tell.