Our eight pound chihuahua has proudly held the title of our favorite (i.e. only) child for over three years. And even though Burger's about to have some competition in May, we don't think there will ever be any mistaking that we love our dog. In kind of a crazy way. Heck, he's already represented in three separate portraits in the third-bedroom-slash-nursery-to-be's photo wall: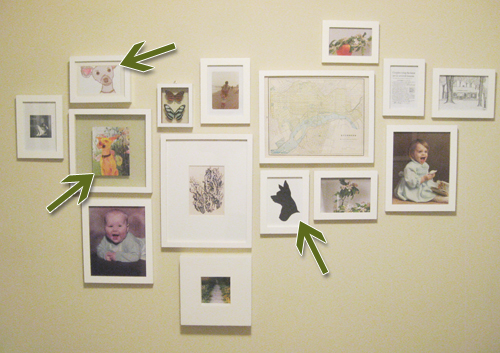 And thanks to 1) some foresight on my part, 2) a generous giveaway sponsor and 3) our love of all things Burger, the future nursery is about to have one more ode to the tiniest Petersik. Introducing Burger the Zoonie: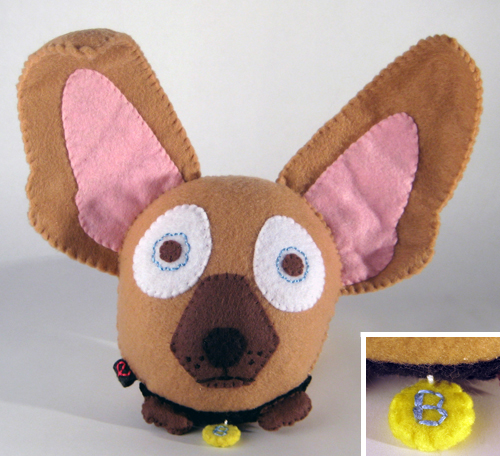 To explain: you may recall this fun giveaway from Eleni Creative, maker of custom felt mobiles and stuffed animals called Zoonies. Well, Sherry and I were quite smitten by their handiwork (I even broke out the word "adorable"; the dad-to-be thing was already making me soft, okay?). But they really do great work. Just check out the custom "flying elephant" mobile that our big winner Amy scored in early October: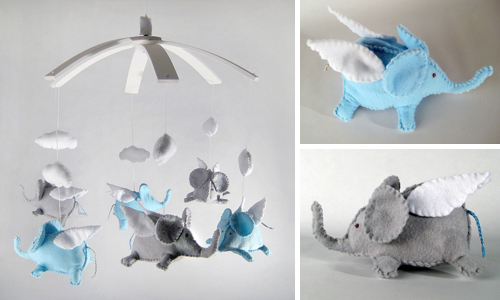 Didn't that come out great? We've been dying to share it with you guys since it was a completely one-of-a-kind creation made just for our lucky winner. And after the giveaway I secretly asked Eleni's resident "feltician" Helen if I could hire her to make a custom piece styled after our favorite chihuahua as a little surprise for my lady. Surprisingly, she didn't laugh or call me crazy. Instead, she kindly offered to do it as a "thank you" to us… and even sent me this cartoon-y sketch of our Zoonified pup for approval before the felting commenced!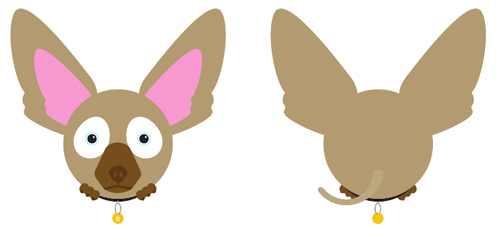 Fast forward two months and Sherry finds me handing her a wrapped present as we exit the doctor's office after our second ultrasound. We were both walking on air because our latest scan had confirmed that the baby's doing perfectly (and flipping around like a gymnast) so it felt like the ideal moment to hand it over in celebration of "this is really happening!"
And that's how I gifted Sherry our baby's first stuffed animal. Which just happens to be modeled after our favorite chihuahua.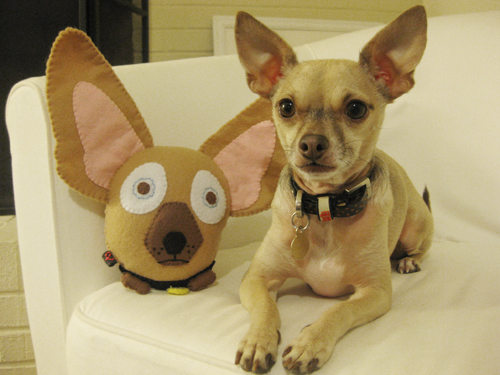 And Sherry went bonkers over it. Seriously. Lots of jumping and screaming. So maybe "the bean" won't appreciate his or her felted brother (aka: Burger 2.0) for a while (heck, even Burger himself isn't that sure what to make of it) but at least we've stacked the deck in favor of our new favorite child loving our current favorite child just as much as we do. And maybe the two of them will learn to share the title…
But what about you guys? Have your pets inspired any home decor over the years? Any framed pooch or kitty pictures or silhouettes out there? How about one of those pillows that they can personalize with an iron on image? Or a ceramic replica of a certain breed for your mantel? We wanna know how your favorite four-leggers are celebrated in your house.