A few weeks back we packed up the car, went over a few rivers, and through a bunch of woods to go see my 89-year-old grandmother (aka Granny) in Huntington, WV. It was primarily a weekend of eating and baby holding (is there anything better?) because we were joined by my parents, my cousin Erin, and her 2-month-old son Finn. But we managed to squeeze in a few side adventures that we thought you all might enjoy… which we would've shared sooner if most of the pictures weren't stuck in photo purgatory on our old point-and-shoot camera (we finally found the camera cord that we lost during the move this weekend).
Here's the obligatory "Clara with her great-Granny" shot. Aren't they cute and purple-tastic?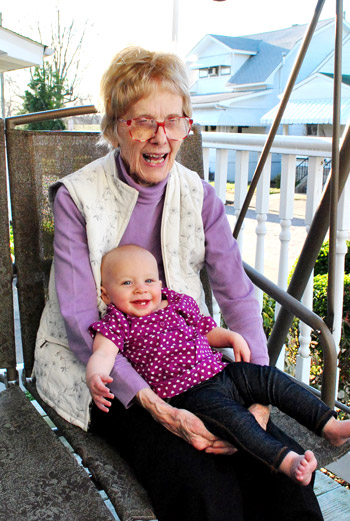 We were only there for around 36 hours, meaning that Saturday was our big day packed full of stuff – like walking around town, shopping, going to the park, and getting ice cream. We even got Clara a new friend at a fun gift store called Mug and Pia after finally stumbling upon the giraffe Jellycat that we'd been looking for, oh, only the last ten months. As you can tell, Clara was super excited about it.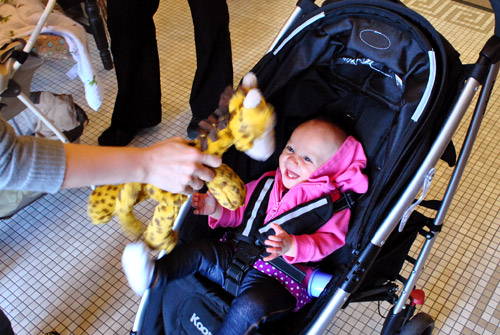 Mug and Pia also had these cool frames made from recycled tires where you could see all of the scratches and imperfections from their previous days on the road. The matte finish was actually really great.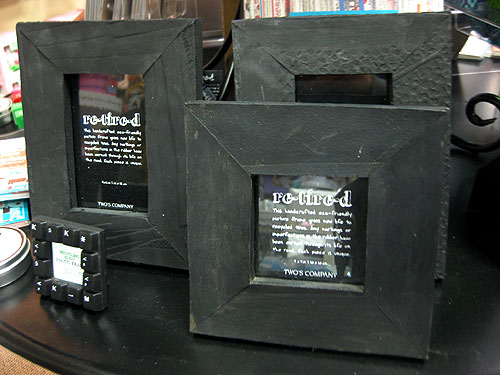 Perhaps the most interesting adventure of the day was hitting up an area of town called Old Central City that's bursting at the seams with antique and vintage shops.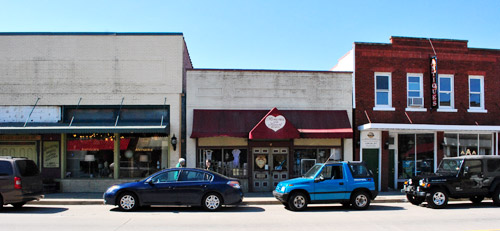 And even though the outside makes it look kinda like an old western ghost town, the shops are crammed with cool stuff (and even the occasional person).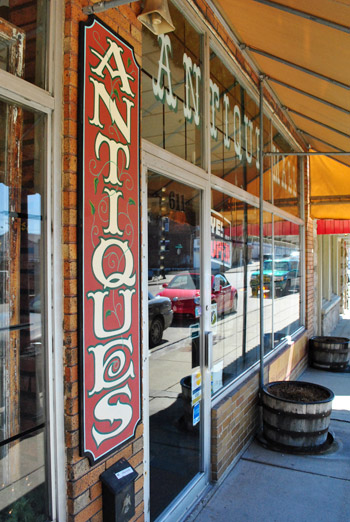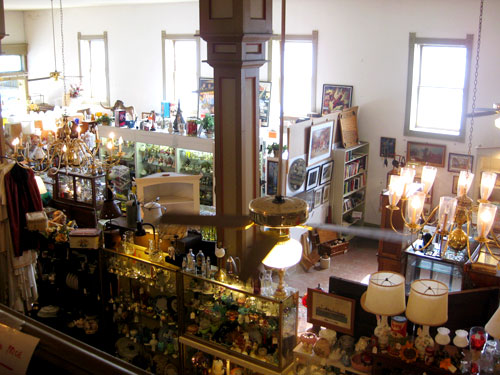 There were a bunch of beautiful / weird / quirky things that caught our eye in the half dozen or so antique shops that we popped into. For example, we thought these ornate white candle sconces were fun (and could probably rock a bold color like teal or plum).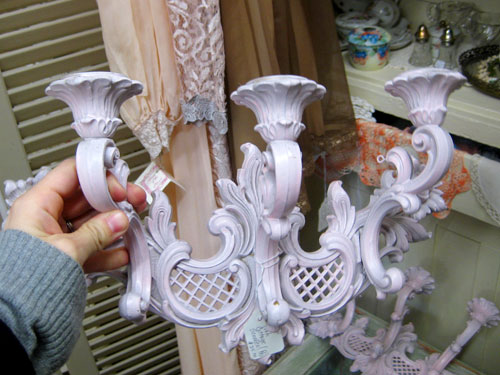 And of course Sherry was attracted to just about every ceramic / glass / metal animal that she spotted, including this open-mouthed horse head (she finally proclaimed it "too grinny" and moved on)…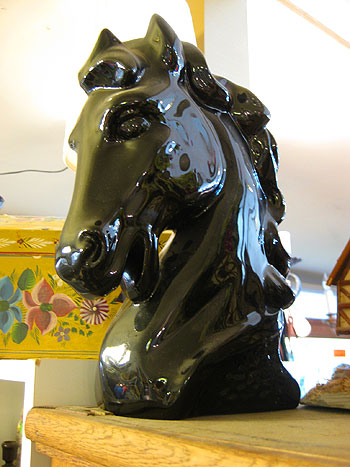 …and this big iron alligator (which was the favorite by far, but at nearly $30 it just wasn't priced to come home with us).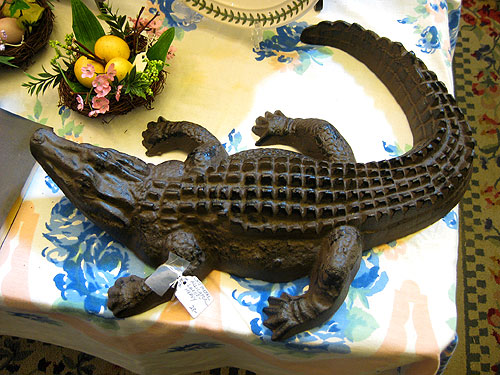 I was more into things like these old books, which managed to look graphic and cool even when they were about boring topics like concrete. These could almost be mounted right to the wall (or popped into a shadow box) as art. Actually blowing up those covers and framing them or even getting them made into oversized canvases would be amazing. Boo on me for not buying them.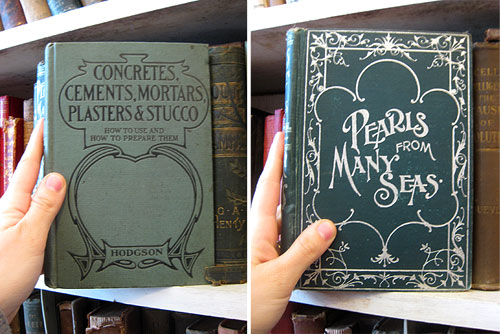 I'm also a sucker for old bottles and retro packaging, so this shelf of old timey toiletries and "snake oils" caught my eye. Although I was a bit grossed out that the Grenadine Syrup was still full of thick gloppy liquid. Nasty.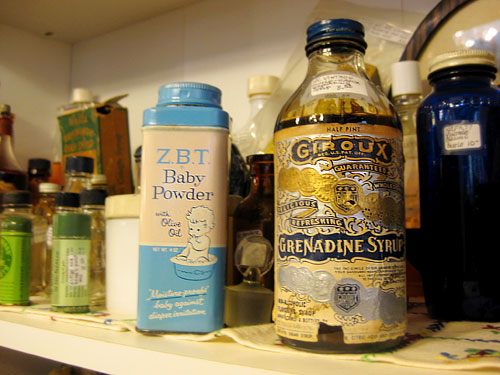 And of course, how could I not gravitate toward oversized typography like this art deco sign. It reminded us a lot of the letters in Chuck's studio from this house crashing (second pic from the bottom). If the letters A, B, O or T had any special meaning to us I seriously would've tried to cram one into the car.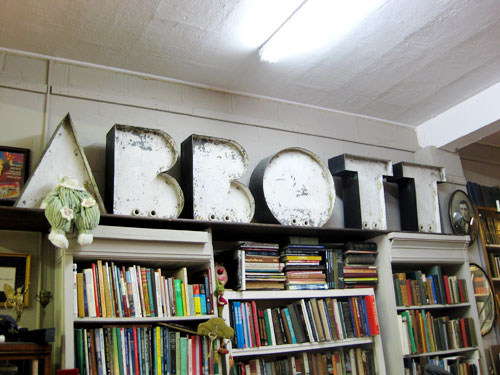 The one purchase we did make was this set of oversized decorative keys. They were 8 bucks for the whole set, and once Sherry gets out the ol' white paint we hope to work them into our hallway frame gallery (pics when we do).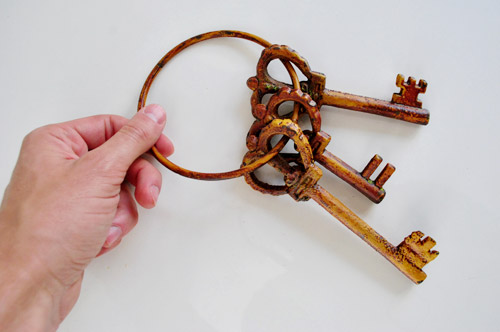 And no trip to an antique store is complete without seeking out those weird and wonderfully quirky items too. Like this beer sign that we laughed about hanging over Burger's crate. It reads "You'll like Burger: the beer you can stay with." I don't know why Clara wasn't cracking up too. Probably because she can't read.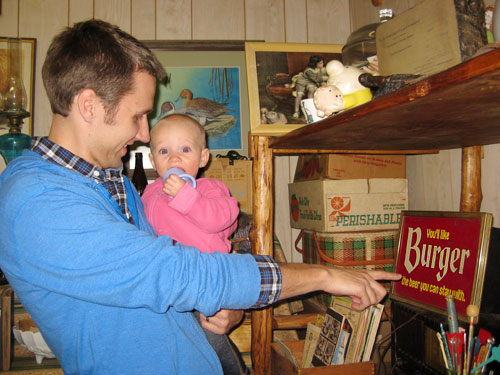 One shopkeeper turned a vintage cheese grater into a light source by just stuffing some Christmas lights inside. Not a bad look, actually (we could picture a string of them placed down the center of a rustic old farm table).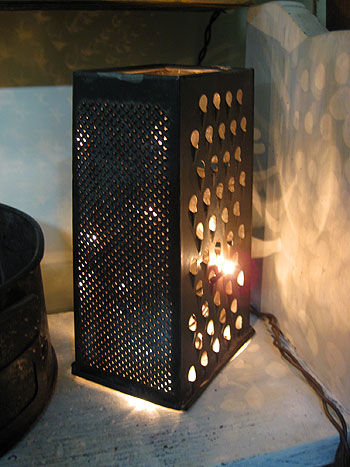 And if you want to relive some political campaigns of yesteryear, these retro buttons have you covered – especially if you were a Carter / Mondale fan (there were TONS of those). So funny and random.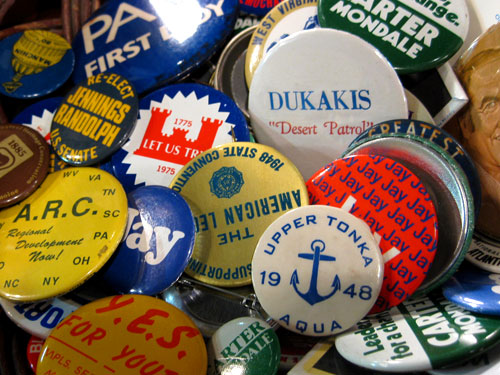 If trophies with chickens on them is more your speed, I left these two behind for ya. I liked pretending that someone won them in a series of weird competitions like "Most Chickens Carried During The 400-Yard Dash" and "Rooster Relay Semifinalist."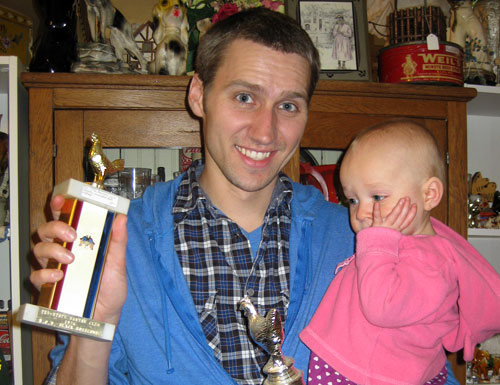 My favorite discovery in the weird category was actually this blast-from-the-past sign that hung at the register of one of the shops. It's a flyer from Yellowstone National Park warning visitors about buffalo attacks. My family actually got one of these when we visited Yellowstone in 1998. I thought it was so hilarious (maybe inappropriately so) that I saved it and hung it on my dorm room door in college. For some reason I was extremely entertained by the idea of my friends being warned that in my dorm room "many visitors have been gored by buffalo."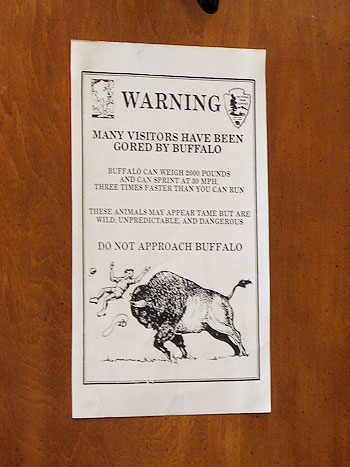 I no longer have my copy (and this one was sadly not for sale) so if you ever come over to our house and are gored by a buffalo, my apologies that you were not adequately warned.
We continued the weird theme into lunch when we opted to grab lunch at Hillbilly Hot Dogs (not to perpetuate any West Virginia stereotypes or anything).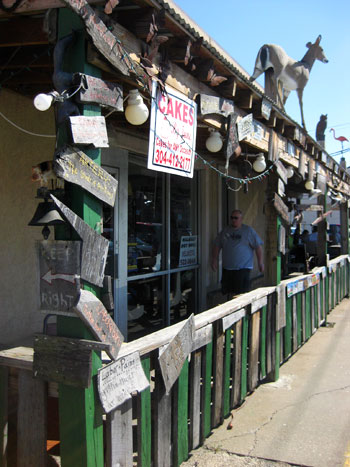 They were quite creative with the hillbilly theme – so if you're going for that vibe in your house, start taking notes. Some of their more unique table options included one where you sat in a bathtub with a shower curtain around you (the fold-down table was even supported by a plunger). Another was an outhouse where your seats were – well, I'm sure you can guess what you'd sit on in an outhouse. On the right you can see my mom modeling the outhouse with baby Finn: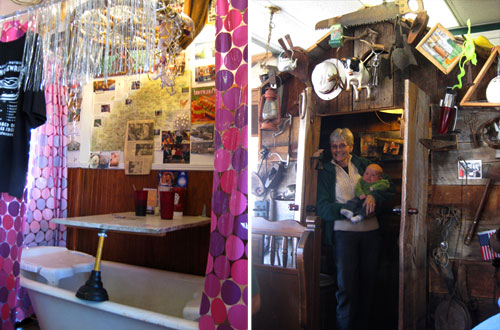 Oh, and if the decor isn't enough of a reason to go, the hot dogs were definitely worth the trip. They've got a menu full of different options and toppings like pepperoni, eggs, bacon, slaw and salsa. Insane. But better than they looked (because we can admit that this picture might not convey the level of deliciousness that was enjoyed by all).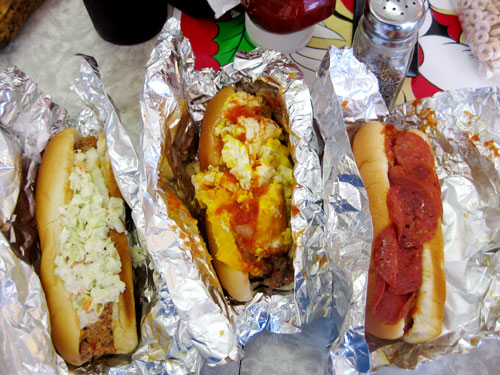 Now that we've shared photos of meat garnished with meat, we oughta wrap this up. Oh, and if anyone was wondering how Clara did during two 6.5-hour car rides just days apart – she was a champ. There was far less sleeping than the last time that we did the drive (back when she was 2.5 months old) but she managed to entertain herself for most of the trip. And we listened to her favorite CD (from baby music class) whenever she got grumpy. Let's just say "She'll Be Coming 'Round The Mountain," while appropriate for the scenery, got old. But Clara was happy, so all was well.
Actually, the only "rough" part of the trip was when Sherry accidentally sprayed the inside of the car with a must-have-previously-been-shaken can of Fresca from Granny. I was a case of Grandma sabotage I tell ya. Just kidding, it was most definitely an accident. Lucky for the rest of us, Sherry's pants bared the brunt of the assault. Gotta love Señorita Sticky Legs for taking one for the team like that.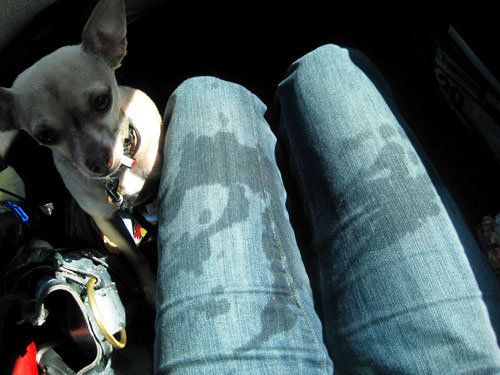 So that's the latest on our travels. Have you guys been anywhere fun? We're always looking for new places to check out so we'd love any and all suggestions. Especially if they're within driving distance. You know we love a good road trip…
Psst- Check out our favorite road trip ever here.