This being our second trip to the baby rodeo hopefully means that we're a bit wiser going in. We can cherry-pick from what worked well with Clara while trying to improve on some newborn and baby items, products, and methods that might need fine tuning. Of course every kid is different and what worked for baby #1 may not apply for #2 – so we're just waiting for those curve balls to come flying towards us – but since you guys have been asking, here are five things we're planning to redo (as in do again or use again) and five things that we'll do new. And because they pair up nicely, we'll look at 'em side-by-side. Note: None of the links in this post are affiliate links.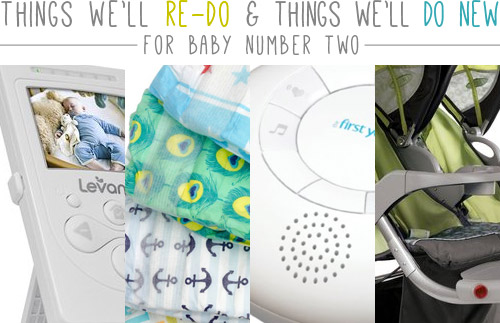 AGAIN – Angel Care Monitor: This was one of 5 newborn "lifesavers" that we shared after Clara was born – just for the peace of mind that it gave us (no getting out of bed to watch the baby breathe). It's not for everyone, but we found it really comforting, and it soothed a lot of our new-parent anxiety. It's basically a sound monitor with a motion-sensitive pad that slides under the crib mattress to detect when baby's breathing (and sound an alarm if it stops). We ordered an attachment (by calling Angel Care directly) with two pads to minimize false alarms once Clara got a bit wigglier (she'd roll out of the single pad's detection area) and were really happy with it, so we'll be reusing it while the baby boy snoozes. We've also gotten the free cord cover kit that fixes the recent recall issue.
NEW – Video Monitor: We never used a video monitor with Clara, but now that we'll often be on a separate floor during nap times (along with occasionally having two kids sleeping at the same time, so an audio monitor might be confusing in that "which one is crying?" way) we decided to add a video monitor to the mix. We got the Levana Lila (bought with a trial membership to Amazon Mom) and we found an awesome spot in the nursery where it can peek out from behind the curtain, making the monitor and its cord nearly invisible in the room (there's an outlet right beneath it that also hides behind the curtain).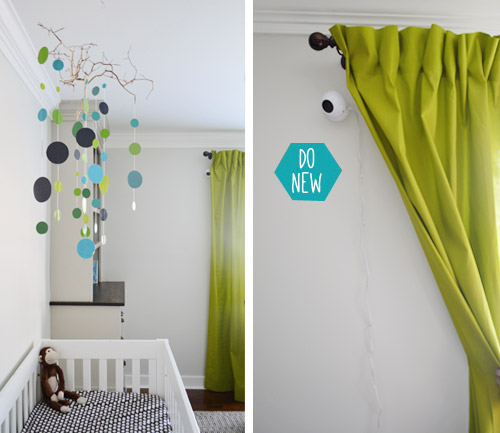 AGAIN – Crib Sleeping: You already know that we're using Clara's crib again, but we also plan to reuse our technique to start crib sleeping from the very beginning. Our first house didn't have much room for a bedroom bassinet and Clara's nursery was just steps away, so she slept in her room from the moment she came home. We have a more spacious bedroom here, but baby boy will just be on the other side of the wall (about ten steps away) – and crib sleeping from the start worked so well with Clara that we're gonna try it again. We liked that it spared us an extra transition from bassinet to crib down the road, and she was a pretty epic sleeper so we don't want to change much up in that arena.
NEW – Sound Machine: We used a sound machine with Clara and we will most definitely use one again. But since we can't steal Clara's (she still wants "the ocean on" every night) we had to get something new. For her nursery, we had chosen an iPod dock with Sherry's old iPod loaded with a CD called "Natural White Noise for Babies" on a loop (we thought the iPod would be nice so we could use it to play music down the road too). But rather than splurge on a new iPod and dock, we decided this simple $20 standalone sound machine would work well for the bun (we can always get him a music player down the line if he misses that perk).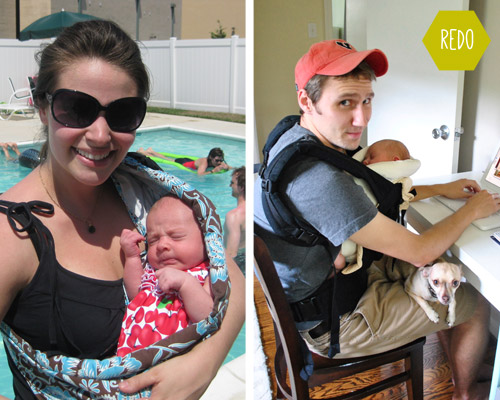 AGAIN – Ergo Carrier: Baby-wearing was our preferred method of Clara transport in the early months. Sherry had a sling, but since Clara often took that as her cue to nurse, I mostly wore her in our Ergo Carrier. It held up great and we just recently broke it out and gave it a wash so it's ready to go again.
NEW – Double Stroller: Clara rarely uses a stroller anymore (day-to-day she either walks or shopping carts it) so we debated whether we'd even need a double stroller at all. But we still like to take long family walks/hikes using our jogging stroller (longer than Clara can last on her own) and she also likes to hop in beside her younger cousins in their double strollers when they're around, so we took the plunge. Well, Sherry's mom plunged for us as a new baby gift. We jumped right to a jogging stroller (the double-version of the single InStep Safari we got when Clara was 1) instead of getting a lighter-duty model since that works well for longer hikes without smooth paths as well as long neighborhood walks. I don't anticipate jogging with both of them often, but it's nice to know it can do that too. And for the day-to-day stuff we'll probably just use the Ergo with Clara walking (or in her single stroller if there's a ton of walking to be done).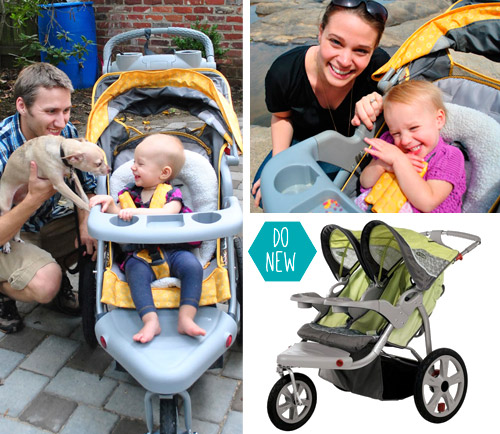 AGAIN – Cloth Diapers: The BumGenius cloth diapers that we bought for Clara have held up really well, so for now we plan to use the dozen that we have, and might add six more to our stash as we need them. Like Clara, we won't transition to cloth until he grows into them (it took Clara a few months but then she could use the same one-size-fits-all diapers for 2+ years). Also like Clara, he won't be exclusively cloth diapered. We found with her that mixing in the occasional disposable (mostly for extended periods away from home or overnight towards the end of her diapering time) was what worked for us, so we're going to try that again.
NEW – Honest Diapers: We're gonna give Honest Co. diapers a try this time before the bun fits into our one-size-fits-all cloth ones, instead of sticking to Seventh Generation ones like we did with Clara. We've heard lots of good things about them from a few friends and I'm liking the idea of signing up for a bundle that arrives without having to think about it (we'll take all the help we can get in those bleary newborn days). Plus, I can't deny that the designs on Honest diapers are pretty sweet (dude, they have bikes).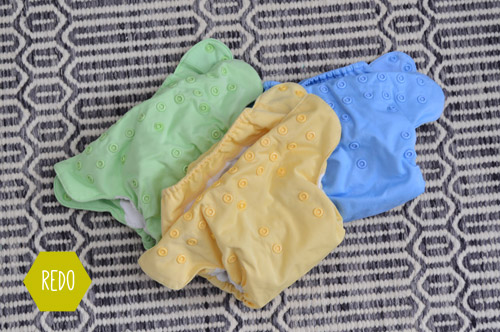 AGAIN – Car Seat: Baby Barnacle will also be using Clara's infant car seat, since Clara's Chicco KeyFit 30 is in great shape, still meets all current safety standards, hasn't been dropped or in an accident (you definitely want to replace a used seat that has), is a neutral gray & green color scheme, and shouldn't expire until the bun outgrows it (it's good for 6 years from the manufacture date). Is it wrong that I'm kinda looking forward to the days of snap-and-go seat again?
NEW – Car: He won't be riding in a hand-me-down car though. Yup, we got a new ride. It hit us that our family of five would have a hard time taking road trips in our Nissan Altima (and I very intentionally include Burger in that number, because his crate takes up a whole seat – let alone all the pack & play/baby gear we'll be toting along). So we traded it in for a 2014 Toyota Highlander because, after some research and test driving, it felt like the best mix of family hauling & DIY hauling for us (it has a collapsible third row). It was a bit of a splurge for us, but having saved by only buying used vehicles before (we drove our first Nissan past 170,000 miles and our second one over 100,000) it still fit into our budget and got us some features that we lacked before: back-up camera, Bluetooth, and (Sherry's favorite) heated seats. Plus, Clara's digging the little book caddy I rigged up for her.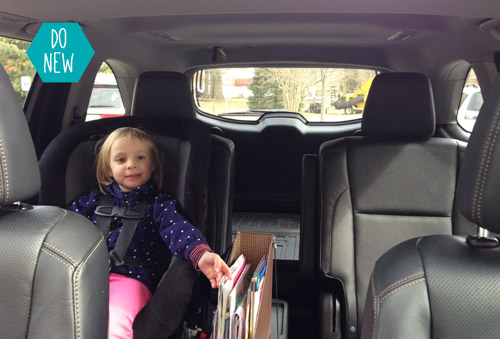 I'm sure every family has different scenarios and needs, so I'd be interested to hear what you guys reused or redid vs. what you changed or upgraded when baby #2 came along. Did anyone else feel a huge relief in that their "to do/buy" list was a lot shorter with their second child? It's nice to have a lot of the basics covered already.
Psst – For more baby/kid related posts, there's newborn paraphernalia we liked, keeping baby stuff simple, cloth diapering, battling kid clutter, saving money on baby stuff, baby led weaning, 14 months of breastfeeding, being a stay at home dad, baby toiletries, and kid clothes.