If you're anything like us, patience is easier said than done, so we'll get straight to the something free. After many (many) requests, we're happy to announce that we've finally created a downloadable PDF or Word Doc (click here for print-ready PDF, here for editable Microsoft Word) of our "DIY Baby Book" that we revealed in our getting-ready-for-baby post a few weeks back. Just to jog your memory, here's how we whipped it up:
The idea was actually John's brain child (I'm telling you, he's the sweet sentimental one and I'm the neurotic fool who worried about ruining our sofa if my water broke). He suggested that we get a fabric covered album and create our own little baby book of sorts, with fun patterned paper and printed prompts that you see in typical baby books like "The First Week Was…." and "My First Word…" I loved the idea of adding in keepsakes like Clara's inked footprints from the hospital along with a ton of photos, so we headed over to Michael's (with a 40% off coupon in hand) and snagged a sweet 8.5 x 8.5″ album covered in super fun Amy Butler fabric for just $9 after my coupon.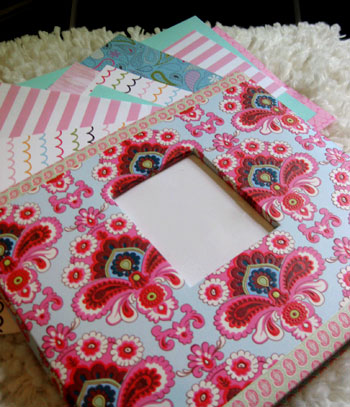 We also picked up a pad full of 8 x 8″ patterned paper to use as a backdrop in our keepsake album (to the tune of $6). So our entire DIY baby book project ran us $15 total. And after adding all the decorative paper and leaving room for notes about momentous occasions- along with photos and other memorabilia- we were left with a pretty sweet way to document many of Clara's firsts (a few of which we've already written in!):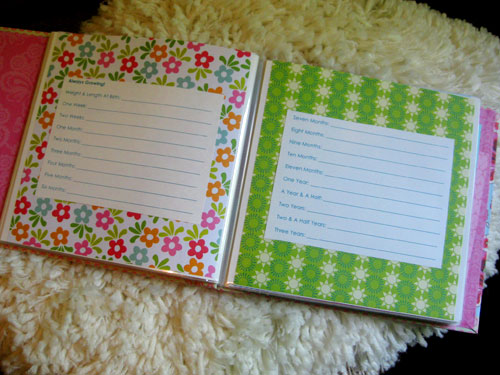 And since we made it ourselves we had fun sprinkling in a few quirky things, like this page of "Future Predictions" where John and I guessed everything from Clara's hair and eye color to her first word, her favorite subject in school, and even her future profession – before her arrival of course. It should be fun for the beanette to look back at all of our goofy (and most likely completely wrong) guesses someday.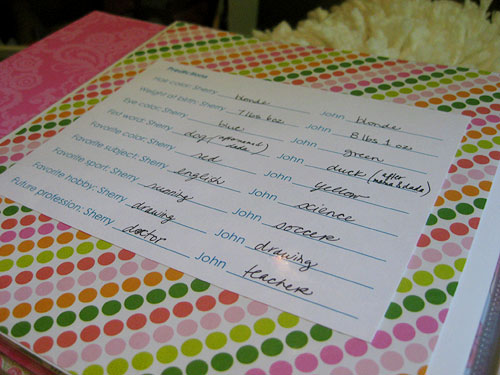 Plus the fact that it looks so cute in the nursery is the icing on the cake…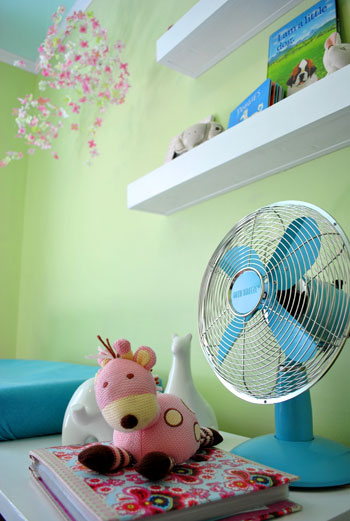 So now you can download the print-ready PDF or the editable (and then print-ready) Word Doc by following the links in the first paragraph. Then you just have to grab some pretty paper and an album and you're ready to print out our little PDF/Doc, cut each caption out, and arrange them in your new homemade memory book.
And now on to those five lifesavers that we mentioned in the title. Much like the frequent requests for a version of our DIY baby book, we received a lot of questions about what household items have come in handy since Clara came along. And although this isn't exactly home improvement related, it definitely falls under the "what makes your house more efficient" category so we figured we'd dedicate one post to this much asked question. Although at first we wondered if we'd even have any favorite items at just three weeks into parenting, but we're happy to say that we most definitely have a small collection of items that we ABSOLUTELY LOVE. As in probably couldn't have lived without. So although every baby is different and every parent has varying opinions, here's what we're so glad that we had on hand to help us adjust to life with Clara-Clara-Bo-Bara: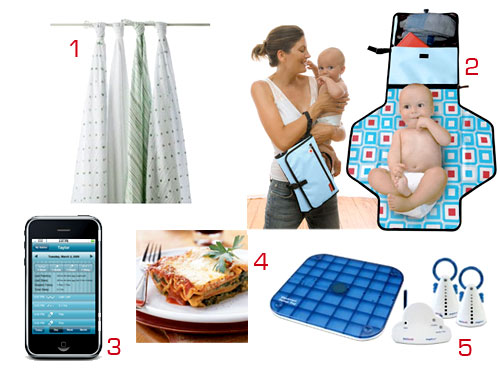 1. These Aden and Anias swaddle blankets are amazing. They're made of thin stretchy (and breathable!) muslin and they're giant (44″ x 44″)- which makes them perfect for giving Clara that back-in-the-womb feeling. Ever since we noticed how happy she was when she was swaddled by the all-knowing nurses at the hospital, we vowed to carry on that tradition at home. Have we mentioned that we actually have to set an alarm and wake her up to feed her at night when we swaddle her before putting her to bed? Note: be sure to securely swaddle your wee one before putting him or her to sleep since loose blankets can pose a suffocation hazard- just google "how to swaddle" for some great step by step tutorials.
2. This little clutch from Skip Hop can be slipped into any large purse to make it an instant diaper bag- which appeals to a deal hunter like me. See, I've noticed that bags billed as "diaper bags" can be over $150 for something that looks polished, while non-diaper bags of the same quality/size can be found for a lot less. In fact I grabbed a chic oversized black bag from The Gap for $25 (on clearance!) and just slipped the Skip Hop clutch right inside. Now I always have diapers, wipes, and an extra outfit on hand – I even have a clean mat to change her on while we're on the go. Plus I can easily drop it the clutch into other purses and bags if I feel like changing up my look without buying another official diaper bag. Oh the versatility. We actually plan to pick up another one because the changing mat part (which can be detached) is great for dropping over our changing pad in the nursery. Clara LOVES to pee when she's being changed- seriously the girl does it 8 out of 10 times. Thankfully, the slippery waterproof material makes those little impromptu pee-fests so much easier to clean up!
3. Our next must-have Clara item is actually a super handy iPhone app that we downloaded on the day that we returned home from the hospital. We were obsessed with trying to keep track of how many diapers she was wetting and dirtying (since the docs & nurses stressed that as a great way to monitor her health and the quality of my feedings). I also kept blanking out about which side I needed to start nursing her from every few hours. Enter Baby Brain stage right. It's just $4.99 and it keeps track of all my feedings (it even has a ticker at the top to track how long it's been since the last one) and it also tracks wet & dirty diapers. We love that we can push a button and see everything there is to know about Clara's day (and even compare that day to others) . Especially since products like the ItzBeen Timer are sold for around $25 and this app does pretty much the same thing for $4.99. Plus we didn't have to acquire yet another baby gadget. Score.
4. This mouthwatering lasagna photo represents all the amazing frozen meals that were dropped off by friends & family members after returning home with our little bundle of baby. John and I joke that we've never eaten better. Seriously, the kindness of our loved ones has been amazing, and if you're not sure how many relatives and friends will show up with meals as you adjust to having a wee one around we would definitely recommend making (and freezing) a few meals before delivery day, just so you have them on hand. Anything that makes things like feeding yourself a no-brainer is pretty much guaranteed to be a hit when you're so focused on providing for your babe that you forget to eat!
5. This last gadget is totally a personal preference thing. We know some moms who scoff at the idea, but personally it's been the reason that we sleep at least 8 hours a night (interrupted by just one feeding!) so we're eternally grateful. Basically, it's a monitor that detects movement in your baby as he/she sleeps- even just their chest rising and falling as they breathe. And if there aren't any movements/breathing in 20 seconds it sets off an alarm. John and I can't tell you how much peace of mind this gives us. Plus it allows us to sleep more soundly and not do that hover-over-her-crib-to-make-sure-she's-breathing thing. Seriously, I haven't done that once. It has also helped us to get her into her crib from day one (as opposed to a moses basket in our room) which has done wonders for her sleep schedule since she isn't disturbed by us moving or the dog bounding around the bed at night. Remember, we have to actually wake her up to feed her or she'd sleep right through the night! Oh it's also a sound monitor so we get to hear her cooing… and if she were to wake up and cry someday, we'd hear that too.
So those are the five things that have been indispensable these first few weeks. And in case it's not obvious without this little disclaimer, none of the makers of the items mentioned above have paid us or perked us in any way to call them out here, they're just honestly the five things that have helped us out immensely so we thought we'd share 'em (especially since we get so many emails from new parents or parents-to-be who want our opinion). We're honestly kind of shocked that anyone cares about what we like, but there you go!
And now, since that's an awful lot of words up above, let's break things up with a few photos: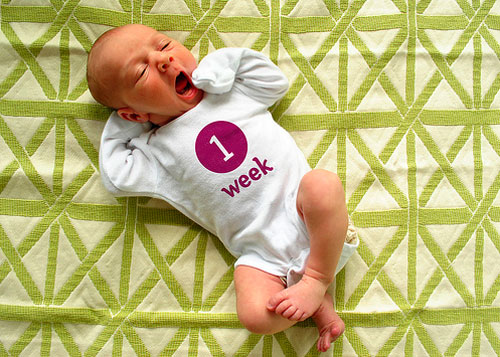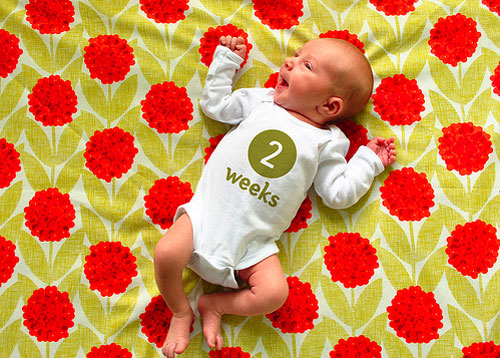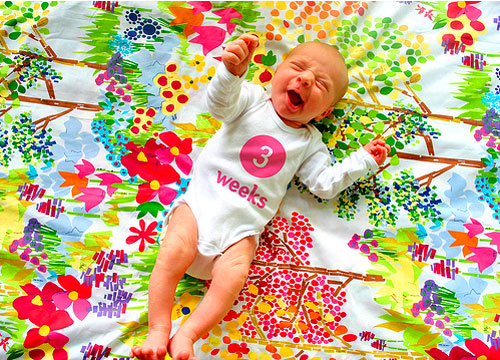 We've decided, like many other fellow bloggers, that we'll be documenting Clara's growth with a series of weekly photos. And we came up with the idea of using a white onesie (along with some Photoshop magic to add the week) and a colorful swatch of fabric for the background. We already had some great textiles laying around, but we also look forward to hunting down some cheap remnants to keep the project going (and using baby blankets and even our bedroom duvet if we ever get desperate). In fact the last photo was taken with Clara laying on the fun pillowcases I got for the hospital (mentioned in this post). By Clara's first birthday we'll have 52 weekly photos showing how much she's changed on a slew of punchy graphic backgrounds to compile in a photo book (you know, one of those Snapfish or Kodak Gallery ones?). Should be fun. Oh and we'll be adding all of our weekly beanette photos to this album in Flickr, just in case you'd like to follow along…
But back to the subject of those five favorite lifesavers, we'd love to hear your top five can't-live-without-'em baby picks. And if you're not packing the parental card in your wallet just yet, we're definitely interested in hearing the five must-have items that make your life easier. What's frying your bacon these days?
Psst- This post contains affiliate links.