We relish in the kindness of strangers, and we especially love watching this play out in community swap forums, like yard sales and flea markets or even virtually on sites like eBay and Craigslist. That's why we had to revisit one of our very first (and still all time favorite) posts: The Power of Craigslist.
I'm still amazed that this experiment worked, but basically we got a bunch of strangers to laboriously dig up all the bushes and haul away the pea gravel from our heavily manicured backyard (seen below during our wedding) to make way for the grassy, puppy-playground that we now enjoy (pictured further below last November).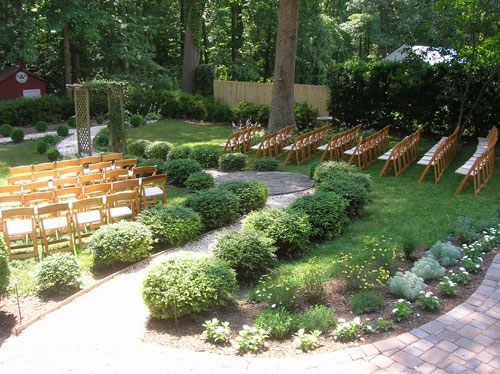 You'll have to read the post to find out exactly how it all went down- just forgive us if anything looks majorly amateur – it was only our fourth post!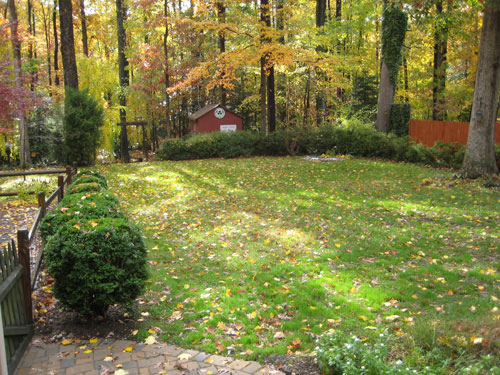 Just like some of the original readers back in September of last year (all 8 or so of you) – you may be feeling some heartburn over us destroying the beautiful garden that the previous owner had painstakingly groomed. And I'll admit that we even had some hesitations ourselves when we started the process last fall…
But now that it's been a year, I can say with 100% certainty that it was the best decision ever. It's totally easy to maintain (no more weeding that gravel path to nowhere! no more trimming a million hedges!) and it makes our yard look much bigger (while creating Burger's own personal outdoor paradise). There's not a day he's not out there chasing squirrels, fetching sticks and otherwise running amuck. And since I can't seem to get a good photo of him in action, I can only submit this shot of him catching his breath (and some rays) in the grass as evidence.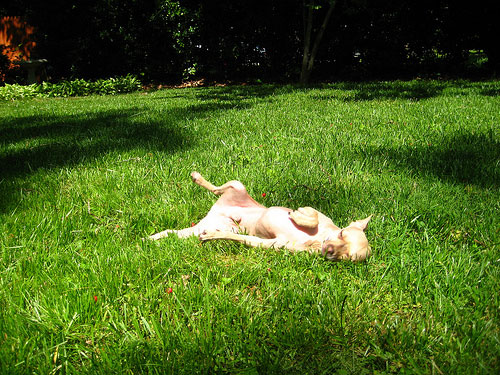 Now we wanna to hear all of your great Craiglist, eBay or yard sale stories. Got an amazing find to share or another smart tip for using sites like those in unconvential ways? Give us the goods, kind people. And share the hope that some of the best things in life are, in fact, almost free.