Y'all ready for me to break down more details about our DIY backyard wedding? Good, because here comes more wedding week straight atcha…
Any of you who've planned a wedding or other big event know you can score major points with your guests by thinking of the little things that suggest that you've thought of everything. And for us that included offering up complementary flip-flops for guests whose shoes were a bit too ambitious for a garden wedding. And of course Sherry wanted the dollar store flip flops to look as sweet as the sentiment, so she tied pairs of them with rustic twine and stuck 'em in a burlap basket for easy access.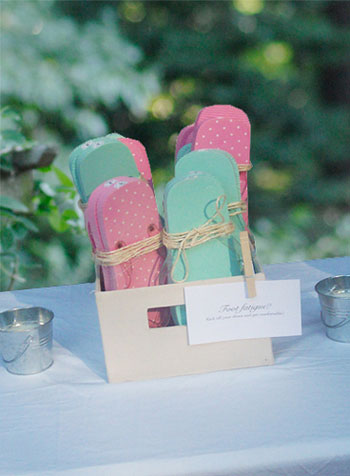 We also came up with a practical and budget-friendly twist on the traditional wedding slideshow (since a big projector wasn't in the cards for us). We created a clothesline version by stringing twine between two 5ft garden hooks and using charming wooden clothespins to clip the photographic story of us growing up, meeting and falling in love. This project was less than $20, but it really made a lasting impression and kept people entertained while they waited for their turn in the photobooth. And people still mention it to this day. To see the cute & cringeworthy photos for yourself, click here.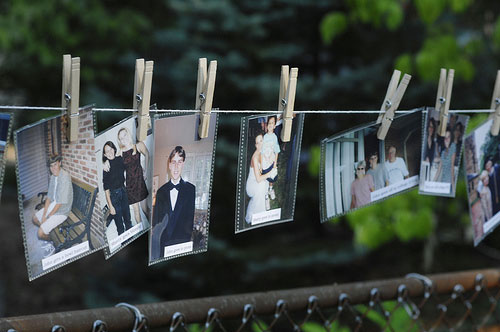 We even carried a few personal twists on tradition into the ceremony. After struggling to find a wedding reading that we liked, we gave up and decided to write our own. And in a moment of genius (or utter weirdness, you decide) we pulled out our high school yearbooks and began collecting a combination of sweet and silly notes written by our old friends. The sentiments ranged from complimenting Sherry's artistic ability to poking fun at my band geekiness, but actually showed some surprising similarities and perfectly captured our personalities far better than a generic reading or age-old sonnet. Thanks to my younger sister and Sherry's younger brother who expertly shared our collection of yearbook anecdotes, it turned out to be one of the ceremony's most memorable moments. That and the part where we said "I do," of course.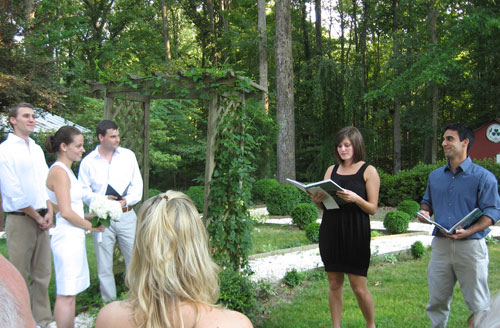 One detail we couldn't overlook was the lighting. We knew having the right amount of light in the right places would take our event from backyard barbeque to elegant outdoor gathering, so we went all out. There were votives on the tables for soft lighting. There were a few tiki torches for fun around the perimeter. There were even candles placed in old jars that served as mini hurricaines filled slightly with sand lining the entire driveway (we saved jam, pickle and pasta sauce jars for close to a year).
We also added some accent lighting in the form of paper lanterns hung from a pair of trees in the yard near the ceremony site. They provided a touch of interest while we said our vows, but more importantly created the perfect backdrop for all of our family photos. The lanterns (also from Target) were battery operated so we didn't even need to worry about wiring. Instead, we could focus on keeping smiles on our faces for all that picture taking.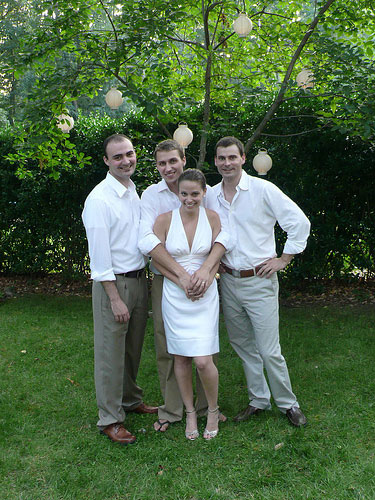 And speaking of picture taking, I'm reminded (thanks Stacie) that we owe a HUGE thanks to our photographer Todd who is responsible for almost all of the beautiful photos you've seen this week. Todd just happens to be a famous professional photographer around these parts and while I'm sure he's delighted to have our wedding on his resume, he usually prefers to talk about all the national print ads and magazine covers he shoots on a daily basis. We were able to snag his services for free because he also just happens to be our brother-in-law (you've toured his new house here). Thanks for marrying a great photographer, sis! And thanks for the great photos, Todd!
You may also be wondering about attire. Clearly we went more casual than the typical wedding dress code in part to fit the relaxed atmosphere and also because Virginia is so hot in July. I chose simple khakis, a white button down and flip-flops. It's mere coincidence that my best friend Kevin (left, our musician) and my cousin Travis (right, our officiant) wore practically the same thing. We dubbed ourselves the "Khaki Brigade" and things stayed informal until Sherry surprised us with these babies…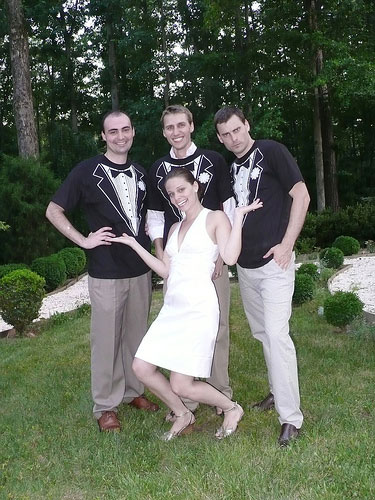 Yes, those are tuxedo t-shirts we're wearing. Good thing we don't take ourselves too seriously, eh?
But you're probably wondering about Sherry's outfit too. It's an $190 dress she bought at Arden B (of all places) a mere 48 HOURS BEFORE THE WEDDING. No lie. She purchased another dress months beforehand – actually the first one she tried on – and counted her lucky stars that she fell in love with a dress so easily. Until July 5th when she was out having girl-time with her BFF and spotted this dress and fell even more in love. At about a tenth of the cost of the average wedding dress, we didn't mind the unexpected expense (her first dress was also purchased on the cheap so the change of plans hardly broke the bank). And two days later she wore her new find down the aisle and couldn't be happier about the last-minute switcheroo. I must admit I'm pretty happy too. I mean, c'mon, look at how stunning my bride is!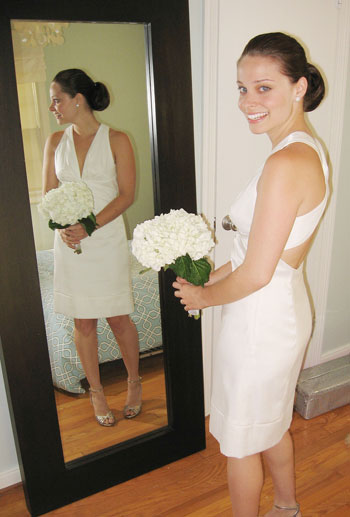 Sherry's bouquet was another DIY project in itself. The morning of the wedding she picked up three large hydrangea blossoms from the grocery store's floral department (for something like $12). She then tied them together using green floral tape, wrapped thick satin ribbon around the floral tape and then trimmed the stems at the bottom for an even appearance. Some straight pins with pearl heads secured the ribbon and finished it off- guaranteeing it'd make it to the altar in one piece. She also wrapped a tiny necklace from a dear family friend around the handle of the bouquet (carefully securing it with more pearl-topped pins) for a meaningful and sentimental detail that only she was privy to.
But I digress – weren't we supposed to be talking about lighting? Possibly our most impactful wedding decor detail was the dramatic garden lighting that we swagged over the entire reception area. To create this effect, we purchased six sets of string lights from Target – the ones with the big, round, clear bulbs – and created three long strands using clear fishing wire for reinforcement (we didn't want the tension to snap the thin cords). Then we tied carabiners to both sides of the three long strands and hooked one end of each to our sunroom while the other ends converged at the peak of our garage (where they wrapped around our weathervane and plugged into a hidden extension cord). The effect was incredible… and nothing fell on any of our guests (a reoccurring nightmare of ours). Victory.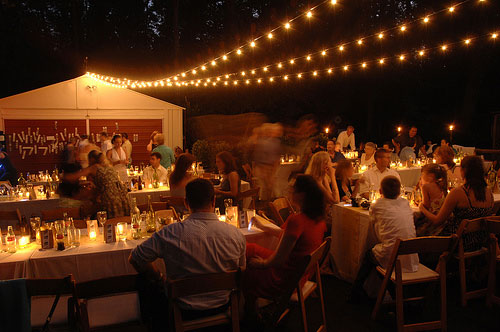 Part of me wanted to leave those lights up year-round (it would make coming home from work very dramatic) but Sherry pointed out that a thunderstorm could send a tree branch crashing down on them. Details, details…
*Drop in on our Wedding Album tab below the header to check out all the details of our big day from start to finish!