Now that all the birthday bid-ness is over I can tell you guys all about it. It was sweet. Turning 29 didn't really feel any different than the past few b-days and it involved everything from a foot massage with shaving cream (John mistook it for the lotion bottle) to Clara taking her "first crawls." Holy cow it was amazing. Everyone, including the doc, thought she'd just go straight to walking since she has been scooting around on her butt for a while – and even recently started pulling up. But lo and behold she decided it might be fun to give crawling a go (you know, just for kicks) and we even caught it on video:
So yeah. Baby, baby, baby. Sorry if that's all I talk about but Clara is kind of awesome. Haha. It was the best present ever.
The weather on Saturday was around 70 degrees and sunny (which is funny because it used to always snow on my birthday when I lived up north) so we went on a nice long walk in one of our favorite neighborhoods (look at that gorgeous house behind me) with Clara and the dog.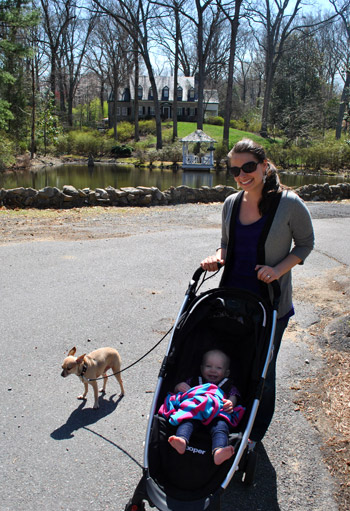 We even saw turtles in the river (Clara loved it, Burger seemed ambivalent).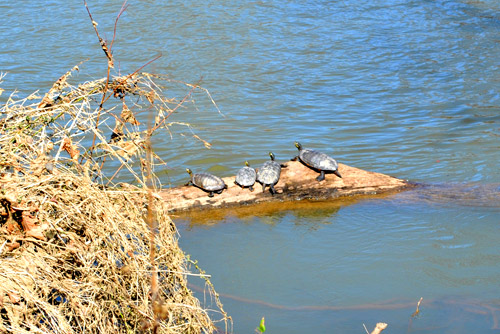 And the whole time I was sporting my new bun/thigh toning Reebok Easytone b-day sneaks that the hubby got me. Oh yeah, I'm styling.
I begged for them and he humored me. They actually didn't kill me at all during or after the first three mile walk that I did in them. But the next day I did the same thing and I needed a serious break afterwards. So yes, they do actually burn the buns and legs after a while (although my first trek with them made me think they were all hype, my Reeboks had the last laugh).
What else. We went out to a nice little sushi dinner (we have a thing for it)…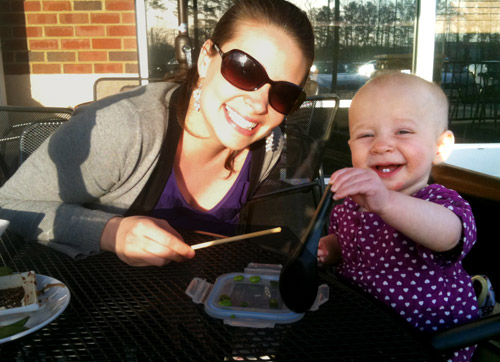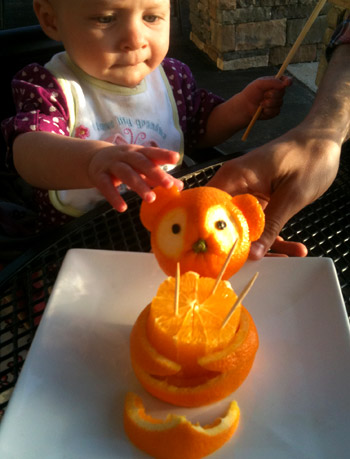 … and I got some pretty fun stuff from J and the fam. Beyond my tush toning Reeboks John also got me an awesome book called Love Life (from a local gift store named Mongrel) with a perfect greeny-yellow cover.
Not that you should judge a book by its cover, but it never hurts if it looks as good on the outside as it actually is on the inside. We mentioned a while back that sometimes we struggle with balance (since the internet is a 24/7 thing, sometimes it's hard to draw the line and unplug) so the book is chock full of couldn't-be-more-true reminders, like:
"The work will wait while you show the child the rainbow, but the rainbow won't wait while you finish the work." – Pat Clifford
"If you can spend a perfectly useless afternoon in a perfectly useless manner, you have learned how to live" – Lin Yutang
"I think the most significant work we ever do, in the whole world, in our whole life, is done within the four walls of our own home." – Stephen R. Covey
"It is a great art to saunter." – Henry David Thoreau
"I haven't a clue how my story will end, but that's all right. When you set out on a journey and night covers the road, that's when you discover the stars." -Nancy Willard
But enough philosophical stuff. What is it about birthdays that make you evaluate where you've been and where you're going? Oh yeah, the whole "I'm aging" thing. We were just joking that we'll have to change our blog name to Middle Aged House Love. Haha. Somehow it doesn't have the same ring. Anyway, now for the fun stuff. Look at the home-related booty I got from John's awesome sisters. We always do "wish lists" when it comes to gifting each other (which makes it easier on the buyer and pretty sweet for the receiver) so I moseyed around the world wide web in search of a few prints that I'd love to add to our soon-to-be-expanding frame gallery in the hallway, and found these beauties: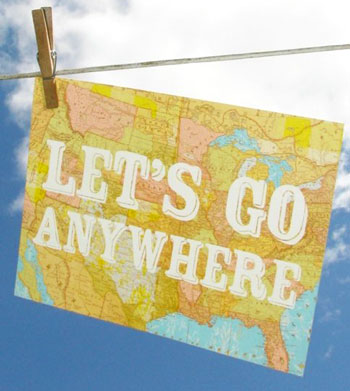 That one's from here (we love a good road trip) from John's sister Katie. And John went for extra credit. I begged for those Reeboks and thought they'd be the extent of my gift, but he also surprised me with this adorable bee print (we have a thing for bees too).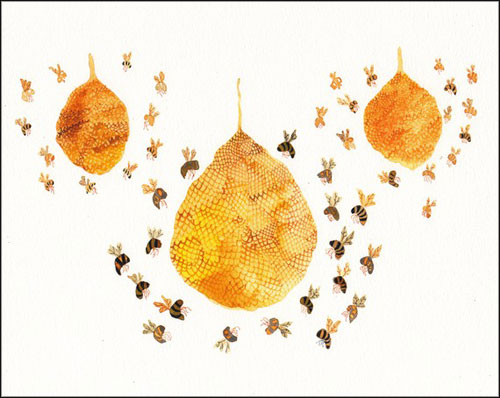 So I can't wait to hang all of my new prints among family pictures and keepsakes in the hallway. Pics when we knock more holes into the other side of the wall and hang that pile of Ikea frames that's still sitting in the corner of the kitchen. Someday. Oh and my sweet friend Heather sent me these lilies out of the blue: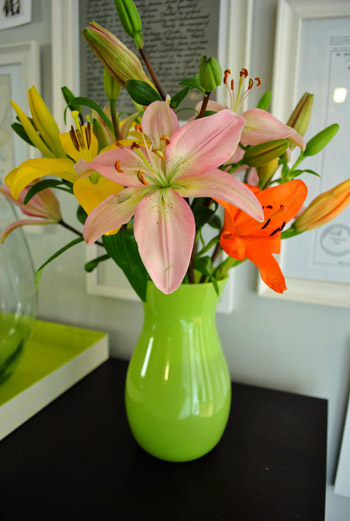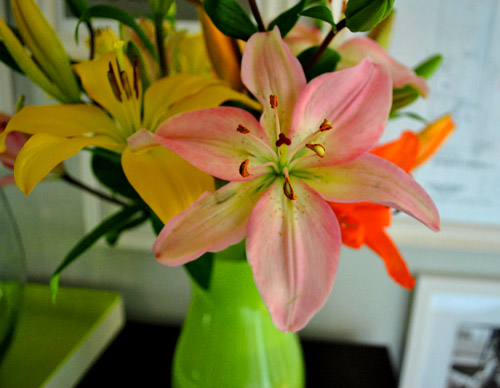 I love them so much and especially adore that she specifically picked out the lime green vase because she knew I'd flip for it. Affirmative Heather. I went crazy oohing and aaahing and still find myself walking in from the other room just to "visit" my bouquet every hour or so.
So overall, birthday number 29 was awesome and life is good. Who the heck knows where I'll be when I turn 35, or even 30. I'm just trying to make it count, without going so crazy that I forget to enjoy the little things like baby snorts and puppy sniffs. Man am I still hormonal from birthing Clara 10+ months ago? Sorry if this post is all sorts of personal and corny. I guess that's just me these days.
Pssssst- For anyone who has asked how we organize Clara's toys or inquired about the big brown basket next to our sectional, click here to check out our BabyCenter post for the mind-numbingly simple "dump & cover" toy storage system that's rocking our world.