Today's a cool day – it's marks our 5th anniversary of living in Richmond.
On this date in 2006, Sherry and I woke up on an air mattress in my Upper West Side apartment (she had already moved all of her stuff out of her Soho studio and turned in the keys) to greet my dad, who had driven up in the mini-van that would move us and all of our worldly belongings (hence the air mattress – we had sold our mattresses) to the River City. Seven hours and one stop at Ikea later we arrived at our new apartment in Richmond – unemployed, unwed, and uncontrollably excited about the life ahead of us.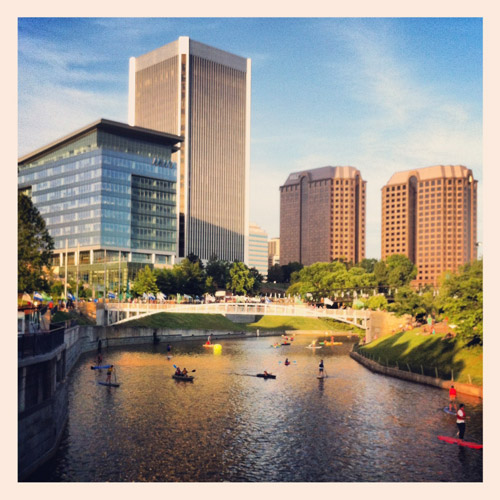 But enough about our back story (you can read more about that here), let's talk about Richmond. We often get asked for recommendations for what to see, where to shop, and what to eat when in Richmond. So we're taking this 5th anniversary occasion to share five "Top 5" lists about some of our favorite things in RVA. Are you sensing a "five" theme here? Here's what we've covered:
5 Favorite Places to Chow Down
5 Favorite Tourist-y Things To Do
5 Favorite Ways to Enjoy a Gorgeous Day
5 Favorite Places to Score Home Deals
5 Favorite Swanky & Inspiring Home Stores
***5 FAVORITE PLACES TO CHOW DOWN***
Sherry and I aren't "foodies" by any means, but we definitely love finding an excuse to eat out for those special occasions. Here are a handful of quintessential Richmond restaurants where we love to dine:

Kuba Kuba: A cozy, casual, and colorful spot in The Fan for Cuban food. Sound "in the know" by pronouncing it "Coo-ba Coo-ba" and not "Kyoo-bah Kyoo-bah." Here's the Kuba Kuba website.
Bottom's Up: We took the Bowers to this pizza spot in Shockoe Bottom during their visit last year. Be sure to check out the 6 foot high water marks from when it flooded during Hurricane Gaston in 2004. Here's the Bottom's Up website.
The Boathouse at Rocketts Landing: We celebrated the news of Sherry's pregnancy at this new-ish riverfront restaurant. The food's great, but the views of the James River and the expansive city skyline are our favorite part (see the picture below). In fact we took Sherry's mom and stepdad here last night. Here's the Boathouse website.
Crab Louie's Tavern: Technically in Midlothian, this seafood restaurant sits in a historic house older than the USA. Among other reasons, we love all of the fresh bread options that you get before the meal arrives. Carbs. Yum. Here's Crab Louie's website.
Sticky Rice: We loves us some sushi (read about our sushi tradition here), so this somewhat American hipster twist on it is always fun. Plus, where else can you order "Sticky Balls" and not get a weird look? Here's the Sticky Rice website.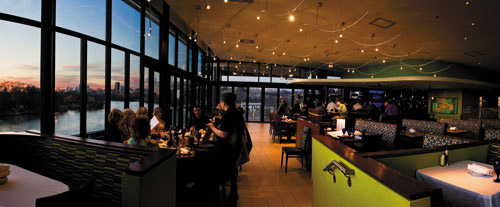 ***5 FAVORITE TOURIST-Y THINGS TO DO***
We don't have a Statue of Liberty or an Eiffel Tower, but these Richmond "landmarks" should be on your list when you're in town: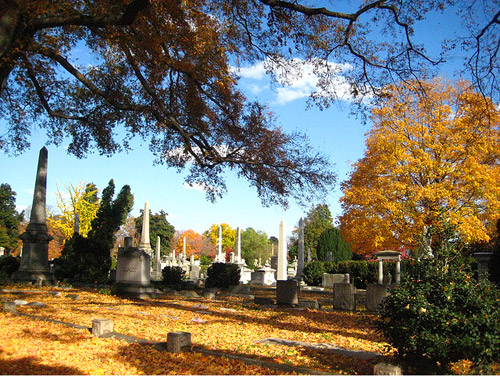 ***5 FAVORITE WAYS TO ENJOY A GORGEOUS DAY***

We think Richmond truly shines when it's nice out, so here are some of our favorite places to soak up a beautiful day:
Pony Pasture: This horse-y name actually belongs to an area of the James River Park System with great nature trails for walking, gentle currents for swimming, and exposed rocks for sunning in the hot months. We always describe Richmond as a beach town, but instead of having an actual beach, locals hang out at the river. (Check out Burger enjoying a hot rock and a long stick in the picture below). Here are directions to Pony Pasture.
Maymont: This park is one of our favorite spots to take visitors. Why? Tons of paved paths, beautiful gardens, a petting farm, historic buildings, a nature center, and even a zoo (sorta – there are bears, foxes, buffaloes, and bald eagles to name a few). And most of it's free – even the zoo and the petting farm. Here's the Maymont website.
Belle Isle: Kinda like Pony Pasture, but more island-y and closer to downtown, you can come here to enjoy nature and the city skyline in one vista. Plus it has great trails for walking, running, or mountain biking. This is where Sherry and I went from liking to loving Richmond when we first moved here five years back. Here's Belle Isle on Wikipedia.
Lewis Ginter Botanical Garden: Call it nature in a more controlled setting, but the admission price is definitely worth the scenery (and the landscaping ideas you can bring back home). We took Sherry's mom and stepdad here when they first visited – it was a great way to spend the day outside strolling through scenic settings. Here's the Lewis Ginter website.
Stony Point Fashion Park or Short Pump Town Center: These are spots for a more traditional "mall" experience, but in an airy outdoor setting. So you can hit up Anthropologie or Crate & Barrel, but still get some sun and stroll along cobblestone paths. Stony Point's even dog-friendly (Burger has visited every shop from Sur La Table to Banana Republic). Here's Stony Point's website & Short Pump's website.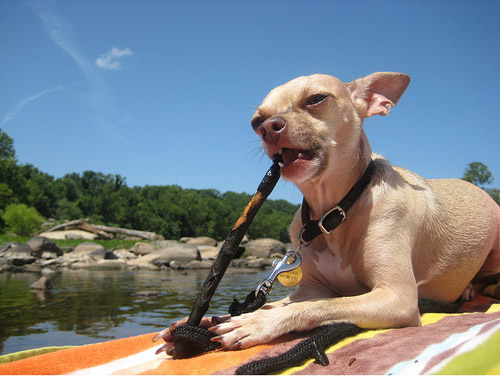 ***5 FAVORITE PLACE TO SCORE HOME DEALS***
We couldn't survive in this town if we couldn't find awesome deals for our house, so here are some local haunts that we love (besides the national chain stores like Tar-jay):
Diversity Thrift: We've found lots of great stuff here over the five years (including the base for our pedestal table in the sunroom and our glass coffee table in the old living room). You can read more about why we love it in this post.
Love of Jesus Thrift: This is another go-to thrifting spot, especially if we're on the hunt for furniture. My sister scored the amazing console below a couple of years ago there. Read more about that in this old post.
Lakeside Avenue Thrift Stores: A more recent discovery of ours, the thrift and consignment stores along Lakeside Avenue (like Consignment Connection and Pass It On) are where we recently scored our beloved wooden goose.
The Decorating Outlet: This store is where items from local sponsor Shades of Light go to be discounted, and where we've been going to buy items like the rug and the capiz light fixture in Clara's room on the cheap. Here's the Decorating Outlet website.
U-fab: This discount fabric store is always on our list when we're hunting for textiles or patterns to bring home. Their selection is more stylish than the big chains tend to be, but they're cheaper than the fancy designer places. Here's the U-fab website.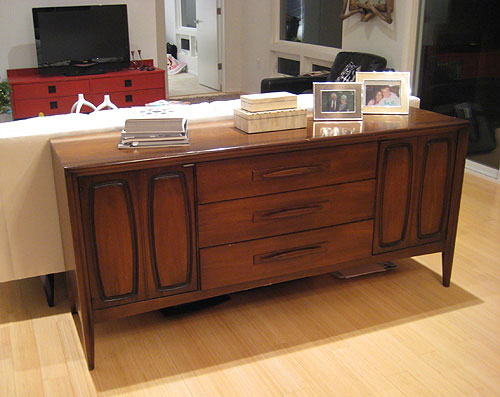 ***5 FAVORITE SWANKY & INSPIRING HOME STORES***
On the opposite end of thrifting and discounts are some of Richmond's most gorgeous and inspirational home stores. Be sure to bring a tissue to wipe the drool from your chin when you visit (even if you don't have the money in your wallet to buy something):
Williams & Sherrill: Half housewares, half fabric store, this place has more inspiration than we can handle on most occasions (see our photo below). Someday we'll be fancy enough to actually buy something. Sigh. More on them here. And here's the Williams & Sherrill website.
Ruth & Ollie: This shop in Carytown is smaller yet a bit more contemporary than Williams & Sherrill. We especially love the furniture and art that abounds. Check out a few ideas that we got from them in this post. Here's the Ruth & Ollie website.
LaDifférence: Located in Shockoe Bottom, LaDiff is a huge store filled with modern furniture, accessories, lighting – basically, the works. You may remember them from this oft-referenced wallflowers giveaway post. Here's the LaDiff website.
Shades of Light: Yes, they're a sponsor of our site, but we couldn't not include them on this list of go-to home stores in Richmond that we love, especially when it comes to gorgeous lighting (we've been obsessed with them since way before their sponsorship started). Here's the Shades of Light website.
Caravati's: Unlike the others on this list, you won't find anything new or pristine at Caravati's. It's an architectural salvage warehouse that is loaded with once-loved items for any remodel, restoration, or craft project with a historic and authentic twist. See some more in this old post.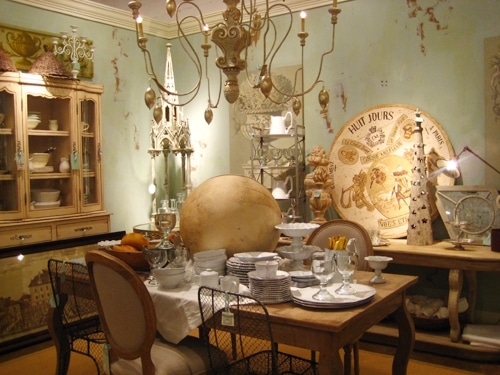 So there you have it, five "Top 5" lists to celebrate our 5th anniversary of moving to Richmond. Obviously in five years we can't claim to be Richmond experts, so we invite everyone else who lives here in RIC (or have visited) to chime in with their favorites in these categories (or others). And while we're at it, those of you in other cities are welcome to comment with a "Top 5" list for your hometown too. Who knows if we might end up visiting someday!
Boathouse photo by Beth Furgurson found via Richmond Magazine.com, rest of images snapped by us.
Psst- We announced this weeks giveaway winners. Click here to see if one of them is you.