We've mentioned my best friend Cat (whom we set up with John's close friend/cousin Travis) a few times before. Well, they finally tied the knot and my best friend is now officially my cousin. We could not have been happier to witness their amazing late September nuptials at Breaux Vineyards in gorgeous Leesburg, Virginia. And of course we arrived with our camera in tow so you guys could virtually attend the festivities. So get on your dancin' shoes and let the crashing begin.
Meet Cat & Travis (who actually met at our joint bachelor/bachelorette party):
Guests arrived at the vineyard and grabbed a glass of either sangria or sweet tea before the ceremony while a string quartet provided some major mood music. Then as the sun began to set, the ceremony was held in a grassy area overlooking the stunning rows of vines. Cat's gown was Nicole Miller (we got it together in Richmond!) and she looked ab fab. You should have seen the look on Travis' face when he saw her. Priceless.
Travis' uncle performed the service, and a few pre-selected guests surprised everyone by popping up in the middle of the ceremony to say a few words about the bride and groom. Here's John's sister reading a quote about love from a six year old ("always tell your wife she looks pretty even when she looks like a truck"). Then after the seven friends and family members popped up and read a sentence or two, the ceremony resumed. Such a cute little touch.
Can you guess which backs are ours?
After the ceremony Cat and her sisters and I ducked back into the back room to bustle her dress and share a super sweet moment as best friends who just became related.
Many of you might recognize my dress since it's actually MY WEDDING DRESS! All I did was throw it in the sink with some hot water and two boxes of $5 black RIT dye (regardless of the fact that the label said "dry clean only") and by some small miracle the result was a perfectly uniform gunmetal gray dress that I could wear for Cat's big day (and hopefully on many more of our wedding crashing excursions).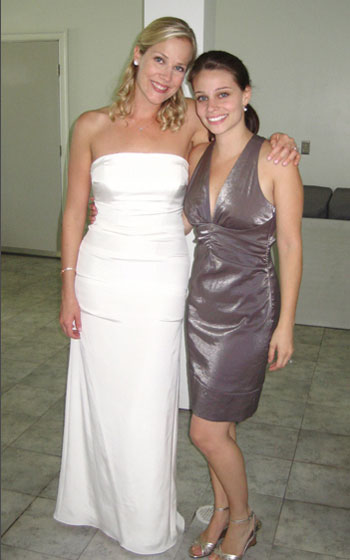 One other cute wardrobe detail is the fact that Cat was married in the same earrings that John's sister Emily and I were married in. They were my something borrowed from Emily and Cat loved them so much that she borrowed them too. Gotta love a family tradition like that (and free wedding earrings- thanks Emily!). Cat's something blue was deodorant right before the ceremony but we won't get into that.
Anyway, after the ceremony all the guests moved into the cocktail area next to the wine tasting room where some bona fide vineyard wine and some pretty darn tasty cheese was served. There's everyone enjoying the cocktail hour in the background while I snapped this gratuitous cake shot. Cat & Trav's round three tiered cake was delish- and included two different flavors (chocolate raspberry and vanilla almond). And yes, we unabashedly tried both flavors. Twice.
Cat's bouquet was chock full of a variety of white flowers for texture and quiet elegance and was wrapped in a brown satin ribbon to establish their white, cream and brown color scheme. And speaking of flowers, Cat even placed a few in her hair (and was adorable enough to insist that I do the same). It was a nice simple touch that took the place of a tiara or a veil for her (she's all about simple elegance). Oh and in case anyone's wondering there was no bridal party, which was pretty sweet for me since I was free to wear my wedding dress and just shoved some flowers in my hair to indicate that I was someone who could help seat people or rush around behind the scenes.
After the cocktail hour the guests made their way to a giant tent in the middle of the scenic vineyard for the reception. Once there, people snatched up their place cards, which were emblazoned with Cat and Trav's little C/T logo (it also made an appearance on the invite, the favors and the menu cards). Showcased in tiny silver frames and lined up on a table, the place cards looked great and the frames went home with the guests at the end of the night. Gotta love a wedding item that multitasks.
Here's a shot of the lovely tented reception area. Dinner was served family style and round white lanterns glowed into the night far after the sun set. To hammer home the brown white and cream theme, the tables were set with delicious dark brown linens and everything from the menu cards to the linens and the favors were color coordinated.
There were also two types of centerpieces. Some were short square vases stuffed with white blooms and hand painted brown leaves, while others were tall glass vases with larger floral displays, all still within the white, cream and brown scheme.
And as opposed to just being numbered, the tables were actually named after places that the bride and groom had lived throughout the years (from Reinbeck, Iowa to Parkersburg, West Virginia). All except for the head table, which was named Richmond after the city where neither Cat nor Travis had ever lived, but where they met (all thanks to my lovely- and sneaky- hubby who slyly arranged the whole thing).
The favors were delicious brown and cream M&Ms packaged in clear boxes that were once again marked with their signature monogram. Cat is a bit of a chocoholic, so the favors were especially fitting (and especially tasty on the drive back to Richmond the next morning).
After a tasty family style meal there were a few hours of spirited dancing (thank to the limitless vineyard spirits) and a fabulous time was had by all. Thanks so much for letting us share your special day with the world Cat & Trav. Here's to many more happy days together and many more trips to Richmond to visit us!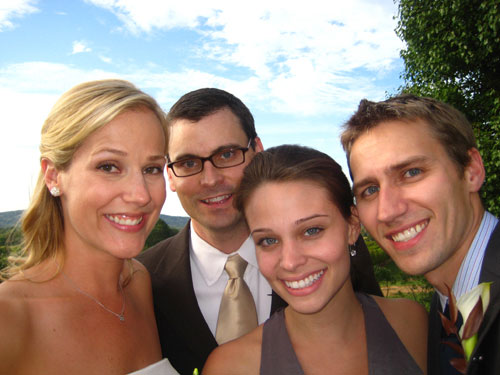 We hope you enjoyed this latest wedding crashing extravaganza. We're already packing our bags for our next celebration so stay tuned…