We're doing a little bit of happy dance boogieing on our new rug, hence this post's title. Yes, it's like High School Musical over here, lots of dancing and occasionally there's even some ballad-y singing about our feelings. Feel free to click play and get in on it.
Now that we've gotten through that little dance interlude, here's the new rug: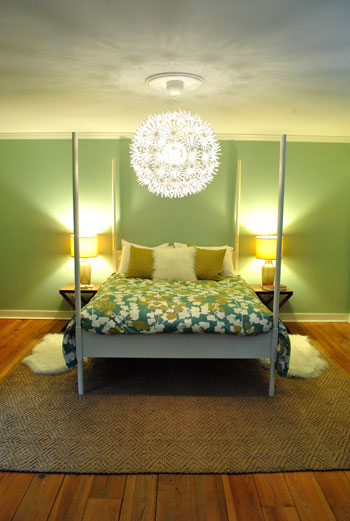 Oh happy day, we love it.
Here's a recent shot of the space without it for comparison.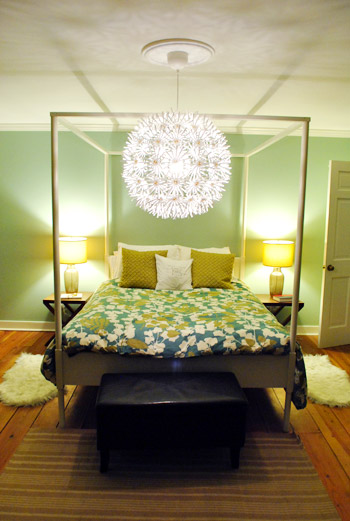 Isn't it amazing what a rug – even a neutral and "safe" jute one – can do to tie things together and add balance to a 15 x 16′ bedroom (15 x 21′ if you count the sink nook's depth). Well, there's more going on when it comes to bedroom cha-cha-cha-changes, but we'll get to those in a bit. As for the rug, we're loving the horizontal placement in the space (which still frees up 3 feet of hardwood flooring on each side and 6 feet of it between the foot of the rug and the wall – actually it's 11′ between the foot of the rug and the sink nook), which makes for some great "flow." Here's a more rug-oriented shot so you can see some of the hardwood floor around it: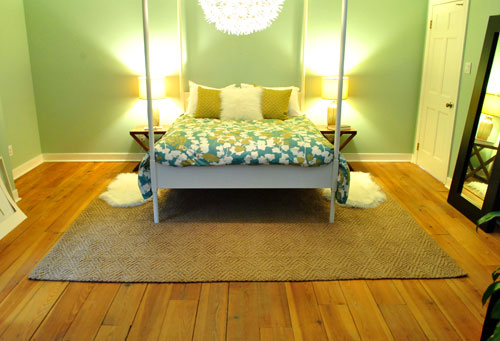 Placing it vertically in our room (since it's a vertical space) was our first instinct, but before ordering it we taped it off on the floor in either orientation and realized that we liked having more rug on each side of the bed to step down on and balance things out. So wide-ways it went. Here's a wide shot of the whole room for ya: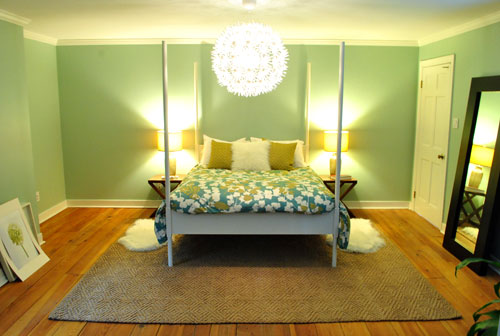 We left our ubiquitous faux sheepskin rugs on either side of the bed, just because there's nothing better than stepping out of bed onto them in the morning. And visually we like that pop of white on each side to sort of triangulate with the feathery white light fixture to create even more balance. Yes, Dad The Math Teacher, I worked "triangulate" into a post. How many Best Daughter Ever points is that? Oh and see that fluffy middle cushion on the bed? Target. $12.
We've always been huge fans of jute and this rug is softer than any other that we've owned. And just as we suspected, we love the subtle nubby diamond pattern going on. Not too obvious and compete-y with the patterned duvet, but not too flat and blah like some of the other woven jute rugs that we looked at. And we're so happy with the color too. Not too orange or tan (which might make it disappear right into our floor, which kinda of defeats the purpose of a big rug to balance the room out and tie things together in the first place).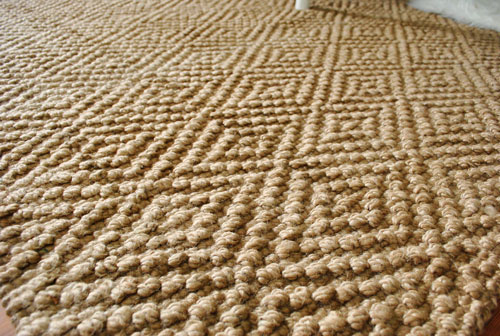 Now back to those other tweaks going on in that we mentioned. At first we were averse to the idea of removing Ed the Bed's top slats, but after living with things for a bit and the arrival of our new rug we decided to play around and give it a go. What's the worst that could happen? And what do you know, we love his little haircut of sorts. Sometimes it's just nice to take a little off the top. Removing those slats does nothing to compromise the sturdiness of the bed (they can best be described as 100% decorative) and we like how it opened things up and allowed us to move our new light up a smidge since we no longer had to worry about the petals bumping into Ed's top rail.
We're loving these little switcheroos for now, but who knows what else will change (or un-change) as we add other stuff into the room. It's definitely still in progress (to do: add some wall art, bring in an antique dresser, eventually upgrade our nightstands, possibly change the lamp shades, etc). Oh and we might add little finials to the top of each bed post, just for a more finished look. We'll see. The best thing ever is that even after raising the light a bit it's still visible in the mirror when our heads hit the pillow in bed (see that magic, along with my hubby's socks here). It's a New Years Eve Miracle I tell ya.
Oh and about the absence of the bench at the foot of the bed in all the pics above. Such a short dark bench under the light was making the room look a bit top-heavy and unbalanced, but the one we'd like to someday upgrade to would ideally be as long (or almost as long) as the bed. We just thought removing it for some pics might help you guys "see" past that awkwardly small brown rectangle in the room. But for now it's still in here since it serves a nice little Burger-related function (he hops on and off of it to get into the much-taller-than-our-last-one bed). So here's how the bedroom actually looks these days, bench and all: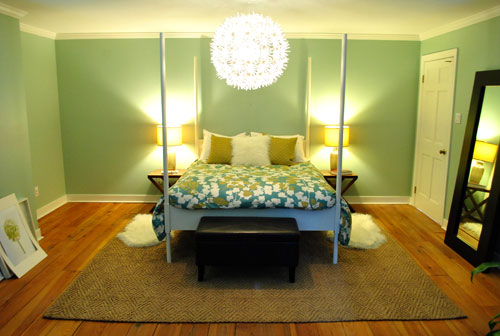 To go back to our post title (ah full circle, it's like an episode of Family Ties) we, uh huh, uh huh, really like the new rug. And as for Clara and Burger, they love it too. Oddly enough for semi similar reasons: traction for Burger and texture for Clara. She likes to pet it and "pinch" the nubs, and he loves to run circles around it (which he can never do on slippery wood floors). Ah sweet rug victory. There's nothing like it.
And now, just for fun, we'll leave you with a shot of the room as it looked a little over two months ago. It really feels a lot more like "our room" than it did back then.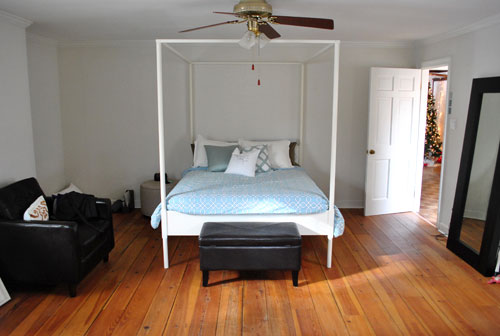 Gotta love that Christmas tree in the background.