Short story: we bought a bedroom rug!
Now for the long story. Because we're nothing if not wordy and over explain-y. We've known that our giant bedroom was in need of a nice big rug to anchor some of the more showstopping pieces, like big ol' Ed the Bed and our New Year's Eve ball-esque pendant light from Ikea. And a piddly little 4 x 6′ rug at the foot of the bed with two faux sheepskins on either side of the bed just weren't doing it for us anymore. Maybe to some people a 16 x 16′ bedroom (which is actually 16 x 21′ if you include the sink nook) isn't even that big. But to us it's straight up gargantuan since our last one was just 11 x 12′ box with a tiny closet with no attached bathroom. Speaking of that room, it sported a 6 x 9′ jute rug: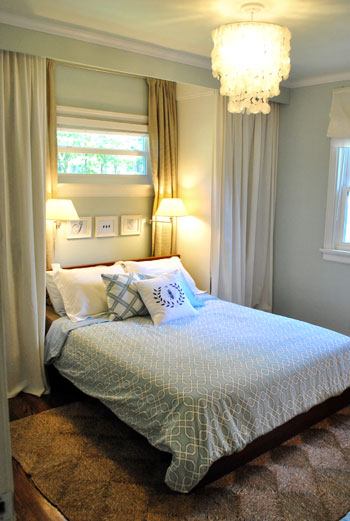 So we knew that our new bedroom would call for at least an 8 x 10. Just to be sure we taped things out on the floor with painters tape (such a good way to visualize rug size before pulling the trigger and buying anything) and agreed that an 8 x 10′ would indeed do the trick. We're actually planning to place it horizontally under the bed, but we'll explain more about that in our next post.
But back to the rug hunt. With our sights set on a size, the discussion then turned to what type of rug we wanted. We're huge fans of natural materials when it comes to rugs (which don't stink/off-gas, and are naturally durable and usually pretty easy to keep clean). So we pretty quickly narrowed things down to two options: a big white shaggy wool rug (kinda like a giant faux sheepskin) or a nice natural jute rug (of the softer braided varieties). And after a lot of staring at the bedroom and squinting, we decided that both for easy-care and design reasons we were really excited to go for something jute. We had a bunch of them in our last house (still have the big one that was under our bed in our current sunroom and the two that used to live in the old kitchen and third bedroom stacked at the foot of our bed looking too small). We're fans. They're so durable and easy to keep clean (even with a dog and a baby). We just shake them out or vacuum every once in a while, and their coloring and natural fibers just seem to hide dirt and even repel stains, thanks to the straw-like material.
Plus jute is notoriously hundreds of dollars cheaper than wool. And you know that kind of thing is definitely a factor for us. And the more we thought about it, the idea of a big white shaggy wool rug sounded nice and plush underfoot, but we worried about stains (anything white that can't be tossed into the washing machine makes us nervous) and we also thought since Ed the Bed is white that he might pop more when resting on a not-white rug.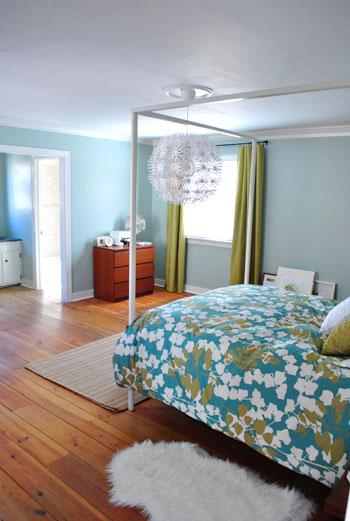 Why didn't we consider something bolder or more patterned? With our loud-ish duvet and a few other not-necessarily-safe choices (like our giant dandelion-ish pendant light, our greeny-yellow curtain panels, and our graphic four-poster-bed) we wanted to allow things like that to be the star, while the rug fell back and worked as a "best supporting actor" of sorts.
Long story short long, we narrowed it down to three surprisingly affordable choices (we're always thrilled to find 8 x 10 rugs under $350 or so). The first one was from Overstock for $224 with $2.95 shipping: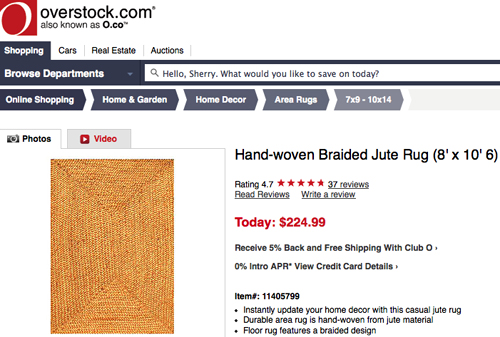 The second one was from West Elm on sale for $229 with $25 shipping (in "flax"):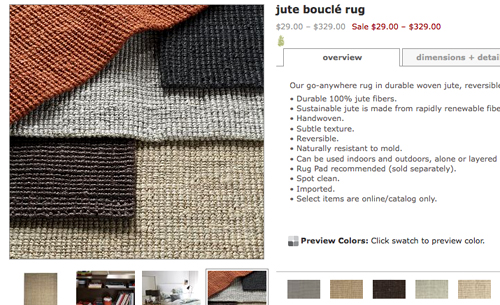 And this last one was from Pottery Barn on clearance for $199 plus $25 shipping: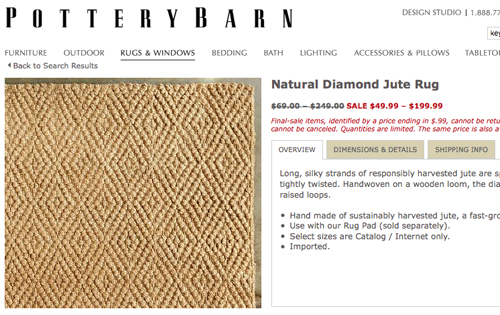 After a lot of deliberation we decided that we were most enamored with the subtle tone-on-tone diamond pattern of the PB one. And it didn't hurt that the price was the lowest one (although with pricier shipping than Overstock, it pretty much made them even when it came to overall cost). Easy enough right? Decision made.
But then I realized that we have a Pottery Barn in town (not true for West Elm or Overstock) so I called to see if we could pick it up in the store to save shipping (or get it shipped to the store by the site to save that loot). But annoyingly enough it was only listed for that clearance price online and was $249 in stores (still on sale, but not by as much). So there was no way around that shipping fee if wanted the $199 price. Boo.
We decided that in order to save $25 bucks we should just go ahead and order it online (even with the $25 delivery surcharge it came out to $224 and not $249 like the store pick-up price) and that way it would come right to our door instead of having to borrow a bigger car to go get it. But when I got to "online checkout" I saw that unlike buying it at the store, it couldn't be returned if the color was totally different than what we expected. Which admittedly could be mostly remedied by checking one out in the PB store near us before ordering, but sometimes different "batches" have varied coloring.

But that wasn't the game changer. This little red sentence was:

Whaaaa? It's early March. I've heard of three weeks of waiting, but three months? That's a quarter of a year. I'll probably have at least ten more gray hairs by then. And Clara could be walking. And Burger will be at least 2 dog years older. Plus they had them in stock at the PB store near us (we called and they actually had two). And those are 100% returnable. And there wouldn't be any shipping costs. Or waiting 3+ months for it.
So we decided that paying $25 more was worth the instant gratification, borrowed John's sister's SUV, and drove out to Pottery Barn to make it ours for $249. No shipping and no waiting required. It still felt like a darn good price for a giant 8 x 10 rug, especially considering the original price was upwards of 300 and it has that cool subtle diamond pattern going on that makes it feel a lot more special than the average jute rug.
Now it's home, half rolled out on the floor. And it's so soft! Approximately 50 times softer than the one that we used to have in the bedroom. Woot. We also think it all went down the way it was supposed to because we questioned whether the Overstock rug was too orange (you can never tell if it's their pics or not) or if the West Elm one was too cool looking (it almost looked painted in the pictures) and the PB one is juuust right with our warm wide plank floors now that we've got it home. Pics to come!