I got into one of my weird rebellious moods (rebellious is a relative term for me) and decided to tea stain two pillow covers that we already have (originally from this cute Etsy shop). Oh yeah, I'm wild and ca-razy like that. I just figured it was an 100% free project and it would (fingers crossed) be an easy way to take two extremely stark-white (as opposed to warm white) pillow covers to a slightly creamier and off-white tone that would help them layer in more naturally with a slew of other off-white, cream, and even super light metallic bronze pillows that are currently living it up on Big Karl (our dark slipcovered sectional from Ikea).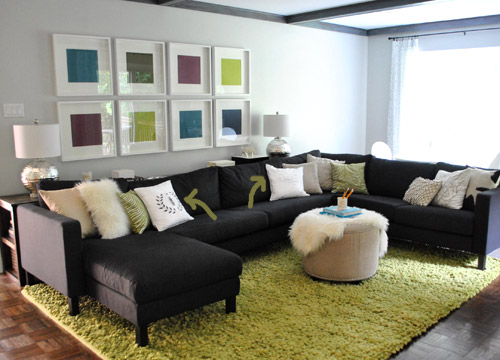 I'm pretty keen on switching out pillows at the blink of an eye (so these guys could all end up in another room next month or even next week), but I figured it couldn't hurt to make them all "compatible" – no matter where they'd end up living someday.
See how they stick out like sore thumbs overly-white squares o' stuffing? In person they really made the others feel kinda dingy by comparison. Not a good look.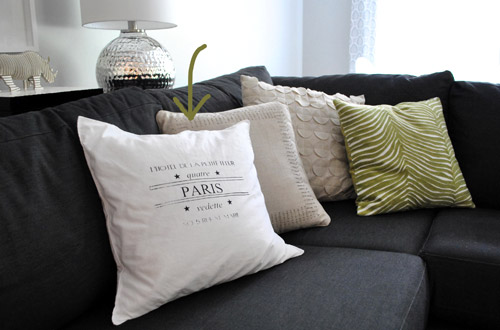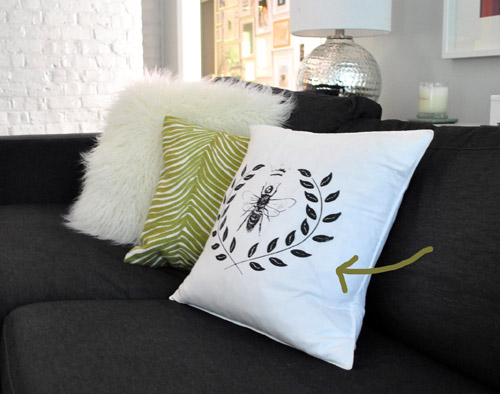 So I dipped them into a nice tea bath that I made thanks to three tea bags that I had on hand (one french vanilla and two regular old black tea bags) and some boiling hot water.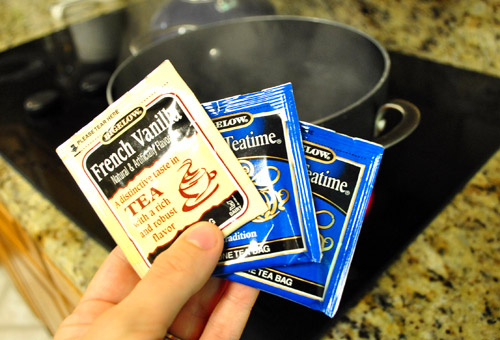 I just soaked the pillow covers with cool water first (a tip to keep the stain from absorbing unevenly) and then stirred them into my boiling hot tea cauldron. Bubble bubble toil & trouble, baby. I didn't want them to get too yellowed and antique looking, so I just left them in there for about five minutes.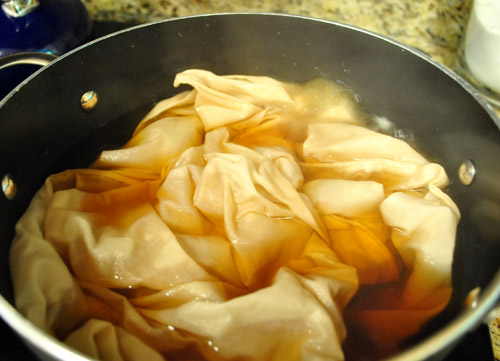 Then I gave them a quick run through the washing machine (with cold water to seal in the color and get rid of any excess tea)…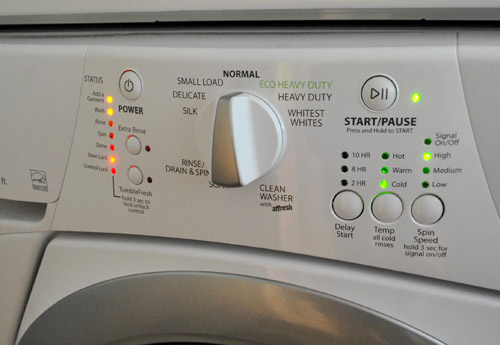 … and dried 'em (tumble dry low) until they were almost 100% done (leaving them a little damp is a wrinkle relieving trick, since I've heard that allowing cushion covers to dry on the pillow instead of sitting in the dryer getting wrinkled can keep them looking better).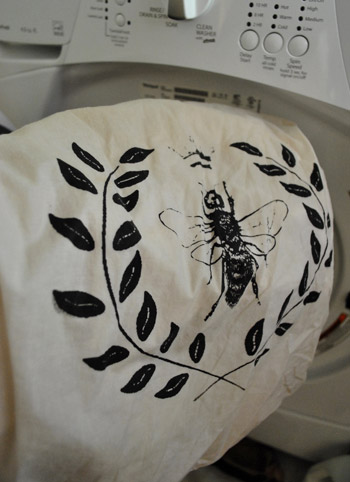 They weren't 100% wrinkle free when they came out, but perfect is so 2010 anyway. Here they are now with their new creamy not-too-white undertones thanks to some free tea. They definitely still read as white, just not as blindingly white (think "normal person tooth colored" instead of "Ryan Seacrest tooth colored"). The whole shebang took me about ten minutes of actively paying attention and an hour or so to wash & dry them.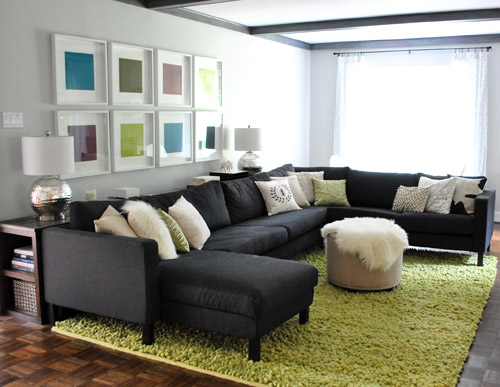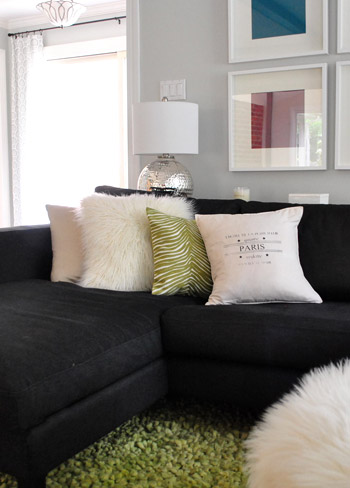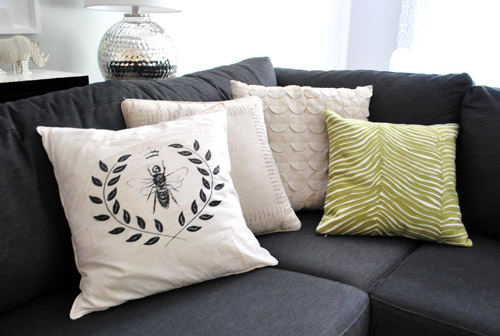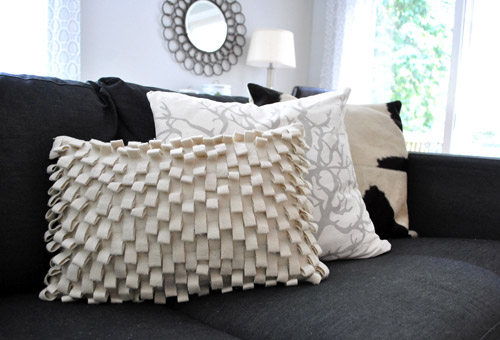 Now they "tuck" right in with the rest of their little pillow friends (they're still some of the lightest tones, but they don't make the other guys look dirty anymore). Hooray for tea.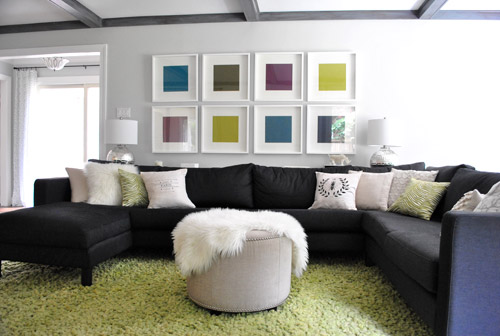 Oh yeah, and see those two green zebra print pillow covers? The funny thing is that I've been sweating them (mom, that means crushing on them, which is the same thing as saying I really like them) since before we moved. I even stuck them into this just-dreaming mood board about our future living room last fall. So when they went on clearance for $19 (down from $34) with free shipping and an additional 15% off thanks to a coupon code (Take15) I couldn't resist. Got 'em both for half price ($17 a pop with tax). Not that I needed more pillow covers. Oops. Told you I have a pillow problem.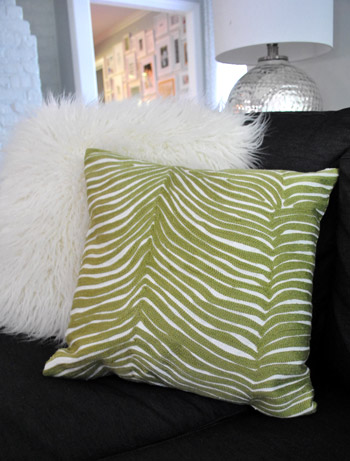 The irony of all of this pillow talk is that we spend 85% of our time on our cushy rug with the bean. Three cheers for something cozy underfoot. Or underbutt, as it were. But at night once Clara is asleep, we do sink into Karl, where we usually watch something weirdly morbid that we love (like Dexter, True Blood, or The Walking Dead – what's wrong with us?) and all those pillows actually come in handy for things like: back support, reclining, keeping our laptops from burning our legs, tossing at each other when someone falls asleep, and squeezing during suspenseful/scary parts. Ah pillows, such useful items. Maybe I need more. Just kidding.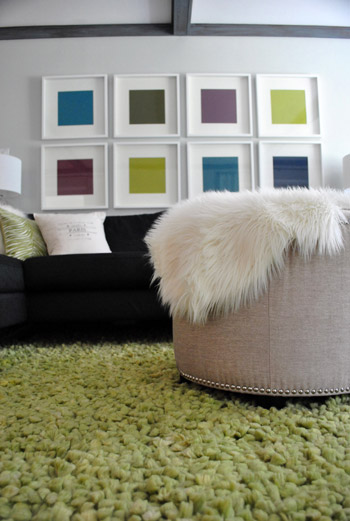 What have you guys dyed with tea? Any other West Elm shopping going on (pillow covers or otherwise)? Do you remember making fake tea-stained pirate maps with burned edges as a kid? Just me? Oh man, those were the days.
Psst- I'm a dork for dye. Check out how I dyed my wedding dress here and how I dyed some cheap-o slipcovers for our $25 craigslist chairs here.
Pssst- We announced this week's random giveaway winner. Click here to see if it's you.