***This giveaway is no longer accepting entries – see who won below!***
Thanks to random.org's very arbitrary matchmaking skills, our winner is… Lawren (whose favorite wedding moment was when her cousin's pocketed dress stored tissues to hand the groom when he teared up during the vows). Congrats!
Hope everyone's having an awesome Fourth of July. We're enjoying some family time but wanted to drop in with this week's giveaway, so here ya go. Thursday marks our 4th wedding anniversary, which typically would make this "Wedding Week" around here. But since there's not much left of that dead horse to beat (we've already shared every last detail about our wedding, honeymoon, traditions, how we met, how we got engaged, and our favorite meaningful momentos), we're gonna go light on the theme this time around. Don't get me wrong, the last year has been awesome and we're planning something sweet to celebrate the beginning of year five (nothing big, but we'll share whatever we end up doing). Feel free to take a trip down memory lane by checking out a recap of our $4,000 DIY backyard ceremony or browsing old Wedding Week posts from the last three years if you're feeling sentimental though.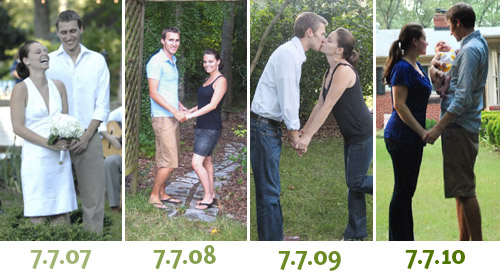 And since this turned into sort of a "Not" Wedding Week, we figured it was the perfect time to do a giveaway with The Not Wedding. They're a self-described "killer alternative to a bridal show" where you attend a mock ceremony, sit down dinner, and dance-filled reception all in the name of having fun and checking out vendors. Basically you get to experience music, food, cake (mmmm cake) and other wedding must haves in a real-ish wedding setting. This year's "big day" is on July 21st and two tickets (which include dinner, drinks, and dessert) are up for grabs this week.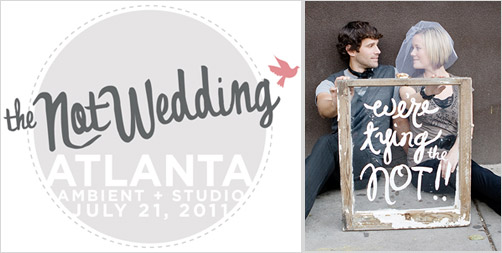 But knowing that not everyone can get to Georgia on two weeks notice, The Not Wedding is also hooking the winner up with a $150 gift card to their registry sponsor Bloomingdale's. Plus, you'll win a pearl bridal bracelet and hair flower fascinator (in white or ivory) from their accessory sponsor (Fine & Fleurie). Which adds up to over $300 of wedding-tastic swag. Or should I say not wedding-tastic swag? Hmm. Either way… score.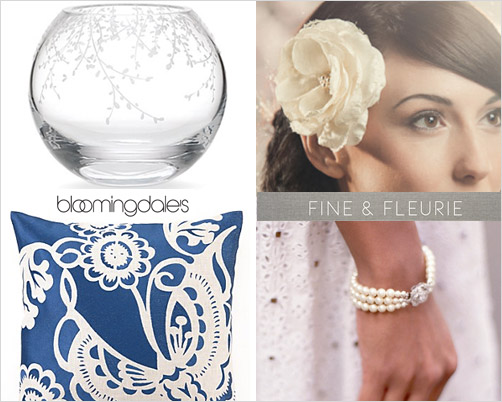 PRIZE: Two tickets to The Not Wedding, a $150 Bloomingdales gift card, plus a bracelet & hair flower from Fine & Fleurie
TO ENTER: Comment on this post with the words "NOT ME!" and…
BONUS QUESTION: … tell us your favorite part about a wedding that was NOT yours. Did a particular family member have an especially touching ceremony? Did your best friend cry or laugh at your killer toast? Maybe your college friend simultaneously had you drooling over her location, dress, and decor? Or – be honest – is it just the time your work friend had an awesome open bar?
GIVEAWAY CLOSES: Wednesday, July 6th at 8pm EST
NUMBER OF WINNERS: One
PRIZE SHIPS: Anywhere in the world!
USUAL STUFF: One entry per e-mail address is permitted. The winner will be selected using random.org and announced on Thursday as an update to this post. That's right, come right back here on Thursday for the announcement of our winners. Good luck…
Note: We weren't paid or perked to host this giveaway, we just like rewarding our lovely readers. See our Giveaway FAQs page for more info. Pics from The Not Wedding, Bloomingdales and Fine & Fleurie.