Here's a little recap of a few small projects and updates that we tackled – all in less than ten minutes a pop. Let's call it a "tapas" post since they're all bite sized morsels. And happily, they all actually worked, which isn't always how it goes (sometimes the occasional this-should-be-quick project morphs into how-on-earth-is-this-taking-so-long?!).
First we have some wooden tattoos I made. Yup, I bought these two little temporary tattoos (they say "breathe" and "delight") at the same holiday craft fair that we mentioned here (they're from a local artist named Suzanne, who actually chatted with me about how you can put them on various things beyond skin). They had just been sitting on my desk waiting to be used when I was cleaning out our closet and found two old cedar blocks stuck in the back. So I decided they were the right size for my tattoos and I wanted to see if they'd stick.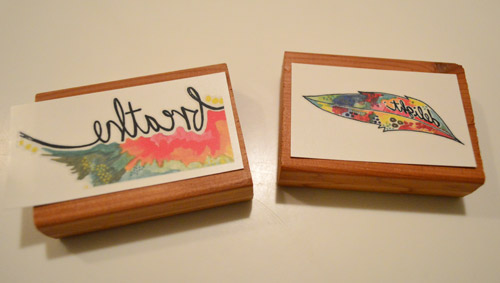 So I peeled off the clear plastic on the front, placed them face down on each block, and wet them down per the application instructions.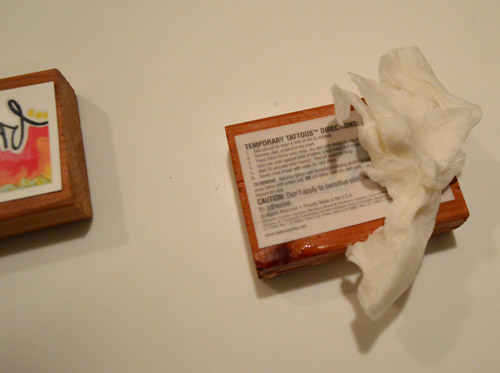 Well lookie there, it actually worked.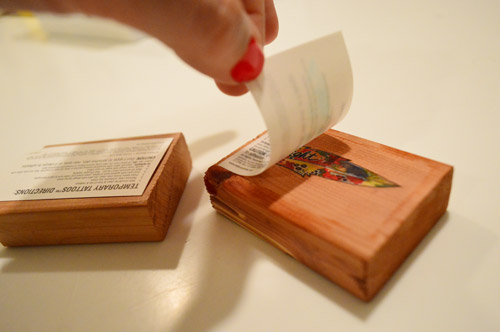 Here they both are right after I applied them (you can see that the "breathe" block is still wet). Can you tell I did this project back before we painted the kitchen walls? Haha!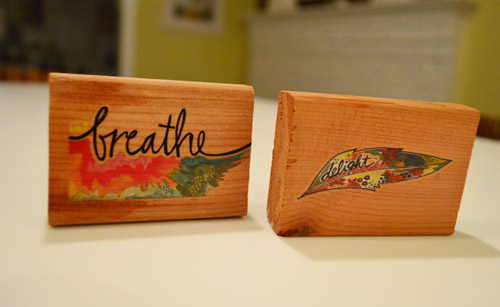 Here's that breathe block now that it's dry along with two other "wisdom cards" that I keep on my desk (also bought from Suzanne's shop at the holiday craft fair). They're a nice reminder not to sit on my butt at the computer all day – sometimes I just look over at them and hop up to go play with Clara for a while (you know, so John can take his turn sitting on his butt at his computer, haha).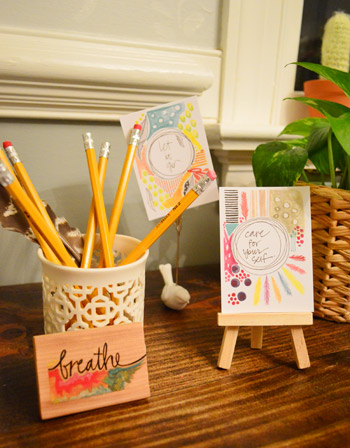 The moral of the story? Try temporary tattoos on wood. Or an old travertine tile? Or a ceramic planter? Who knows where they'll work – and I bet you could even seal them with spray sealer or Mod Podge or something. Look here are some tattoos on Easter eggs (and some more over here)!
Project number two was adding a timer to Clara's play kitchen! This was actually a gift from our sweet friends Lauren & Steve (they mentioned that their son Dylan loves the timer that they added to his play kitchen when they passed one along to us, so we couldn't wait to try it). Isn't it cute? I think it's from Anthropologie.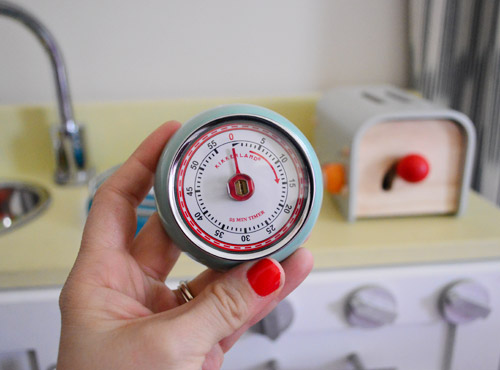 The first step was to remove the back where there was a small screw and a magnetic plate that could be screwed into the backsplash on Clara's play kitchen.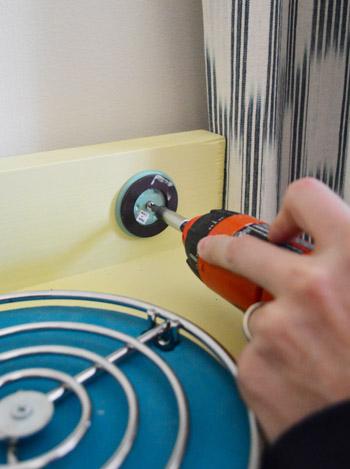 Then the timer just snaps back onto then magnetic plate, like so: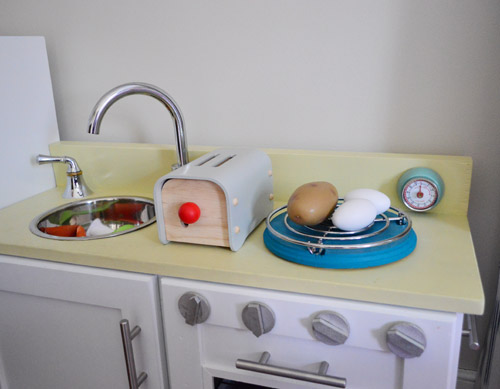 Clara loves setting the timer and cooking up some potatoes and eggs, as demonstrated above. Seriously though, it's a really fun interactive element, and we're so happy that Lauren and Steve passed along such a fun little addition.
Project number three: framing a metal newspaper plate in our hallway frame wall. See how this looks like a sheet of tin?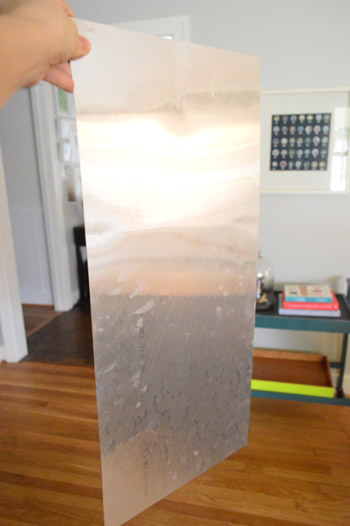 Well it is. In fact it's a metal newspaper printing plate that the Tacoma News Tribune gave to us when we were in Tacoma for our signing. They did a little write up about us, and even had an illustrator render our likenesses (complete with a pocket sized Burger) so we knew we wanted to frame it. So out came my metal snips…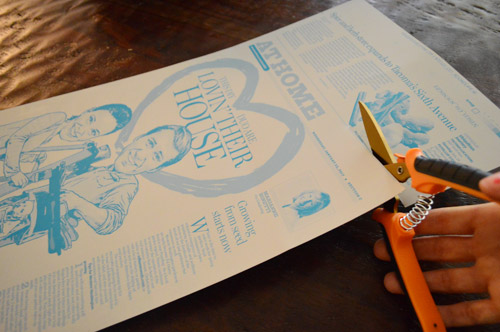 I trimmed that baby down to the size of a frame that already hung in our frame hallway. About a minute later, I had this: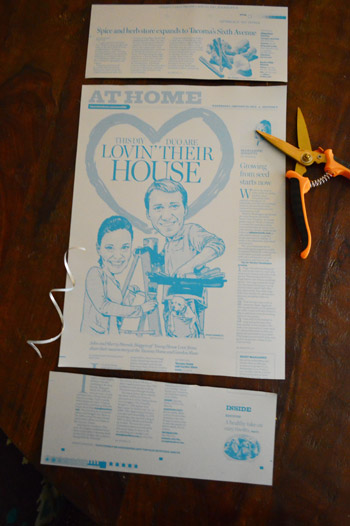 Then I just slid it into the frame (with a slightly larger piece of white mat-board behind it) and called it good.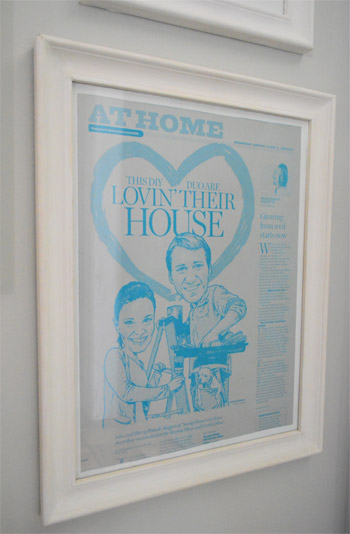 I think it's a fun little pop of blue on the wall, and everyone who comes over seems to gravitate towards it and asks what the story is. It's fun to explain that there are metal printing plates for newspapers since we didn't even know that was the process before receiving this.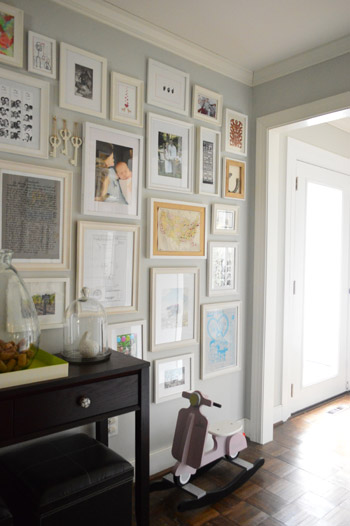 And the fourth update is actually just bringing a book project into the dining room (this old $10 bar cart that we made over with a fresh coat of deep teal color, and chalkboard paint on the top for labeling bowls of candy and nuts or writing a message to guests at a party). A few people saw the legs of it in this picture from this post about crown molding, and asked for a shot of the full monty, so here she blows. Like how I randomly have a pillow on that tray since we're fresh outta beverages? Haha! We'll have to stock up for our next party…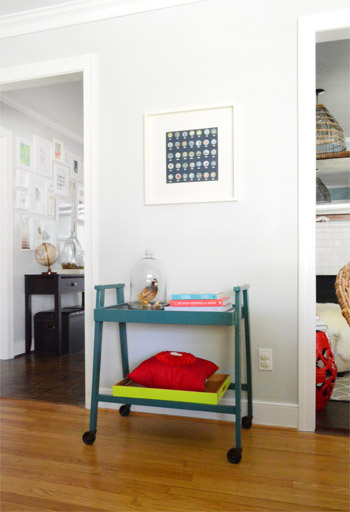 So those are four little "tapas" updates that we've snacked on lately. What little tweaks are going on at your casa?