For those of you who joined us in tackling our collective closet clutter this weekend, how'd it go? We're proud to say that our weekend wrapped up with less unnecessary stuff crammed behind closed doors and more room to fill with impending baby goods (or things that later get offset by baby goods and need a new home). We've got a lot to recap, so we're starting with what happened in the master bedroom and will follow up with details about the other two closets that we tackled later this afternoon. Can you handle the excitement? Hold on to your (pared down) hats.
As I revealed on Friday, my closet had been looking quite sloppy due mostly to a growing collection of t-shirts (thank you 10K races) and general folding laziness.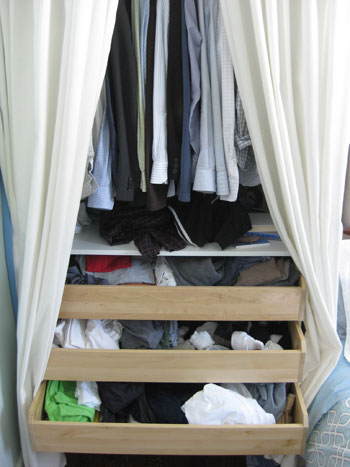 So I literally took everything out to evaluate what I still needed and what had been long forgotten. I guess that's step one: clear things out so you can really see what you're dealing with. Here's a look at my empty drawers… well, except for the one that literally contains my drawers. I figured you didn't need (or want) to see that step.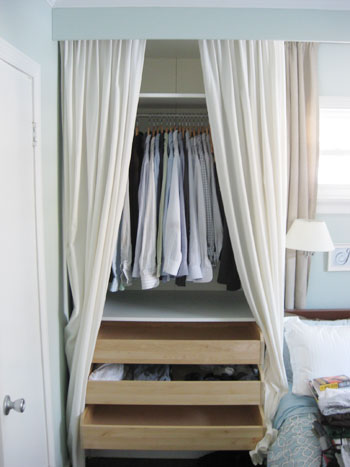 That glimpse of t-shirt piles in the corner of the photo above is just the beginning. Check out exactly how many shirts I found hiding in there. I can't tell whether it felt more like a clown car or the male version of Sherry's shoe collection. (In her defense she claims she's now "in recovery" for that addiction and only has two pairs of jeans to offset the shoe to clothing ratio. It's true she really is a minimalist in all non-shoe areas).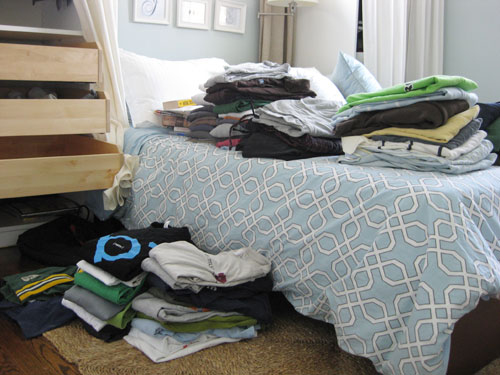 Anyway, once everything was out, I basically categorized it into four piles:
General-wear t-shirts (since button-down work shirts remained hung up throughout the process- although I whittled those down too)
Shirts for working out/running
Shirts for doing house projects (like those above, just with more paint splatters)
Shirts to donate
We learned a while back that you don't need that many "home improvement/painting" clothes, just one outfit for warm weather and one outfit for cold weather (and a belt, see more about that here). So just because you have ten old ratty shirts with paint on them doesn't mean it takes ten ratty paint stained shirts to work on your house- you probably only need one or two. Anyway, with all the categorization done, and each stack pared down it was time to neatly fold the keeper shirts (as well as my far slimmer collection of shorts & pants) and put them back in their proper places.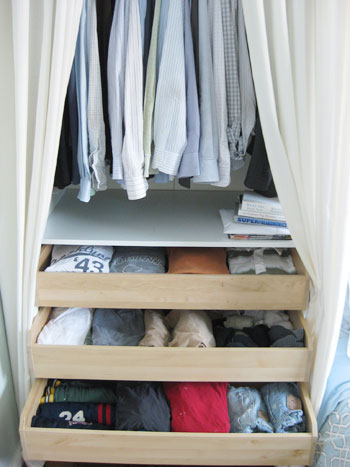 Which not only left me with a pared down and better sorted drawer situation, but also freed up an entire shelf above the drawers that was now barely being used. Three cheers for already achieving some bonus storage space for the potential bambino stuff that will supposedly overtake every available nook an cranny! Plus I got a pretty decent donation pile out of the deal.
Sidenote: Surprise! There was a dog hiding back there this whole time.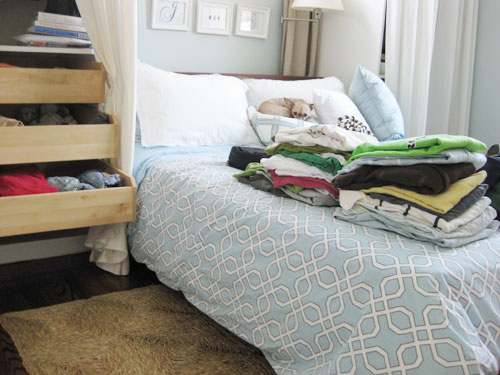 We actually sorted all of our reject clothing/stuff by dividing it into these categories:
Donate
Trash (for things that were just too grody or useless to donate)
Return to friends & family (we actually found a lot of borrowed books and things that we were happy to pass back to their rightful owners)
Pay it forward (we also found a few things that we knew one of our friends or family members would love, so instead of donating those items we actually resolved to giving them a second life through someone we know)
I also managed to tidy up the top shelf of my closet which contained an out-of-sight, out-of-mind collection of junk… including more shirts (hey, at least I'm consistent):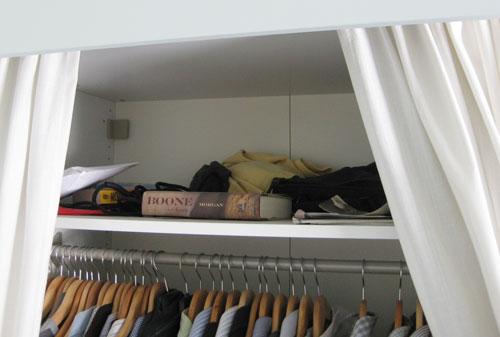 Now it's virtually empty, with the exception of some mess-wrangling shoeboxes (c'mon, a guy's gotta keep old cassette tapes from his high school band concerts somewhere, right? Just kidding… sort of). And if I wanted to be swanky, I could actually pick up a bunch of matching bins or baskets from Ikea to corral my stuff instead (and a few to leave empty in anticipation of other items to store someday). That would look pretty nice actually. Maybe I'll upgrade the next time we find ourselves in our favorite Swedish superstore.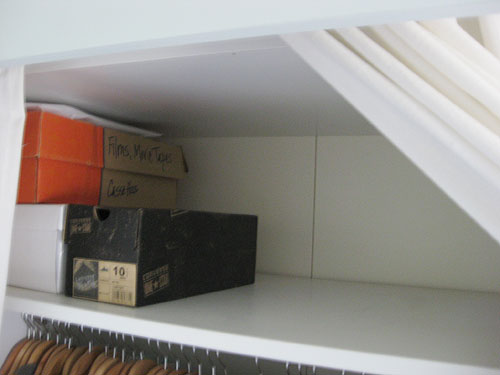 So to recap: my closet went from this…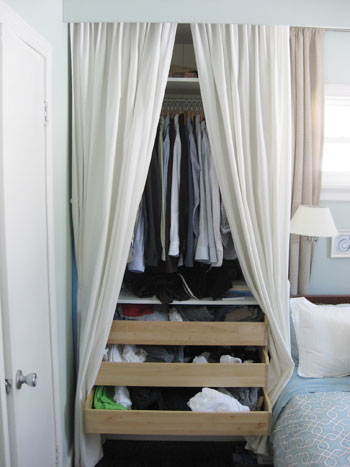 …to this: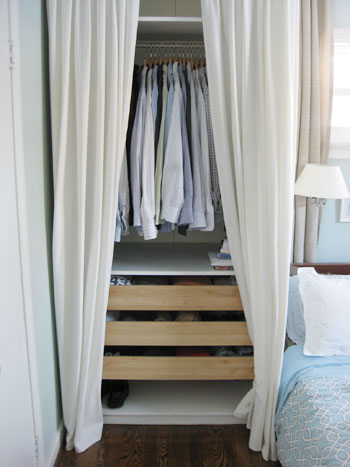 Sherry's closet was far from disastrous at the start of all of this, so there's not much of a before/after story there. But she did purge a bunch of clothes/jewelry/shoes that she hadn't touched in a while (not just because of the baby bump, but even before that). In fact here's our final spread of donation items just from our closets (along with some "return to their rightful owner" and "pay it forward" piles – which always feel just as good to shed). We did, however, decide to hang on to the sleeping chihuahua.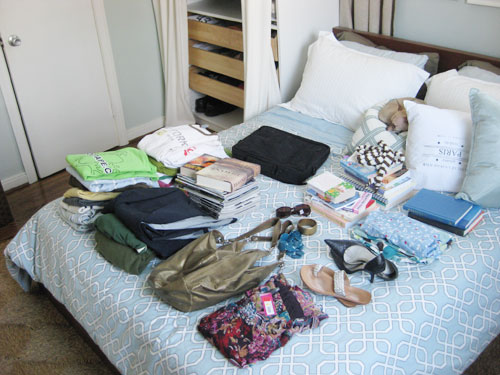 But since I know ladies have a thing for looking in other ladies' closets, I'll give you some obligatory "after" shots of Sherry's side of the bed anyways (you can snoop around and see way more on this old closet crashing post of yore):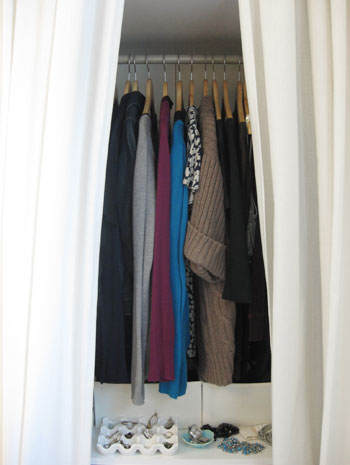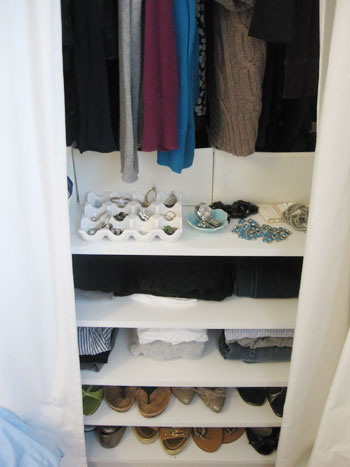 Oh, and before we leave the bedroom, I should point out that Sherry also cleared out a bunch of stuff from our "bonus" closet – i.e. the only original, single closet in our room – which is now home to a few of my suits and dress pants along with Sherry's non maternity clothes (while her bedside wardrobe has the stuff she wears on a day to day basis). Notice those two 100% empty top shelves? Like a breath of fresh air I tell ya.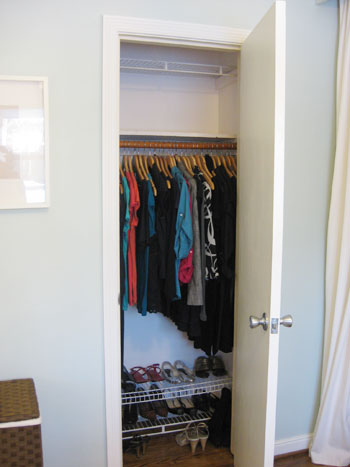 In the end, we felt very accomplished. Not only did our closets get tidier, but we freed up about four shelves for storing whatever new stuff comes our way. And we were able to haul off a pretty stuffed bag of clothes and accessories to a local donation drop box (along with returning stuff to our friends and family and even dropping off some books at a neighborhood book store) to complete the bedroom closet purge.
And even though we've got a lot more closet cleaning coming atcha later today, we can't wait any longer to hear how your weekends of de-cluttering went. Were you able to pare down your wardrobe? Or re-discover some pieces you already owned (which you'll now be wearing instead of storing under piles of other stuff)? Any advice to pass along to those who weren't able to tackle this spring cleaning task yet? Let's talk about your favorite tips and tricks when it comes to clearing out those closets (or junk drawers, or kitchen cabinets). Oh and if you've got photos to share from your own closet cleaning adventures, jump over to our Facebook page to post them for the rest of us to oooh and aaaah over. Fun, fun, fun.
Psst- Want a closet look at closet organization here at Casa Petersik? Check out this post on the subject. And to learn how we brainstormed and installed those two built-in wardrobes on either side of the bed, click here for the full story.