Back when we shared how we organized just about everything in our house there were a number of requests to see how we kept our clothing in check, so we're back to crash our very own closets and share all the dirty details. The closest I got to pulling back the curtain was revealing how I keep my jewelry organized in a ceramic egg crate a while back: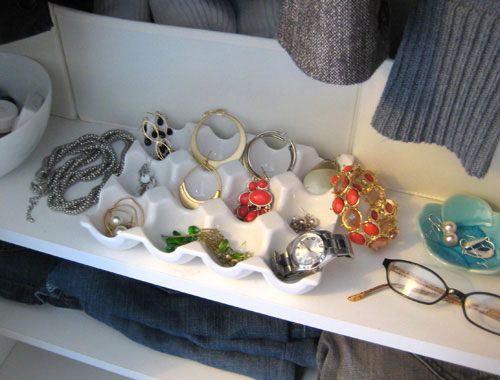 But there's a lot more than jewelry in that big Ikea wardrobe…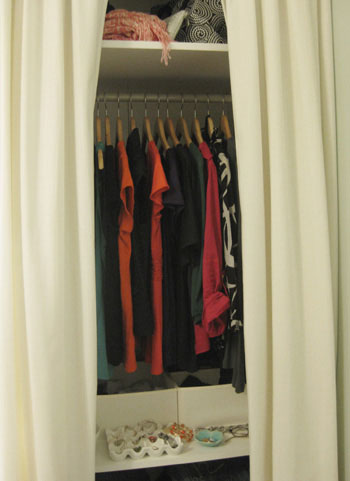 On my side of the bed, the wardrobe has two top shelves, a hanging bar, a shelf under the hanging bar with fabric boxes (full of socks, underwear, swimsuits, and all the other things that I like to keep wrangled in their own cubbies), and four more shelves below (one for jeans, one for pajamas and two for shoe storage.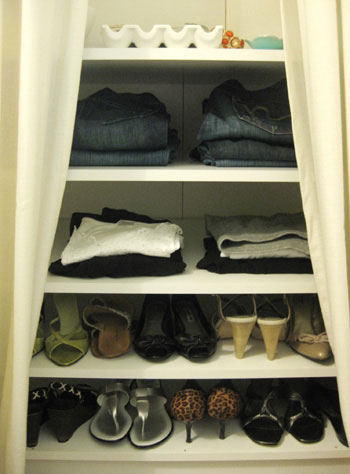 One little trick I learned was that turning each set of shoes in the opposite direction somehow magically makes room for one more pair of shoes per shelf (since the front of each pair of shoes is wider than the back, alternating directions steals a bit of space with each pair you add).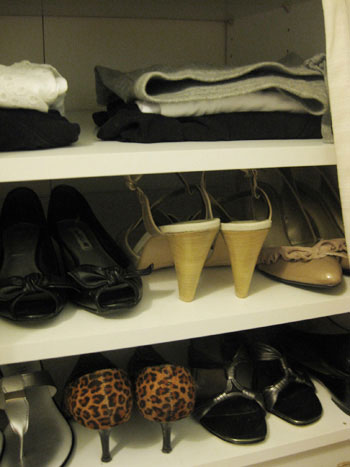 And as for those fabric bins, here's a better angle to check out my socks, bras and underwear. Good thing almost everything I wear is black so you can't see much detail here…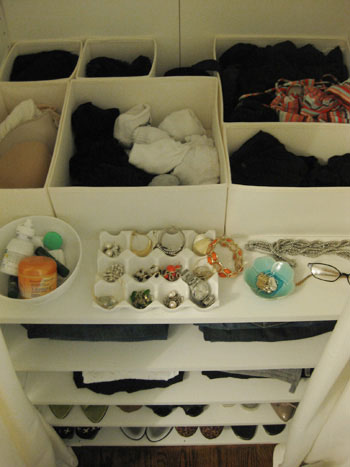 I also mentioned that I had two top shelves above the hanging bar, one that I use for folded fabric storage (it's kind of like clothing, right?) and the other that I use to house the purses that I'm not currently carrying (I stuff them with balled up paper bags to help them keep their shape and "sit" on the shelf) and a few rolled up scarves. Oh and matching hangers are one of the easiest ways (and cheapest- they're super inexpensive in bulk at Ikea) to make your closet look like a little boutique- plus they keep clothes from getting all stretched out like they do with skinny plastic or wire hangers.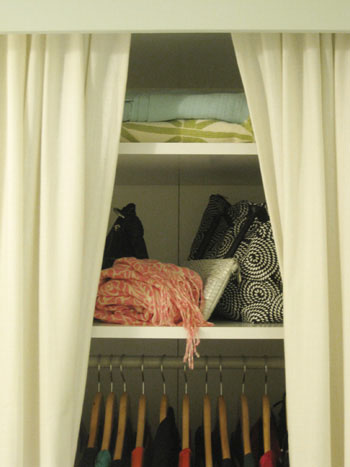 So that's my side, now it's time for J's. His also has a hanging bar with two shelves above it, but instead of having five shelves below it he has one followed by three pull-out drawers and one more shelf on the bottom for shoes. And while my hanging bar is full of mostly black tops, John's is full of colorful collared work shirts (since he has an entire drawer devoted to t-shirts and more casual weekend stuff).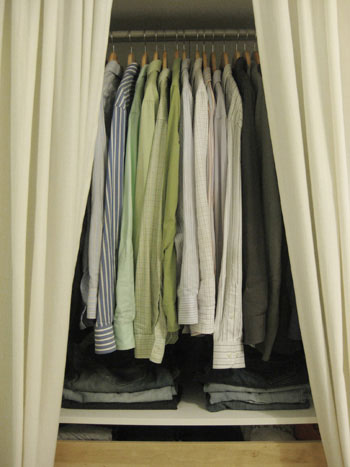 John also uses his big shelf under the hanging bar to store jeans while he houses all of his socks, white undershirts, and boxers in one of the pull out drawers. The greatest thing about bringing in the Ikea wardrobes was that we could each customize them to work for us individually (for example, John's hanging bar is about a foot taller than mine since I'm 5'2″ and he's 6′). Oh and you may notice that John has more jeans than me. I'm crazy about keeping things simple, even when it comes to clothes, so I like to have just a few no-fail pieces that I can grab without confusion or internal debate. Weird, huh? I know.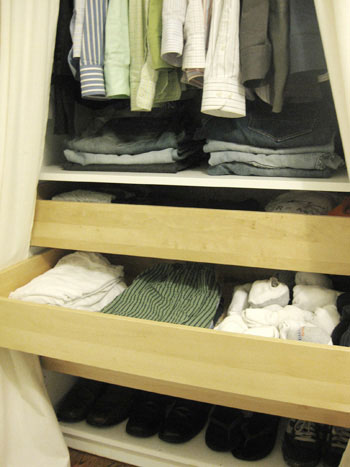 Here you can see John's awesome pull out drawers in all their glory. My wardrobe is actually a few inches narrower than John's (our back window is off-center, so we used the wardrobes and some curtains on the back wall to make it things appear more symmetrical) which explains why his accommodated drawers while mine only came with the option for shelves (certain sizes are "standard" and have more options).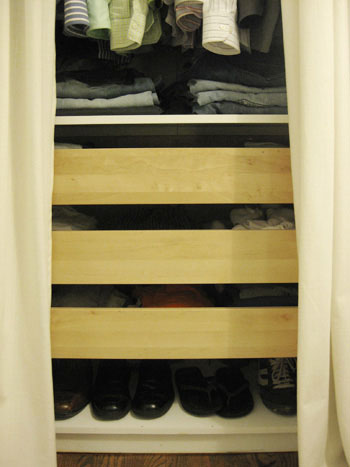 And while John might have more jeans than I do, I definitely win when it comes to shoes. I think because I keep my wardrobe pretty simple (mainly black and sometimes a pop of coral or turquoise) I use fun shoes and dangly earrings to keep things interesting. At least that's what I tell myself to keep from feeling guilty about my abundant footwear collection. Thank goodness we still have the original closet that came with the room (can you believe two people were supposed to survive with just this in the master bedroom?) for my overflow shoes, John's suits, my dresses, and some out of season sweaters.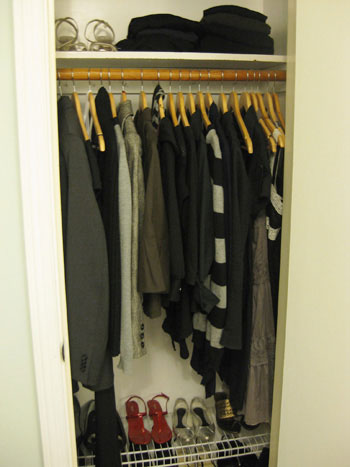 We even inherited some old nails in the side of the closet, which actually serve a great function- wrangling some necklaces that don't fit into the egg crate in my wardrobe. They're more function than form, but replacing them with decorative hooks or knobs from Anthropologie could pretty things up in a flash.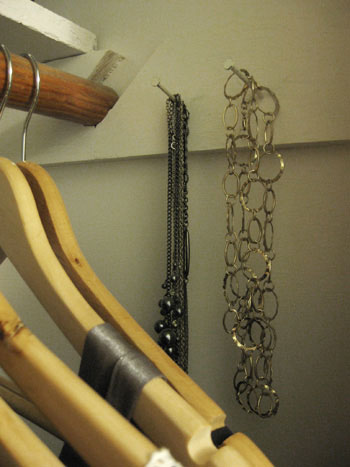 This closet also came with two stacked wire shoe racks (it's like our house knew I was coming!) which are super functional when it comes to storing three times the amount of shoes thanks to more usable vertical space. And you'll notice that I didn't use my little alternating-directions-with-my-shoes trick here, because I actually have room to spare in this closet. That, my friends, is restraint (although I did see some cute little green sandals at Target…).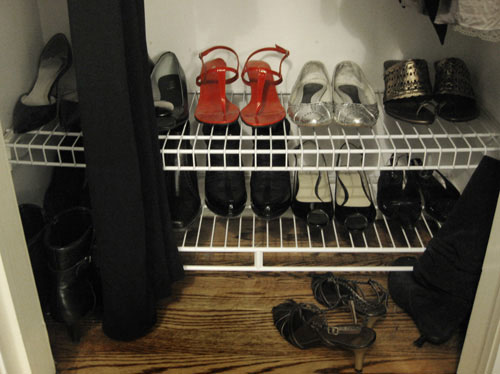 And on the subject of closets, we just couldn't forget our guest bedroom closet…. because it's a little bedroom for Burger! Of course we never close the door when he's in it and we remove his crate when guests come (the fact that we have an empty closet full of wooden hangers makes our little spare bedroom feel a bit more posh- it's the little things, right?).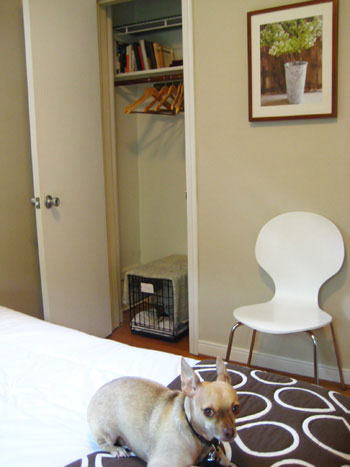 So there you have it. We've officially been closet crashed. We hope you guys enjoyed our little peek behind the curtain. And of course we'd love to know your closet tips and tricks. How do you make the most of your clothing storage? Any closet makeovers on the horizon? Do tell!
Wanna know how those big Ikea built-ins on either side of the bed came to be? Here's the whole story.