When Christy over at Simply Dwell sent us pictures of her jewelry organization system it was too good not to share. Here's her letter:
As a daily reader, I loved how Sherry posted her solution to organizing her jewelry. I am a fan of all things large and in charge when it comes to my baubles, so here is my way of putting them all in their place:
1. Take a store bought cork message board.
2. Sand then paint the trim dark brown.
3. Find a cute fabric and cut to size, then hot glue in place.
4. Buy coordinating ribbon and cut to size horizontally.
5. Pin ribbon in place with thumbtacks.
6. Screw cup hooks at the bottom for necklaces.
7. Attach a ribbon loop to hang from and ta-da!!
So far it is working very well. All of my earrings are out for me to survey every morning and my necklaces are clump free! Thanks for all the inspiration, and keep it up! -Christy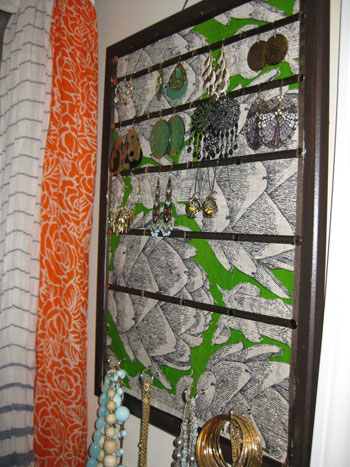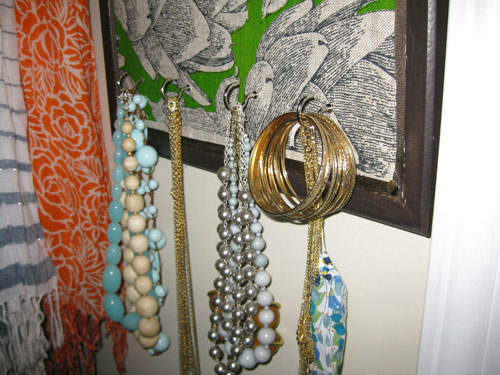 Isn't that super chic and functional? We love that everything's out in plain sight and it looks like pure art. Oh and that artichoke fabric is really fun, isn't it? Thanks so much for sending your mini makeover our way Christy!