We're currently blogging from the beach. Now before you get jealous let me just say that it's about 20 degrees outside and we even got some light snow last night. But we're loving the chance to relax and recharge at John's parents' lovely beach house just outside of Rehoboth, Delaware.
They recently purchased the house and it's amazing how comfortable and homey they've been able to make it in mere months. And while we've spent our time playing board games, reading, watching movies, and snuggling Burger- we thought we'd take a quick break to share some fun decor ideas with you.
First, meet the beautiful beach house (love those starfish in the window above the door):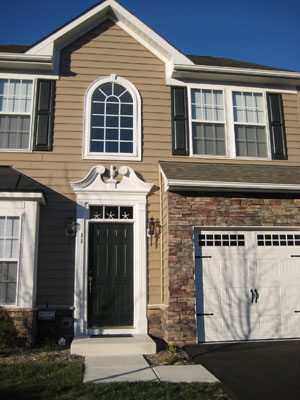 And now for a little inspiration. How cute (and functional!) are these toiletries displayed in a decorative basket with shells: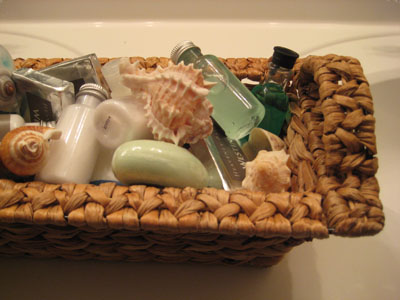 All the kitchen accessories are red, from the coffee-maker to the toaster to the tea kettle. So cheerful and fun: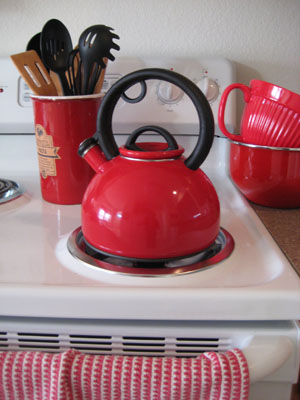 And for the first time in over three months we had a functioning kitchen at our disposal, and boy did we take advantage of it. Among many delicious homemade meals, we feasted on this tomato, basil, and mozzarella pizza: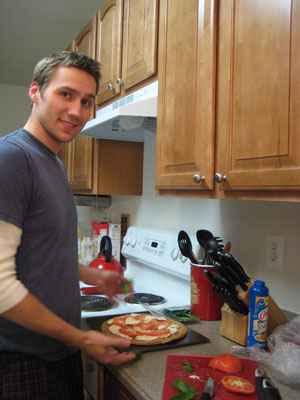 We'll be returning to Richmond tonight, and while we've certainly been enjoying every second of our mini break from home improvement, I'm sure we'll be wielding a hammer or a paint brush within a few hours of returning home. And we wouldn't have it any other way.