But it's not what you think. Many people ask us if we'd ever paint our little brick ranch but the truth is that although we heavily considered it back when we got it, we've grown to love the look of our home's exterior and completely appreciate the lack of maintenance. See, brick ranchers are known for their durability and ease of ownership (no siding replacement, re-stuccoing, or repainting- ever). Plus here in Richmond if you paint a brick house any medium or light tone (and you know we'd want a tan house with white trim, right?) green mold will start popping up, which requires a thorough scrub down with bleach at least once a season. Can you imagine scrubbing the entire exterior of your house? No thanks.
But back to the matter at hand. If we didn't paint our brick house how the heck does that title make sense? Well, our sunroom was added about twenty five years after our house was built so it was tacked on in a way that it partially overlapped some of the house's existing brick exterior (which then became interior brick in the sunroom. See, here I am (on the first day that we laid eyes on our house, incidentally) modeling in front of the sunroom: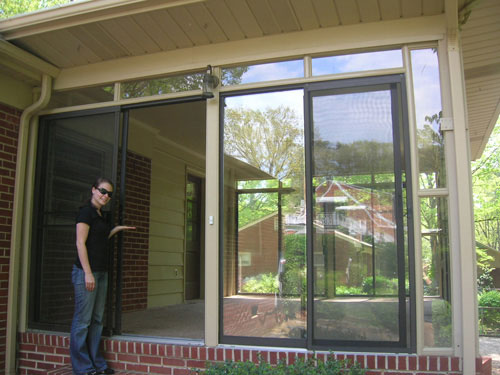 But after a while we realized that painting the brick wall inside the sunroom to match the soft tan color on the rest of the walls would immediately make the room feel more cohesive and balanced. So we whipped out some exterior latex paint (since our sunroom isn't temperature controlled) and got her done. Other than using an exterior paint, we followed the exact same brick-painting tips that we outlined here, so be sure to check them out for the play by play. And here's the result: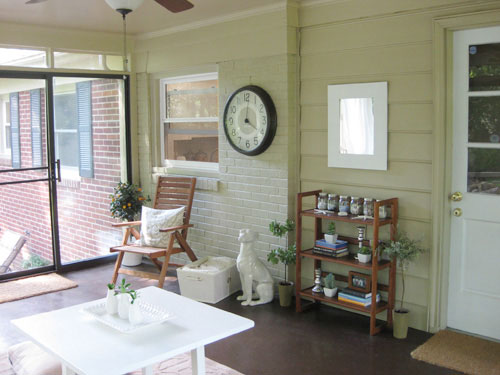 At first we worried whether seeing the same unpainted brick just beyond the glass door to the left of the wall would be weird, but looking back we realize it looked weird before, when the random brick wall carried over a few feet into our sunroom.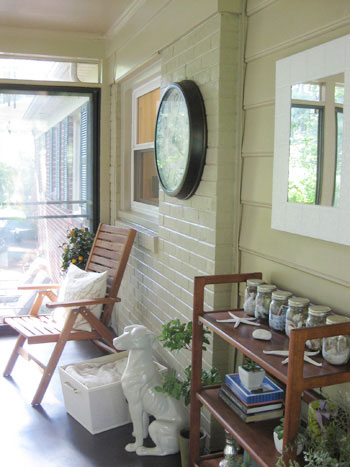 Now the days of pre-painted brick are long forgotten. But we do have another mini-update to share regarding this very spot…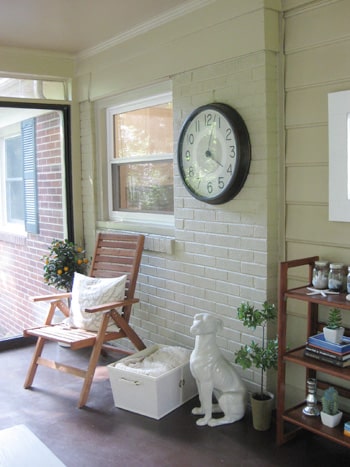 …so stay tuned over the next few days to see what we did (hint: it's not a baby).
p.s. psst, have you updated your bookmarks / reader / blogroll / outgoing links / Twitter/ Facebook yet? If you're still heading our way using old TYH methods, they won't last for long so don't forget to make the switch! We'd hate to lose a single one of you DIY-lovin' dudes and dames.