So it turns out I'm Monica Geller. I get questions like those pretty regularly:
Q: "I was hoping you could tell us how you organize your crafty supplies…mine seem to be spread all over the house!" – Chris
Q: "Can you give us a peak at how/where you store your craft stuff? Is it obvious that I'm kind of hoping you have a secret Monica Geller closet?" – Katie

And my answers are usually all strained and sputtery like this:
"Our craft closet is a GIANT mess (and it's in the guest room so they can peek in there and scream). Everything is piled into a few baskets, and there are even some paper grocery bags going on, so I should probably get on that. I'd love to organize it and share the details with you guys!"
But ladies and germs (oh my gosh, I just turned into my dad for a second there), I finally got annoyed enough to do something about it. So here's how I tamed the previously untamable chaos that was "the craft closet" (*cue the spooky sound effects*). Here's my shameful but kind of hilarious before shot of the guest room closet. I swear I didn't mess this up to have a better after, it actually looked like this for months.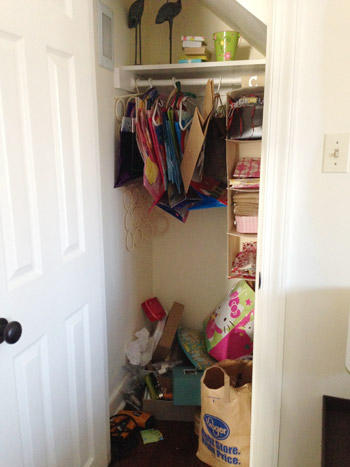 And here's the "how you like me now" after. In the always applicable words of Jay Z… "GET YOUR DANG HANDS UP." Ok, you might be at work, so I'll just wave mine around for you.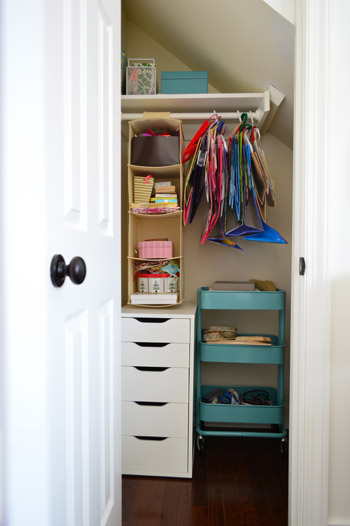 Why are my craft things in the guest room closet anyway? That room has the prettiest view in the house, along with gorgeous afternoon light – so I'd love to creep in there and sew/paint on Sunday afternoons. I'd also love to eventually bring in a dresser or desk that can accommodate my sewing machine so the room can truly multi-task (we do host guests occasionally, but we love using rooms more often if we can).
Let's get a little closer to the chaos first though, shall we? Does it not look like The Rolling Stones stayed here and trashed it like a truly fabulous hotel room? Except with more hello kitty.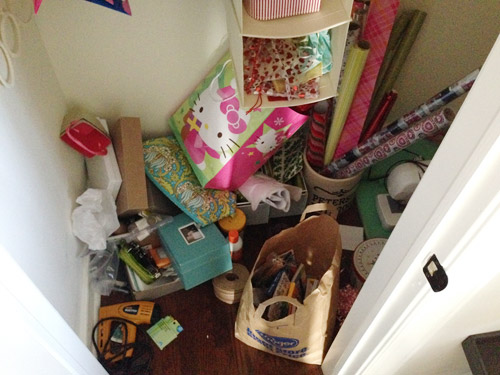 This is the view if you stepped into the closet and turned right (there's a little alcove in there that got just as full of floor-covering junk).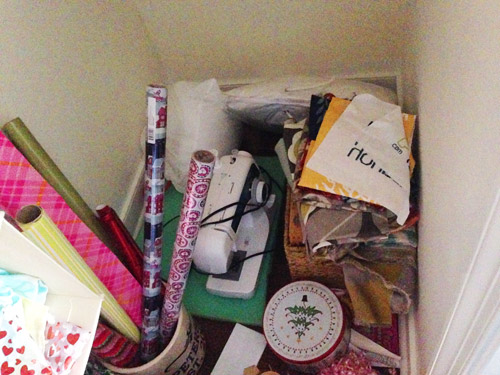 Not to mention all the craft supplies that had collected downstairs on the dining table (which actually looked a whole lot messier, so to see the true before shot of this in 3D you can check out this house tour video).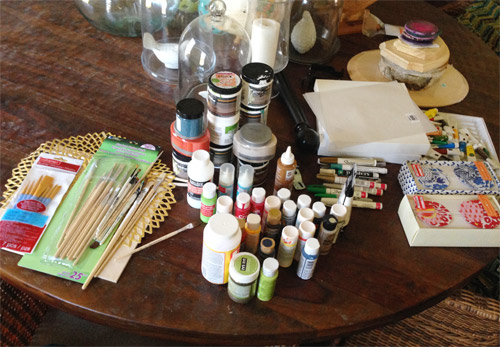 The first step of any organizing project of mine involves chocolate. So I had a few Hershey's Kisses (dark, don't try to tell me that milk chocolate is as good as dark chocolate because we'll get into it) and then I got down to business. First I dumped out the paper bag that had a ton of craft supplies in it since our move 7 months ago. Yeaaaahhh… it was time.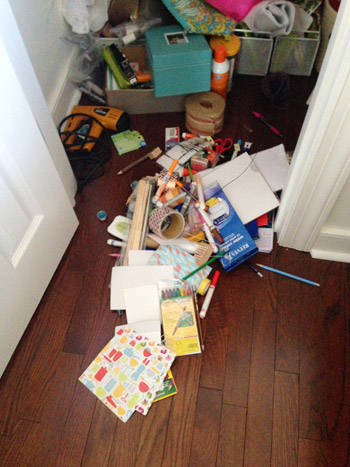 Next, Clara helped me assemble one of my two secret weapons for this closet: a Raskog cart from Ikea. Initially I had planned to buy a bunch of those plastic bins and drawers at Target, but I realized that buying two larger and more substantial (not to mention cuter) items might help me keep things under control better for the long haul. Storage areas like garages and attics tend to spiral out of control for us – especially if we use a bunch of cheap plastic systems that can get overfilled, jammed, and broken, so… know thyself.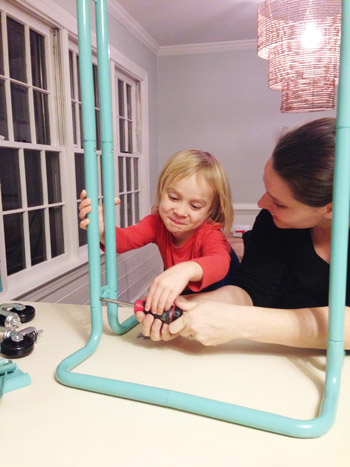 Then I took a few days off the project (painting the nursery jumped to the top of the list) but eventually I turned my focus back to The Closet Of Doom and brought in this folding shelf that we've had for 8+ years (it's originally from Bed Bath & Beyond I think) for that alcove on the right. I figured going vertical instead of spreading things out all over the floor made a lot more sense.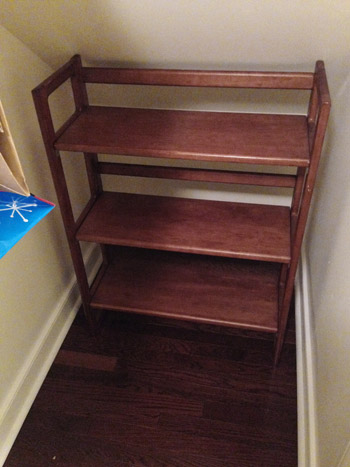 The other Ikea item we bought was this white five-drawer cabinet, which I spotted in the as-is section for 25% off. I totally played it cool you guys. Just kidding, I sprinted over and grabbed it like the hamburglar making off with some tasty treats. The fact that it had five awesomely smooth (read: non-plastic) drawers of various heights made it perfect for supplies like paints, brushes, sprays and paint pens – and the already assembled thing was a total bonus. I actually think it's cute enough to be out of the closet, along with the cart – so perhaps down the line if I get a little sewing desk going on the other wall of this room I can slip the cabinet under it with the cart next to it or something.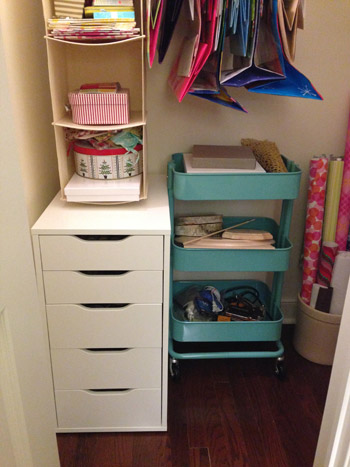 The rest of the stuff in the closet are things we previously had – like that hanging fabric cubby thing (from Ikea years ago) and that ceramic planter where I shove all of our wrapping paper and tissue paper. And as for the rolling cart…
the top bin has various art notebooks and pads along with a few canvases and a rolled up placemat that I'd love to use as a stencil someday
the second bin has wood items (dowels, wood plaques, various pieces of scrap wood, and even a few wood slices for future projects)
the third bin has all of my heavier crafting artillery (staple gun, glue gun, various accessories for them like staples and glue sticks, nailheads, etc)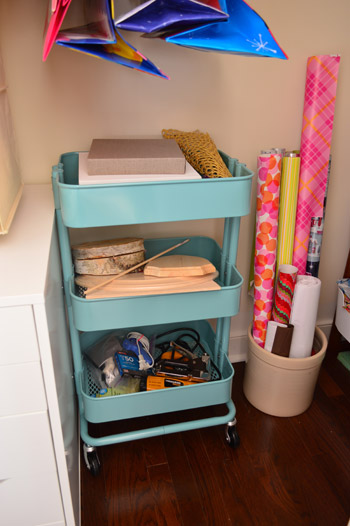 The hanging cubbies are devoted to gift wrapping stuff, like: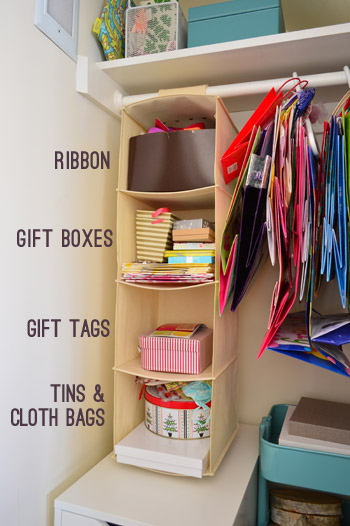 And the wooden shelf thing that I shoved in that corner alcove is now housing all of my fabric in old Ikea bins from a few years back (yes, I have TONS of fabric thanks to Clara's photo project, even though I've made her a quilt, a birthday banner, a table runner, a beanbag, and all sorts of other random things… so… I smell more projects). Most of it used to be piled in the storage room but it feels so much more organized and accessible right here. There's also room for the sewing machine to sit on the floor in front of it, but I thought I'd leave that in the guest room for a hot second because I'd love to set it up in there to encourage myself to actually sew with it. So we'll see if I can figure something out soon. If not, it's back in the closet for him.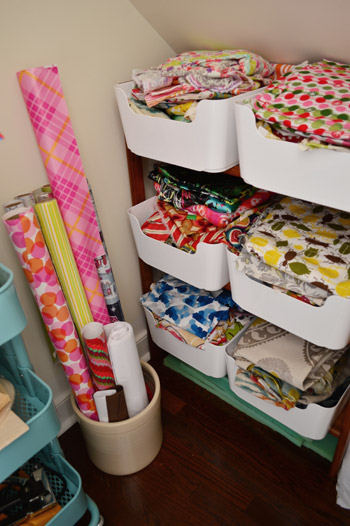 But let's get to my favorite part. The drawers of our slick little white cabinet. The top drawer is full of various acrylic paints (along with some small containers of varnish/sealant, and some ceramic paint).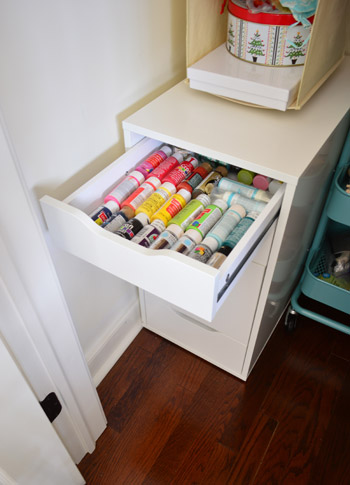 The second drawer houses all of my brushes, stamping tools, paint pens, and colored sharpies.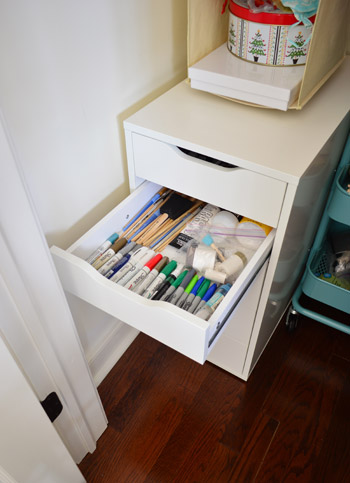 The third drawer contains various test pots of paint (I use these guys surprisingly often for random projects like this, this, this and this) along with a few larger cans of spray sealers.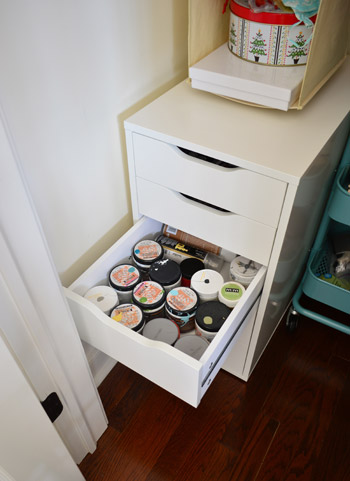 The fourth drawer has all of my art store supplies, like my oil paints, watercolors, watercolor pencils, charcoals, and a few random things like a small set of markers and clothespins.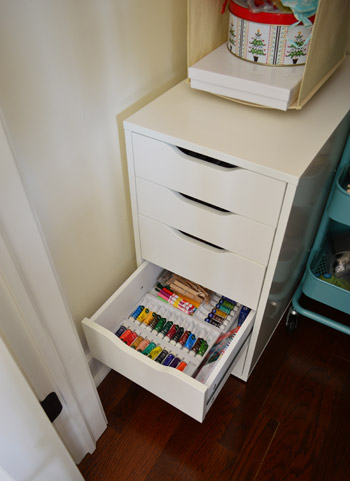 And the fifth drawer is where I have stampers, ink pads, stickers, decals, washi tape, and other supplies like twine or string.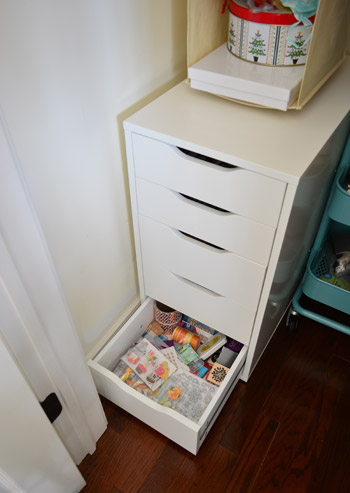 Oh and that top shelf of the closet has a wire bin (from Target about 3 years ago) full of fabric pouches. Apparently I have a hoarding problem with those, but I love them for keeping Clara's toys contained (all of her plastic animals in one, all of her tiny legos in another, etc). They're also sweet for "wrapping" various gifts for friends in two seconds flat (no tape or ribbon required). And the blue box up there has been my sewing box for years. It has thread, needles, extra bobbins, scissors, a seam ripper, etc.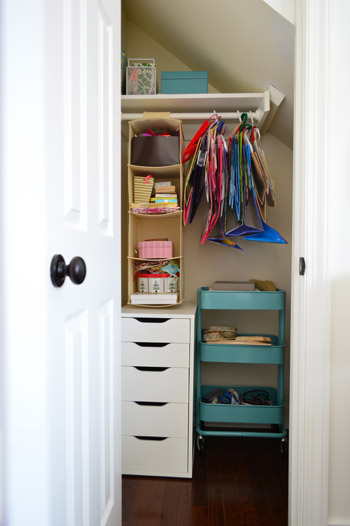 I'm also planning to add a few hooks on the inside of the door so guests can hang things there since the bar is full (we rarely host anyone with things on hangers, so those should do the trick).
Yes I'm still waving my dang hands around. It's pretty unbelievable that such a ridiculous mess of a closet is currently home to 0.00 chaos. But you might want to check back with me in a few months. These things can go one of two ways…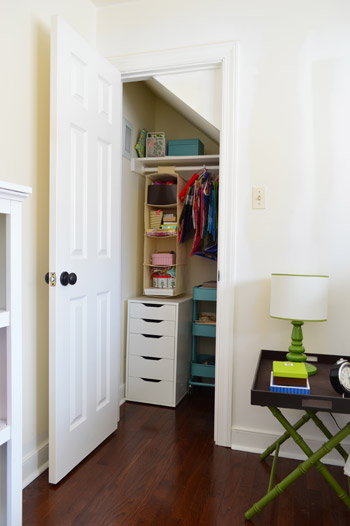 Does anyone else have tips for organizing craft supplies, gift wrapping paraphernalia, or tons of fabric? Who else is channeling Monica Geller with a closet full of insanity? Let's commiserate.