It's no secret that I love giving various paint treatments a try – like stenciling a pillow, two toning a chair, painting patterns on baskets, or even tracing raindrops right onto the wall – and I've been excited to share this one. Some of you eagle-eyes even noticed it in the background of Friday's post and asked for details.
Now that Clara's thrift store cradle is in heavy rotation (Captain Barnacle is often found being rocked, fed, or changed in there) and Clara has clearly established her love of red, blue, and pink, I used it to test drive a deceptively simple free-handed pattern. It's probably the most "intricate" pattern I've ever freehanded, but it's just a series of simple steps that anyone can do (it only took me about an hour to do all four sides). And this pattern could be added to the top of a table, the fronts of a dresser, the back of a bookcase, or even just a piece of wood (or canvas) hung on the wall as art.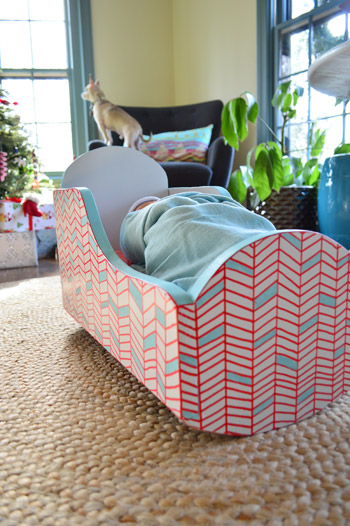 The first thing I did was use a red Sharpie paint pen and a ruler to make a bunch of vertical lines (use a yard stick if your item of furniture is larger). I just eyed these because I didn't really want them to be perfect – I was going more for the imperfect-by-hand-looking effect.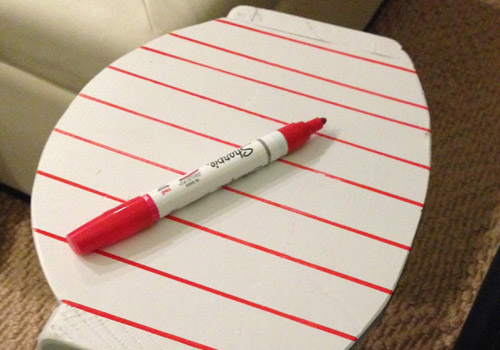 Then I connected those lines with some free-handed diagonal lines (I didn't use a ruler or anything for such short lines) that went up in one column, and then went back down in the next column. I started from the left and worked my way across each side of the cradle (from left to right).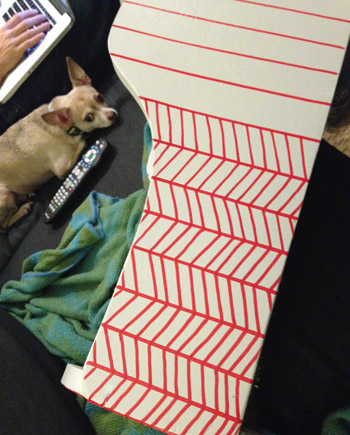 When I had diagonal-lined all of my columns, I was left with a nice red and white pattern on all four sides. Then I went back in and added some blue paint to a few random parallelograms with a small craft brush (it's the same test pot of paint that I've had for years called Embellished Blue by Behr, which I also used for this project, this project, and this project).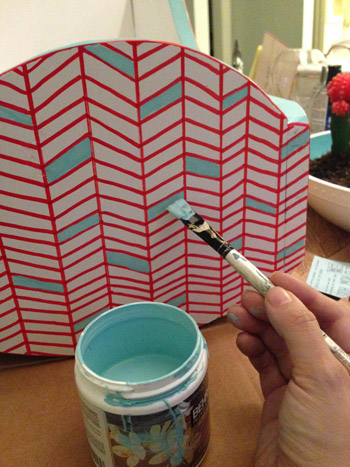 I also painted the top lip around the whole thing in solid blue, just to add a little "piping" to the look. Oh and I recovered the green pillow that used to be inside with some pink zebra fabric from my scrap bin (since pink, red, and blue is the color trifecta for Clara).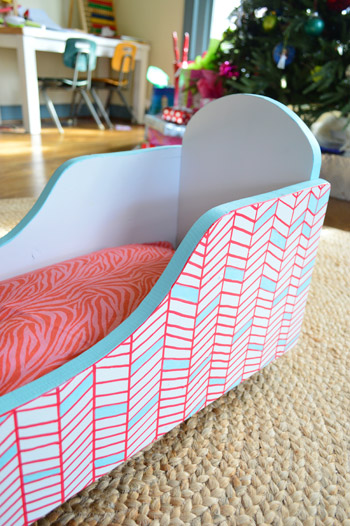 The last step was adding a strip of fleece fabric that I had in my scrap pile to the bottom of each rocker on the underside of the cradle. When it was just bare wood it could scratch things up a little if Clara pushed it across the floor, so "felting" those with strips of fleece fabric (which I just crazy glued in place) did the trick.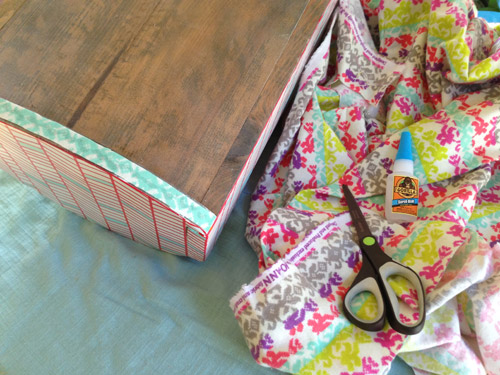 I brought it back out for Clara to see on Christmas Eve day, which is also when she also got a few "real" gifts from us (that was a tradition in both of our families growing up). So along with some books and toys, she also got her "re-mixed" cradle.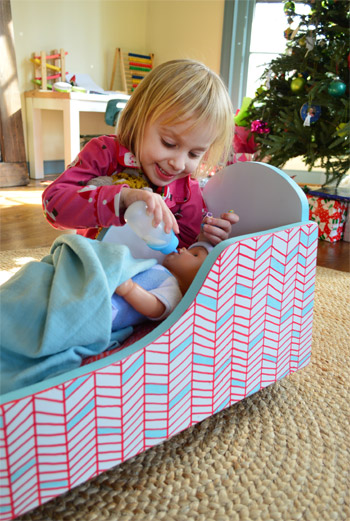 The new pattern didn't go unnoticed and she even said "I love your paintings!" and wanted to know what each of those shapes were called, which led to her saying the word "parallelogram" about 100 times, and me beaming like a maniac every single time. What is it about kids and five-syllable words? They just sound so dang smart and adorable.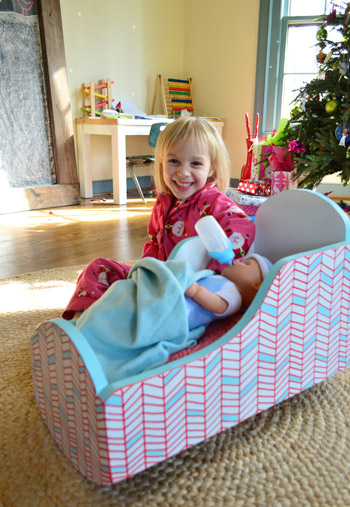 So there you have it: a design that doesn't call for a printer or a paper cutter or any decals or stencils – just a paint pen and an old test pot of paint. Have you guys ever free-handed an imperfect pattern like this? Was it surprisingly therapeutic? I was totally in the zone.
PS: Wanna give another pattern a try? Check out this DIY herringbone pattern we created on a secondhand desk using paint!