… she had dumps like a truck, truck, truck (more highly inappropriate singing about butts here). And speaking of trucks, here's the story of the little two dollar Goodwill truck that I got Clara in Georgia (mentioned in this video yesterday). This is what it looked like when I snatched it up: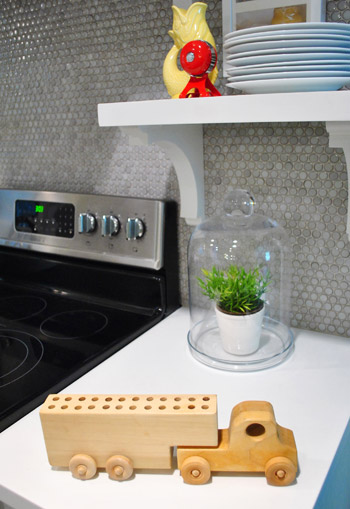 Perfectly charming and vintage-ish, but a little less "Clara" than it could have been. So I thought it would be fun to get Clara involved in a little makeover. Yes, Clara would be the ultimate truck graffiti artist, but first I applied one coat of blue paint, just to set the stage for her scribbles (the entire project was free thanks to using a little test pot of paint leftover from this old art project last year). The color is Embellished Blue by Behr in case you're wondering.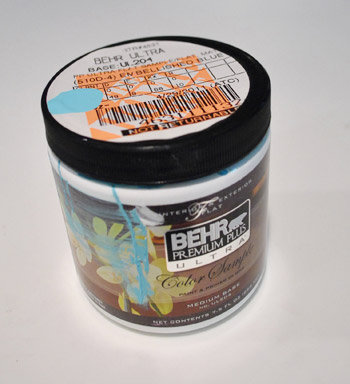 After it dried I handed it over to Clara with a box full of crayons and told her to go nuts. She had the best time coloring every last corner and crevice. I wish (oh how I wish) I had thought to take photos of her coloring with reckless abandon (I was too busy watching and clapping and playing the role of too-excited momma). Just try to picture Clara grabbing every color and feverishly coloring her blue truck while completely ignoring me. She loved it. She was focused. She took her truck-coloring job very seriously. Of course there were talks about how we can only color on things when mommy says we can. So here's hoping she doesn't doodle on everything else we own now. So far so good. As for the truck though, no surface was left uncolored – even the wheels got some crayon-love. About ten minutes later, Clara had created this: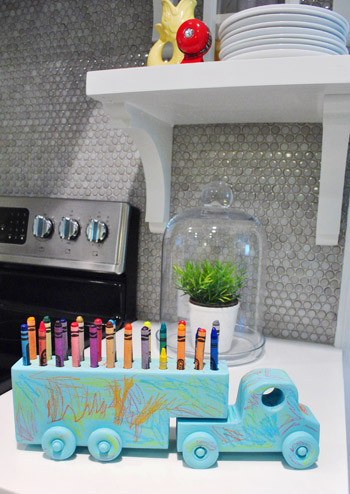 Her crayon-holding truck, complete with crayon scribbles. Isn't it cute?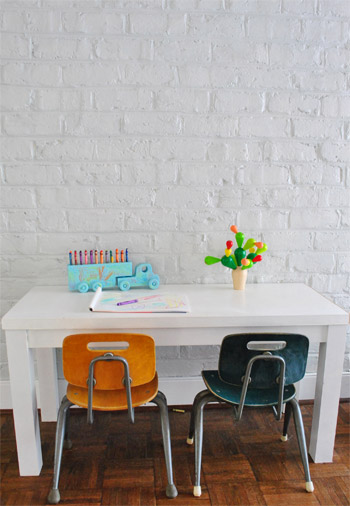 It sits on her little drawing desk. Except for when she's pushing it around on the floor (which is probably about 70% of the time).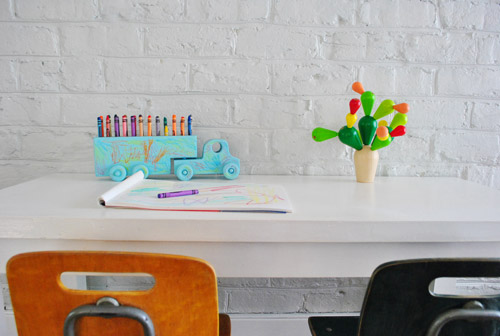 I love that it holds all of her crayons out where she can see them since I used to store them in a little zippered pouch and it was harder for her to see all of the colors that way. And the holes definitely keep her busy since she likes to take all of her crayons out and then put them all back in. It's like an interactive puzzle slash storage spot slash truck. I mean it rolls for goodness sakes! It's the toy trifecta.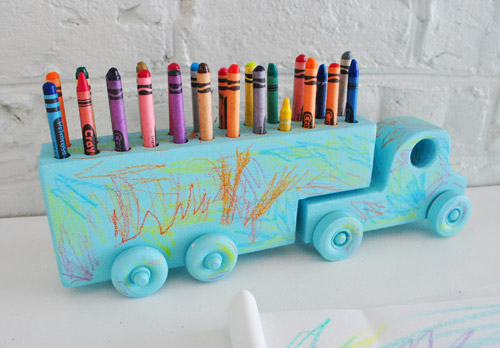 I thought about sealing her doodles with some clear non-toxic sealer (Safecoat Acrylacq) but I actually like the idea of allowing her scribbles to continue over time, so it can change every day if that's Clara's idea of a good time. She has already added a little more pink today. I'm looking forward to seeing how it evolves. Haha. Sort of like the rooms in our house. Now Clara has her little truck to "makeover." And when she gets a little older we can even repaint it another color so she can start from scratch again if she'd like.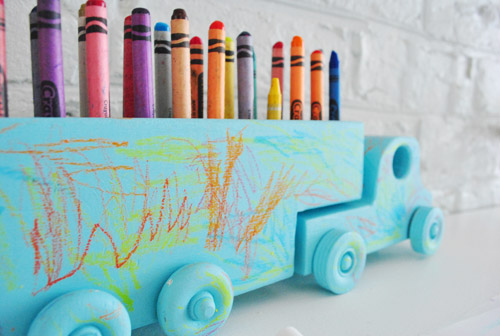 So as work continues on the deck outside (along with some Pinterest-Challenging), here's a zero dollar project with a $2 thrift store find that Clara and I had fun with. Sometimes the little things are my favorite – especially when Clara's in on the fun. But that's not to say that our little crayon truck won't be ten times more fun when the deck is finished and we can take it out there for some alfresco coloring. Haha. Those will be the days. What have you guys been doing with your kiddos (or pets)? Burger totally painted something for us a while back. That was a good time too.
Psst- Click here to see over 60 other kid-projects, from DIY book shelves to homemade mobiles and more.