Q: Hello Youngsters. As I read about all the projects you tackle around your house, I find myself wondering whether you have a gigantic toolbox, or if in fact there are just a small handful of tools that you use on a regular basis. Do you have a few essentials you'd recommend to any DIYer? Are there any tools that you don't have, but find yourself wishing for? Thanks! -Chris
A: We'll admit up front that we're extremely weird about storing our go-to tools. We actually keep many of them in a few of our kitchen drawers. Betcha didn't see that one coming. Even our installer thought we were crazy when I told him the cabinet base to the left of the stove would be solely devoted to screwdrivers, paint rollers, nails, anchors, sandpaper and other home improvement essentials. But it really works for us and everything is über organized thanks to four whole drawers of sorted-by-theme gadgets and gizmos.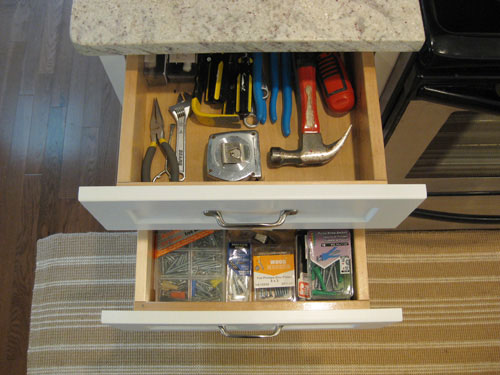 I don't know why I feel so ashamed to admit it, but our tool drawers really do look like that all the time. I guess I should be proud, but I feel a bit obsessive. It's just that we're always doing something around the house so it's easier to grab things and get to work when we know where they are. Oh and just in case you're wondering, here's the per drawer breakdown:
The top drawer is full of screwdrivers, hammers, wrenches, pliers, a box cutter, a tape measure, and more.
The second drawer is where we keep nails, anchors, screws, hooks, and other hardware-ish items.
The third drawer is full of sandpaper, caulk, duct tape, plumber's putty, wood glue, cable ties, putty knives, liquid nails, etc.
The bottom drawer (which is twice as deep) is where we store tons of painting supplies like brushes, rollers, paint trays, painter's tape, and stir sticks.
We also previously wrote this post about our all-time favorite tools, but to summarize it we basically can't live without: a hammer, a crowbar, a flat head screwdriver, a tape measure, a phillips head screwdriver, plumber's putty, liquid nails, plumber's tape, a box cutter, an exacto knife, straight razors, channel lock pliers, wrenches of all sizes, needle nosed pliers, a level, a cordless drill, sandpaper, caulk, a caulk gun, spackle, a putty knife, painter's tape, high quality angled brushes, and an assortment of nails and screws (read way more on that subject right here).
Since then we've also tried some heavier artillery on for size (like a rented demolition hammer to rip up our old tile floor, a borrowed wet saw and miter saw from my dad for putting the bathroom back together, and a circular saw along with some pretty great hole cutting bits for our drill).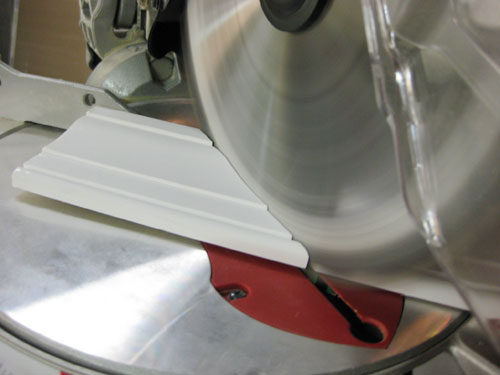 And I must admit that bigger tools really do make me feel infinitely more manly. In fact I'd be willing to bet that the amount of amps or volts that you have in your hand is directly proportional to your testosterone level, so it's definitely worth renting, borrowing, or buying something along those lines to truly feel like a home improvement god (even just for a few hours before it's due back to its rightful owner). And this empowerment perk carries over to the ladies too. Sherry never has a bigger smile on her face than when she's using some heavy duty tool and telling that wood/tile/drywall who's boss.
So along the "what tools don't you have but wish for" vein, I'd never turn down my own miter saw, wet saw, or demolition hammer although I realize that I'd probably have to store these bigger guys in our attic or out in the garage so there's something nice and simple about renting or borrowing them when we need 'em instead. Oh and items like our sander, our two cordless screwdriver, and a few caulk guns are kept in hidden storage space above our washer and dryer (behind our bamboo blinds) so they're still on hand but out of sight.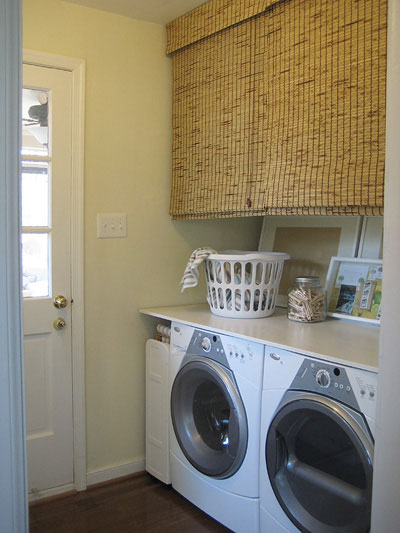 And everyone knows I love my Kreg Jig. That's probably the one item that I would name my "tool of the year" since it has single-handedly helped me build shelves for the nursery, a two person desk for the office, and even a storage shelf that slides under the desk for organizing our files.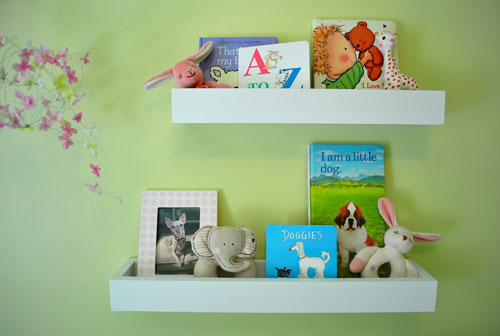 Speaking of specific products and brands, we're sure there's more than one way to get 'er done but here are the companies, and some of the actual products, that we use in our house on a regular basis:
Stanley makes great screwdrivers, tape measures, crowbars, box cutters and mini sledgehammers
Craftsman makes great hammers
Black & Decker makes great cordless drills (we have this one)
Black & Decker also makes great sanders (we have this one)
Frog Tape is the best painter's tape we've ever used
Sherwin William's stores sell this awesome short handled brush that we love for painting trim
Purdy brushes and rollers (available at Home Depot & Lowe's) are great for nearly every other painting project (we love a good 2″ angled brush for cutting in & painting furniture and a nice good quality roller for walls & ceilings).
Sears sells a set of wrenches that we've used for years
Grip Rite (available at Home Depot & Lowe's) sells nice big boxes of screws, nails, anchors, etc
3M makes a wide range of sandpaper (we like low grit versions, like 60-100, for deeper sandings and high grit alternatives, like 200-300, for smoothing things out for a finished look)
Dap caulk is our favorite brand (we get the white paintable "Premium Indoor/Outdoor Sealant" for most jobs and the "3.0 Advanced Kitchen and Bath Adhesive Caulk" also in white – which isn't paintable but is ideal for caulking a tub, toilet, or sink).
We also love Dap CrackShot spackle (for filling nail holes and all that good stuff)
So there you have an in depth rundown of the tools we have, where we keep 'em, the ones that make me feel the manliest, and the brands and particular products that Sherry and I prefer (none of which paid or perk'd us for this mention, they're just actually what we use here at Casa Petersik). As you can see we don't have a bunch of expensive DeWalt things – which is a nice reminder that you can spiff up your house without owning a $500 saw (and we also definitely believe in renting and borrowing anything that you can to get the job done). Now go forth and build/paint/demo something!
But wait, first we'd love to hear more about your tool sitch. Do you have any life-changing tools that you'd like to share? Any other brands or products that have done you right? Dish that tool time dirt.
Psst- This post contains affiliate links