Q: You guys are so good with money I wondered if you'd consider sharing some of the ways you kept from bleeding money once you had Clara. I've heard that having a baby and buying all the baby stuff can set you back a few years' worth of savings and I'm scared! But I'm sure you have figured out a few ways to be frugal without skipping a beat when it comes to providing everything that Clara needs. As you love to say, do tell! – Megan
A: The good news is that we actually expected that having a baby (and setting up the house for one) would be a lot pricier than it actually was. Of course every parent's experience is different (especially when it comes to how many hand-me-downs you might get lucky enough to inherit, or how many registry items you'll be fortunate enough to receive) but after lots of expert-mom-&-dad-interviewing we definitively concluded that we didn't need every baby gadget on the market. Not even close. And with a little bit of strategy you can hopefully figure out what you really need, what you can skip, and what you'll likely receive from others (so you don't end up with too much of one thing and not enough of another).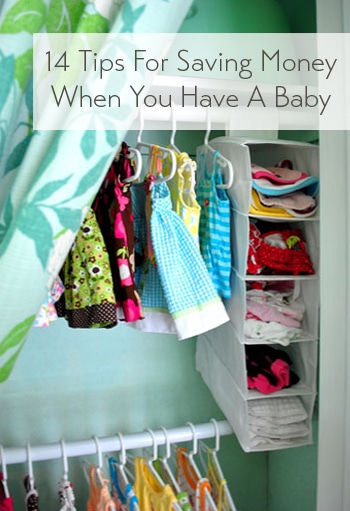 Of course parenting is an extremely personal thing, and what works for us won't necessarily work for everyone, but here's the rundown of all the things that we did to save money without sacrificing an ounce of fun or comfort for Clara.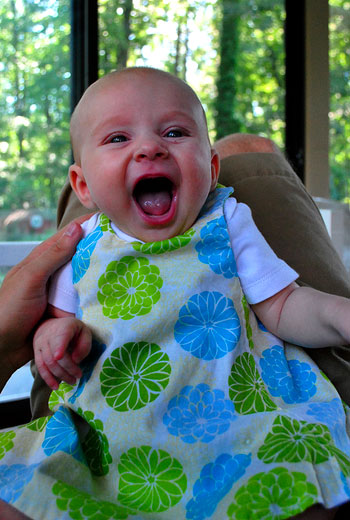 We Resisted The Baby Clothing Draw- We heard time and time again from pro moms & dads (we're talking 3+ kids) that clothing is such an easy thing to go overboard on and that many (many) friends and relatives will buy you cute outfits of all sizes- so many that there's little need to stock up for yourself. Of course we couldn't resist a few adorable outlet onesies (or this cute 4th of July outfit from Old Navy) but for the most part we tried insanely hard to dodge the baby shopping spree bullet. And all that willpower was worth it. Those expert parents were 100% correct. Clara ended up with more outfits than Mariah Carey thanks to hand-me-downs from relatives and an astronomical amount of adorable clothing from generous friends and family members who wanted to welcome her to the world. Seriously, the girl's clothing cup runneth over.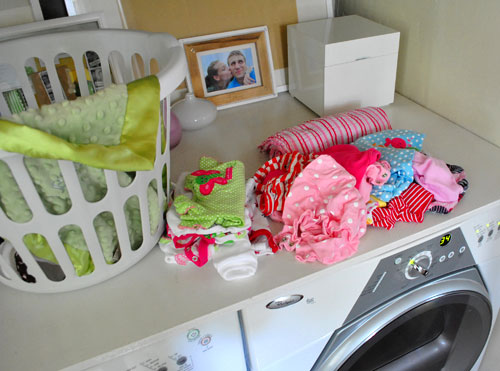 We Registered For The Biggies- We crossed our fingers that friends and family members would go in on some of the larger items on our registry together, so we resisted the urge to scan every cute onesie, sleeper, book, and stuffed animal that we saw in the hopes that we'd receive more "needs" than "wants," which are always higher up on the priority list. Amazingly, we got our Ergo carrier, our swing, our stroller, our car seat and our Angelcare Monitor from our registry! Seriously, we could not have been more thrilled. So our tip would be to register for big things because you'll inevitably get clothes and books and toys anyway- but it feels amazing to check the big expensive things off your list. And you'll think of all your generous friends and family members who came together to get those necessities for you every time you use that stroller or that car seat (we do!). See which specific stroller and other items we chose for Clara by perusing this post.
We Accepted Hand Me Downs (With Caution)- There definitely aren't any shortage of baby toys and gear to be seen at Babies R Us or Buy Buy Baby, but what surprised us most was how many friends and family members came out of the woodwork to offer us Bumbos, Boppys, and bouncy seats galore! In fact, our tip would be to see what hand-me-downs might present themselves (before registering for things or buying them for yourself) since that's a super easy way to save some major moolah. But our second tip would be to use restraint when it comes to accepting freebies from those kind friends and relatives (to avoid having a house full of every single contraption imaginable with no room for the actual baby!). While we were offered many amazing items, we thought long and hard about what would most likely work for our lifestyle and reminded ourselves that we could always request things after Clara came home if the need for them later arose. In the end, aside from hand me down clothing, we only accepted one hand-me-down sling (which Clara loves by the way), one gently used Boppy (so convenient), one nearly-new Bumbo (where Clara loves to sit and "read") and a doorway jumper (check out how much she adores that here). And those four items alone would have set us back over $150, so we're glad to have them!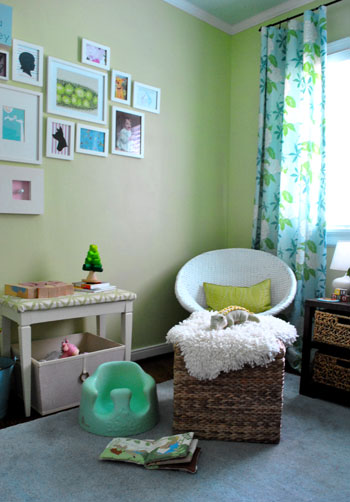 We Bucked Conventional Baby Gear- One way to keep our small house from getting overrun with baby stuff and to keep money in our pockets was to go back to interviewing those expert moms and dads about what they learned that they could live without. Time and time again they told us that big expensive highchairs were no more effective than a smaller (and much cheaper!) booster seat with a tray. Duly noted. We also heard that investing in one do-it-all stroller was a lot more space efficient and cost effective than getting a string of strollers for each stage of baby development. These two tips alone saved us at least two to four hundred bucks (!) because they enabled us to confidently pick up a $25 booster seat and a single one-size-fits-all stroller that will last until Clara is done with it (which we were lucky enough to receive as a gift from our registry). See which specific stroller and other items we chose for Clara by perusing this post. Update: We later invested in a jogging stroller since our do-it-all-stroller couldn't fill that function, but never bought/needed a snap n go stroller or an umbrella stroller, so it's helpful to really consider what you'll use before buying them all.
We Saved Every Penny With Clara's Name On It- We set up a 529 fund within two weeks of taking Clara home from the hospital and we've diligently been investing every single welcome-to-the-world check that she's received. We've also decided that we'll save a set amount of money each month for her there, which will help to pay for her education after years of tax-free interest collecting.
We Returned The Surplus- We learned that to best provide for Clara without breaking the bank we couldn't be shy about returning extra clothes and repeat toys and books that we received for necessities like wipes and disposable diapers (before Clara was big enough to fit into her cloth dipes). We learned that diapers and wipes are two things that are rarely given as gifts but you use them the most so they're super high on the necessity list! We also considered the season of clothes that we received before removing the tags. For example, summer dresses labeled "six months" won't be useful to Clara since she'll be six months old in the dead of winter- so we exchanged them for some heavier clothing that she'll really get some use out of).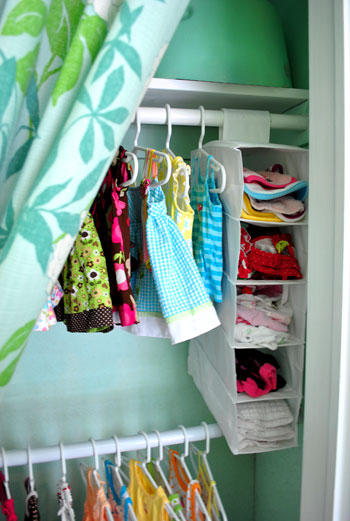 We Try Before We Buy- We weren't sure if the small travel swing that we received from our registry would be enough since we heard that some babies just go ga-ga for bouncy seats. So we borrowed one from a friend only to learn that Clara was not interested (as in she cried immediately upon being placed in the thing). Thank goodness we tried it before we sprung for one! And for those who might not have items as readily available from friends and family members, don't forget that sources like freecycle.org, craigslist.org and even local thrift stores are a great way to score something that's gently used for a lot less.
We Skipped The Bassinet- Of course this isn't everyone's cup of tea, but thanks to a tiny bedroom that wouldn't safely accommodate any type of bassinet and a nursery that's located extremely close by (just six steps from our bed) Clara has been sleeping in her crib since day one (well, technically day four since we were in the hospital for days one through three). We even snapped this picture of her at her first "bedtime" after we took her home. They grow up so fast (sniffle).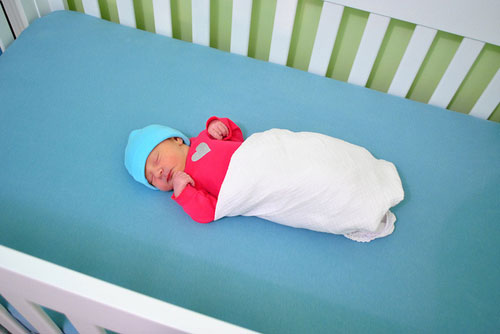 Thanks to this crib-only phenomenon, we were able to save the cash that would have been put towards a bassinet and save the room that we would have devoted to storing it after she later transitioned to her crib. And we don't know if it's a coincidence but she's a phenomenal sleeper. She slept through the night as soon as we were allowed to let her, at about 4 weeks, and currently sleeps 9+ hours straight (last night was an all time record from 9:30pm to 8:30am). We definitely believe that we just got lucky and ended up with a sleepy baby, but it also might help that she doesn't get awakened by lights going on and off, parental tossing and turning, or Burger's snoring since she has her own little haven across the hall.
We Milked Mother Nature- I know that not everyone chooses- or is even physically able- to breastfeed, but I really hoped I could make it happen. So months before Clara was born I spent time reading up on the subject online and even took a free class at my local hospital so I'd have the best possible chance. Thankfully it worked out! And Clara and I very much enjoy that time together (every few hours during the day- she's a hungry girl!). Not only is it some pretty great mommy-beanette time, it's also a fantastic way to save about $140 a month (which is roughly the average cost of formula). We also plan to make as much of our own organic baby food as we can when the time comes. Should be interesting!
We Saved Our Butts (And Covered Clara's) With Cloth Diapers- Read all about that decision (and how much we saved) right here. Oh and we switched detergents so there's an update on that in the post as well.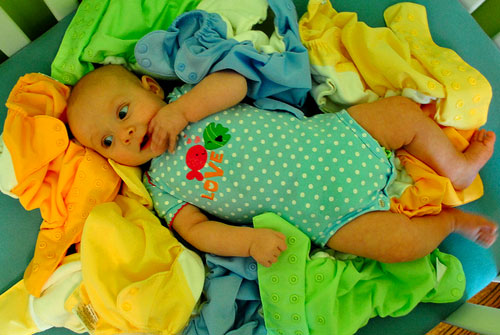 We Pared Down- We actually bought a video monitor and also received the Angelcare monitor that we registered for, but we quickly realized that we only needed the Angelcare monitor and happily returned the $200 (!) video one since we could hear her so well thanks to the audio function of the other monitor (and the sound of her breathing was more assuring to us than squinting at the video monitor and trying to see her chest rise and fall (which was pretty much impossible). Of course some other parents love video monitors more, so it's not really about one type being better than the other, the point is that we definitely didn't need both! And after some great advice from John's sister (master momma of three) I got a single breast pump instead of double pump to save over $200 (especially since two of my friends with a double one confessed that they usually only use one pump at a time anyway). Little adjustments like one monitor instead of two and a slight downgrade in the pump department happily didn't interfere with our lifestyle at all, but these two changes alone kept $400 in our pockets!
We Bought Three Bottles- Yup, three. Not three of one size and three of the next size and a bunch of different nipples. Just three with newborn nipples. And sure enough we've only needed those three. In fact we probably could have gotten by with two. Since Clara's on an 100% mommy's milk diet, we just use bottles for the very rare occasions when I pump (which I only do when we'll be traveling for hours in the car and want to avoid having to stop for a feeding). Of course those who don't work from home may need a ton more bottles on hand, but the idea is to evaluate what you can skimp on and give it a try, even if it's something else.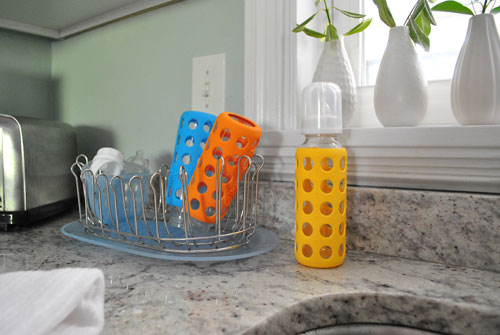 We Got Our Coupon On- This is a simple one. Never buy anything at Babies R Us or Buy Buy Baby without a coupon. Buy Buy Baby takes those ubiquitous Bed Bath & Beyond coupons (they're owned by the same company) and Babies R Us usually has coupons circulating (we even got a $5 gift card by friending them on Facebook a while back). Plus nearly every time you buy something at Babies R Us you get a 20% off coupon for the next time you need something, so keep those close and use them for large items to save a bundle.
We Remembered That The Store Would Still Be There- One of the hardest urges to ignore is this one: "I should buy this now, even though the baby's not here yet, just so I'm prepared." The truth is that people come out of the woodwork after the baby's born, so if you desperately need anything you'll have a relative or friend who'd be happy to save you a trip to the store since you're so obviously busy at home. And the odds are that for every 20 items that you resist getting beforehand, you might end up needing two or three of them after the fact. So you can see how it'll save you money and sanity by fighting the urge to buy twenty things and just going back for the two or three that you actually need once you're sure that you need them. We're so glad we didn't cave and register for/buy things like a pacifier case or a a wipe warmer since we have happily learned to live quite well without them (although some people find those items to be amazingly valuable and could easily have lived without other things). The stuff that you end up "needing" is different for every family, so just wait it out a bit to see what those things will be for you! In our house Burger is by far the most amusing "toy" around anyway… Clara can hang out next to him for hours.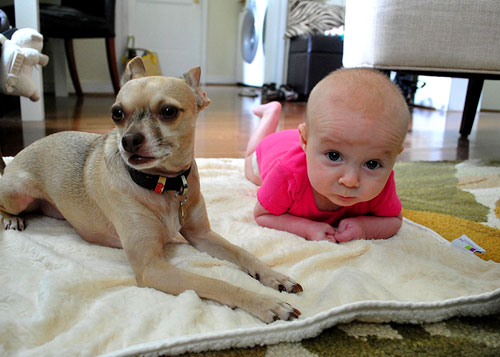 So to sum things up we just tried to take it slow, resist the urge to buy every single baby item that we saw, tried as many things as we could before we bought them, accepted hand me downs (with restraint), and registered for the big stuff that we needed instead of the cute stuff that was in the "nice to have" category. We opted to get one stroller instead of three and also snagged a booster seat instead of a big pricey (and tough to store) highchair. And we realized we couldn't avoid diapers but we found a way to make it more affordable (and, dare we say it, fun). Of course we're only four months into parenthood so we're hardly experts – especially on a subject that's so subjective and personal – but those are a few of the approaches that worked for us. Now we'd love to know how you guys save money when it comes to kiddos. Do you DIY anything? Or forgo purchasing certain items that you've learned you don't need? We'd love to hear what works for you.
Psst- Want to read our Save It series (about all things non-baby) from the very beginning? See how we save cash whenever we can here, here, and here. And for even more penny pinching ideas, visit our Projects page and scroll down to the Money Saving Tips category.
Pssssssst- Don't forget to check out our weekly BabyCenter post right here, which is all about how the heck we sort, store, and keep baby clothes under control.