"Refinance" always seemed like one of those big, fancy words that was reserved for our parents. Being first time homeowners and relatively green when it comes to investing (three years into our first mortgage), we initially ignored all the recent hype about low rates. But based on some advice from my dad, our loan officer, and blogs like One Project Closer, we decided it was actually a great opportunity to learn more and see if refinancing was right for us. After all, who couldn't use a lower mortgage payment these days?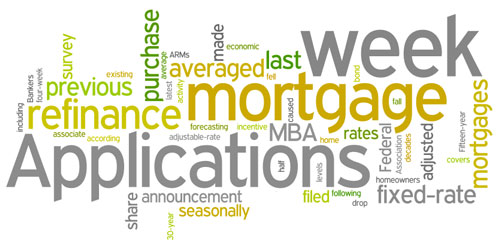 First we had to figure out if we were good candidates for a refinance. On first glance, it sure didn't seem like it. We're young (which statistically means we're more likely to change residences soon), we've only lived in our home for 3 years (which usually means the principal balance isn't much lower than it was at the start of the loan) and we already started with a pretty low rate (we locked in at a 5.75% back in '06).
But we learned that the assumptions above don't really apply after a closer look: 1. We actually plan to live here at least another 5+ years (ideally, forever) so the idea that we might move before we get our money's worth from the refinance isn't accurate. 2. Some strategic overpayments to our principal balance over the last few years had already cut it down to 73% of the original loan amount (our loan officer was thrilled about this so we felt great for adding an extra payment here and there). 3. Our good credit (and good timing) made us eligible for a rate of 4.35% – the second lowest our closing attorney had seen (yes, we did a little victory dance when he said that).
All that created a near perfect storm for us – we'd get a much lower rate on a much lower principal. Our loan officer helped us calculate that we'd be able to lower our monthly payments by $430, meaning we'd recoup our closing costs within the year. Score! Where do we sign?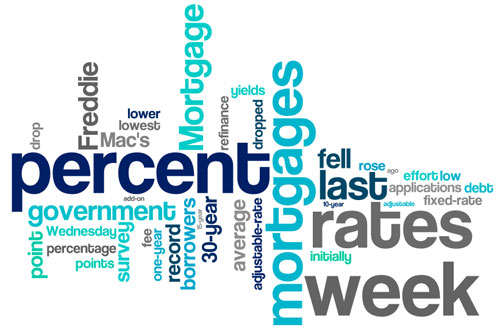 There was one hitch, though. We absolutely hate having a mortgage (it's the only debt we have). And refinancing meant starting our 15-year loan back at year zero (we want to own our house outright by the time we're 40). Our previous mortgage overpayments had put us only 10.5 years away from completely paying off the entire house, and the idea of setting ourselves back 4.5 years was a little uncomfortable for us.
Here's our solution: as long as we're financially able, we've planned to continue paying the same monthly payment- sending the extra $430 directly to our principal balance each and every billing period. If all goes as planned, rough amortization schedules predict that we'll actually shorten our new loan to about 9 years and, in the process, save ourselves up to $32,000 in interest. Not too shabby for an hour of signing about a million pieces of paper.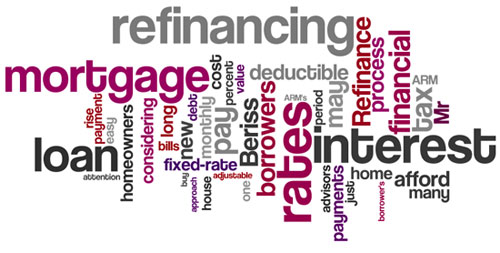 Sure, it hurts a little bit to have forked over close to $4000 in savings for the closing costs, but with our long term goal in sight, we're looking forward to putting that extra $28,000 to good use in 2018 (that's the $32,000 we're saving minus the 4K refinancing fee). Plus if times get tight, we always have the short term security of lowering our monthly bill by $430 at a moment's notice since it's an optional overpayment.
But enough about our money matters- have any of you refinanced recently? Are you considering taking the plunge? Any other 15 year mortgage lovers out there (we know we're a rare breed)? We'd love to hear your thoughts, tips or experiences.
Images courtesy of Wordle, featuring text from recent mortgage and refinance related news articles. Click on each image to read the full article.