You may have seen the old, grainy video house tours that we shot a while back using our decade-old, YouTube-averse camcorder. If you did, forget them. Pronto. And instead, head over to The Nest's TV On Demand page to check out a new and (key word) professional video tour of our home (watch it here). It puts those other camcorder run-ins to shame… so much so that we're not going to talk about them anymore. Agreed?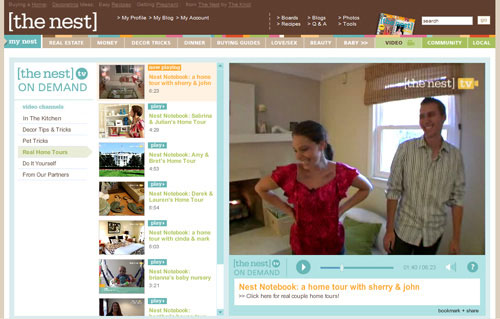 The fine folks over at The Nest stopped by a little while ago to tape the tour, which involved a pretty full afternoon of videotaping and doing our best to keep the cheeseball factor to a minimum. Both Sherry and I (yes, I was allowed to be in front of the camera for this one) described our favorite rooms, DIY projects and style hints while the cameras rolled (and rolled, and rolled). I think we both managed to sound coherent, but Burger still ended up stealing the show with his sneaky chihuahua antics. We should've known…
We hope you guys enjoy the tour (again, you can see it here). We're thrilled with the final product, so a big "THANKS" to all the great people over at The Nest for inviting us to do the tour and putting together such an entertaining finished product. Burger sends dog kisses your way.