This all started because we wanted one of those cool "Historic District" plaques on our beach house. Spoiler, we got it…and one for the duplex too! But the process turned us into amateur sleuths, history-buffs-in-training, and (more predictably) people who paint their front door a new color while they're at it. So here's the story, along with a mini porch update, and some tips & advice for uncovering the history of your home too.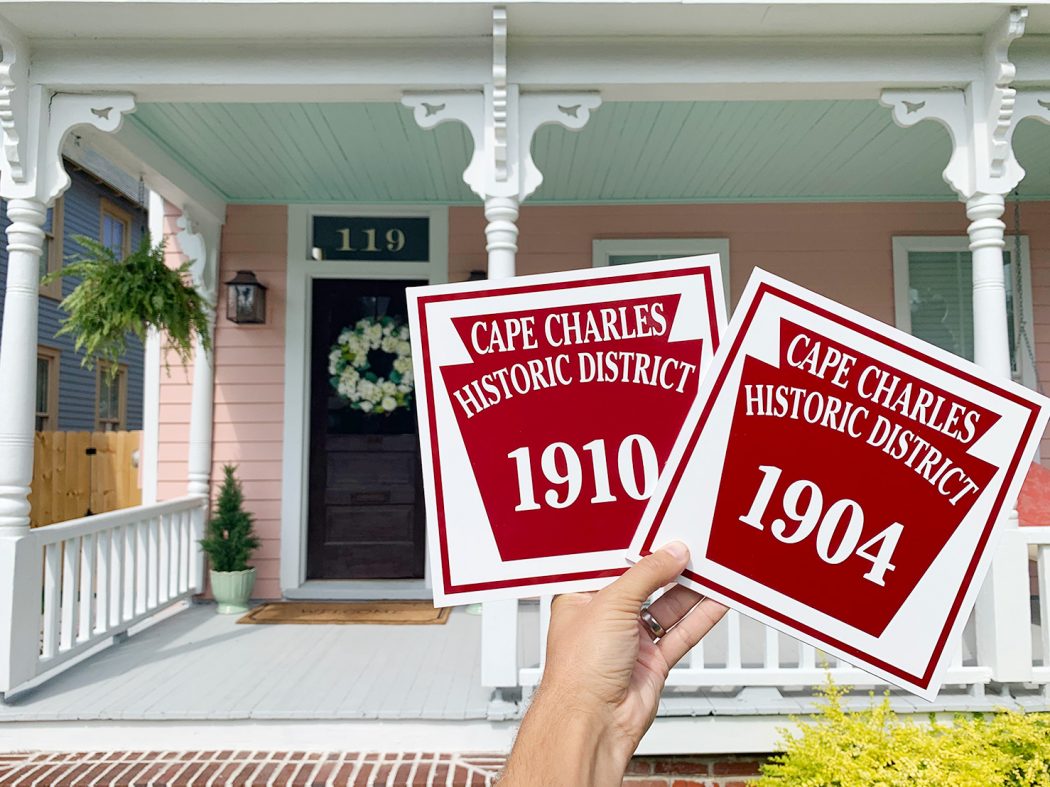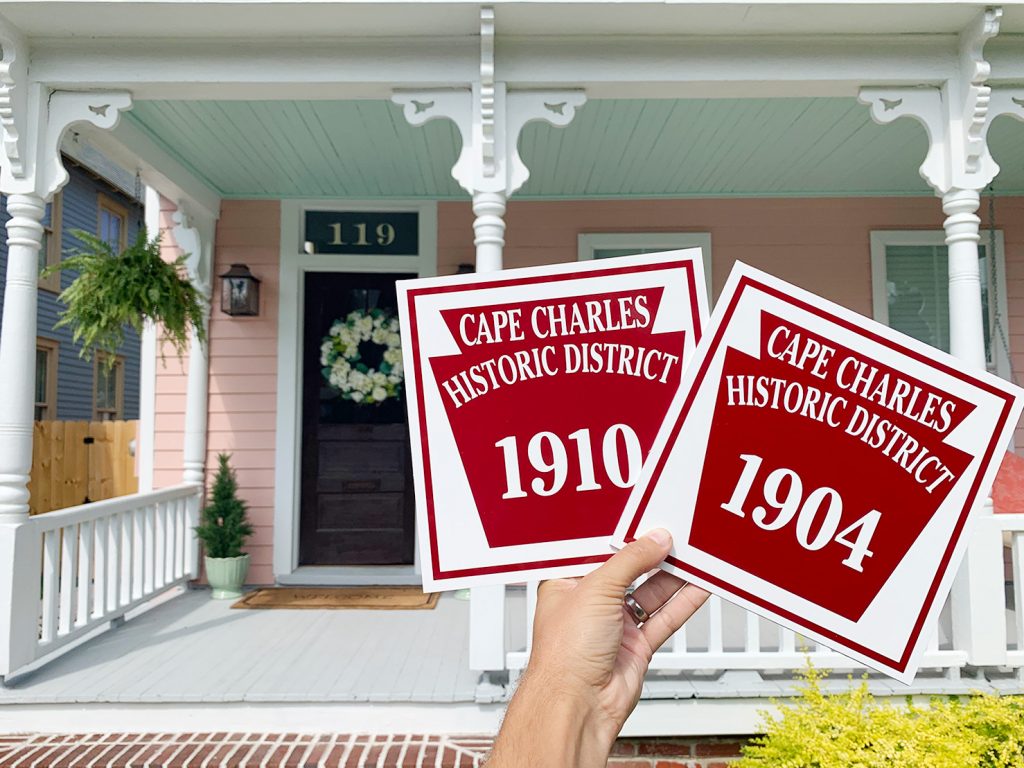 Ever since we bought our beach house three years ago (yes, three!) we've been jealous of admired the official "Cape Charles Historic District" plaque on our neighbor's house (the blue one between the duplex and the pink house in the photo below). We originally presumed that it was a designation that was only awarded to certain homes that met strict historic restoration qualifications (like having all of the original wood windows – which neither of our houses came with when we bought them). While we did keep as many of the original features as we could, like the original front doors, corbels and brackets, stained glass windows, and even our duplex's diamond window grid shape (we had them recreated to match the exact shape of the original rotting ones that we inherited) there was a fair amount of stuff that was too far gone (ex: rotten siding that we replaced with hardiplank) or things that weren't original when we bought these houses (like the broken vinyl windows that had been subbed in for the original wood ones decades ago).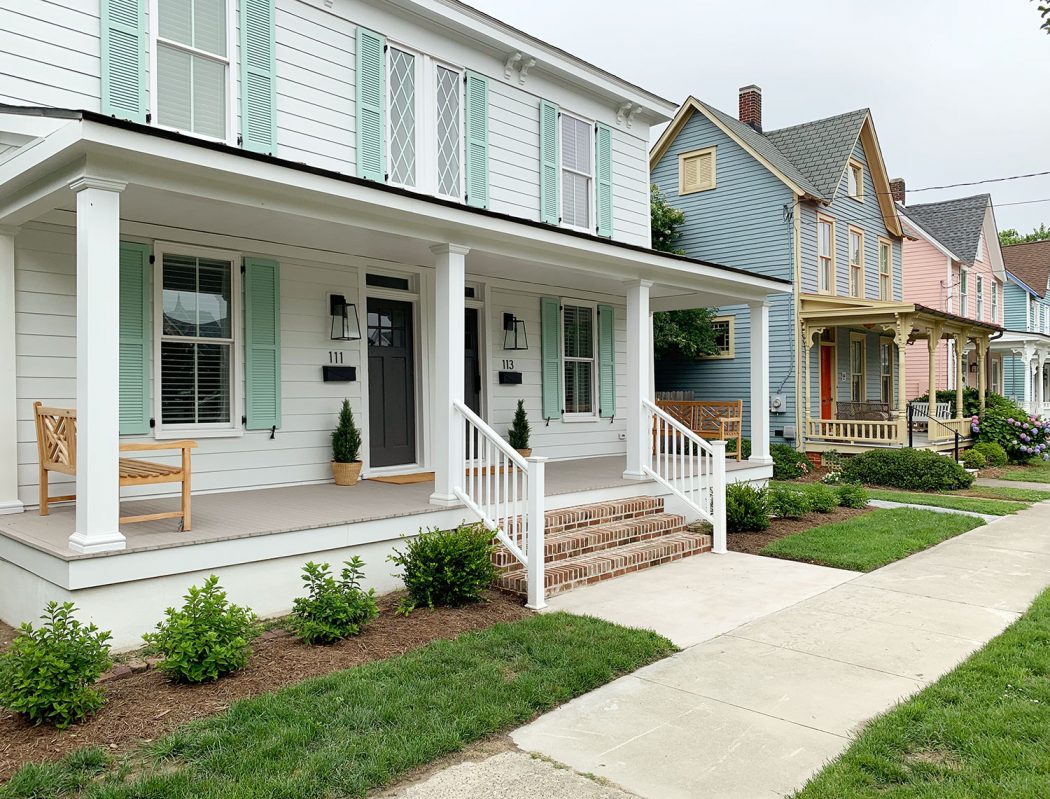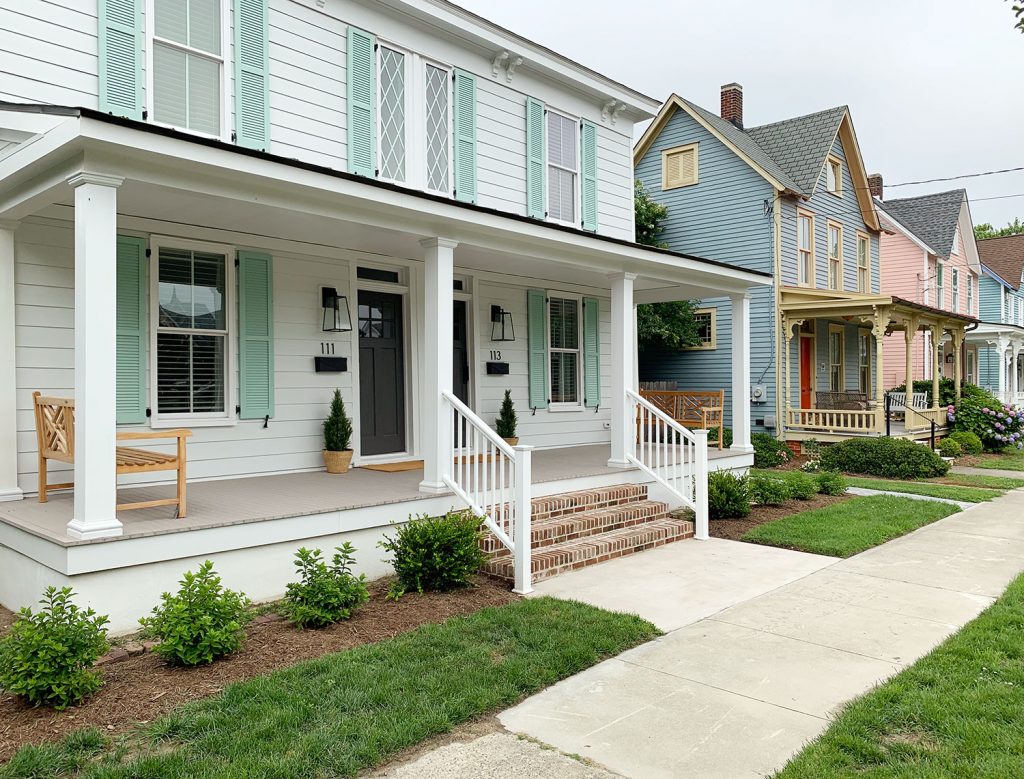 But Sherry learned that any house located in the town's historic district is eligible for the sign, as long as you can prove an approximate construction date of your home and are willing to shell out a whopping $30 to have the sign produced. Ummmmmm… YES PLEASE.
The date on the pink house was obvious. We had seen 1920 on the real estate listing when we bought it and our neighbor's plaque reads 1920 (and you may remember that theirs, ours, and 2 other nearly identical houses next door were built together). We just had to go about finding the acceptable paperwork to back this up. THERE IS A TWIST COMING. Do you sense it?
The duplex, on the other hand, was a complete mystery. There are no other houses on the street like it, so we suspected that it was built at a different time, but pinpointing that was tougher (especially since a lot more of this house's original features had been removed/changed over time (all of that porch trim including those snazzy wagon wheel looking things were added much later on – along with the too-high-to-be-original porch railing (see how our pink house and the blue house next door have much lower railings? Those are original). As for the duplex's age, it stumped a ton of people. Someone had told us 1950-ish would be their guess. Someone else mentioned 1890 because of the Italianate details and balloon framing that we uncovered during the renovation.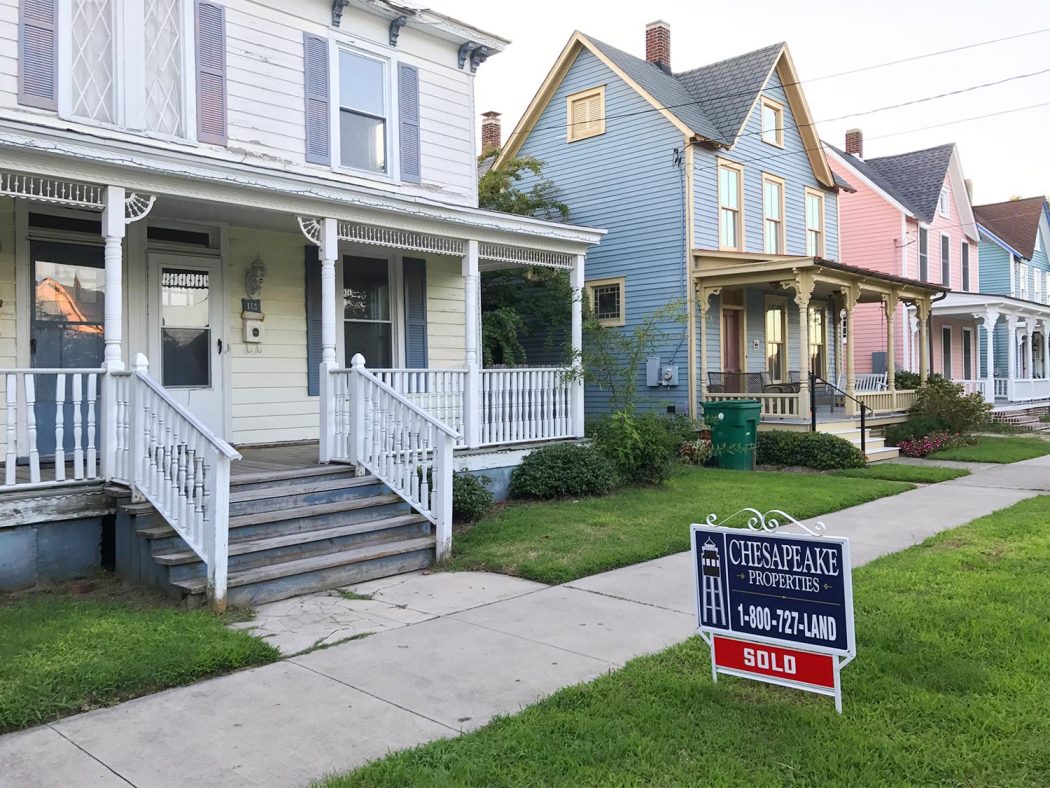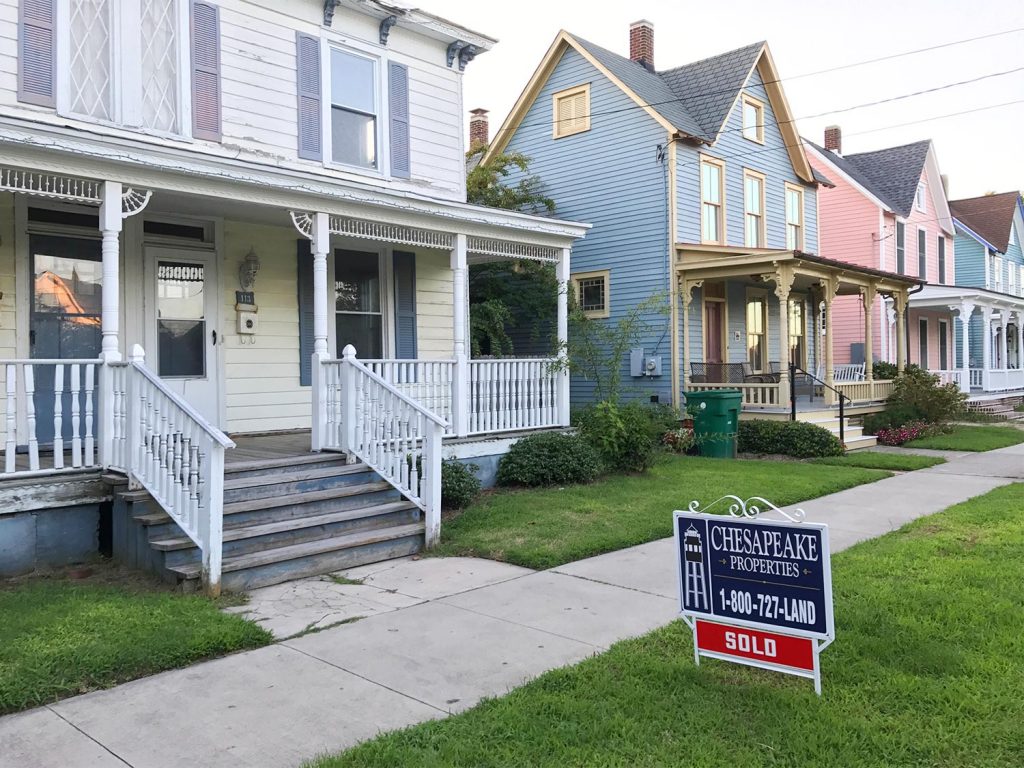 To solve this mystery (and prove that 1920 was indeed the correct date for the pink house) a woman at our town office pointed us to the historic tax records, many of which have been scanned and uploaded to their website. There's a sample page below, but they were essentially gibberish to us at first, but she helped us understand how to locate our lot number and find the earliest recorded taxable structure (aka, the first time a "value of buildings on lot" appears). She told me by phone that she'd found the pink house going back to 1915 (what?!) and then in a follow-up email said it – and the duplex! – actually appeared on the 1910 records (WHAAAAT?!?). WHAT ABOUT 1920?! IS EVERYTHING ELSE IN OUR LIFE A LIE?
Invigorated by the idea that the pink house was 10 years older than we originally thought (and sliiiiightly disappointed that we missed the opportunity to celebrate its 100th birthday), Sherry and I dug a little deeper. I came across digitized copies of some historic Sanborn Maps on the town website (the Library of Congress' website also has MANY from across the country if you have an old house you want to research). They're apparently old fire insurance maps from the 19th and 20th-century and many are quite cool to look at. Here's an example of one from 1885 for Alexandria, Virginia that you can view at the LoC website.
Upon finding these, I was able to compare maps from many different years around the turn of the century to try to better pinpoint the construction date of both houses (neither the tax records nor these maps had every consecutive year represented, so there are definitely gaps, but it was more accurate than just saying 1920, 1915 or 1910 – all of which felt like guesses and conflicted with each other). Long story short, using the maps I was actually able to find that our beach house (marked in pink below) was constructed sometime between 1898 and 1904, and our duplex (marked in mint below) was built sometime between 1904 and 1910. See how in the 1904 map below in the green field there's no building drawn until 1910? That's how you know it was constructed between 1904, where that lot was drawn empty, and 1910, where there is a big ol' rectangle in the green field.
Now you'll notice there are some structures on our beach house lot in 1898, but they don't appear to be houses. Maybe sheds? Or horse stables? Isn't that crazy?! For a second we thought our pink house was already built in 1898, which is quite a different story than 1920 – but when you stare at the pink field in the 1898 map it's clearly a smaller rectangle and there's some other small structure on the back of the lot – and when you look at the pink field in the 1904 map it's the shape and size of our house as it sits on the lot today. Showing these maps to the town was deemed "sufficient evidence" for us to earn the right to pay 30 beans and order our historic plaques (1904 for the pink house, 1910 for the duplex – the latest possible date since there wasn't any way to prove when they had been built in the 6 years between maps). And sixty dollars and a few days later (IT WAS SO FAST!) we were the very proud owners of two Cape Charles Historic District plaques that we'd long pined for.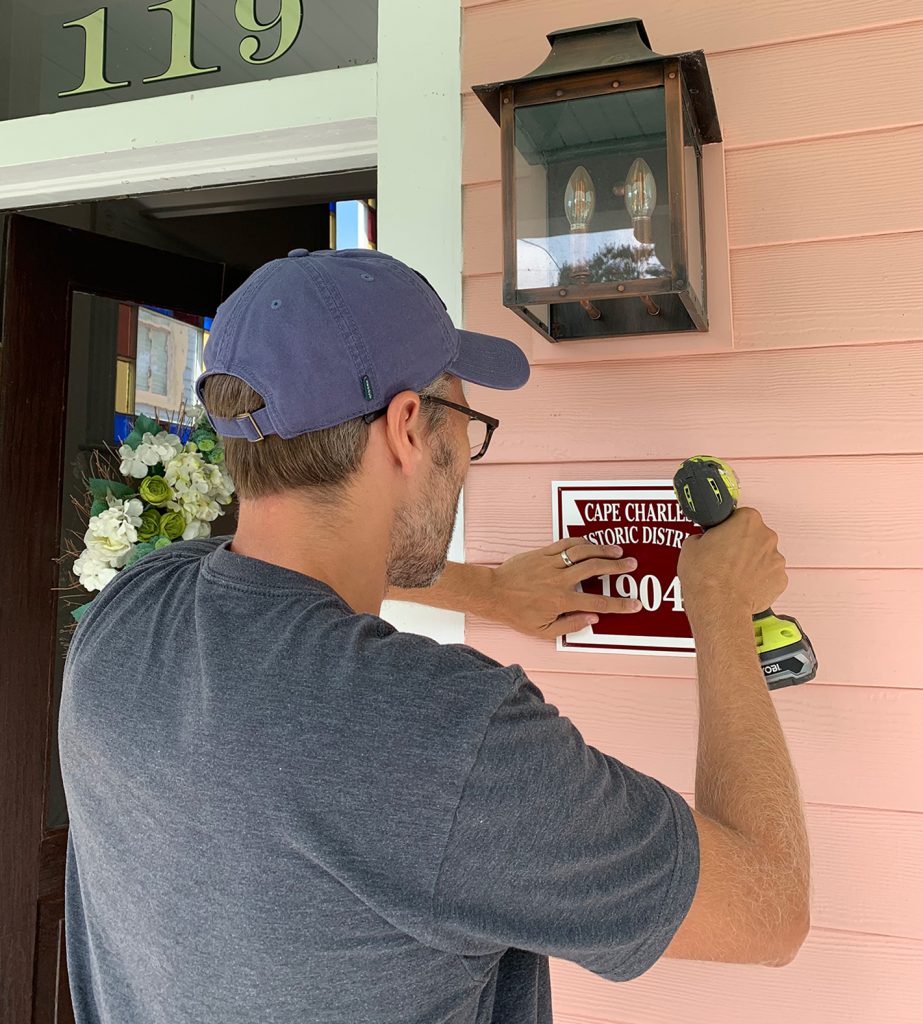 On the beach house we hung it with four screws and some clear caulk to keep water from getting behind it, and placed it in a similar spot to where our neighbors have theirs (by the way, they're very excited about updating due to the BIG REVEAL that our houses are actually 16 years older than we all thought). But the duplex was a bit harder when it came to landing on a placement for it because the house is so symmetrical… yet we only got one sign.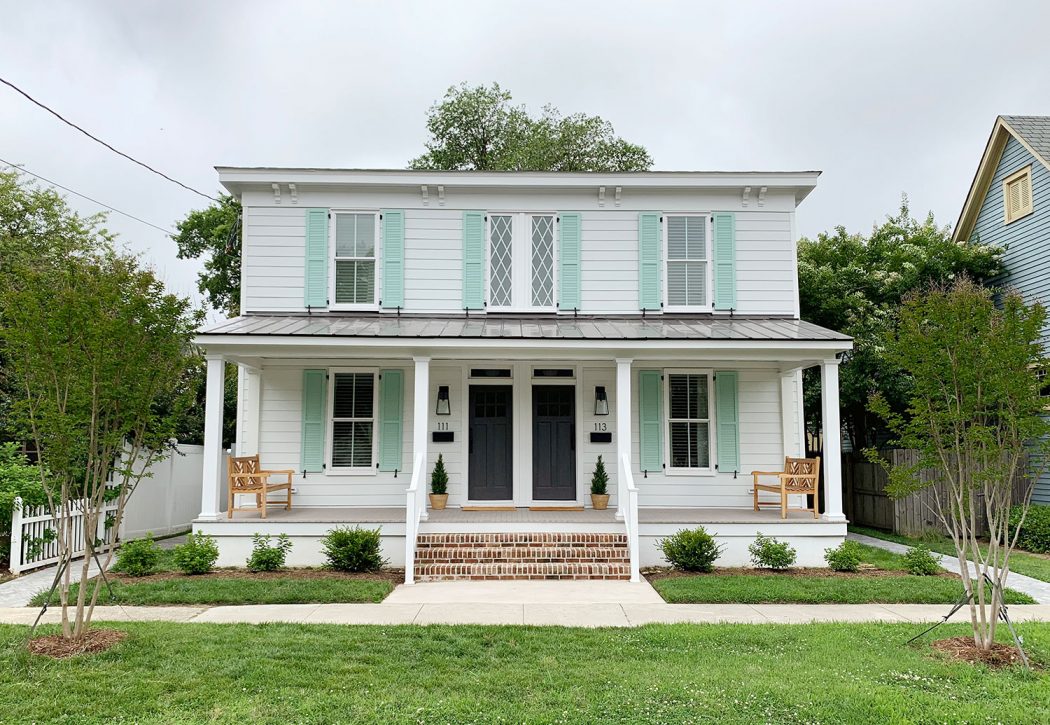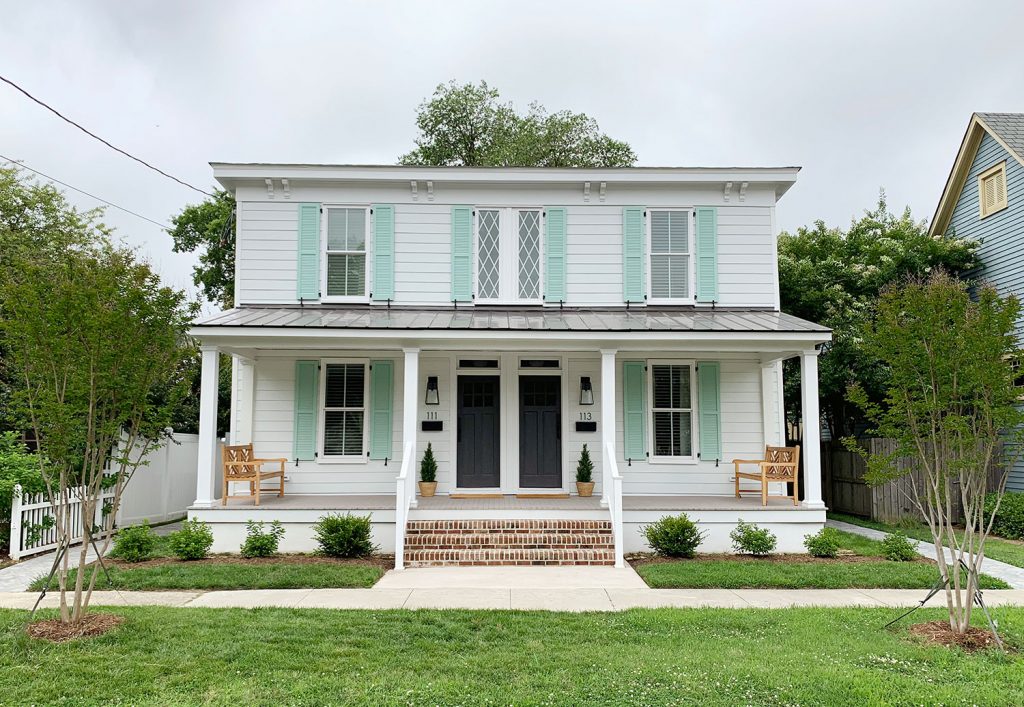 We would've hung it dead center between the doors had it not been such a tight fit (we held it up there first and it looked extremely weird – as did a few other spots we tried around the doors, near the stairs, on the columns, etc). So we landed on another common spot that we've seen people put them around town, which is along the foundation – kinda like how buildings have their first cornerstone etched.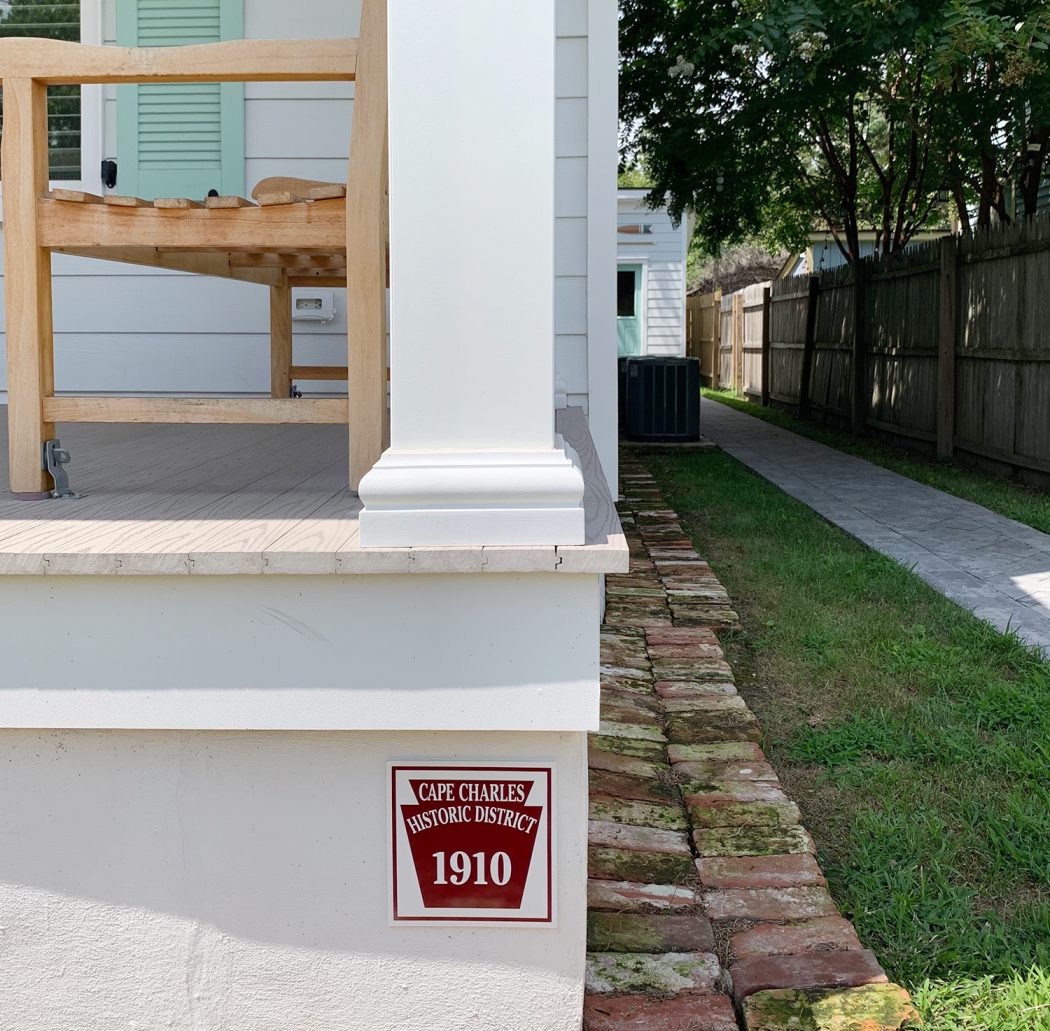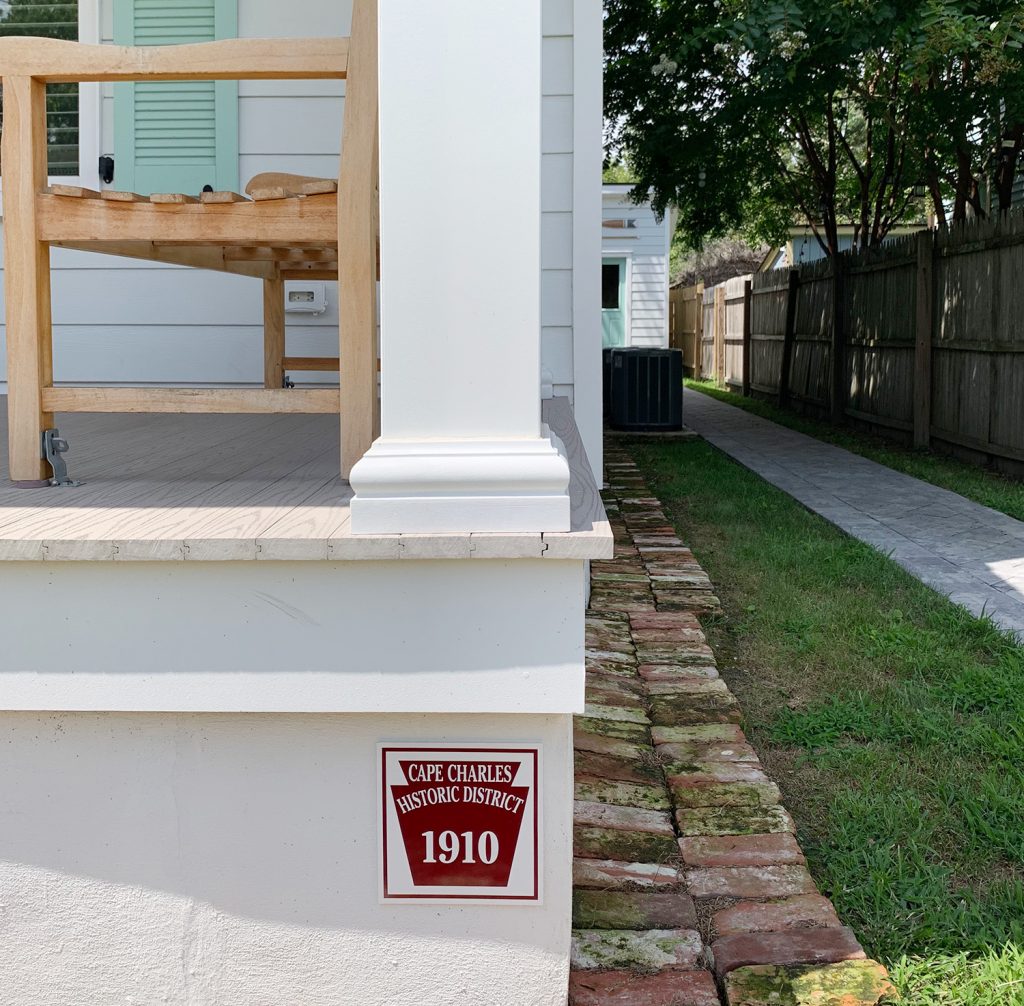 We used an outdoor adhesive to secure it, and so far it has been holding up well (the sign is made of a lightweight weatherproof foam core so it's pretty simple to hang and extremely durable/waterproof).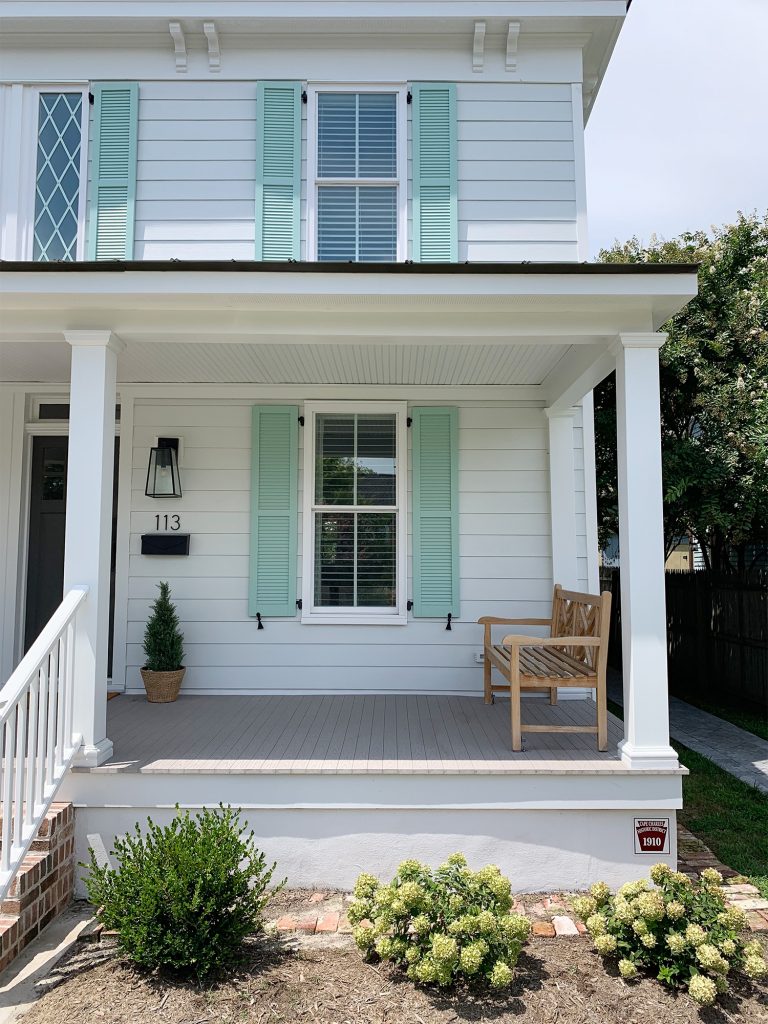 Hanging these also prompted Sherry to finally paint the beach house front door, which has been on her project list for a while now. It's the original wood door to the house, and we gel stained it two years ago in an attempt to revive the very dry, paint-dappled wood finish that we inherited with the house. But we were so-so on how dark it felt (gel stain is essentially like paint – no pretty grain shows through and it was too far gone for transparent stain to work) and Sherry especially didn't like how shiny it was. Sort of like brown goo sitting on top of wood instead of actually looking like stained wood.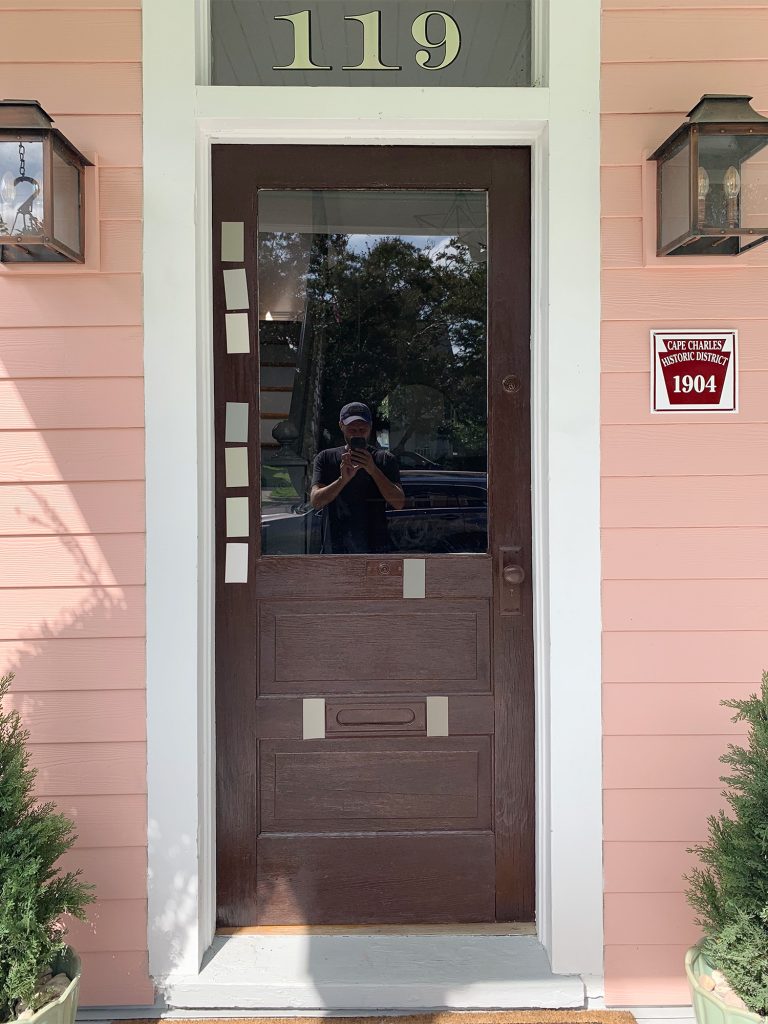 We knew we didn't want a crazy color (hello, the entire house is pink and the porch ceiling is aqua) but we both liked the idea of something that helped anchor the historic feeling of the house. So we grabbed a bunch of swatches from the local True Value store that kinda mimicked the gray-brown trim on the inside of the house. The final pick was the one to the right of the mail slot in the photo above: True Value Mountain Gray.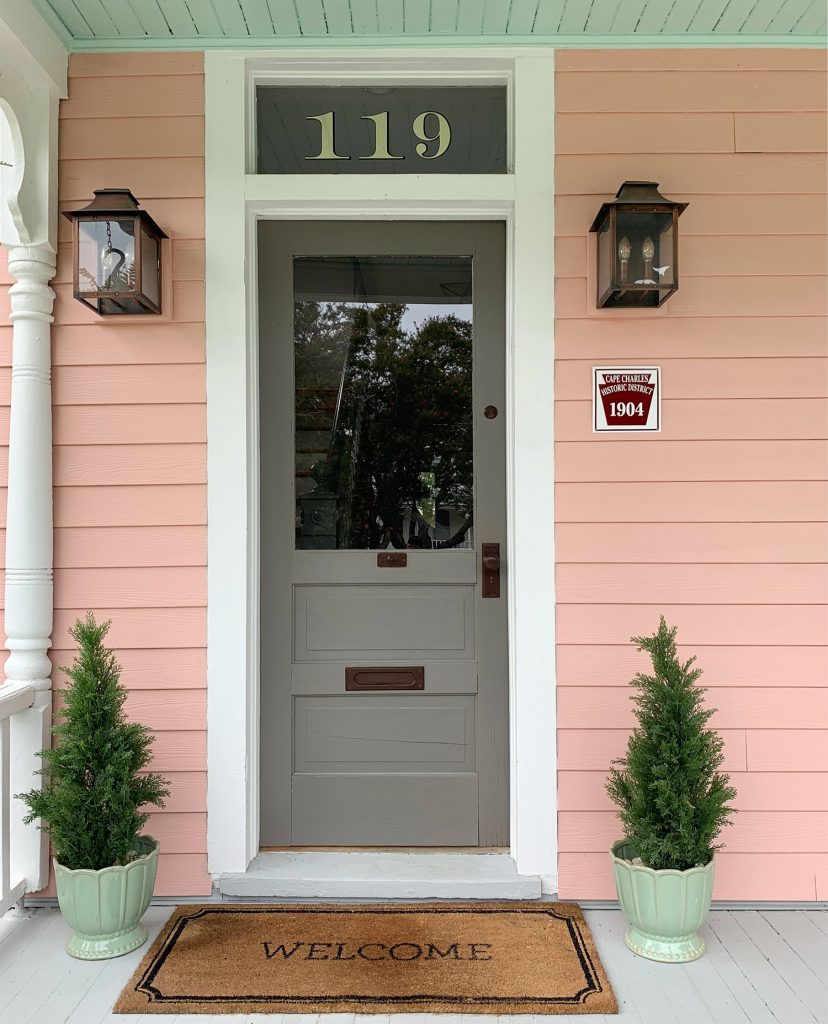 We love that by lightening it up you can see some of the interesting details on the door better, like the mail slot and the centered doorbell (not to mention the big glass pane). We both think it emphasizes that it's the original door so much more because those old features stand out instead of blending in, and Sherry's especially grateful that we checked this off of our list a few days before we had some family photos taken in front of the house this past Sunday. Here are a couple of the solo shots we took without the kiddos where you can see how the door works with the roof color, the bronze lanters, and still emphasizes the mail slot/old bell/original door handle.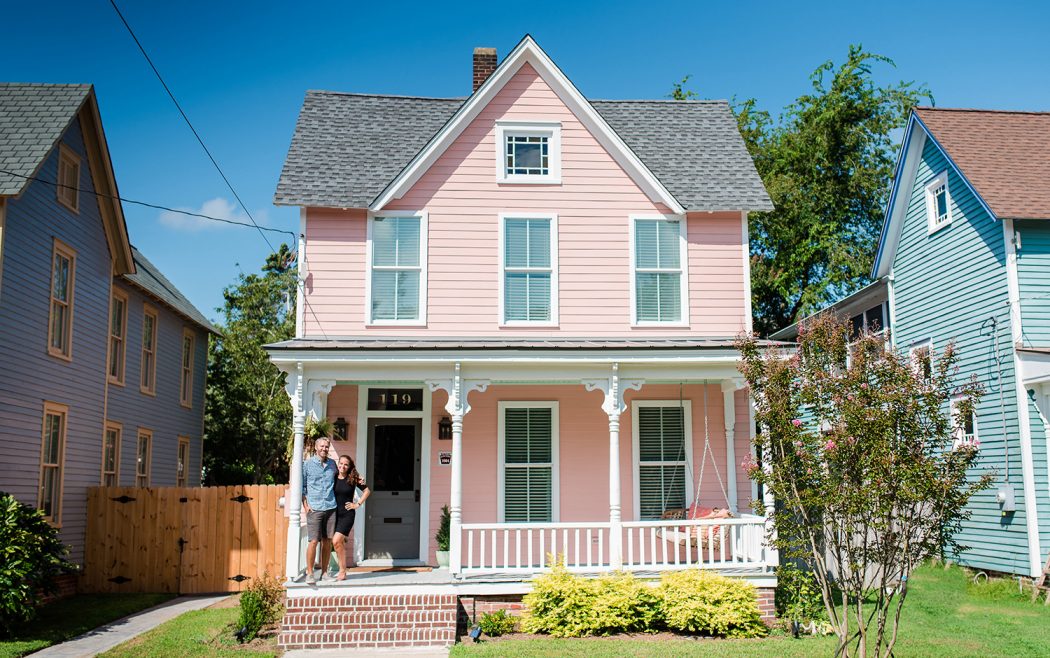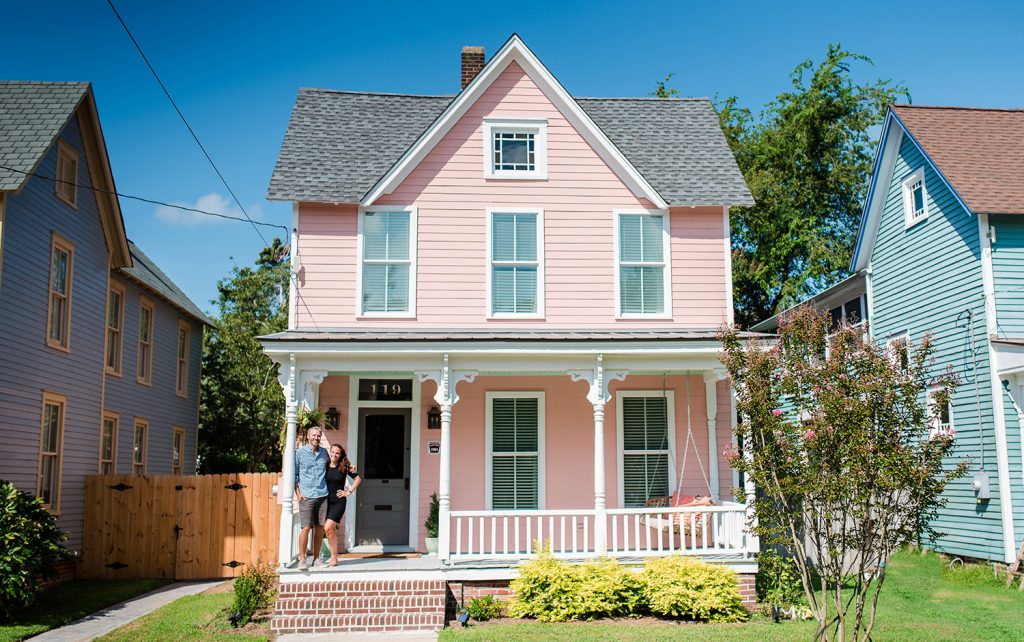 The photographers (aka, our friends who live one block away and asked us to snap a few photos of their family and offered to do the same for us in return) even said "I want to make sure I get your 1904 sign in there!" They really know our love language.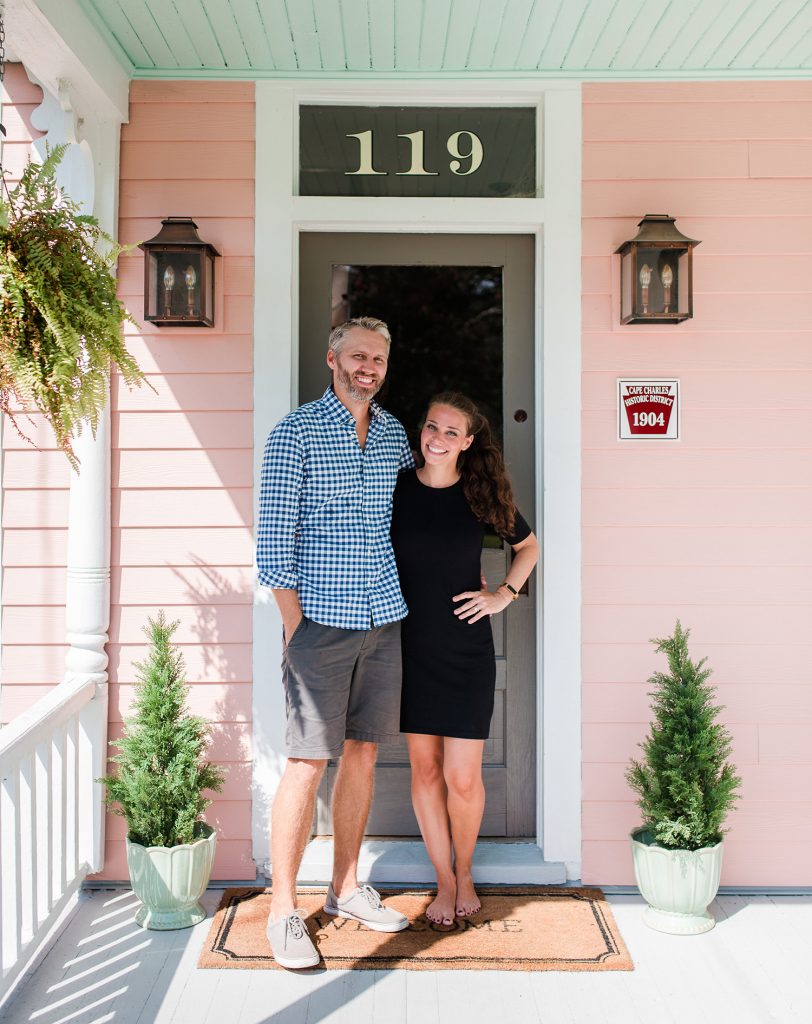 Oh, but I mentioned getting these signs turned us into mini history buffs. Something about the excitement of finding out that our house was 16 years older than we thought made us want to dig even deeper to see what else we could find out about it. We already knew about the love triangle / murder that happened right out front in 1936 (which was huge surprise back when we learned about it), but I thought it would be fun to share what else we learned beyond that, and more importantly HOW we found it out, in case you want to play history detective in your hometown.
Visit Any Local Museums
Since Cape Charles has some historic significance, the town has a local museum that's all about preserving mementos of its old railroad boom days. We stopped by one day and found out that, in addition to the displays, they had binders and a public computer full of additional photos, postcards, letters, etc. We were determined to find a historic photo of our actual house, but the best we came up with was a postcard featuring the other side of our street (these are the houses that sit right across from the pink house). The photo didn't have a date on it, but it's clearly old – note that the road isn't even paved!
Sherry snapped this photo of the current matching perspective. It was very cool to stand in the same spot and compare everything that had changed (and everything that was still exactly the same).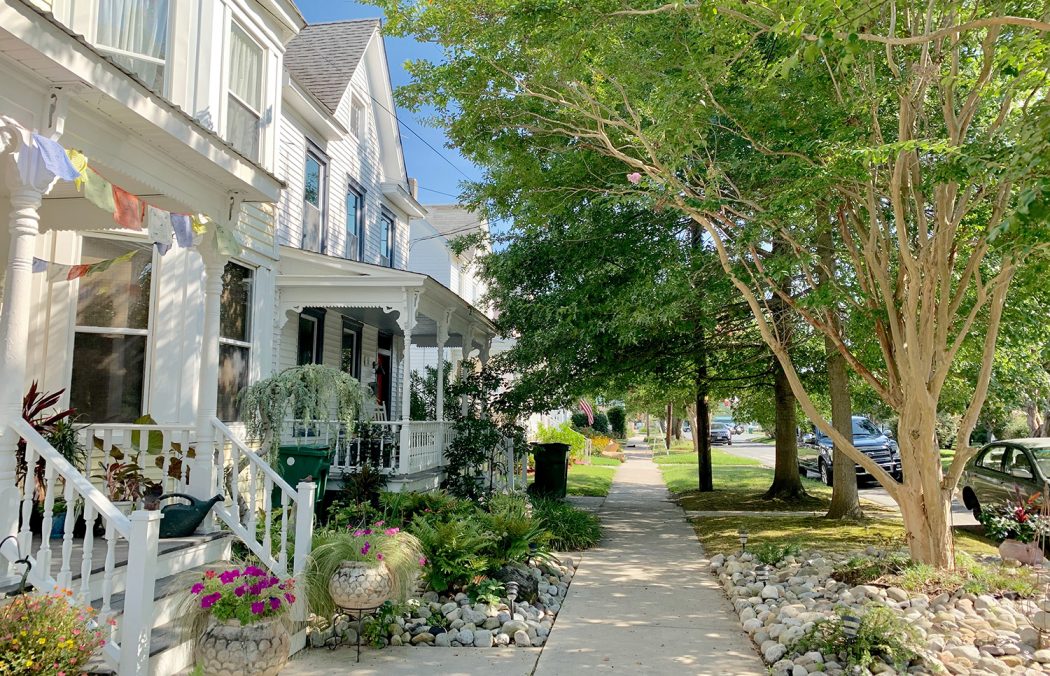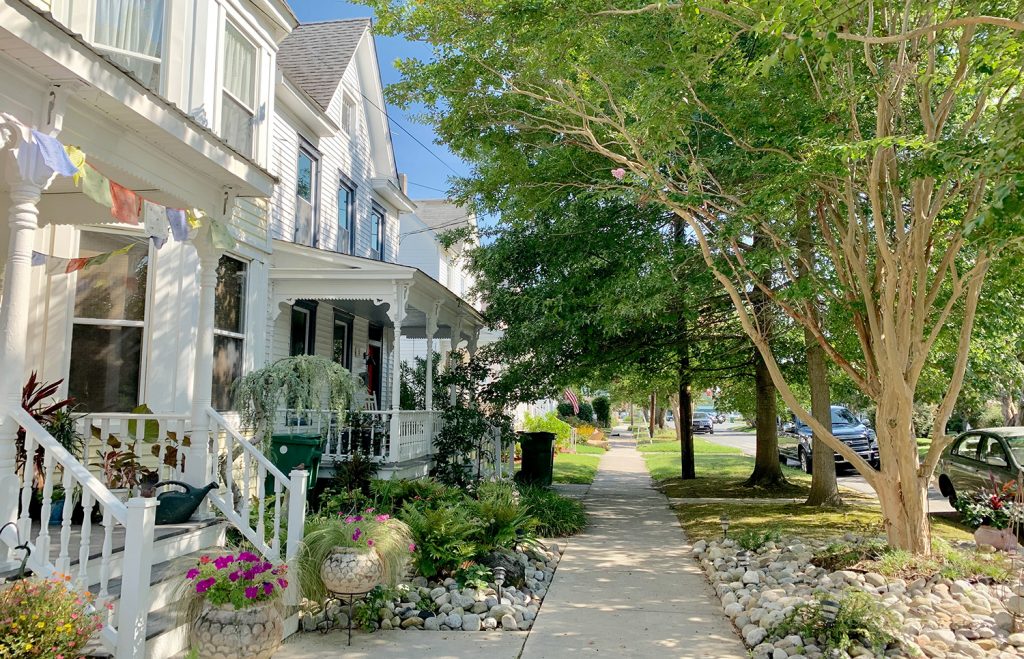 We're told there's another cache of old photos in a building adjacent to the museum, but no one was available to show us on that particular day. So stay tuned – maybe our dream of finding a very old photo of the pink house or duplex will eventually come true. Sherry keeps joking that we'll uncover some other fact that further pinpoints the date of the pink house & duplex construction date – since it's technically a 6 year window for each of them – and we'll want to pay 60 more dollars to make the signs more accurate (which I could totally see us doing).
Visit Your Local Library
Next we stopped by the Cape Charles Public Library to see what local reading or additional photographs they may have on hand. One surprisingly fascinating source of photos was old yearbooks from the local high school. I believe this was from the 1960s. I especially love they gave space to "Our main source of power" in the bottom corner.
You may remember the library above as the Civic Center where we had to go last year for the Historic Review Board to approve our duplex plans (remember this very demoralizing moment when our plans were denied?).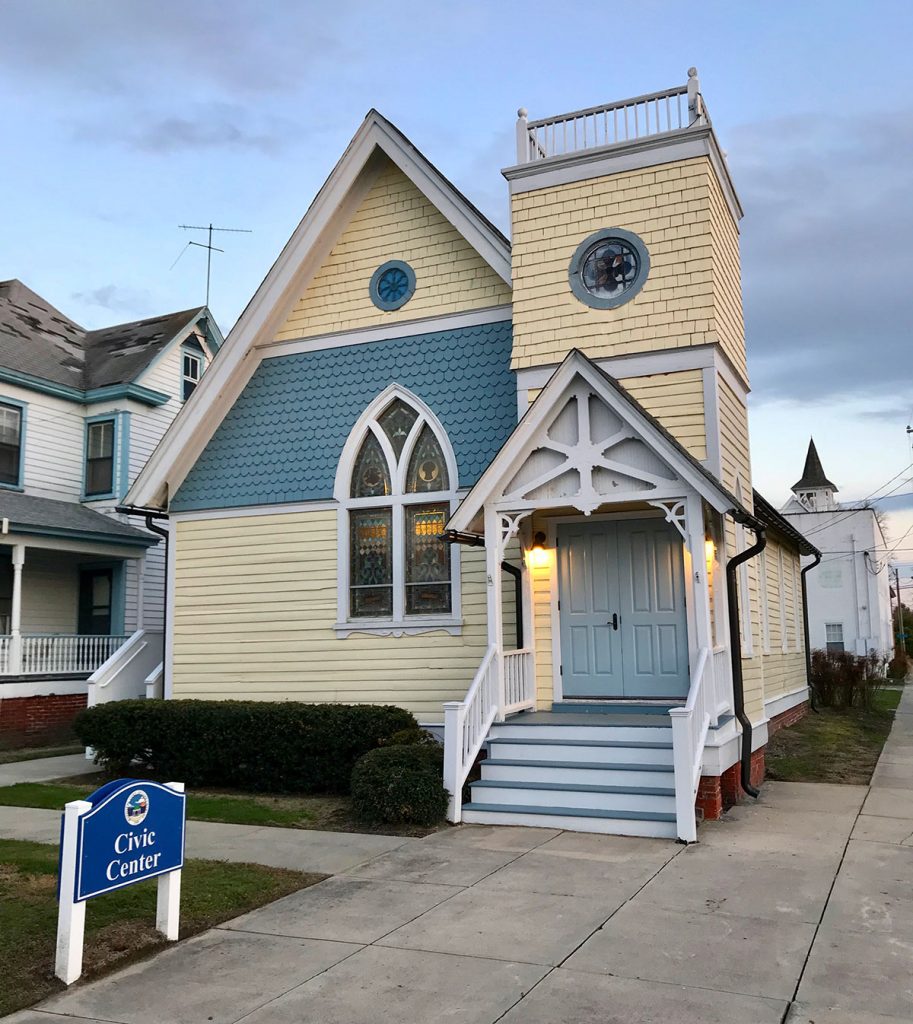 Other local history books at the library offered fun timelines of the main areas of town (although again, no shots of our actual street). Check out this series of pictures of the "main street" area of town:
That was it around 1900 (note the carriages!) and the shot below was taken some 40 years later (again, the vehicles are my favorite part).
Coincidentally, it's very similar to this angle that we shot for our Cape Charles visitors' guide last year.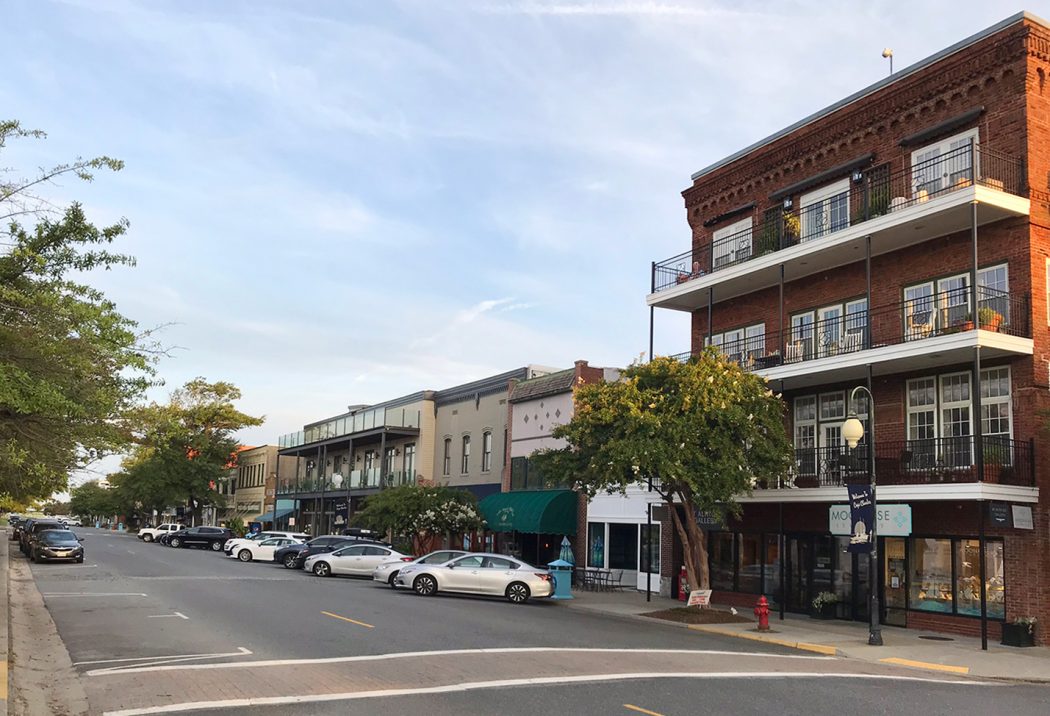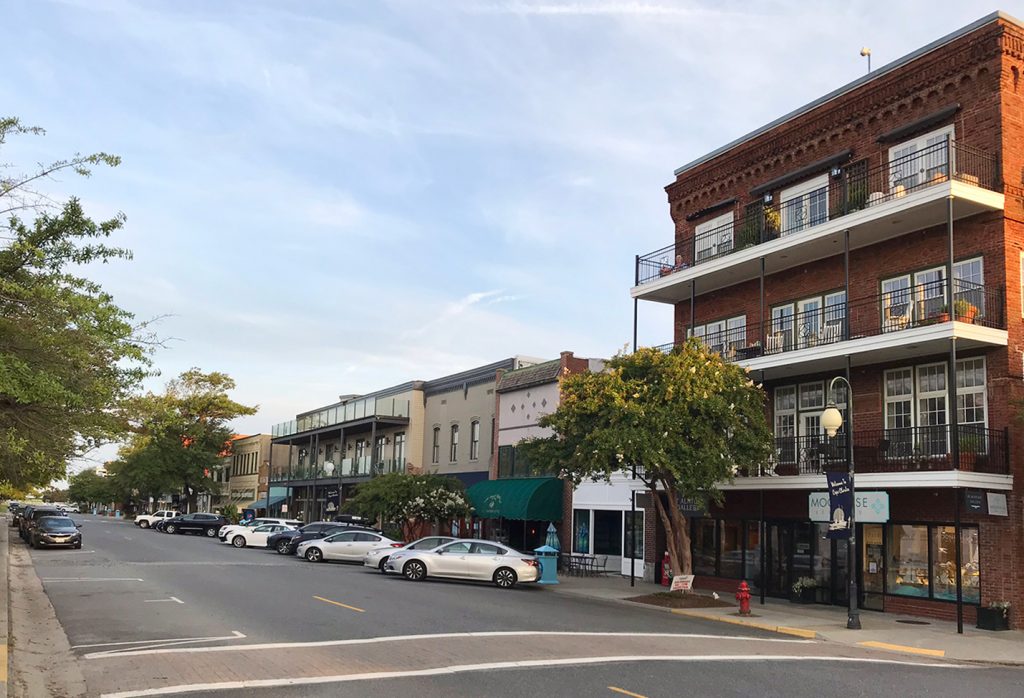 Visit Your Local Courthouse
I don't have any great photos of this one (cameras weren't allowed in the courthouse – phones had to be left in the car & you went through a metal detector!) but the county where the duplex & beach house are located has claim to the "oldest continuous court records" in the United States. I didn't think much of this whenever I saw it on the town sign in Eastville, VA where the courthouse is located (yes, it's on their sign), but we learned – and experienced! – that anyone in our county can access physical tax records that go back to 1632. Let that sink in for a second. SIXTEEN THIRTY-TWO.
Our homes are obviously not that old, but we were able to flip through handwritten property sale records going back hundreds of years to see the names of each family who had owned it, what they paid for it, etc. Many were hard to read, but we were still able to dig up some interesting details about the historical sales of our homes. One especially surprising fact that we learned was that the duplex was sold to its second owner at an auction in 1937 for $1,100. On Sherry's birthday no less!
Use The Internet (Duh!)
Having the names and dates of past owners of your house (which you can usually get from local courthouse records) can also unlock some interesting details about your home's past too – whether just by Googling them or using a service like Ancestry to find their history. This was how a neighbor of ours found that crazy story about the car bomb that was set off on our street 80 years ago.
Sherry also found that simply Googling "Cape Charles Historic Photos" or "Old Photos" led her to some interesting new sources. Although this wasn't quite as historic as we were hoping, Pinterest even turned up an old photo (below left) of a home we've been watching get fixed up (the below right shot was taken by us a few weeks ago). The original decorative trim on this house that they're painstakingly restoring = awe inspiring.
We haven't given up on our hunt for more information and photos of our own town, our street, and even past owners, but we're pretty proud to have crossed "get historic plaque" off of our to-do list.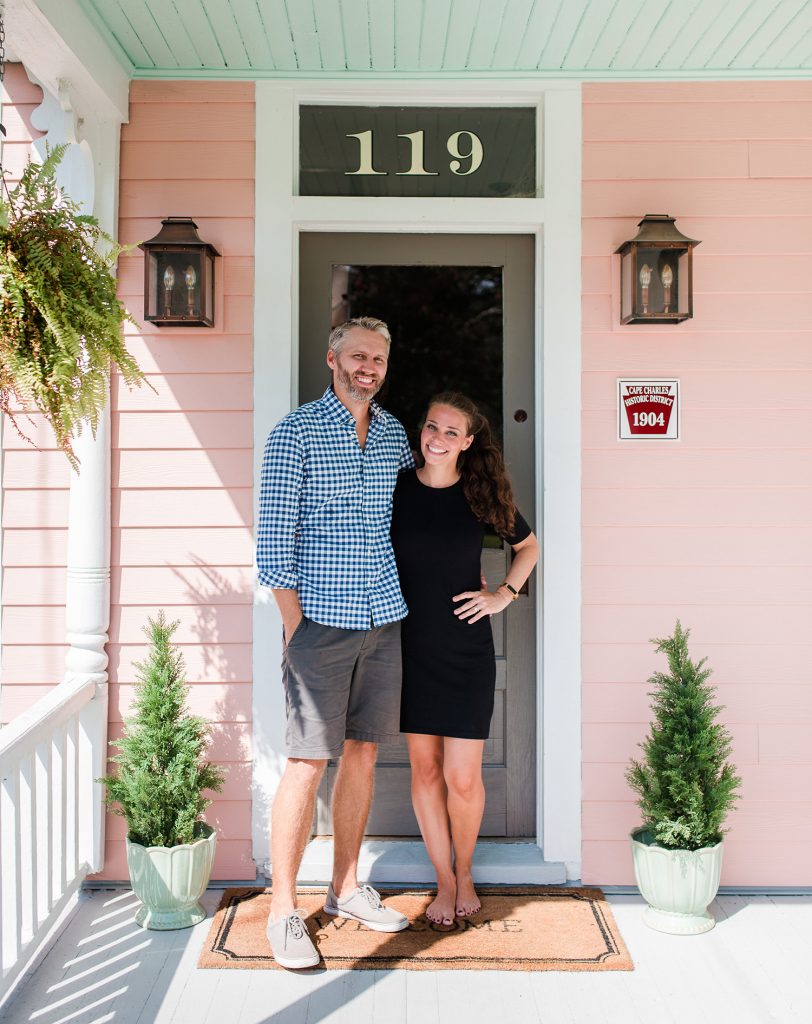 Nerdy "here's the story" posts like this are a perennial favorite of mine, so to read more like this one, here are some from the archives:
*This post contains affiliate links*