One of our favorite posts in our entire archive is this one about hearing from our first house's original owners. It was so much fun to see photos of their family in our house back in the 60's, and we studied every inch of each picture and relished every detail that they shared in their letter.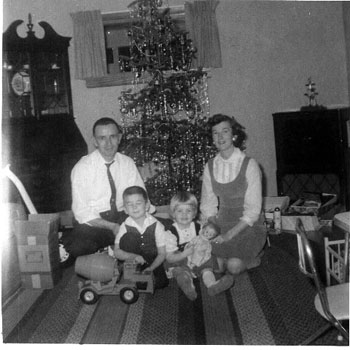 We were also friendly with the people who sold us our second house, so although we never heard from the original owners, it was really great to know the sellers who had lived there for 22 years! So we always hoped to hear from the original owners of our current house. For a while… nothing. And then it happened! We actually met their daughter-in-law Chris at an event here in Richmond a few months back and big hugs ensued. There's nothing better than hearing how special a house that you love is to another family, and she gave us permission to share some snippets from a letter that she sent us along with some old photos, so here it goes!
The house you are currently in has had a wonderful history of family memories. My husband's parents bought it when his dad was transferred to Richmond from Cleveland, Ohio over 30 years ago. They had just become "empty nesters" so they searched for the right house in a perfect location for their future grandchildren to come visit. As a matter of fact, the first of their grandchildren was on the way during their move! It was a crazy time for them, buying the house under construction and moving from 500 miles away. They somehow fit in traveling to Texas for the birth of the first grandson, and saw the births of nine more grandchildren, and one great-grandchild while living there! They were dog lovers and brought their beloved dog, Chelsea, an English Foxhound, with them to Richmond. Sometime after she literally disappeared into the woods one day, another dog (Lady) followed my mother-in-law home. She was well loved and stayed with them a long time.
My husband and I lived in Richmond during the births of all four of our children. Before they were born we acquired our first "child," a dog from the Richmond SPCA. We took her directly to the house to visit "grandma and grandpa" before even taking her to our own home!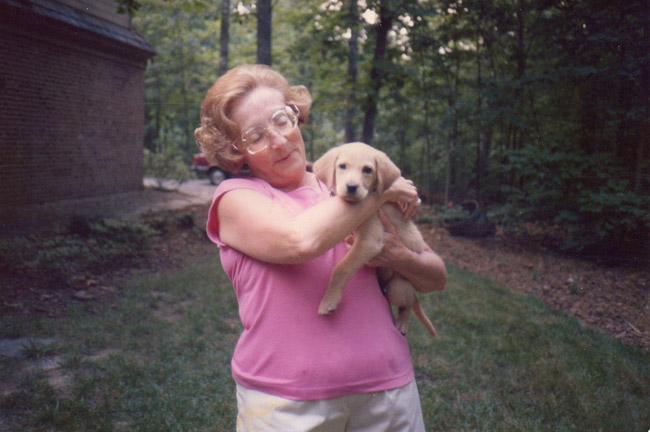 All of our children remember the house as a place we celebrated Christmas Eve every year, plus multiple birthdays and other holidays (this photo was taken in the back porch, which you call the converted sunroom, around 20 years ago).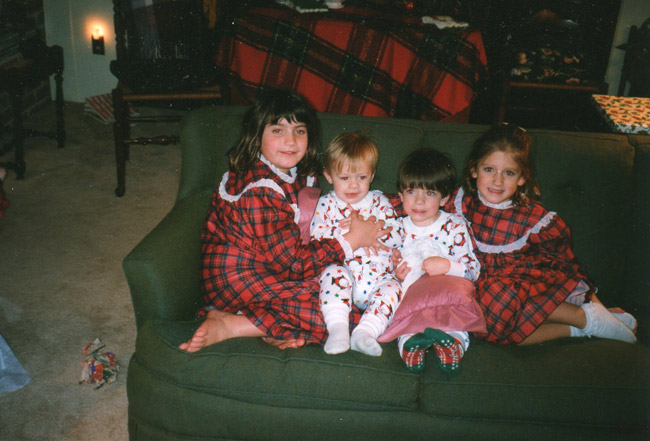 My father-in-law used to put a Christmas tree in almost every room of the house, and they were always decorated to perfection. He used to play a game with our kids, "find the ornament." He would spy an ornament on the tree, and the kids would see who could be the first to find it. It wasn't easy! He had hundreds on one tree alone!
My mother-in-law was a fantastic cook and had us over not only for celebrations but just because she felt like cooking. The kitchen was extremely well used and well loved by all. She would spend days baking cookies to take to Virginia Beach every year, when some years all three of her children and ten grandchildren would also be there.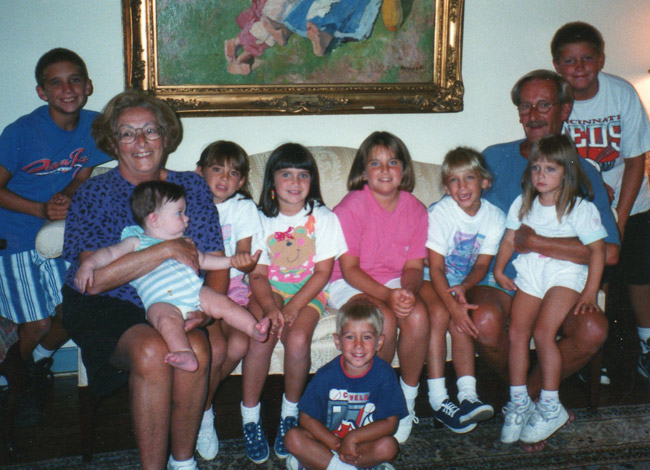 There was an antique chandelier hanging in the kitchen that was precious to my mother-in-law. It belonged to her grandmother. She loved it, but it hung so low everyone knocked their head into it at least once in their visits there! It was removed before the house was sold.
The outside deck and back porch were added by them after moving in. They used the porch on a daily basis, him reading the newspaper and her doing her needlepoint pillows (this is a photo of my mother-in-law presenting one of her pillows to my daughter in the living room).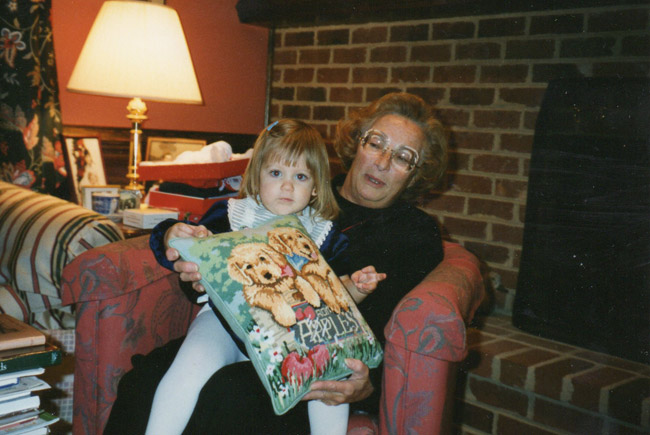 The tree in the middle of the deck (that you have removed) was just a small thing when they decided to build the deck around it. They wanted to keep it for the shade it provided. It really got huge!

It is really nice to be able to see what you are doing to make the house your own. I love the hardwood floors you have put in upstairs and really like the stenciling you did on the bathroom floor. Your daughter's room is where my mother-in-law slept during her later years. She would be so happy to see new life there, with the fun girly room you have put together! I also really love how you transformed the half bath downstairs. It is so much brighter and clean looking! I'm looking forward to seeing more improvements in the future. I wish you many years of happiness in your home! – Chris
We're so grateful to Chris for reaching out and sharing those details and photos with us! It was amazing to hear that the tree on the deck was tiny once. Remember how big it was when we had it taken down?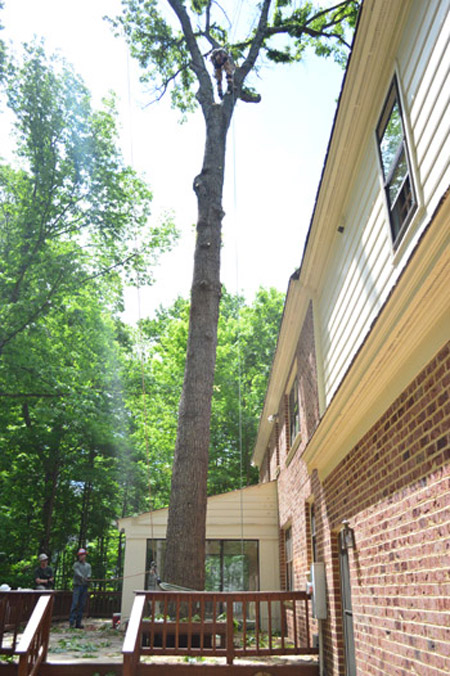 We realize this letter may not be as touching for you guys, but it was so heartwarming to us. To have a better sense of the life this house has lived and how it has been loved by so many people (filled with grandchildren, home cooking, and Christmas trees) makes us feel so grateful to be here. As a total bonus, we also heard from Erin, one of the grandkids who grew up visiting this house. Here's her letter:
I'm one of the 10 grandchildren of the original owners of your current house. My mom shared your blog and I am blown away. The house looks wonderful! I have so many fond memories from that house. I am so thankful that you two have moved in and have posted pictures of your updates to the house. Thank you for providing a way for me to still feel connected to the house and for bringing new life to its foundation. – Erin
Amazing, right? It really is awesome to hear from others who are essentially strangers, yet you share something so personal with them: the love of a home.
Have you ever heard from your home's original owners? Or uncovered anything cool in the house (like this stuff that we found buried under the original cabinets in our first house's kitchen)? I can't wait to see if we'll discover anything when we open up some walls and redo the kitchen! So far all that has turned up is an old water bill from ten years ago in the bottom of the trash compactor.