We never knew you guys were so curious about our house's original owners until we started receiving quite a few emails and comments asking if we've ever heard from them. Of course we were also curious as well. Did they know their old house is up on the internet for all to see? How much of the house had been changed over their decades of home-ownership that we don't even know about? Do they think we're crazy for painting their old brick and paneling? So many question, so little time! Well guess what? A few short weeks ago we heard from them! The original owners who lived here for almost forty five years contacted us after coming across our blog through a friend. Oh the tales they told. The most amazing thing is that almost two years ago we posted about a few quirky vintage items that we found under our old cabinets when we redid our kitchen: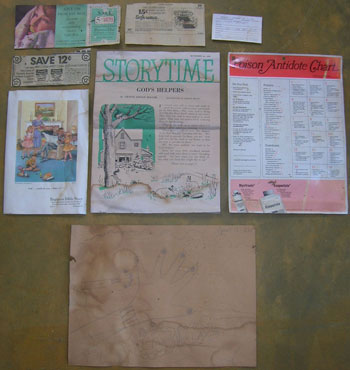 Well, the bottom piece of paper is none other than a childhood drawing made by the woman who contacted us from back when she was five years old! Amazing. Of course now she's grown and married so we're super excited that she took the time to drop us a line to fill us in on our beloved home's unbelievable history. Here's her first letter:
Hey youngsters! That's the house I grew up in! My mother lived there from the mid 50's when it was built until 2000 and sold it to come and live with my family. I love the things you have done with it, it is so much brighter and younger! That old dining room next to the kitchen was my bedroom at one time. I hope you are very happy in your new home. -Lisa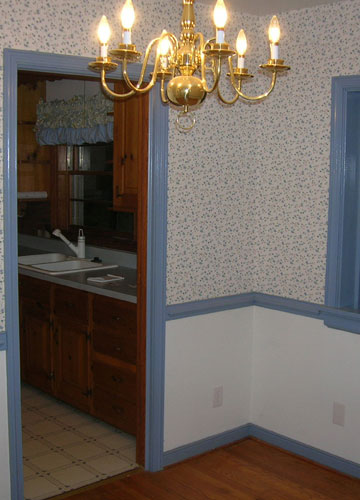 We had a feeling the room that we inherited as a dining room was once a third bedroom so it was amazing to hear Lisa confirm our suspicions (it somehow made us even happier that we turned it back into a third bedroom when we remodeled the kitchen early last year). It was just so surreal to be talking to someone who grew up in our house in the 50s and 60s! We also heard there had been a tennis court out back at one time so that was just one of the things we asked in hopes of getting to the bottom of Casa Petersik's roots. Here's Lisa's second letter in response to our barrage of questions:
My parents moved from 29th Street in Richmond City when they had me. I was their second child. I had a brother who was three years older than me. They bought your house when I was born in 1957 for $13,000 dollars. All of the ranchers in that neighborhood had a carport on the end of the house. My father enclosed the carport and did all of the brickwork himself to create the room that you now call the den.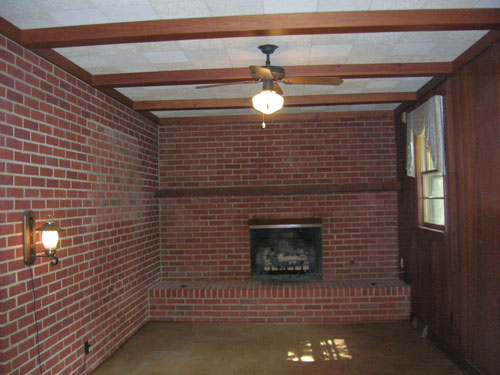 And yes, my mother actually picked that ugly green toilet you inherited in the half bathroom!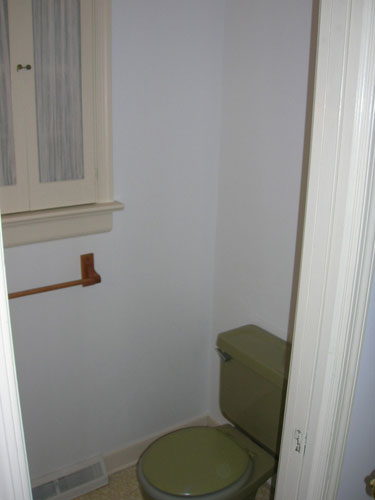 My father believes he was one of the original DIY-ers. The basement/sunroom was his most massive DIY project. My father would take me and my brother down to Canal Street every morning one summer and there we would pick up a day laborer. My father and his helper would dig with shovels everyday and we would drop them off at Southside Plaza in the afternoon. I remember being frightened by the men who would crowd around to be the first to be picked to come home with us each day. They dug that entire basement with shovels. He did all of the block work himself as well as the sunroom above it. It originally had screens all around it (it was much later that they bought some closeout patio doors and enclosed it all).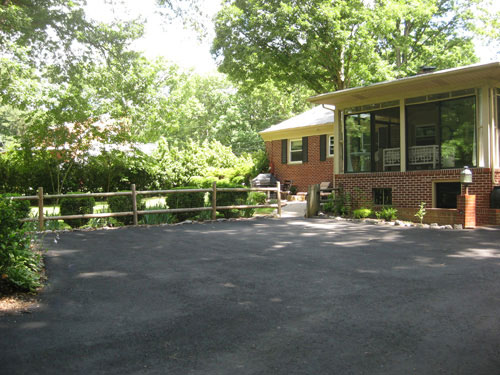 I think my mother misses that sunroom the most. Here are photos of my parents, Floyd and Mary with my brother, Bruce and me, Lisa. These are all taken around 1960.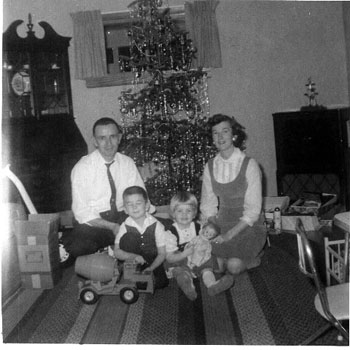 The Christmas photo above is taken in what is now your dining area. The window behind the tree looked out onto the screened porch which was later bricked in to form the den (so there is no longer a window there and you have hung your white shelves on that wall).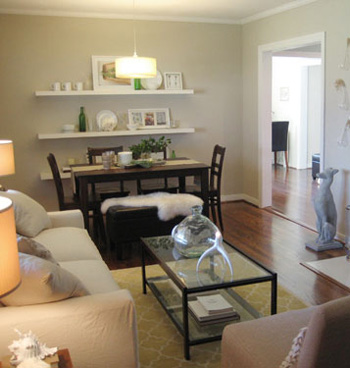 Here is a photo of me and my brother in front of the living room fireplace…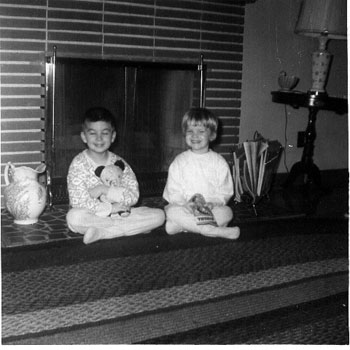 that you have lightened up with paint…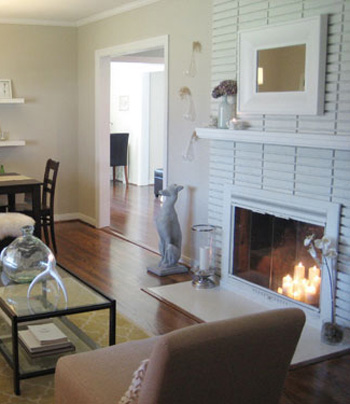 And we actually did have a clay tennis court in the back between the house and the woods! It didn't last long though as my brother and I didn't have a true passion for tennis. My mother turned that whole area into her "park" afterwards. The garage has always touched me in a sad way. My father had that built around 1980, he had always wanted a garage. About the time it was finished, he became ill with a disease that would eventually take his life. I always wished he could have retired and enjoyed that garage. I actually loved the den with the fireplace the most. Although I really like the way you have transformed it with paint, I have to say that it was so cozy and comfortable in the winter when the fireplace was burning and it was snowing outside. And on the subject of snow, if you ever get any your street is the absolute best sledding hill around.– Lisa
Isn't that amazing? Hearing from Lisa about our home's history was the highlight of our month. No, year. Somehow our house feels even more special now that we know even more about its past. Can you believe it had a backyard tennis court? And that Lisa's own dad built our den, sunroom and basement with his bare hands and the help of a day laborer? Unbelievable! So a huuuuge virtual bear hug goes out to Lisa and her family for beginning to mold our home into the dream house that we purchased back in 2006. And we can't even express how much we appreciate that Lisa reached out to us and took the time to share all the unbelievable details about our home's past life. It appears that Casa Petersik has enjoyed quite a few DIY adventures- even before we moved in with our paint brushes and hammers in hand.