But don't worry – we're not moving into this one.
As we shared on this week's podcast, we recently purchased a beach house (!!!). But it's not the fancy, high roller version that the term "beach house" tends to evoke. Nope, this one's nearly 100 years old and can best be described as the roughest, most in-need-of-help house that we've ever purchased, and it's already proving to be one of our most challenging projects.
(If you'd rather hear us gush about it informally, you can just press play below – and you can click here to learn how to subscribe for free.)
We're in love with the potential and charm of this old home and its awesome location, which are two of the things that emboldened us to take it on (along with a price tag that was dramatically lower than the other homes around it, due to its state). So let's dive right in, and we'll throw some "before" photos at you along the way – starting with the front.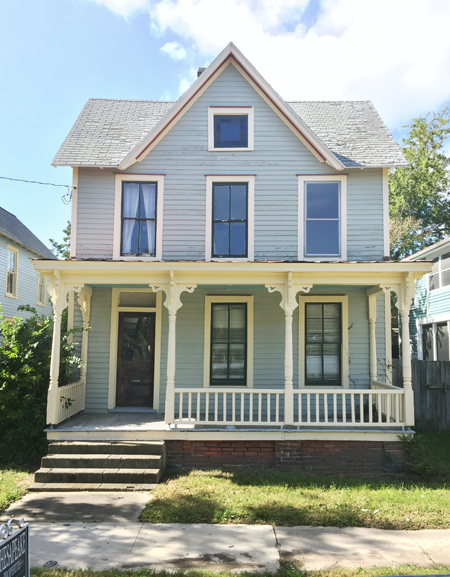 Where is it?
It's located in Cape Charles, VA which is a small historic town on Virginia's Eastern Shore. For those unfamiliar with Virginia's coast, the Eastern Shore is a small peninsula that's separated from the rest of the state by the Chesapeake Bay. So it's about a 2.5 hour drive from our home in Richmond, which culminates in driving across a 17-mile long bridge over the Bay!
We first laid eyes on Cape Charles in 2013 completely by chance when we were asked to be one of the "real families" in a commercial for Virginia Tourism. They took us on a little tour of the Eastern Shore, and Cape Charles was one of the places we went. We were pretty much immediately smitten and kept saying things like "why doesn't everyone go here?! I've never even heard of it!"
It's a small, quiet town with an even quieter beach. There's zero traffic (most people get around by foot, bike, or golf cart) and tons of small town charm: a family-owned ice cream shop on the main strip, a mailman who pushes a cart down the street, a single-screen movie theater called the "Palace Theatre." The town is located on the Bay side (go Tigers!) of the peninsula so the water is calm and shallow, making it just about perfect for young kids (and great for kayaking and paddleboarding as they get older). We've gone back a bunch of times over the last few years and even on a Saturday in August we'll pull up to find plenty of free parking spots right next to the beach. In a word: it's awesome.
Why buy a house there?
We've tossed around the idea of getting a vacation home or a local rental house for years now. We both have parents who've had rental properties, so I think being exposed to it from a young age made it seem like something we wanted to try at some point. So for the last few years, we've been keeping our eyes open for the right home to scratch our incessant renovation itch. Not only do we think it'll be a fun project for us, our hope is that it'll be a good long term investment financially, as well as a good long-term investment to our family life (something that we can use for many years to come).
Obviously, the ability to share another reno project with you guys is a nice perk, but when we couldn't shake the idea of getting a second property even after stepping back from daily blogging two years ago, it helped confirm that our motives weren't just hinged on creating "more content." Also, there are probably easier ways to find content than buying a 96 year old house that's 2.5 hours away and needs this much work. Ha!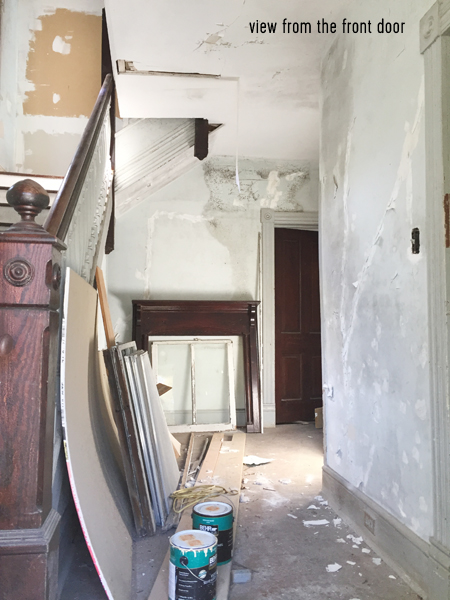 We had started to narrow in on some local homes to possibly rent out long term, but the idea of Cape Charles kept sounding more and more exciting. Every time we'd visit, we'd notice more houses getting renovated or a new hotel or bed & breakfast popping up, so it was clear there was an upswing happening and we decided to pounce before we got priced out. Apparently even HGTV's Beachfront Bargain Hunt has featured Cape Charles a couple of times, and each time more and more fixer-uppers get snatched up.
So on a trip in early September we finally called a local realtor to show us some options, and just like that the switch had been flicked from "gently considering" to "actively pursuing" a home there. It was both exciting and nerve-wracking.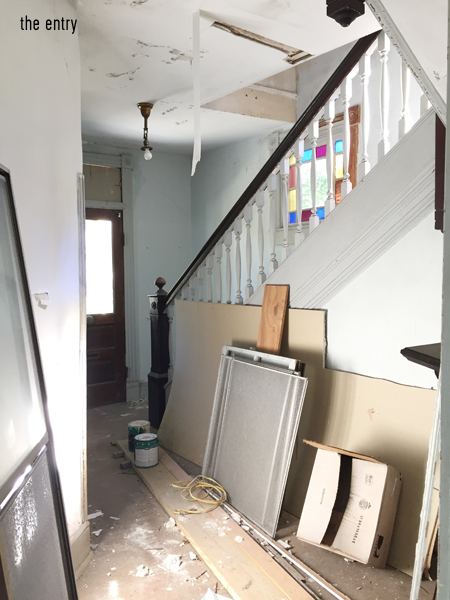 Why THIS house?
All of the houses we looked at were in pretty rough shape. Yes, we liked the idea of rescuing something and contributing to the town curb appeal, but we also needed something we could afford. Details, right?
We had flagged a few houses on Zillow that were in the $75 – $100k range, but once we saw them in person their location/lot (both things you can't change) quickly eliminated many of them. The one we ended up buying wasn't actually ever listed on MLS or Zillow – it was just a "pocket listing" our realtor had been showing privately to people she thought might be up for the challenge. I guess she sized us up pretty well!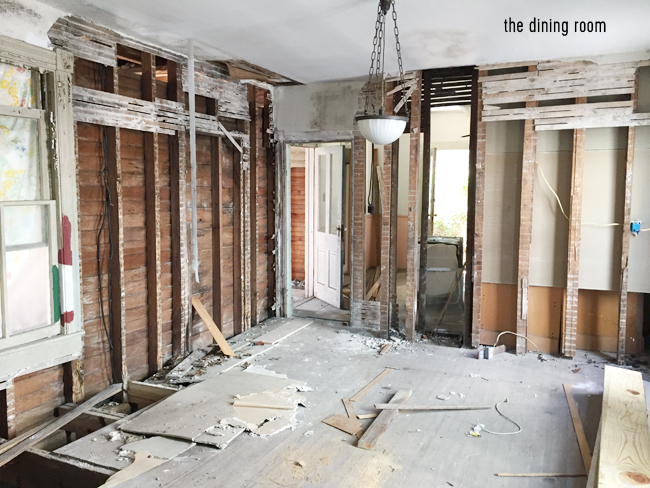 Despite it being at the top of our price range (it was $125,000) the house has LOTS going for it in terms of location. It's three blocks from the beach, less than two blocks from the main shopping area, and it's also close to Central Park (yes, that's the name of their centralized little park with walking paths and play areas). So the convenience and walkability of it combined with just simply being on a super quaint tree-lined street, surrounded by other already-fixed-up older homes, pretty much made it a no-brainer.
Despite being in terrible shape, our house, which was built in 1920, has great bones and incredible charm. It's actually one of four near-identical houses right in a row on the same street. And the others are nice concrete examples of how great ours could be with a little (okay, a lot) of work. This is the one to the right of us: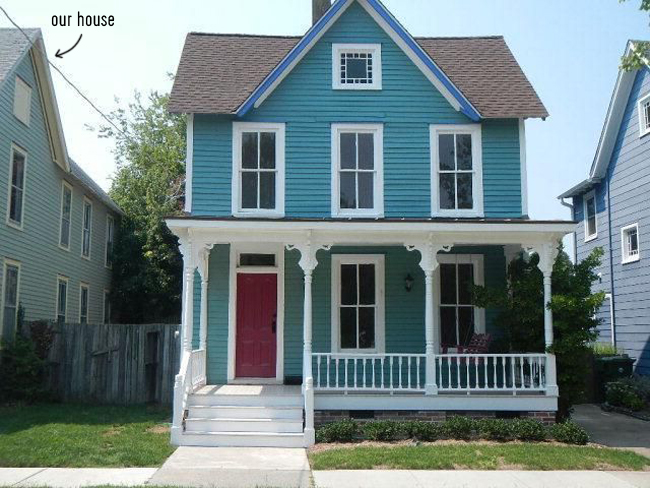 And actually, one of those other houses had recently sold, so our realtor was able to take us through it to see what a completely renovated version might look like. It felt like we were on one of those makeover shows where the host shows you a rendering of their proposed after, but instead of a rendering, it was a real life walk-through.
Touring that home sealed the deal because (a) there was no denying the potential ours had and (b) it had sold for nearly three times what we were paying for ours (!!!), so knowing that we have such a big "renovation cost" margin and that we can add that much value to the house feels like a safe investment for us.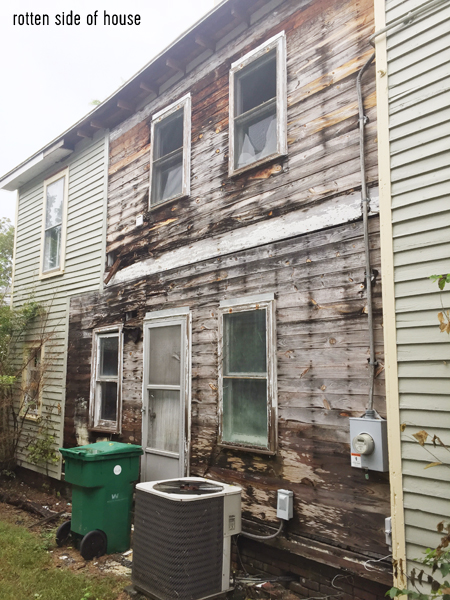 The house type is sort of hard to pin down (a few house experts we asked have said it's a type of Victorian, but not one of those extremely ornate ones with lots of gingerbread). It does have those awesome porch columns and brackets that feel extra decorative – along with some pretty cool stained glass windows. And there are some great interior details like extra tall ceilings, an old claw footed tub that we plan to reglaze, an awesome old stair railing, solid wood doors with cool old knobs and keyholes…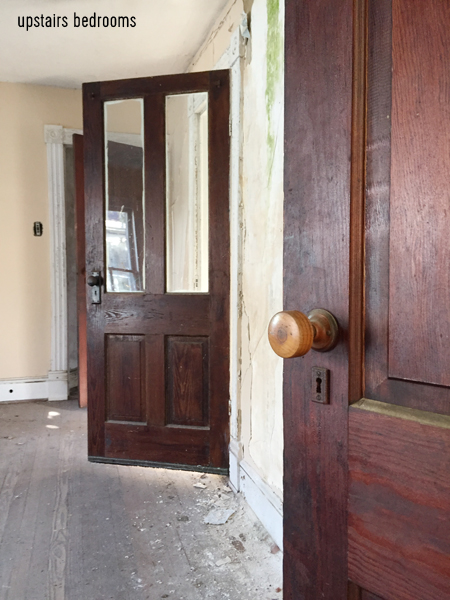 … and even a back staircase that doesn't exist in some of the other near-identical homes, so we're excited to get to save ours. Also, Pepsi bottles from 1992.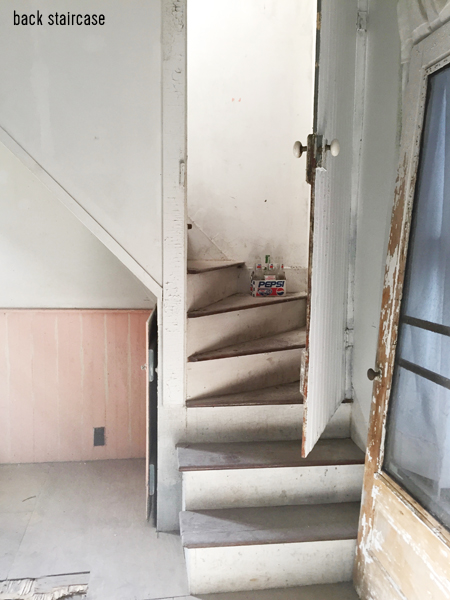 How do we plan to use it?
We love the idea of starting a family tradition with this house – having a place where we spend time each summer and even in the off-season (we dream about going out there to spend New Year's with friends and their kids every year). My family spent a week on the Delaware shore nearly every summer growing up, and eventually my parents bought a beach house there so we could all keep meeting up there as our families grew. We still plan to go to Delaware with our extended family for those annual trips (it's around 5 hours away), but this closer Cape Charles house feels like a nice way to establish something special for us four (and all the family and friends we'll get to host over the years). A Petersik Summer Vacation Tradition, if you will.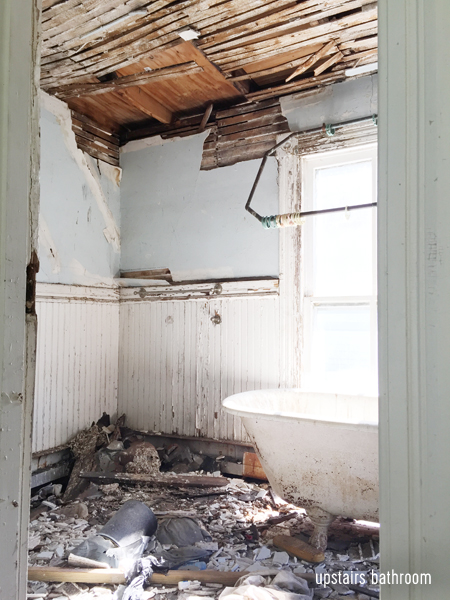 But beyond our own use of it, we do plan to rent it out as a vacation rental. There's a pretty strong market for that in Cape Charles (some homes fetch upwards of $1800 a week in the summer!) so it'll be a nice way to offset some of the costs of repairing and maintaining the house, plus we like the idea of the house having some life in it while we're not there. We haven't figured out the details of all that yet (whether we'll do something like Airbnb or rent it out via another method) but we'll definitely keep you posted as we learn more about how that whole world of rentals works.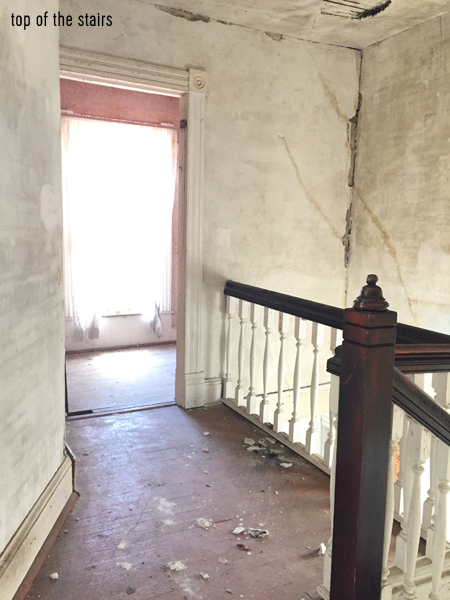 Are we going to DIY the renovation?
As seems to be the theme with us, we're planning to DIY parts of the reno, but not all of it. Generally we're planning to use professionals when it comes to the big important things we'd rather entrust to a pro, like foundation repairs, all new plumbing, all new electrical (there's mostly knob & tube right now), new HVAC system, new roof, etc, etc. And then we're hoping to step in and do a lot of the finishing/installing ourselves (kitchen and bathroom cabinetry & tile, painting, installing light fixtures/sinks/toilets, furnishing & decorating, etc).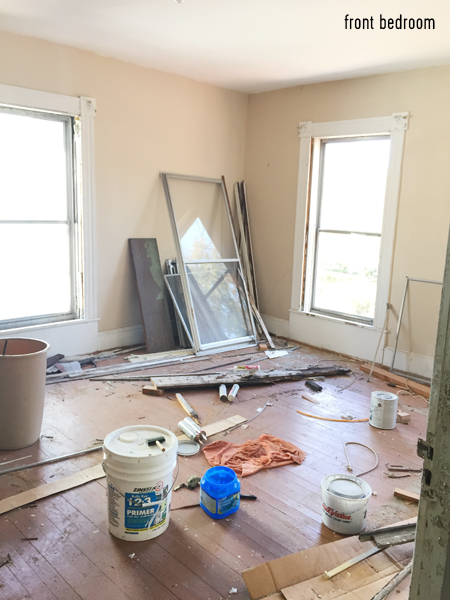 Foundation repairs and HVAC updates aren't exactly the most riveting stuff to document, so it might be a while until we have some bigger transformations to share, but we can't wait to detail all of our layout ideas for it (based on walking through a few of the neighboring house-twins on either side). So we'll be back with that stuff – including a diagram of the current and proposed floor plan. Soon I hope!
P.S. – For anyone who missed it, we shared our Annual Gift Guides For Gals, Guys, and Kids (there are still some great sales going on).