Q: Hey guys!! I find that I often look to you all on things DIY related, but more often than not, on things life related. I would love to hear items in or around your house that you are so glad you own because it helps with the day to day. I really enjoyed reading about how you saved money with Clara (what items you skipped out on or decided to go back and buy) and how you saved money with your wedding. I am getting married next June and it would be super helpful to hear what things my fiance and I should register for (and what we shouldn't). You guys are my favorite! – Tyne
A: Let's do this. We thought it would actually be fun to search our brains to see if they would even stretch back to 2007 and remember what we got, what we still love, what we regretted asking for, and what we wish we'd asked for. Because friends and relatives can be amazingly generous (and at least in our family really seem to appreciate a list of things you love so they don't have to guess), so it all comes down to thinking long and hard about what you actually will use and love for the long haul. No pressure, right?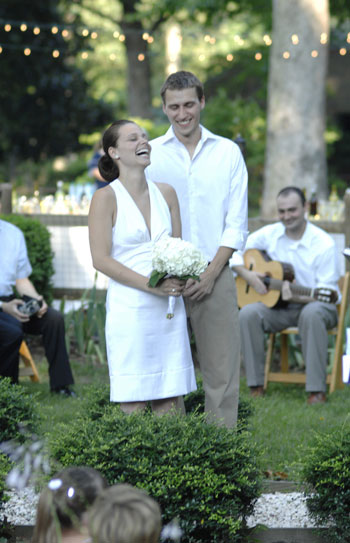 Registry items are definitely one of those personal preference things (some people might love that they registered for formal china, while other folks like us are happy to skip it) but in general we think the key is to know how you live and what you will actually use/need (registering for a Kitchenaid mixer when you don't cook/bake is probably not the best idea). So try to toss out romantic notions of who you "should be" someday (ex: don't picture yourself as "a grown up" hosting a giant formal 20 person dinner if this won't actually happen – not everyone grows up, gets married, and does that).
Instead, try to focus on how you live now and how you realistically think you will continue to live and entertain over the years. Whether you're a casual couple or are fancy and formal, embrace who you are and think about what you'll truly use and love. Chances are you'll still be who you are in a few decades – you might evolve a little, but you probably won't become a completely different couple with a completely different personality and lifestyle.
Also, trying to choose things that are classic never hurts, just so that if your tastes change over time, you won't be completely over a bunch of style-specific stuff that you once loved but now loathe. It can be pretty expensive to re-buy everything instead of going with something timeless – and you can always add personality later with inexpensive and easy to switch out items, like patterned cloth napkins, table runners, etc. See? White dishes, clear glasses, and basic silverware can be dressed up a whole bunch of ways: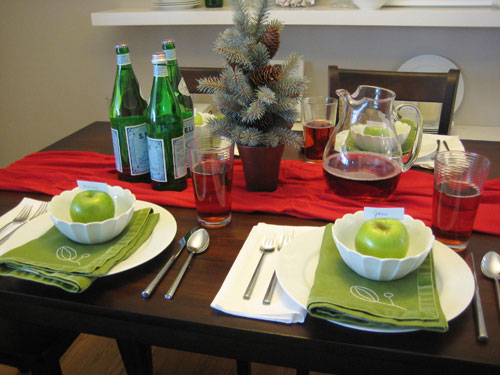 We also learned that it helped whenever possible to choose things that are attractive enough to be left out (ex: a nice stainless steel toaster or blender) because you never know what you'll leave out for convenience's sake. So skipping something in a crazy color that might clash with your future kitchen curtains or forgoing something super cheap that you'd never leave out in favor of something that looks a little more elegant is usually the way to go for lazy folks like us who tend to leave the blender out for three weeks after we make smoothies.
But enough chitchat, we thought it would be fun to share a list of the stuff we registered for and still love to this day, a few things that we regret putting on our registry, items that we passed on (and why), and items that we wish we had added to the list. So without further ado…
Kitchen Stuff We Registered For And Still Love:
Basic silverware from Crate & Barrel
White cloth napkins
Basic white dishes that go with everything (we're still loving that they're classic and they're not too precious, so if one breaks we won't cry for days)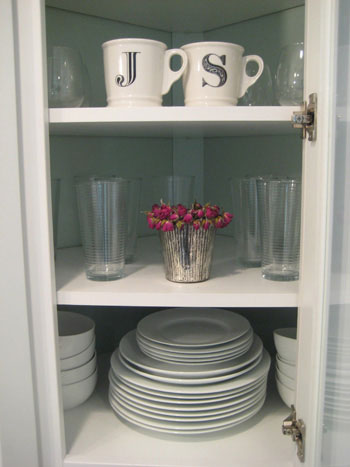 Good serving bowls and serving ware (three salad/chip bowls, three large platters)
Stainless blender & toaster (we also have a griddle)
A cute strainer (ours is bright yellow)
Chunky wood cutting boards (two, since we leave them out on the counter because they're charming and use them all the time)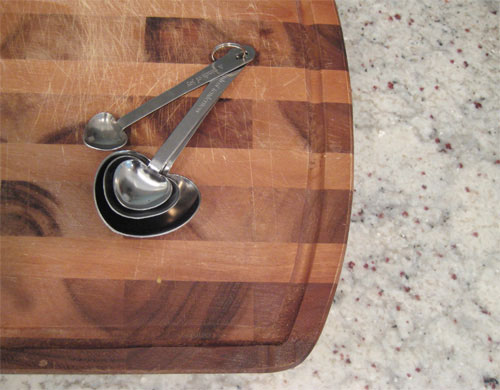 Simple and small (easy to store) can opener (we didn't want a giant electric countertop one)
Cute clear pepper corn and sea salt grinders (classic, yet kinda fancy since they grind)
Basic glass pitcher (we definitely tried to go for timeless basics)
Stemless wine glasses (they're more versatile, so they can also work for oj or smoothies)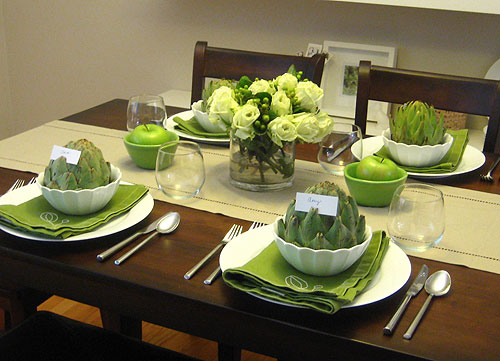 House Stuff We Registered For And Still Love:
Two Dolce lounge chairs from Target that we still use today (they're in the guest room of this house)
Two basic glass based lamps that lived in our first house's living room and this house's bedroom/entryway
Organic bed sheet set (in white) and four nice bed pillows and cases
Gorgeous large leather photo album that we used for all of our wedding photo strips
Fluffy white towels (which we still use to this day, both in our bathroom and the guest bath)
West Elm daybed (from John's way too generous Godmother)
West Elm parson's desk (from my way too generous BFF Cat)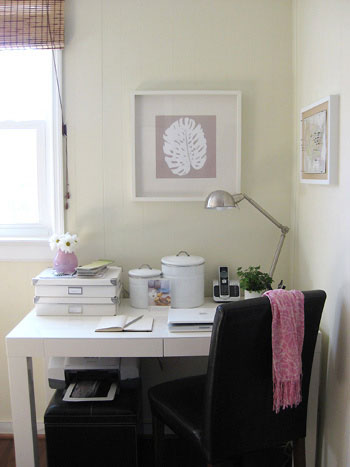 Stuff We Got And Later Regretted (all our fault – we wish we had chosen more wisely):
Hepa filtered vacuum (regret: we registered for a cheap one that didn't hold up very well, so we later upgraded to a Bissell Helix Bagless Upright)
Set of knives in a knife block (regret: again, totally our fault, but we chose a cheap-ish set that we have since had to replace, but our current one is by Paula Deen from HomeGoods and we like it)
Basic white mugs (regret: we didn't think about scale at all, so the set that we got is so small it was sort of like teacups – we've since replaced them with larger mugs that actually work for tea and hot chocolate without feeling like you're at a kid's tea party)
Cordless hand vac (regret: we wish we had done more research before randomly choosing something, since ours bit the dust pretty fast – we later replaced it with a Dirt Devil Kurv)
A few basic pots and pans (regret: they weren't great quality and got scratched and beaten up pretty fast – we later learned about Greenware pots and pans, which are eco-friendly and teflon free, so we asked for them for Christmas in 2009 and have been enjoying them ever since)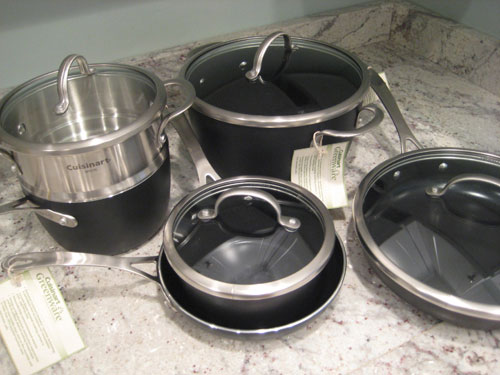 Stuff We Passed On (mostly specific kitchen gadgets after we realized we just wouldn't use 'em):
Coffee maker (we're a tea household, and even when coffee folks stay with us we all go to Starbucks)
Kitchenaid mixer (as much as I'd love to buy one in a fun color, it would totally collect dust)
Monogrammed towels and robes (we're not robe people and basic white towels sans monogram did it for us)
Espresso machine (same as coffee maker, just wouldn't get used)
Ice cream maker (didn't think we'd ever use it)
Toaster oven (after thinking it through we decided a stainless steel toaster and an oven were all we needed, and five years later we're still happy without one)
Rice cooker (much like the ice cream maker, we just didn't think we'd use something so specific)
Panini press (ditto)
Waffle maker (ditto)
Martini glasses (ditto)
George Foreman grill (ditto)
Stuff We Have Since Bought (if we could turn back time, we'd have registered for these too):
Nice set of wood spoons and spatulas for a caddy next to the stove (get things in sets whenever possible, our old ones were all mismatched and later we updated to a matched set and appreciated how much better they looked)
Immersion blender (we didn't miss any other gadgets but we did end up yearning for this one – and we use it often enough to warrant storing it)
Cute "Cucina" soap and lotion set from Anthropologie (so charming on the counter in a kitchen or bathroom)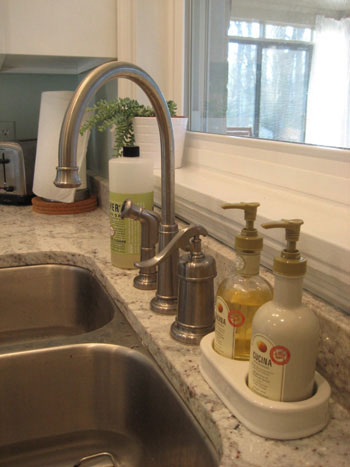 More specific things as rooms evolved and our taste became more clear (ex: green cloth napkins, J & S mugs, metallic holiday glasses, etc)
Sonicare toothbrushes (wish we had thought to register for these guys)
Two big clear glass containers for cereal, flour, sugar on the counter
Clam shell fruit bowl from ZGallerie (it has been our fruit bowl for years)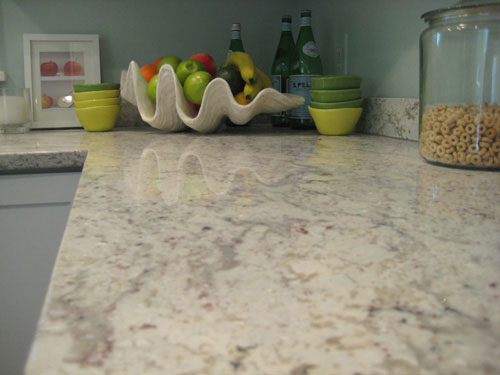 I'm sure we forgot a few items (it was five years ago!) but that's a pretty good idea of what we registered for, what we regretted/replaced, what we skipped, and what we wish we had added. And after compiling that list it made me want to poll some friends and relatives to hear their five favorite registry items (you know, because I'm nosy) so here are their responses. It's so interesting to see who loves what the most (and it definitely reinforces that knowing what you will love and use is more important than putting too much stock into what works for someone else (like slacker chefs and non-coffee-drinker like us, haha).
My friend Cody: plush white towels, a 9 x 13 baking dish, a throw blanket, a welcome sign wall hanging, and of course white dishes.
My friend Kristin (you've seen her awesome house here): white everyday dishes, knives/cutlery, small electronics like toaster/hand mixer, serving platters that don't go out of style (plain but nice), and basic glasses. All boring kitchen stuff! But I have friends who got married 8-10 years ago and registered for trendy everyday ware (in a specific color and style) and are now replacing it all since they no longer like it!
My friend Lisa: a nice set of knives, pots and pans, flatware, and an ice cream maker (we've been married 13 years, so nearly everything else has been replaced).
My brother (who's officially Doctor Dan, not Almost-Doctor-Dan – woot!): basic towels, a good knife set, simple flatware, a coffee maker, and picture frames.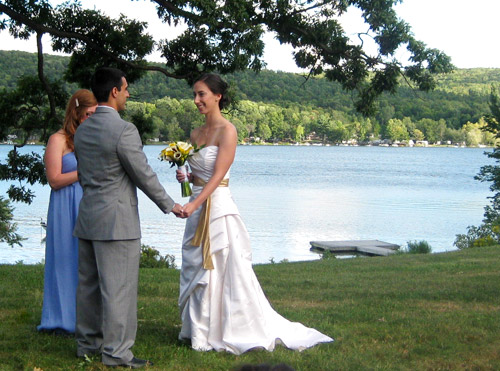 My sister-in-law Katie: coffee maker (still going strong after 9 years!), casual dishes, stainless steel silverware, serving dishes that match our casual dishes, Wustof knives (we surely would have put pots and pans on this list but we already had those before we got married, but those are still going strong too).
My mother-in-law Kathy: wow- who can remember?! Haha. Crock pot, hand crank ice cream maker, big woven basket that we use as a laundry basket, glass canister set, and a beautiful bowl. We were very practical and did not register for fancy china.
So there you have it. A whole lotta registry loves and a few shoulda-woulda-couldas. What are your favorite registry items? Anything you got that you wish you hadn't? Or that you later purchased and wished had made it onto your registry? Hindsight is 20/20, huh?