Psst- Today's our leaving-Portland travel day (sad face) so we'll probably be spotty and slow on comments/etc after 1pm EST. We're sorry for the interruption, but so happy to have gotten the chance to explore Portland. We owe you guys a big post about all the stuff we did/bought/ate! We purchased some local art, crashed an amaaaaazing house, ate bacon on a donut, and John scored not one but two new t-shirts (neither of which are soda related, but both of which are food-related).
Lately I've been asked a bunch of times about how I organize/store our non-food coupons (since the grocery store ones are just stuck into one of those clear envelopes and stashed in my purse on store runs – more on that here). You know, like the ones from Michael's, JoAnn, Old Navy and Bed Bath & Beyond and restaurants all the other not-grocery-store related places? And every time I was asked I sort of admitted that I didn't have the best system but that I tried to slip them into the compartment on the passenger side door of our car so at least they were with us all the time (since we only have one car and are rarely at a store without the car since nothing is really that walkable from our house). The real issue was that I would forget what was in there (things would expire all the time, and it was sort of one giant mess o' papers) and the other annoying thing was that I was always having to run back out to the car while in places like Bed Bath & Beyond and Michael's (because I always forgot to grab the coupon before going in). The kicker? Sometimes I would run all the way back out with Beansie in tow, only to find that my coupon was expired already. Boo.
So I needed a system. And then while trolling the notebook section of Target, one found me.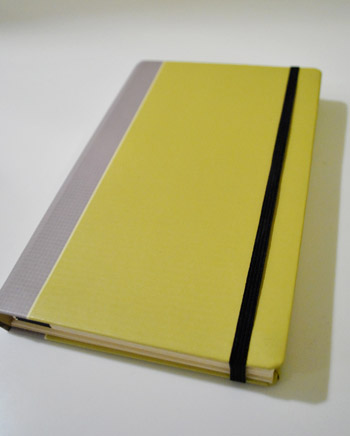 It was this cute thing that I thought was a notebook and then I opened it and a light bulb went off. And it might be my best organizational coup in the last five years. Yes, it's kinda life-changing if you're an organizational wannabe like me (I never have my ish together, but I have dreams of conquering that one day…).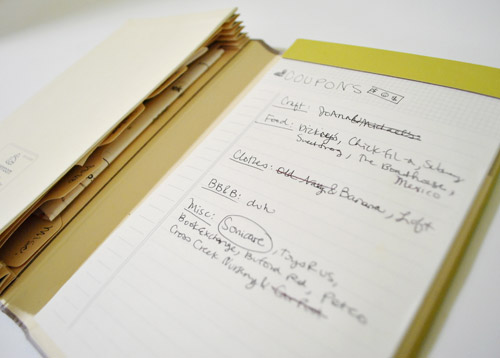 First of all it's slim and light. Like a small notebook without all the pages (it just has a thin notepad on one side and an accordion fold-out pocket system on the other side). So I thought to myself: "self- you could put all your non-grocery coupons into the accordion side and use the pad to write down exactly what's in there, crossing off things as they expire (so you can see all the valid coupons that you have at a glance) – and you can keep it in your purse since that's always with you and then you won't have to run to the car." Yesssss. And then I high fived myself in the notebook aisle and Clara thought we were clapping so she clapped along.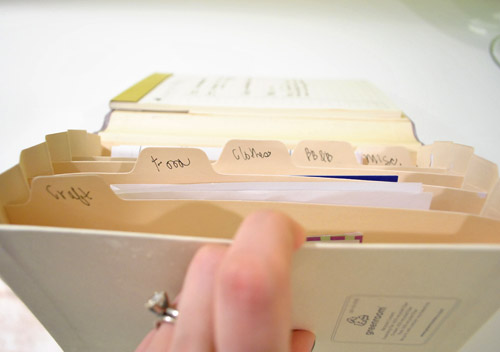 So I bought it and I did all the things I told myself I would do in my head (labeled the tabs on each accordion section and used the notebook to write down what I have) and I've used this method for about a month (gotta trouble-shoot things before exclaiming to the internet at large that they're life-changing) and I'm telling you it's the bee's knees. I can even circle things that are about to expire to remind myself to use them or lose them.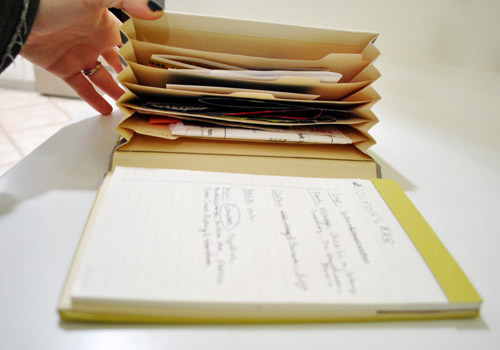 I think it was like $6 or something, and I'm still on the first sheet of paper on the pad (I had visions of running out of paper since coupons rotate in and out, but it's amazing how one JoAnn coupon expires or gets used just as I slip a new one in there so it hasn't been too bad with the whole crossing out thing. Of course when the page gets all crazy and scratched out over time I'll just tear it off and start over on page two, but it seems like this pad could easily last me a year or two and then I could just replace it without replacing the whole shebang – so that's nice. Oh and it's recycled paper and made by a company called Greenroom if that helps anyone track it down at Tar-jay.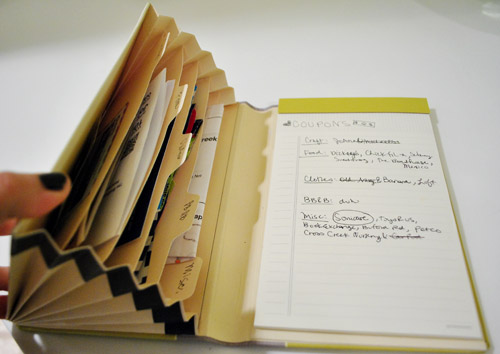 As for what I labeled each section, what made sense for me was: craft, food, clothes, Bed Bath & Beyond, and misc (just because I usually have a fair amount of coupons in each of those categories). And for food I don't mean grocery coupons, I mean restaurant coupons like printed out Groupons and little fliers that I get in those Valpack mailers for places like a nearby Mexican restaurant or a local BBQ joint. As for my grocery store coupons, you can read more on those here, but they slip into a clear envelope that stays at home unless we're going grocery shopping (we don't usually do that at the spur of the moment like dropping in on other stores or eating out, so I just shove that envelope in my purse when we know we're headed to Kroger).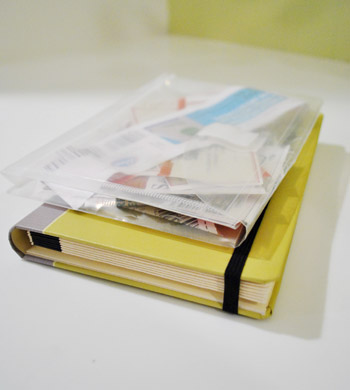 So that's my system to answer all of you inquisitive-coupon-loving folks out there. I hope it's helpful to anyone else who is wrestling with non-grocery-store coupons that tend to pile up everywhere. It's amazing how having a place for something (and not shoving them all into the side door of the car) can make them a lot easier to actually use. I think I'm better at remembering that I have them, so I'm even saving money on top of feeling like the Queen Of Organization (not in all categories, haha, but in non-grocery-coupons I've got it down… for now). Oh and I figured other folks out there might have other methods or tricks that they have changed their organization strategy – so spill it. I need to know how else to up my organizational ante. Seriously, help a scatterbrained momma out.