Wow, so yesterday was a fun little whirlwind. We spent pretty much the whole day romping around the Portland Home & Garden Show (minus a break to scarf down some much-recommended Voodoo Donuts – and yes we tried maple bacon – mmmm). The Expo Center here is stuffed with gorgeous gardens, cool green living ideas, and tons of friendly Portlanders. Or Portlandians? Portlandites? Whatever they're called, the people here are crazy nice. We'll give you an actual Portland shopping/stuff we did/house-crashing trip roundup once it's actually complete (today's our Explore-The-City day) but for now we'd at least tell you about our time at the show yesterday.
It kicked off early with some interviews with the local TV stations at 7:30 am. Despite having been up since 4 (we were still on East Coast time), it was a miracle that we managed to be coherent.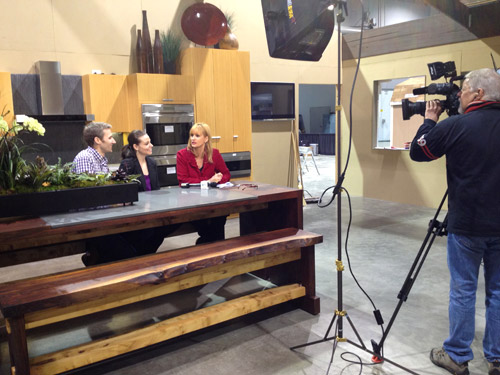 Our home base at the show was the Smart Home, a mini-house within the convention center that their crew constructed in about 48 hours (!) that showcases lots of sustainable and green design. Within the solar paneled roof and energy efficient windows & walls, there was also a pretty sweet house full of cool stuff that we wanted to take home. Like this universally designed kitchen (crafted by local cabinet makers) which was anchored by this stellar table (also handmade by local artisans).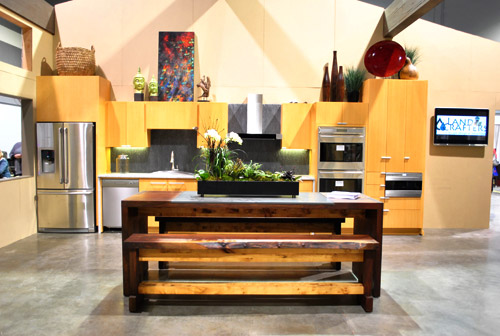 Speaking of tables, the living space had another cool one – it's sort of a quatrefoil made from wood cross-sections. If it would've fit on the plane's carry on bin, we might've attempted to sneak that baby off in our backpack.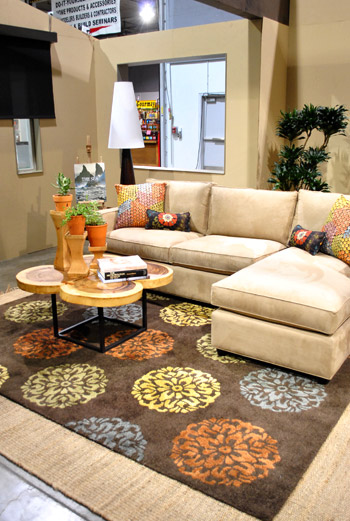 We also drooled over these pillows that were adorned with polished cork-like wood disks and colorful thread (they were surprisingly comfortable, actually).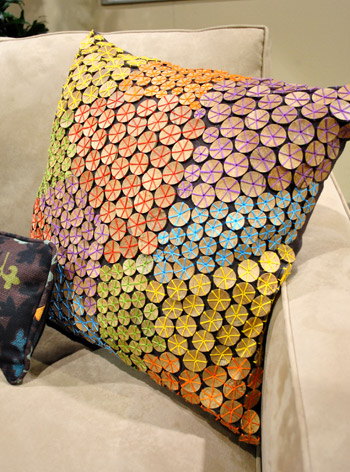 We also really loved this display wall, which was made completely from locally reclaimed wood. It totally inspires me to save all of our scrap wood in the basement until we can use it for something this cool.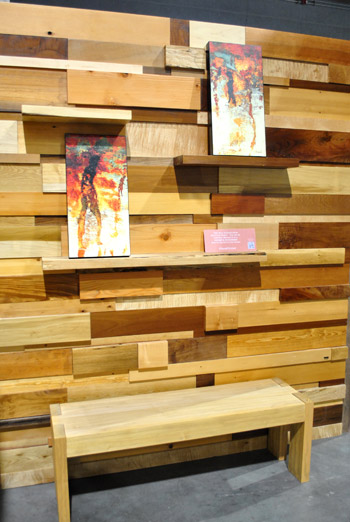 This Smart Home was just the beginning of the awesome stuff that was constructed in the midst of an otherwise ordinary convention space. One thing that immediately caught our eye was all of the landscaping and greenery. Partially because we're on the verge of having the spring landscaping bug and partially because, well, it was pretty.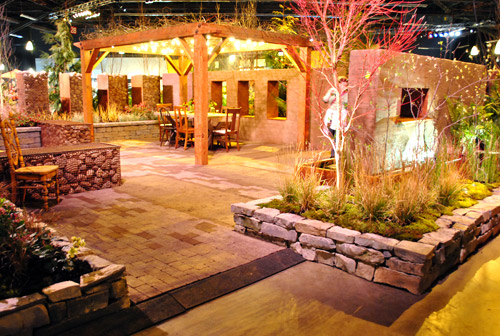 Can our backyard please look like this? Wouldn't you swear this shot was taken outside? Nope, it's in the middle of the convention center where they have mood lighting, gorgeous landscaping, and even brick walls and wood pergolas that were build by local vendors and artisans. We loved the big bulb string lights in the shot below, and also really liked that all the chairs at the table were casually mismatched.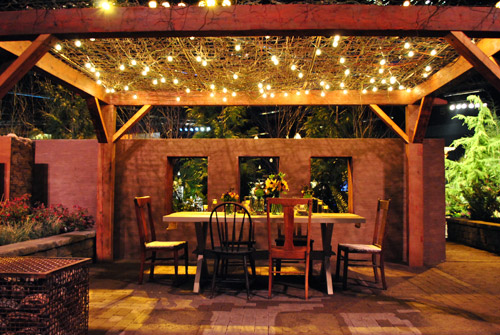 Nestled amongst the landscaping displays was this crazy cool prefab home from Ideabox. Our pics totally don't do it justice, but Sherry and I were about to move in, right there in the middle of the Expo Center.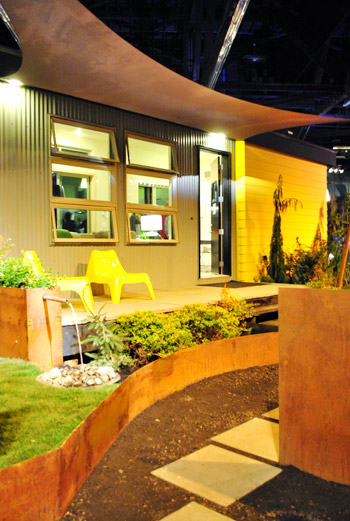 Of course it didn't hurt that the whole thing was furnished by Ikea (so a certain light fixture – also in the bedroom! – was already making it feel like home)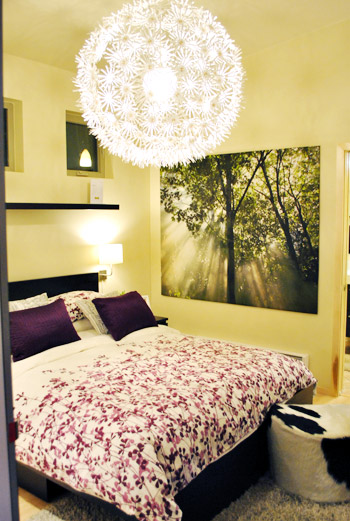 The kitchen was punctuated with a few bright green cabinets which added just enough color and fun without feeling like too much (everyone who slipped through with us was going crazy over it).
We were on our own for most of the day (i.e. Clara was exploring the city with my parents, who traveled with us to PDX) but she did join us at the show for a little while. She too was quite captivated by all the sights. Here she is playing landscaper.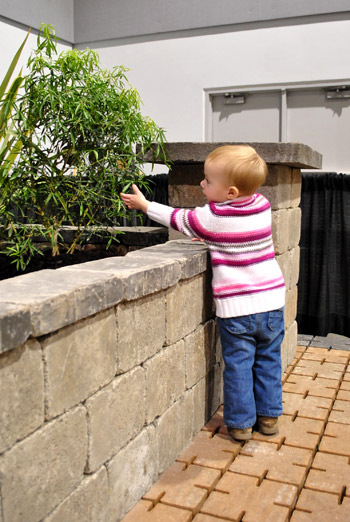 And resting on a bed from the Smart Home.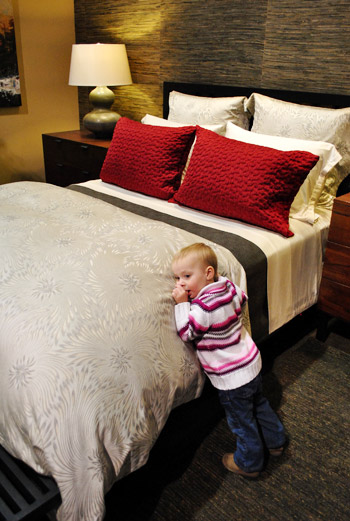 And crowning me as DIY Daddy of the Day.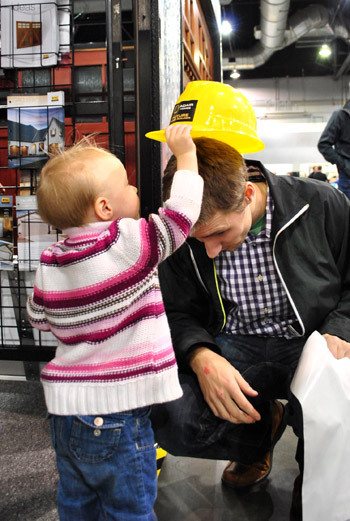 And taking a faux shower.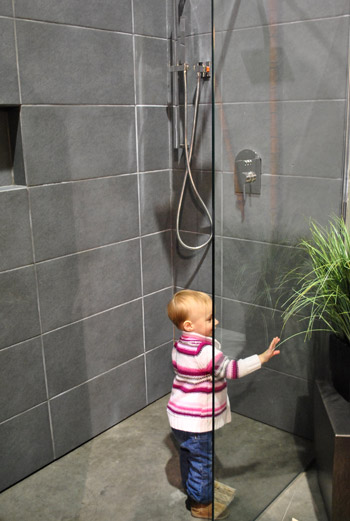 Oddly enough, this is not the only Petersik-in-a-shower-at-the-Portland-Home-and-Garden-Show picture of the day. In fact, there are two more.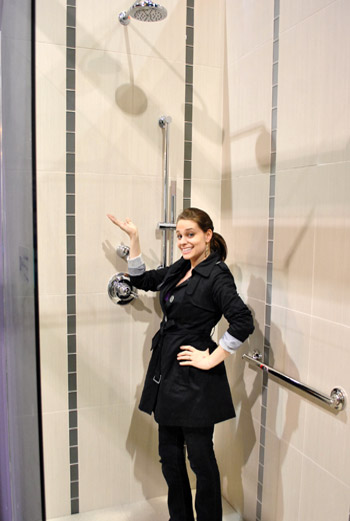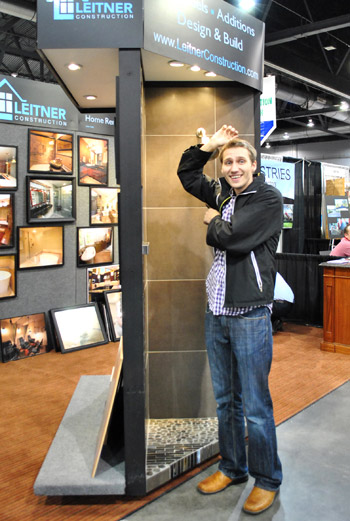 Sherry update: I'm not prego! Since a few folks have guessed my trench was hiding something: it isn't. Portland is just cold and rainy. Haha. And apparently my coat isn't as flattering as I thought.
Yes people, we have no shame. Speaking of which – the weirdness and semi-coherent rambling continued into the afternoon when our blogging seminar started. The organizers of the event invited a few dozen local bloggers so that we could share some of our thoughts on "taking your blog to the next level." It looked something like this (and yes, that's a picture of a teenage Sherry's airbrushed jeans with winking eyes on the buns and me on the toilet). No shame I tell you.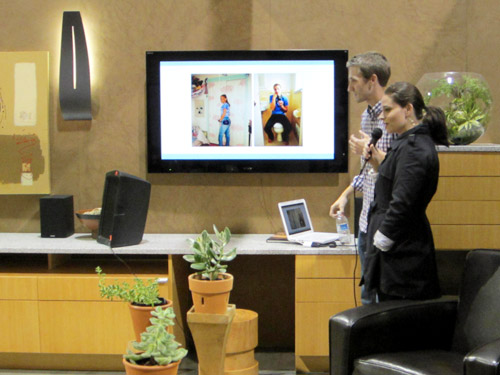 Remember when I said that we blurted out a few ridiculous things? Well, that was all Sherry. Somehow during a little mention of not blogging about things just because they're "trendy" or "in" – the examples that Sherry pulled out of thin air were "you know, don't start a blog about being green just because you think it's a trend if it's not really something you love and are passionate about – or you know, just because something like being… lactose intolerant might be popular, don't just start a blog about that."
Then there was a nice long pause while we laughed about the idea that lactose intolerance was randomly referenced as a hot topic. Other strange suggestions that worked their way in there were "insert Ninja Turtle references" and at some point Sherry said "a pile of crap" while not meaning to refer to dung (she said it in regards to the piles of stuff that we have hoarded in our playroom). But amidst all the weirdness, I think we actually gave some real advice that was helpful. And at the end of the hour we got to meet everyone and chat a little. Once again we learned that Portlandanians are nice folk.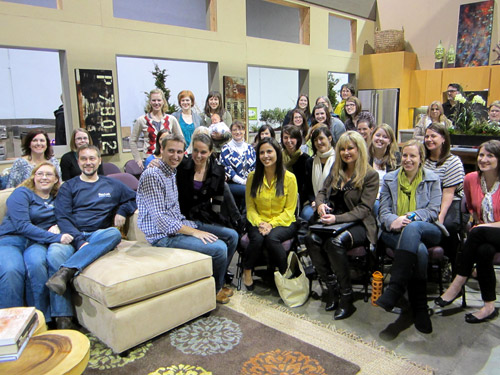 We also got a chance to chat with some of our fellow bloggers afterwards. We even got a sweet "Welcome to Portland" print from these lovely ladies. In true Portland fashion, they put a bird on it.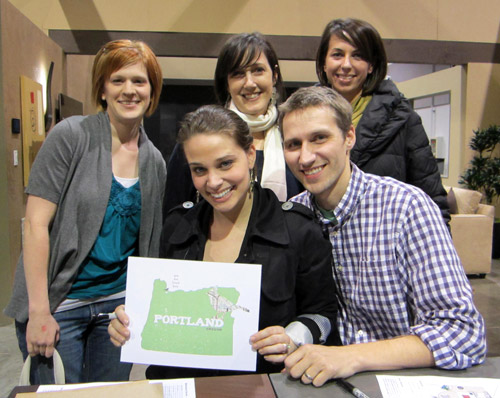 In addition to being mighty friendly, this city is mighty green too – and, if I may get all Jack Nicholson on you for a moment, it kinda makes me want to be a better greener man. Like that this guy for instance. He's Jim of Northwest Cedar Specialties and he rescues scrap wood by dumpster diving at construction sites, home remodels, or wherever (like in the picture he's holding below) with the construction-folks' blessing, since a ton of stuff actually gets thrown away. Then he constructs cedar planters from the scrap wood. And how can you not like a guy whose flyer says his reclaimed materials come with "a lot of respect and loving care."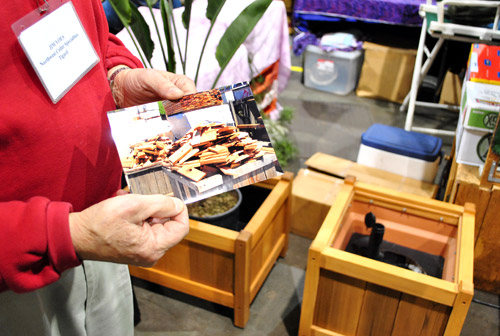 I was also really into (like kinda too much so) these living walls from Seventh Wonder Gardens. Makes me wish we had a huge sun-filled atrium somewhere in our house that I could blanket with these guys. There's also a cool time lapse of one of them growing in on their website.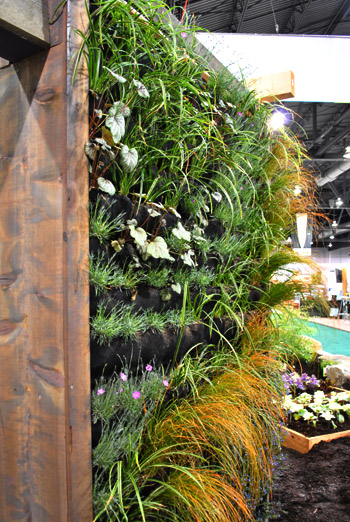 As much as I was charmed by a wall of plants, Sherry was all over this chicken coop. Until we remembered that Richmond isn't quite as progressive as places like Portland and owning chickens isn't allowed in our county (unless we have about 4 times as much land as we do). Boo. Maybe someday…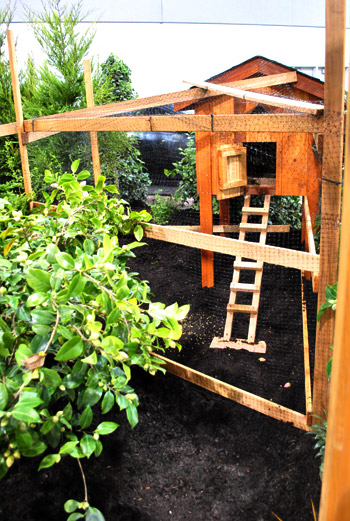 We got a break for dinner (and to upload some pictures from the day) before we had a fun little meet and greet in the evening. I promised Sherry I'd include this photo of me looking exceptionally nerdy. Who walks around a convention with a giant backpack, open laptop, and a giant camera around their neck? Yep, this sexy blogger does.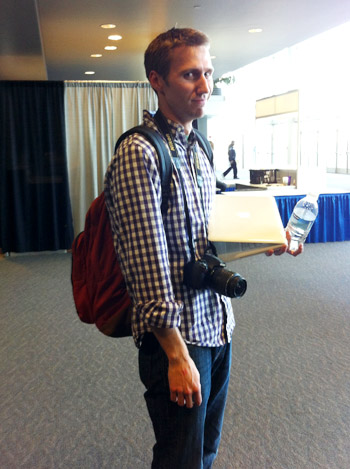 That's pretty much the last picture we snapped of the day (great way to conclude, right?) because all of the pics that we took at the meet and greet were taken by the show's official photographer (they'll be posted on their Facebook page sometime today) or by the lovely people that we got to both meet AND greet. Fortunately some are popping up on Twitter, like this one from Katy at The Non-Consumer Advocate who helped "Keep Portland Weird" (apparently that's a popular bumper sticker around here) by asking us to pose next to a bed instead of in the courtyard where we were meeting and greeting. Since weird is practically our middle name, well, this happened: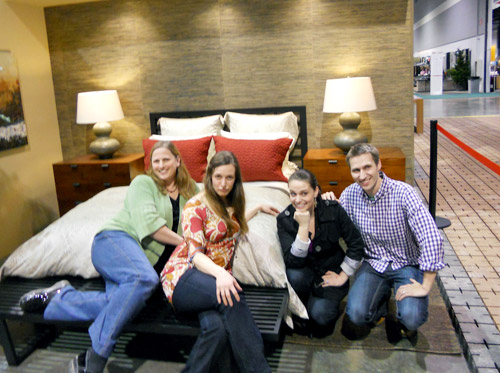 Seriously though, this was probably the most fun part of the day because we got to chat with some of you guys – and even put some faces to commenter names that we've seen time and time again. We were very flattered that any of you cared enough to come see us. It made us even more excited to tour with our book in the fall, which means that we'll get to see you guys in some other cities too… and maybe even come back to Portland (it's all up to our publishers where we go, but we'll keep you posted!). It's fun here. And actually not as rainy as we expected.
Has anyone hit up a home and garden show lately? Or been to one in the past that they especially enjoyed? If you're here in the Portland area you can still catch this show through Sunday. And anyone in the mood for another home and garden show can take a look back at what we spotted at our local Richmond show waaay back in 2008.