We're in Florida (!!!) and we've got LOTS to tell you about all that went down on our moving day and throughout our first couple of weeks in our new home. We're covering a lot of ground, like how we made the 13-hour drive feel faster, which of our moving predictions from our last episode came true, and what we really thought about using those travel pee bags. Plus, getting unpacked and settled into a smaller home has presented some challenges that we didn't anticipate, so we're sharing what those were, and why they're giving us a whole new appreciation for this part of the downsizing process. We're also recapping what items we overpacked (even after leaving around 50% of our belongings behind when we moved!) and why those "extra" things aren't working in our new house.
You can also find this episode on your favorite podcast listening app, like Apple Podcasts, Google Podcasts, TuneIn Radio, Stitcher, and Spotify.
What's New
You can see our live Instagram updates from our moving day saved to the "Moving Out" story highlight on our IG profile (moving day starts about halfway through the highlights)
And while you're there please also check out our "Make Change" highlight for some slides sparked by the murder of George Floyd, where you can find some concrete and specific ways that you can help.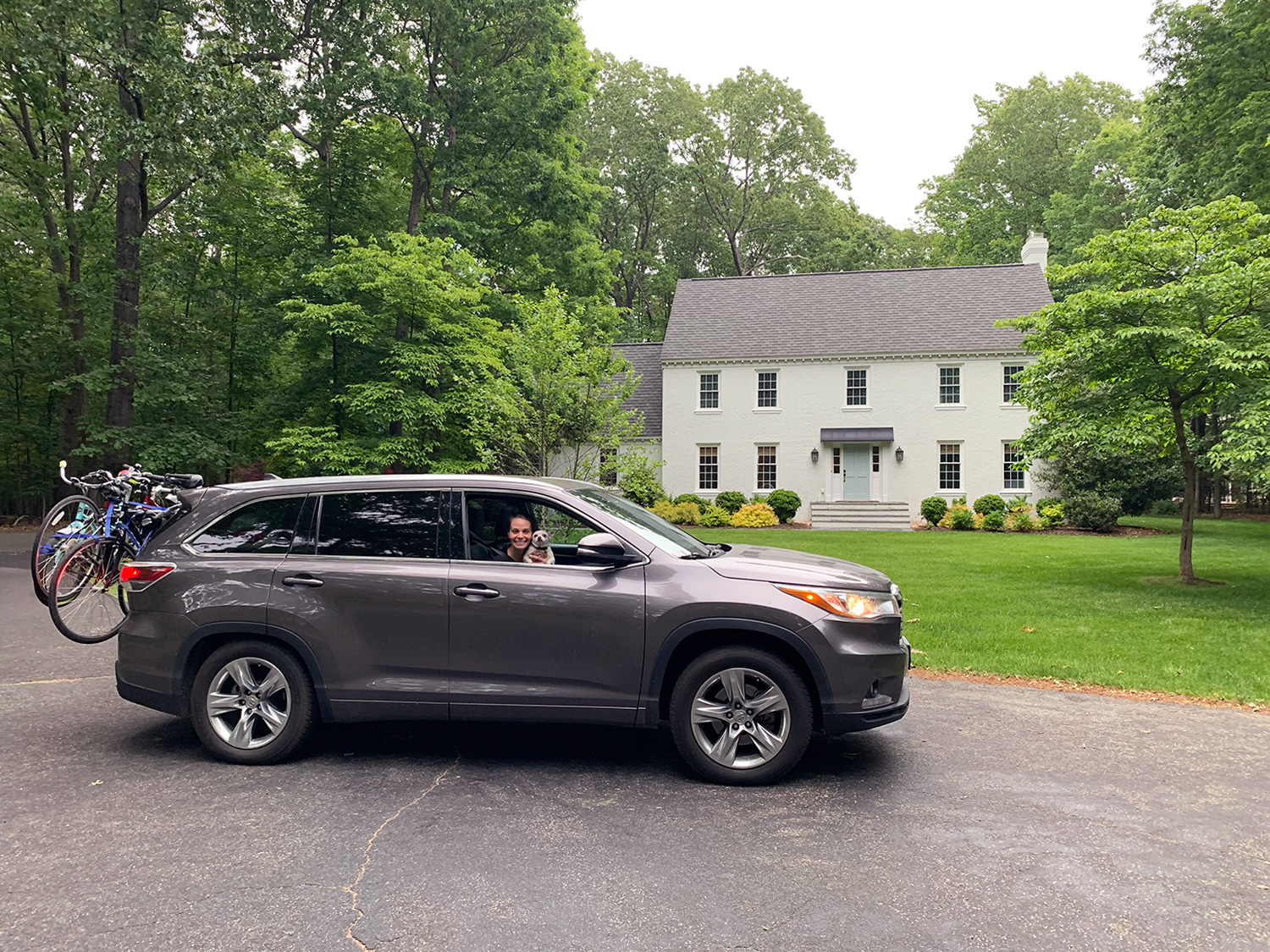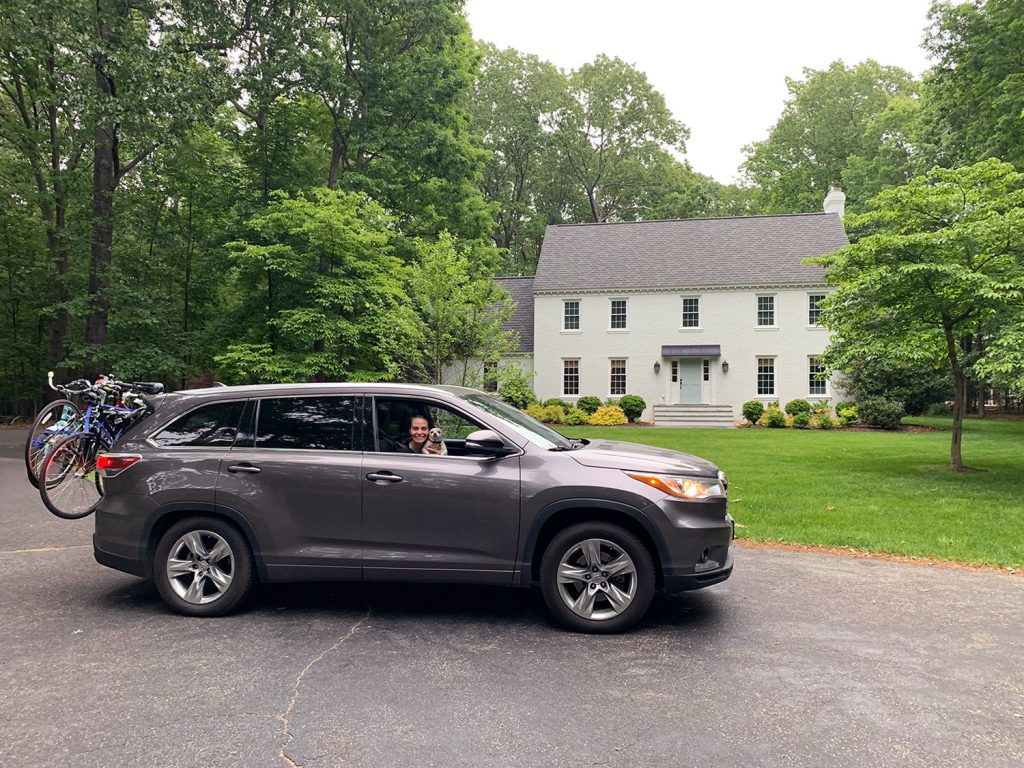 The picture above was our parting shot of our old house in Richmond, taken as we pulled out of the driveway early in the morning on our moving day.
Our drive to our new home in Florida ended up being about 850 miles and 13.5 hours long, but felt remarkably fast thanks to some of the tricks we used to celebrate several milestones along the way (every hour passed, every 50 miles covered, and each new state that we entered).
Sherry also mentioned the magnetic license plate game that our neighbor handed down to us before we left, which was a big hit. Here's a cheaper sticker version too (only $5!) that has other road-trip activities as well.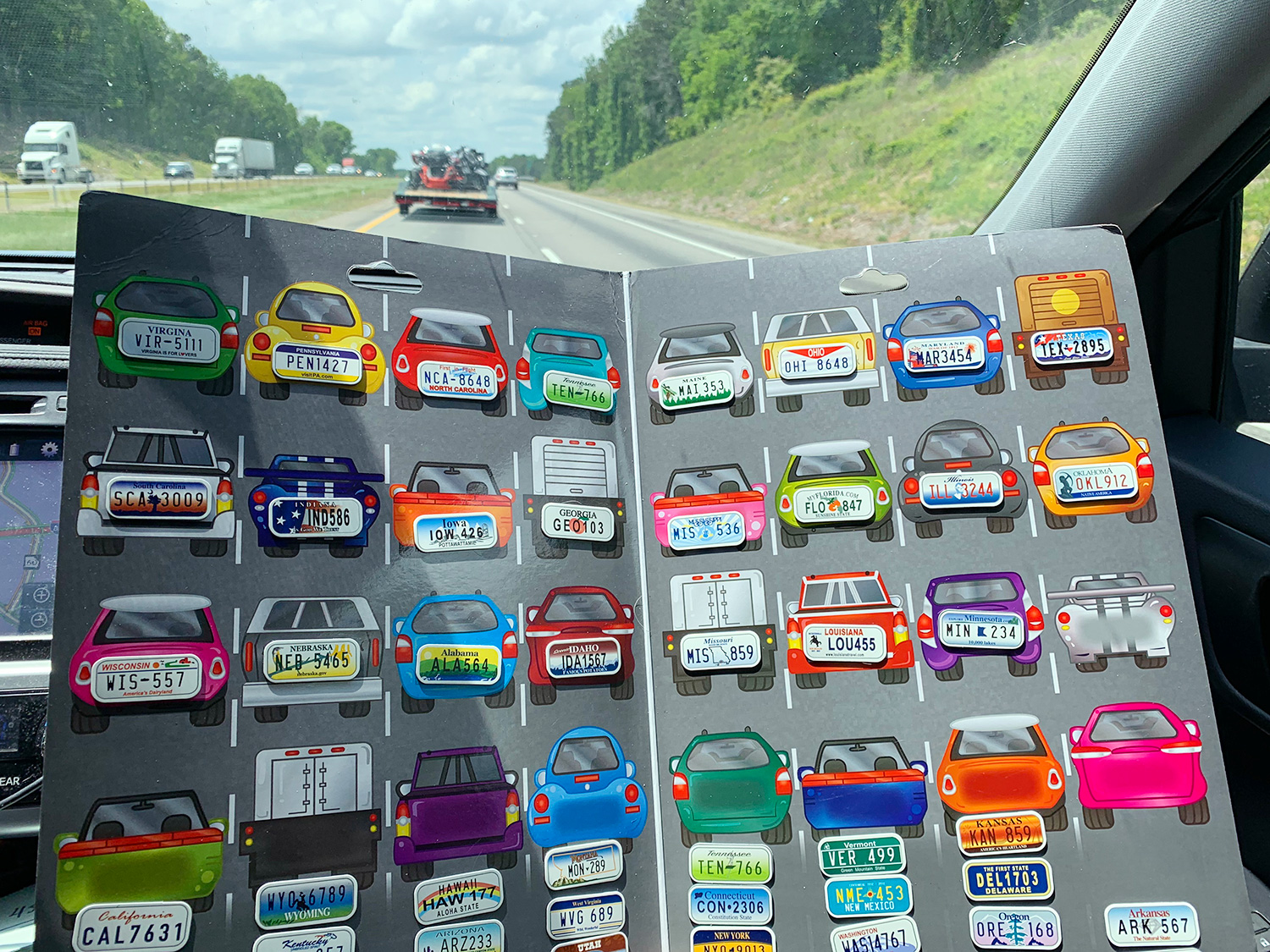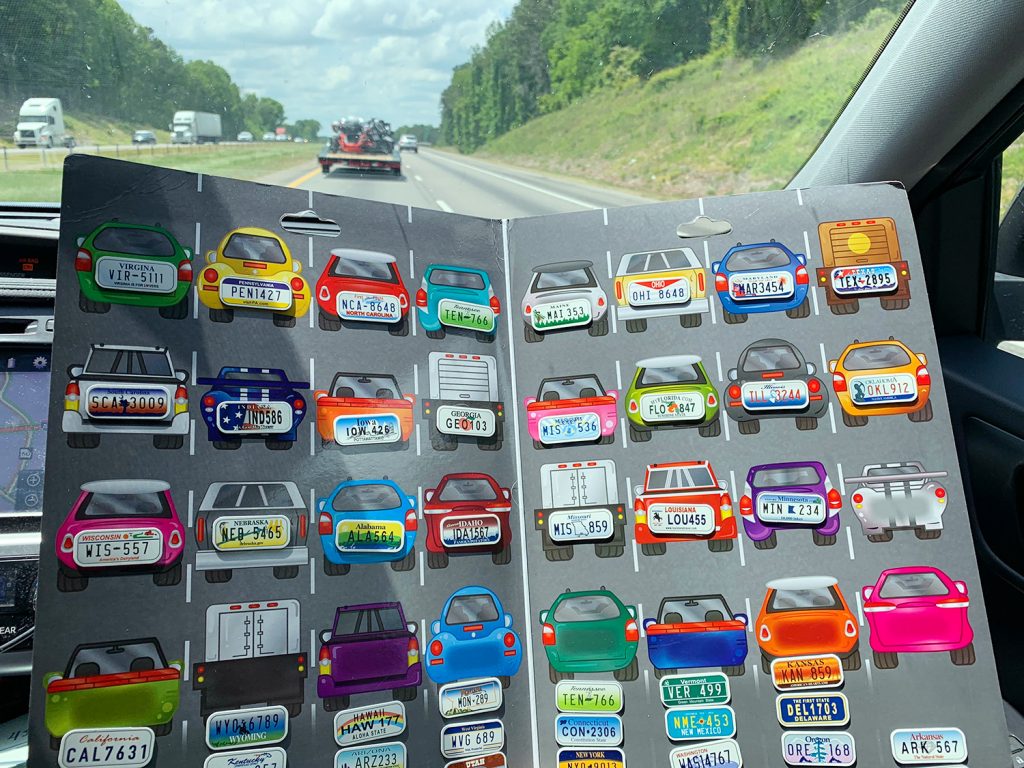 And of course, here's a link to the Travel John portable "pee bags" that turned out to be a big success on our trip. They helped us completely avoid public restrooms during the pandemic and also cut down our travel time significantly.
We didn't get a photo of the armadillo in our yard, but here's that meme Sherry was talking about that clearly validates her prediction of seeing a possum…
If he or she makes a reapprance, we'll do our best to snag a pic!
Updates: Astrocartography
If you missed our original discussion of astrocartography, you can find it in "That Time A Psychic Came To Our House" (Episode #174)
Also, if you want to contact Pati Carlson you can find her at – ready for it? – paticarlson.com. We'll be sure to update you once she has completed Sherry's analysis!
Or if you'd rather just see where a "celebrity astrologer" says each star sign should reside, you can check out this article that we discussed in today's episode. Sherry's is pretty accurate – mine not so much.
The Unexpected Side Of Downsizing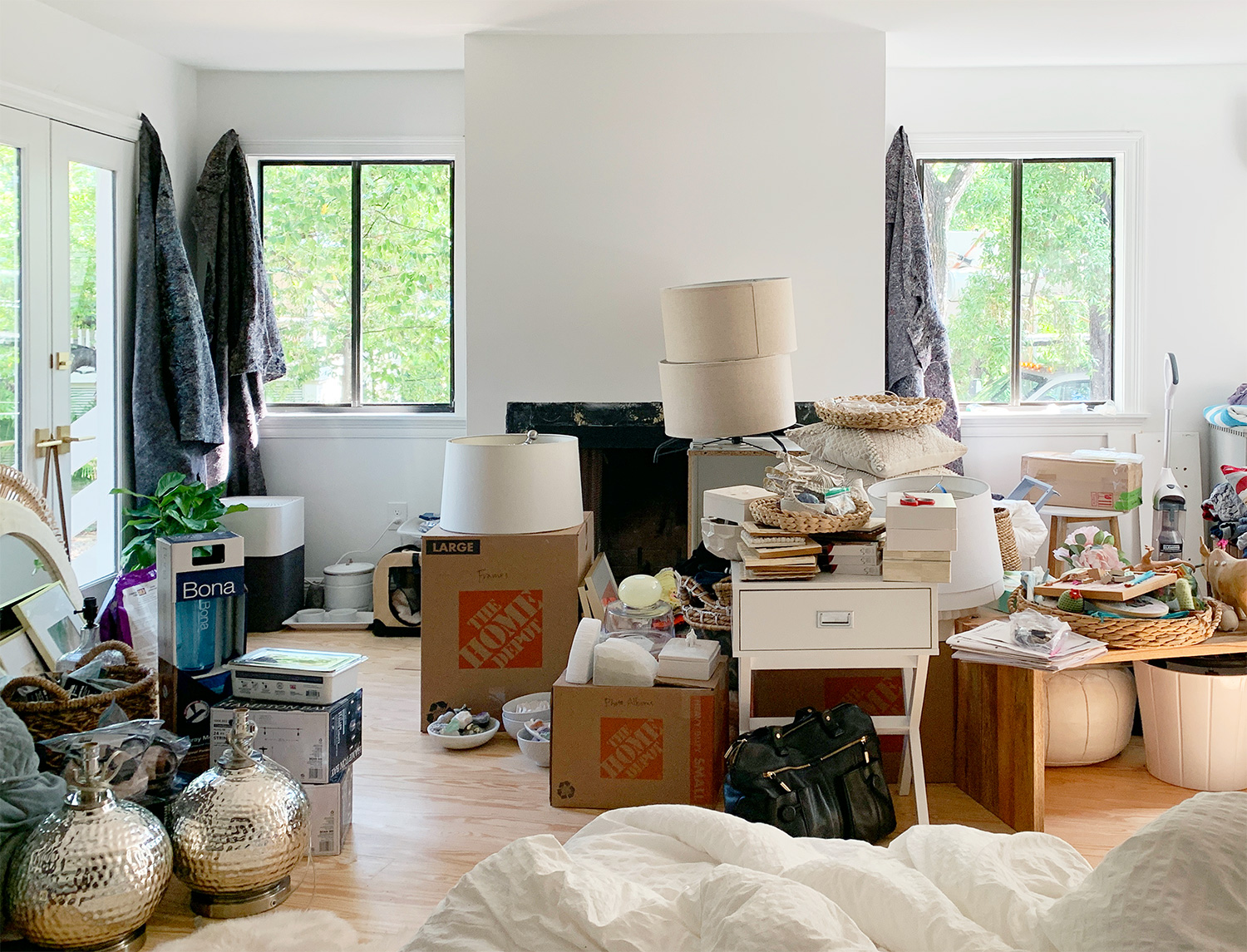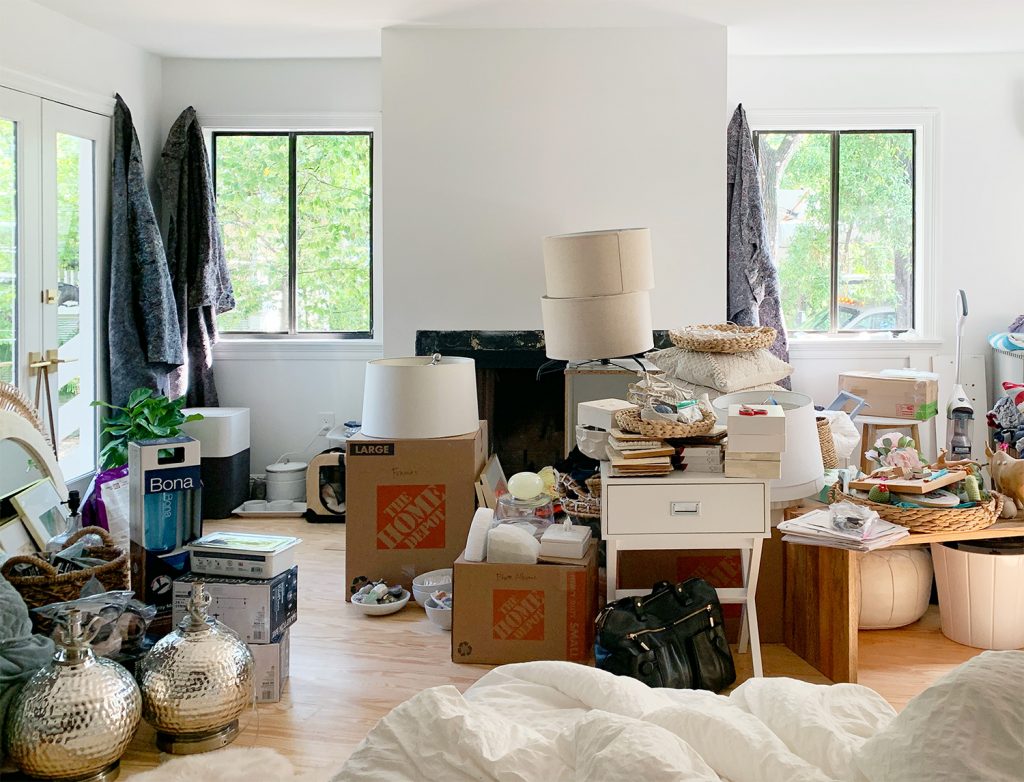 Even though we pared down A LOT before we left Virginia, unpacking everything into our smaller Florida home was still a challenge – and the scene above was pretty much how the first 10 days or so looked around here as we found places for things.
Besides getting all of our storage furniture unpacked (dressers, bookshelves, etc) it was a big help to install some systems so the few closets that we have can be a lot more high-functioning. Like adding this simple twin-rail shelving system into our hall linen closet. We'll probably build in some more permanent wood shelves eventually, but we didn't want to commit to specific shelf heights yet, so this easy & adjustable shelving kit worked like a charm.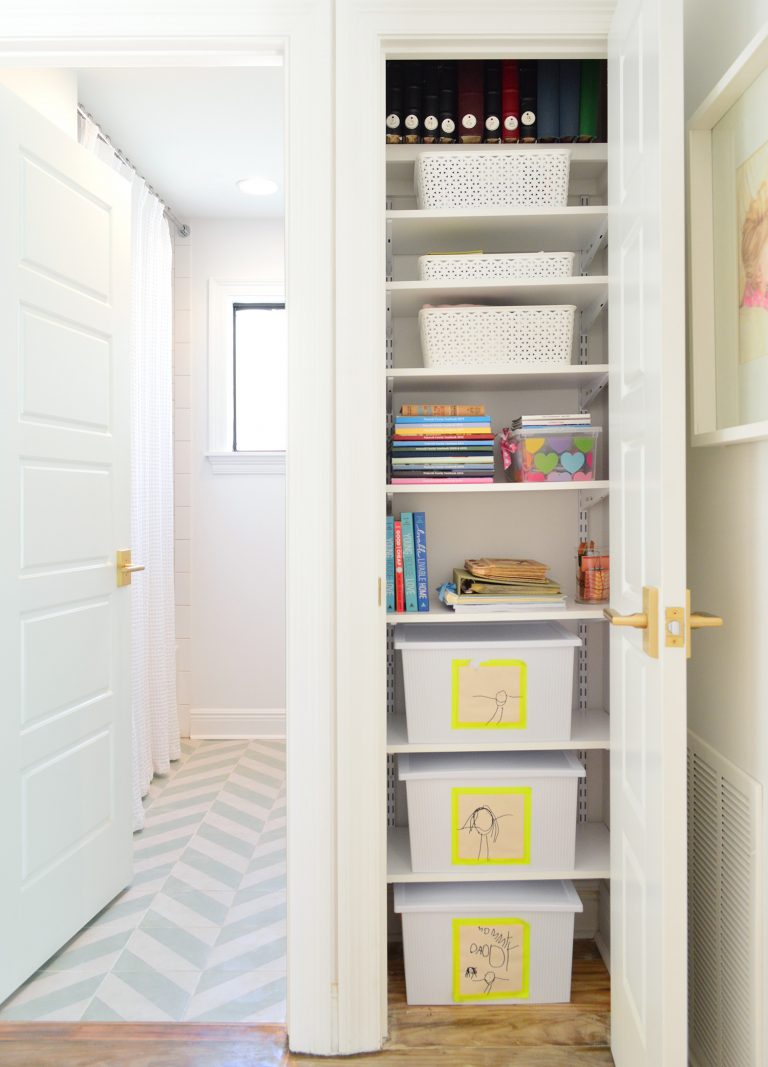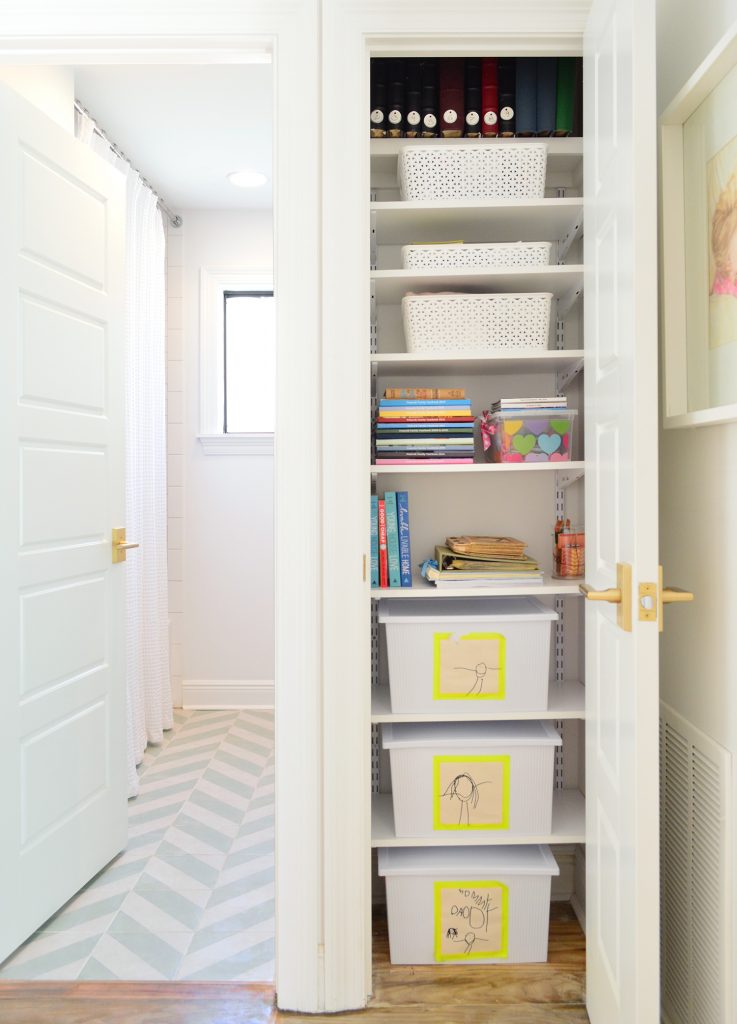 Our laundry closet was also totally empty when we arrived (apart from the washer & dryer sitting on the floor) so one of our first builds was creating a floating countertop on top of the washer & dryer and adding some nice deep shelves above them using plywood and pine 1x2s" (basically a quick and dirty version of our pantry shelves).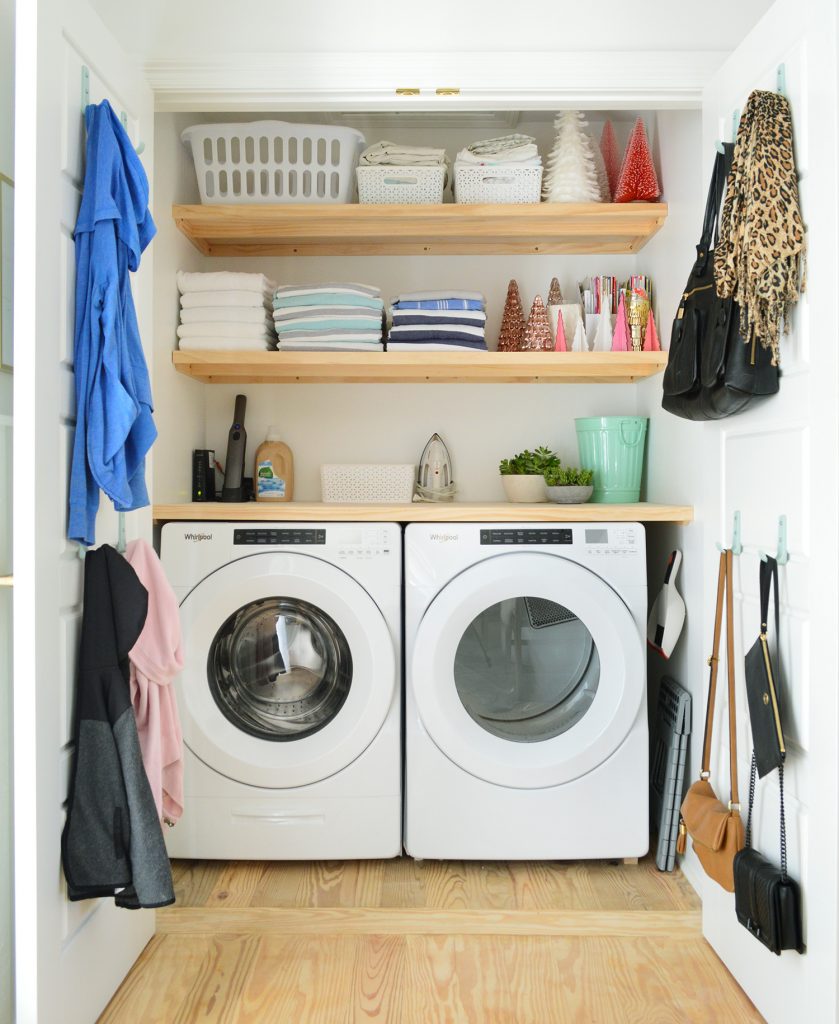 The counter & shelves that we added are still raw wood for now, but we may end up just sealing them (not painting them) so they tie into the hardwood floors. Quick note: the countertop not only floats on brace pieces on the wall above the washer & dryer (as opposed to resting on them), but it can also be easily lifted off in the event that we need to access the plugs & hoses.
And as intense as the last couple of weeks have been for unpacking and getting settled, it feels GREAT to have our POD fully empty and ready for pickup this week, just as we predicted when we recorded this episode last week. Phew!
We're Digging
This is one of the mail-order Mother's Day plants that the kids and I got for Sherry this year so she'd have a few new ones for our new home. I ordered them from The Sill and, while not the cheapest way to get plants in your home, it's comparable to sending someone flowers – plus you get a great pot and some greenery that will last longer than flowers!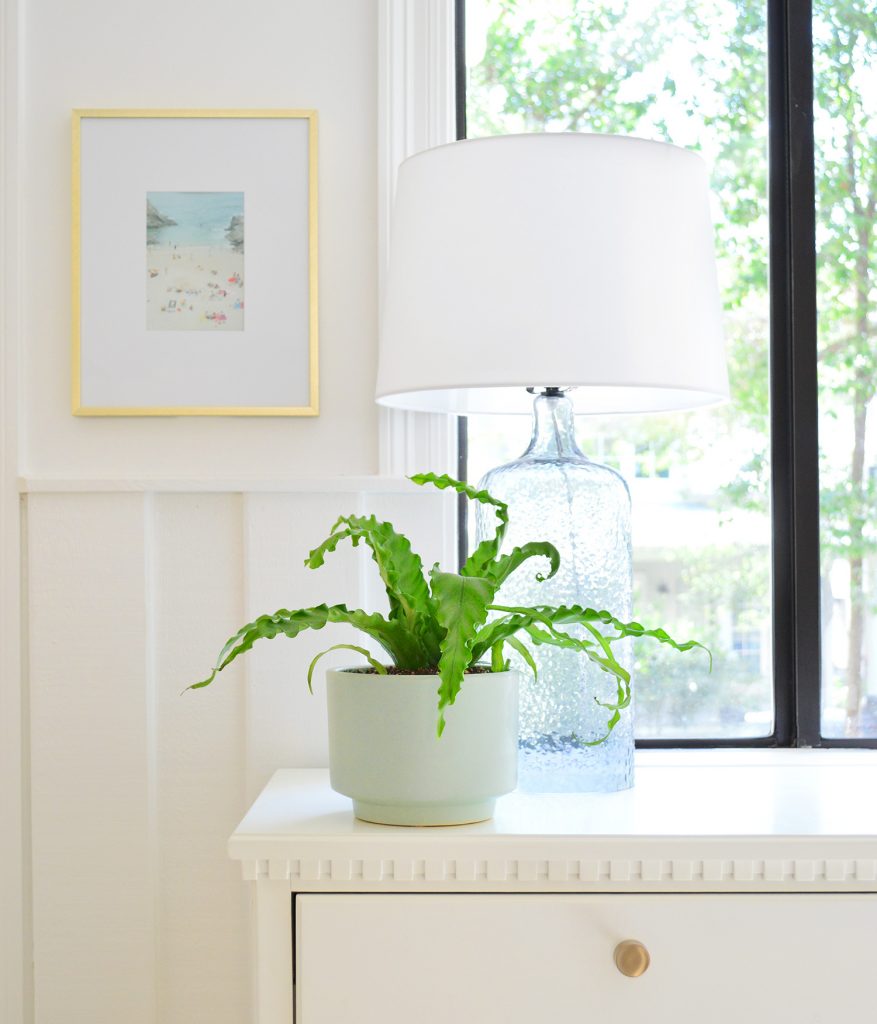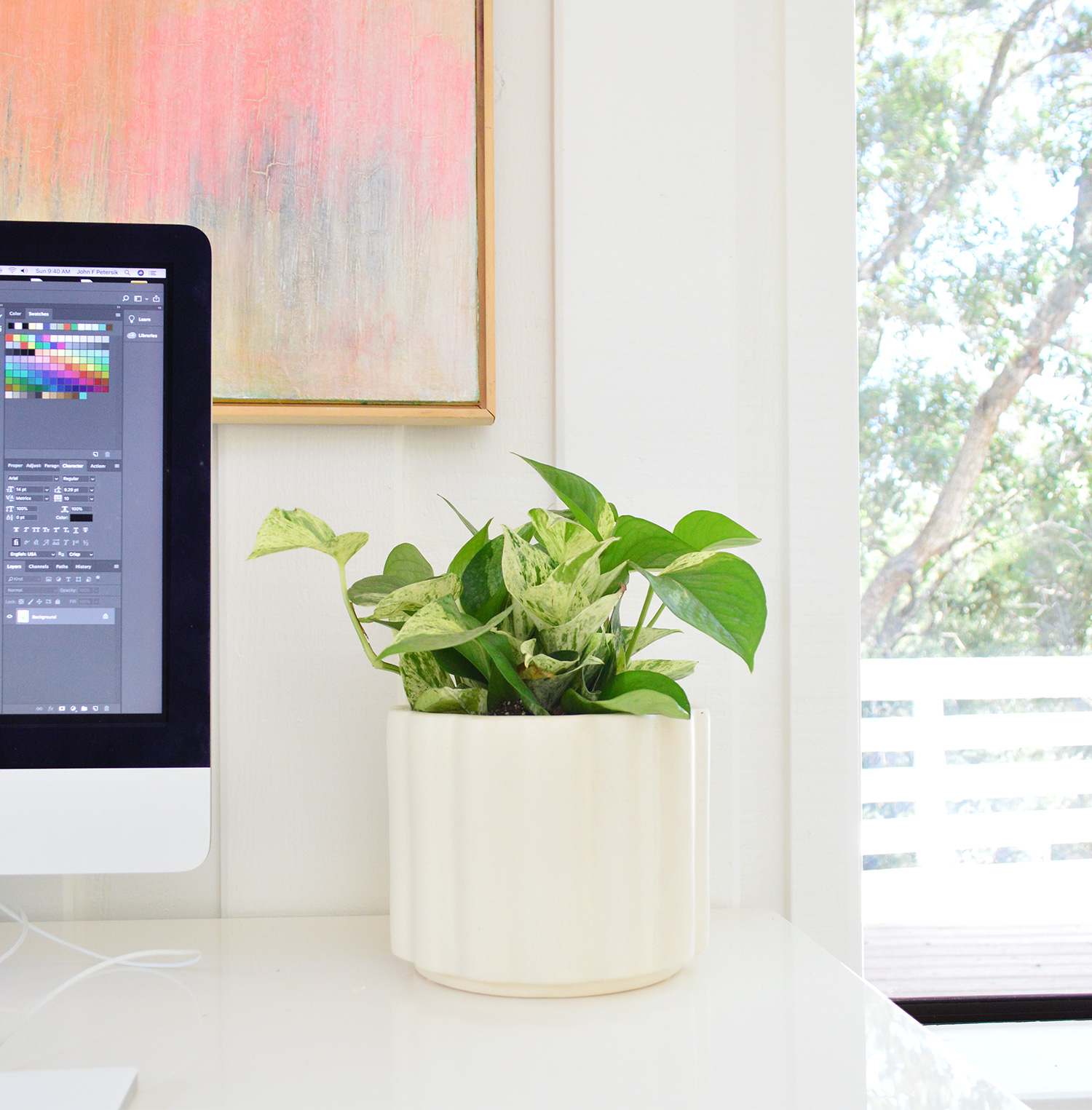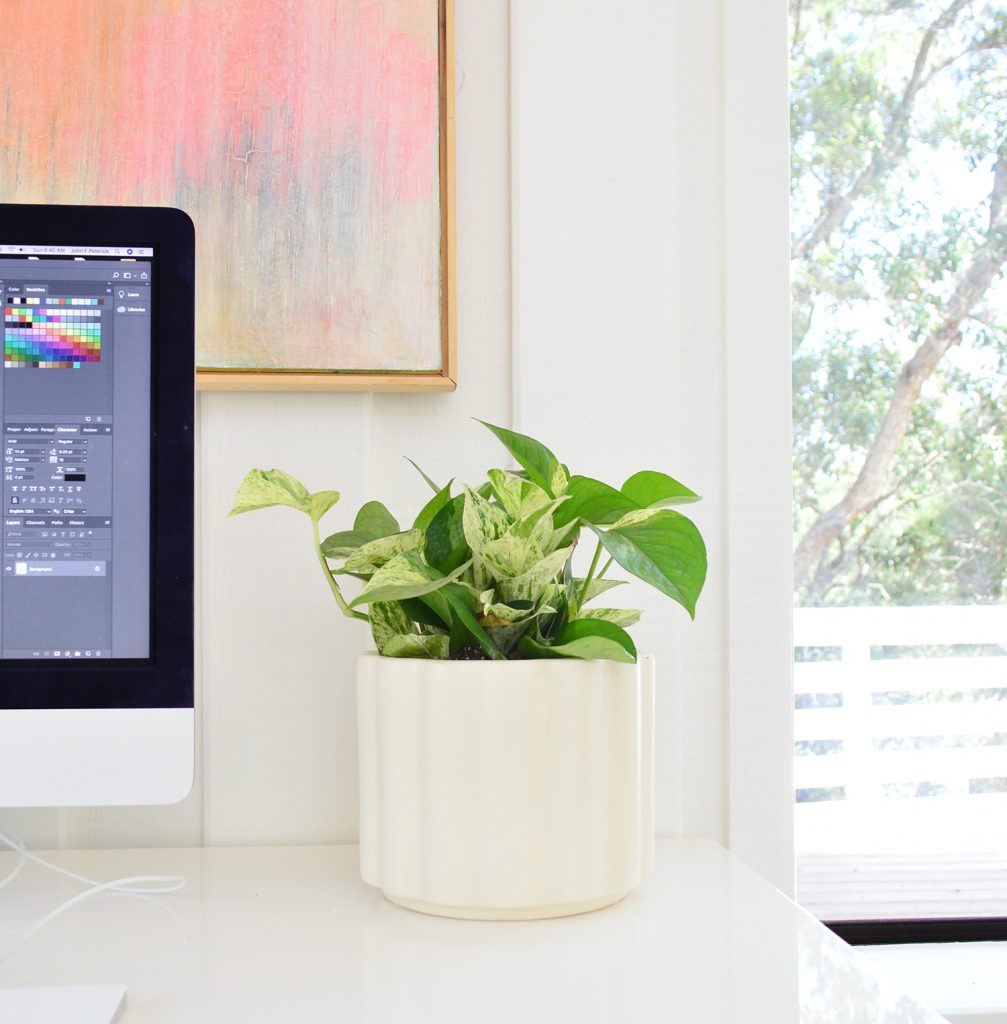 And I'll spare you an image of my new appreciation for bathing, but here's a picture of the simple and affordable tub that we had installed in our Florida bathroom (it's the same as the ones that we used in the duplex, which is pictured below). I can stretch my legs out fully in it!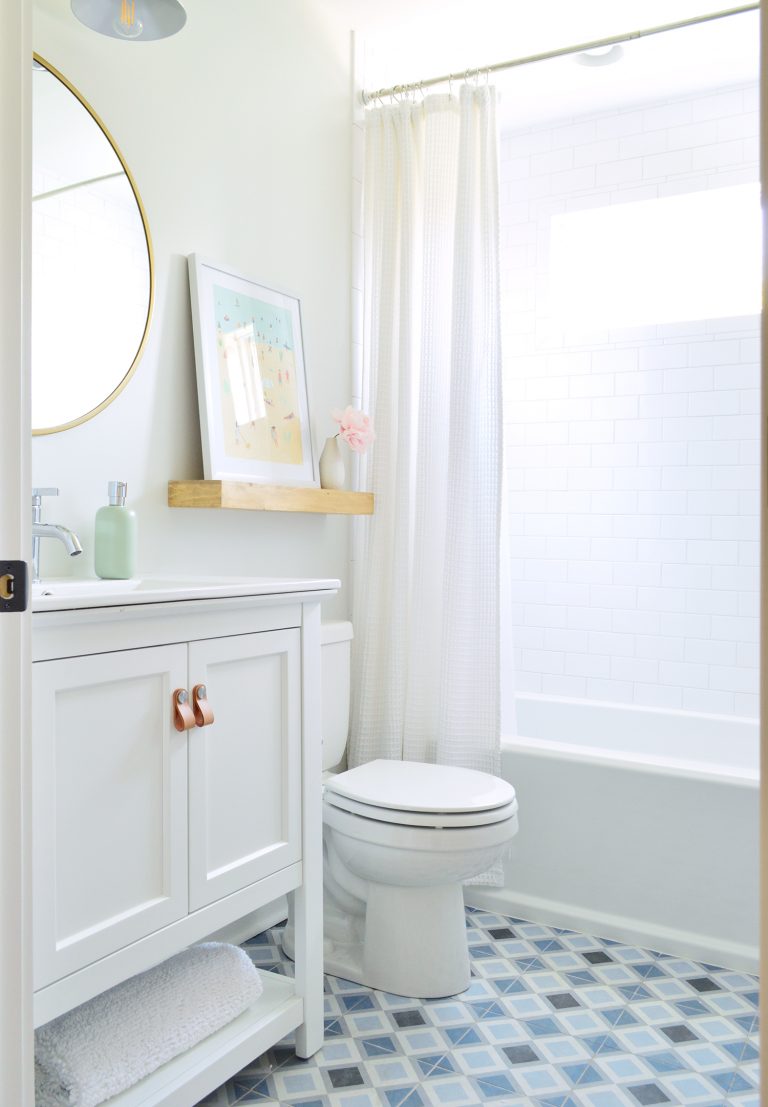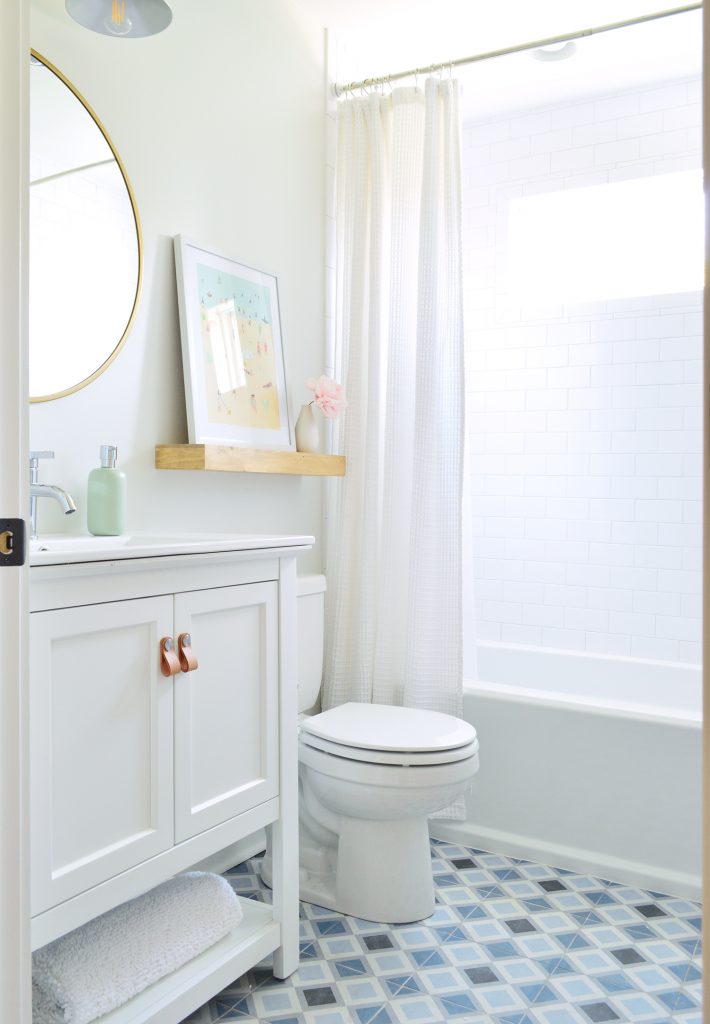 If you're looking for something we've dug in a past episode, but don't remember which show notes to click into, here's a master list of everything we've been digging from all of our past episodes. You can also see all the books we've recommended on our Book Club page.
*This post contains affiliate links, so we may earn a small commission when you make a purchase through links on our site at no additional cost to you.