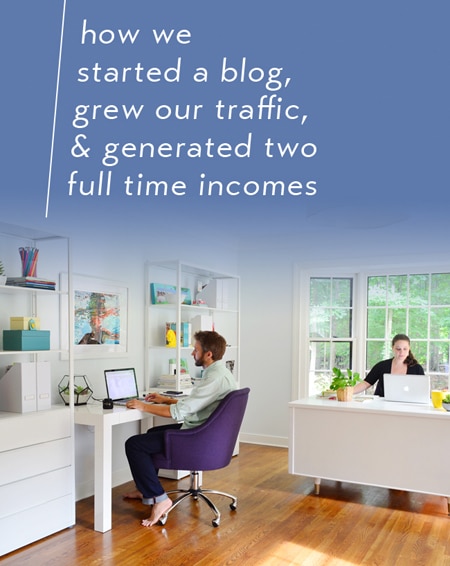 No one's more surprised than us that our blog grew from a spontaneous hobby into a full-time job that supported our family of four (well, five if you count our 9 pound chihuahua). Not to mention that it led to a two-book deal and product lines sold at stores like Target and Home Depot. It certainly has been an amazing ride that all started with one fateful post before an impending kitchen renovation (with three tiny paragraphs and one terrible photo – humble beginnings at its finest!). So here are a bunch of commonly asked questions about everything from "how do I start a blog?" to "how do I grow my blog traffic" and of course the old "how on Earth do I make money and turn my blog into a full time job?!"

Q: I want a blog! How do I make one? Should I use WordPress? Who should I use as a blog host? How/where should I buy my domain name? Somebody hold me.
A: Ok, picture us enveloping you in a big warm internet hug. Fret not future blogger. The good news it's WAY EASIER to start a blog used to be. You can get going in minutes on sites like WordPress.com or Tumblr, but if you want to set yourself up for growth and maximum design flexibility, we don't recommend taking those short cuts (they can just add up to more work in the back end when your site starts to grow). So without further ado, here are the three still-pretty-easy steps we recommend (all of which we'll go into more detail about in a minute):
Download the WordPress software for free at wordpress.org (not wordpress.com)
Get a host and domain! BlueHost is our favorite starter service for this, costing around $4-7 a month for most packages
Follow WordPress's 5-minute install instructions
Q: Wait, what do all of those things do? What's a host? Where does WordPress come into play? Ugh, so much jargon.
Okay, so let's break down some terms you'll need to be familiar with:
Domain: This is your web address or URL (for example, ours is "younghouselove.com"). Unless you're using a free service like WordPress.com, which will likely put its name in your address (like younghouselove.wordpress.com), buying a domain may cost you a few bucks per year (the cost of a domain is included in all BlueHost packages, which is one reason we like them). Try to pick a domain name that's unique, easy to remember, and easy to spell. This is something you'll be repeating a lot, so take time to make sure you're happy with the way it sounds out loud, and be sure that it can be quickly understood by others. Something you constantly have to spell, like "home-mattrz.com with a dash, but no e, and a z at the end" might require a lot of explanation and be hard for others to remember.
Host: What good is having an address if there's nothing there when people arrive? Your web host or hosting service is where all of the files that comprise your blog are stored. Just like you save documents and photos to your computer, this is a computer server (think "the cloud") where you'll upload the documents and photos that make up each post so that your blog readers can access them. Hosting plans come with a monthly fee, usually based on how large your website is and how much traffic it receives. You can always upgrade to a larger server as your site grows, which is why we love starting with one of BlueHost's plans, which is what we did (and loved) for many years. After a long time and some pretty significant growth (over 1 million hits per month) we transferred our website to LiquidWeb because we needed more space than BlueHost could offer. The nice thing about Bluehost & LiquidWeb is that they both offer great tech support via phone and email. Here's where you can get a domain & hosting package with BlueHost. Or if you want something a bit more robust, LiquidWeb will give you 35% off your first 3 months!
Blogging Platform: Think of this like you think of Microsoft Word or Adobe Photoshop. It's software that is installed on your host (just like Microsoft Office might be installed on your computer) and you'll access it through your internet browser. WordPress is one of the most beloved and flexible blogging platforms out there, and it has been the one we have used since our blog's inception back in 2007, so we strongly recommend it. You'll use the WordPress interface (called your "Dashboard") to design your website, write your blog posts, track statistics, etc. It's super user-friendly and is regularly being updated. Plus, the WordPress community has lots of helpful support forms and hundreds of plug-ins, which are add-on programs you can download to customize the look and function of your site. Tumblr and Blogger are other free platforms out there (along with WordPress.com – which will add wordpress.com to the end of your url), but we think you'll find WordPress.org best suited for both hobby and professional blogging. Here's where you can download the WordPress software for free at WordPress.org and follow their 5-minute install instructions.
Theme: The last primary ingredient to creating your blog is choosing its theme, which is sort of a packaged "kit" that dictates the design and layout of your site. Basically, it helps your site look pretty. WordPress comes with a few themes that are already installed (which can be customized with your own colors, graphics, and logos) or you can find additional themes with a simple Google search. The theme developer may charge a one-time fee and many offer services to customize a theme for you, but otherwise you'll need to learn a little bit of coding to do it yourself (we learned the basics fairly quickly, so it's not something to be too scared of). Our current theme is the Fun Theme purchased from Pretty Darn Cute Design, which we customized ourselves with the help of their awesome support forums. And you can see in the graphic below how the same theme can be customized to look unique to you. This is our current theme on the right, and the one on the left is the template that was provided to us when we purchased it. You can see how the same building blocks are present in both, but the addition of our content and graphics (and our tweaks to the layout) contribute to a personalized look.
Q: Wait, so are you saying I have to be super tech savvy and know web coding to start a blog?
Nope! Between WordPress' easy interface and the helpful instructions / tech support from your host, you shouldn't find it too difficult to get up and running. We have many friends who call themselves "coding illiterate" but still have bustling blogs thanks to googling for answers, asking tech support for help, or hiring a theme designer to get them started. However, you may find that knowing some basic HTML and CSS will give you more control over your site looks (and save you from hiring it out), so you can read more of our coding advice here.
Q: What are some 'must haves' when it comes to setting up my site and making it work as hard as possible?
You'd be hard pressed to find a definitive list of all the features that a successful blog must have. Some are designed very sparsely, while others are built-out with lots of bells and whistles. But here some basics to think about when you're creating your own site: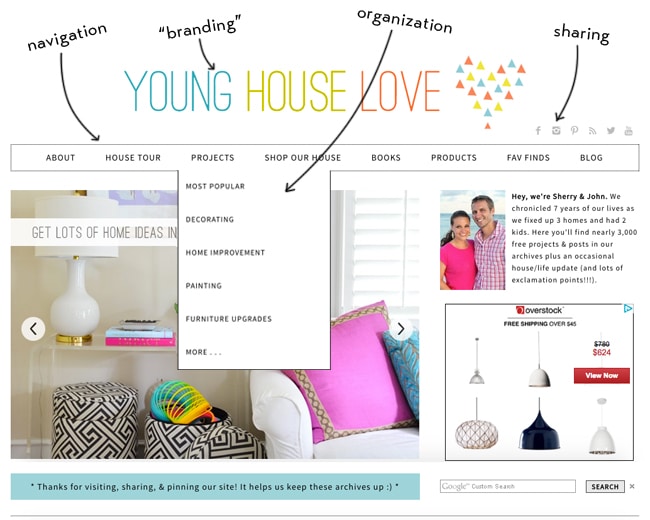 Clear Navigation: Your blog will likely include more than just a page with your latest posts on it. Things like an About/Bio page, an FAQ page, a contact form, or even archives of images or posts may help your readers find more of your content. Think about what sections of your site you'll need and how you will make it easy for visitors to find them – because they're more likely to get frustrated and leave if they can't quickly locate the information they want. Don't fret though: most blog themes have built-in menu bars or sidebars where you can quickly organize these things (and they can be adapted and altered as your site grows and you have more content to highlight).
Consistent Branding: These are the visual cues that will make your site distinct and also quickly identifiable to visitors. Most importantly they include your site name, a logo (even if it's just your site name in a pretty font and/or color), and a consistent color scheme (for things like menu bars and other miscellaneous graphics). These don't need to be fancy and can be changed over time, but they're some of the first things you'll need to select. They should be easy to read and nice to look at, so people can tell your site is well maintained and a good source of information… and hopefully a place where they want to more spend time!
Easy Organization: Platforms like WordPress have organization features – like "Categories" and "Tags" – that you can use right out of the gate to help sort your content by topic. Categories come in handy to define broad theme areas (ours include things like Home Improvement, Decorating, and Crafting & Art), whereas Tags are more specific topics or ideas mentioned in a post (like "bathroom repair" or "sewing"). These all work to help readers (and search engines) find your content more easily, as well as to show people the types of topics your blog covers.
Ways to Find & Share Content: In addition to the elements already mentioned above, try to employ coding or plug-ins on your site that help people discover new content, whether it's sorting your categories into a gallery or including a clear search bar (Google offers them for free if you don't like the one included with your theme). Also consider including a "related posts" widget in your sidebar or at the end of your posts (we use one from Taboola) and social sharing icons (we use the ones from Shareaholic) to encourage people to tweet, Facebook, or pin your content.
Stats: This is more of a behind-the-scenes "must have," but it's worth stating. WordPress and most other blogging platforms come with built-in statistics (like how many people are coming each day and what sites are bringing them to you), but installing something like Google Analytics will give you more robust information that you can search and parse. It's great to have these stats from the beginning to truly see how much you've grown, and it's a free service that's accepted widely across the industry (if a potential sponsor or ad network asks for your stats, they typically want to see your Google Analytics). They're also pretty easy to implement since they only require adding a smidge of code to the top of your site. However you choose to track your website, it's great to have this info from day one so you can follow your site's growth (and be able to share it with potential advertisers or sponsors in the future).
The good thing about blogs is that they're designed to grow, change, and adjust with you over time. While it's helpful to have some key building blocks in place at the start, you may find it's best to add and adapt as your needs change. So don't let the elusive "perfect" set-up hold you back from getting started.
This is a three part series. Click the buttons below to continue learning about:


*This post includes affiliate links*