Since you guys have been asking how this large scale (but also, small scale – ha!) renovation has been going, I thought I'd share our second dollhouse progress. And if you missed our first tiny house makeover, you can check it out here.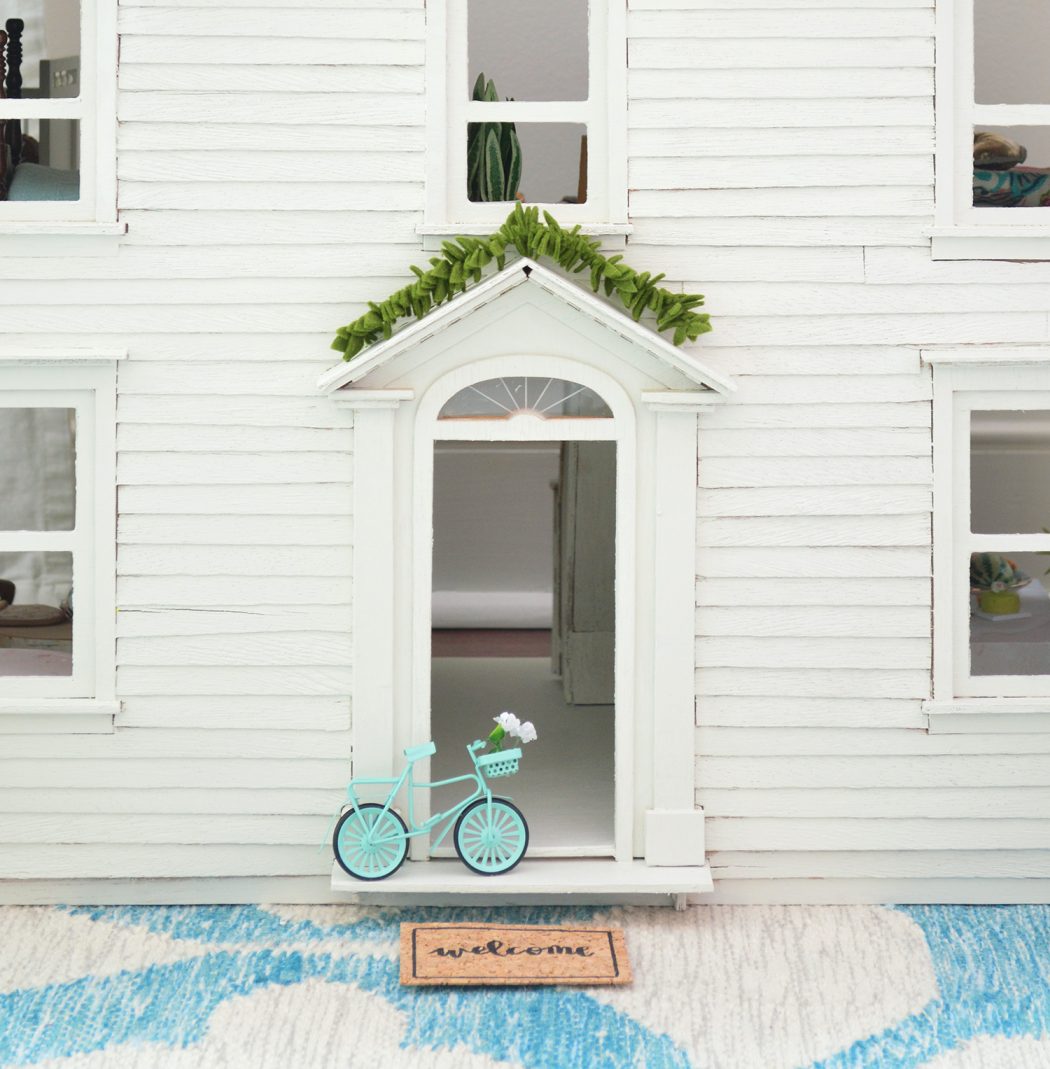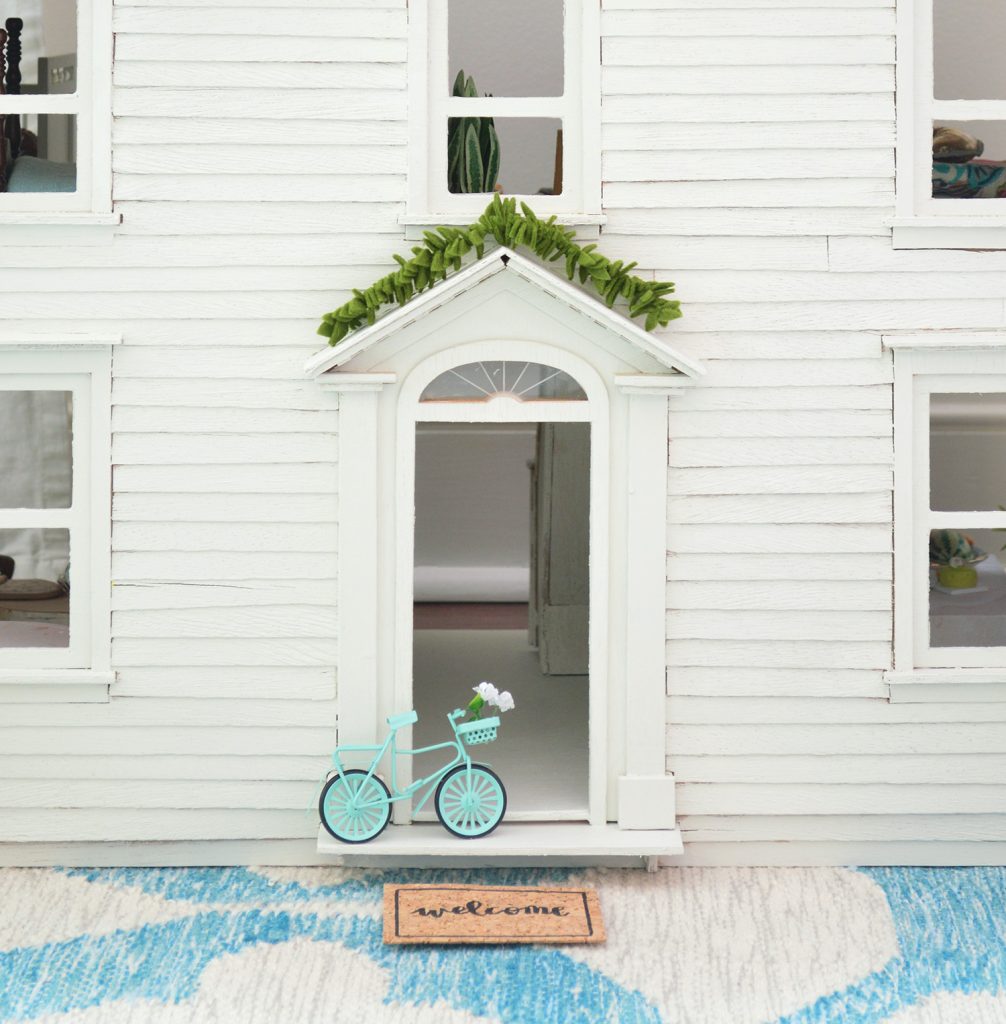 Yes, this dollhouse totally reminds all of us of our own house, which has been especially fun. And our nine-year-old daughter has been acting as the general contractor, the interior designer, and the architect, which has also been a blast. From helping with painting and art to choosing colors, arranging the furniture and brainstorming future project ideas – she has been at the helm… WHICH HAS BEEN SO ENJOYABLE FOR MY HOUSE-LOVING HEART TO SEE (I'm also very happy to play the role of the dutiful assistant / budget realist – ha!).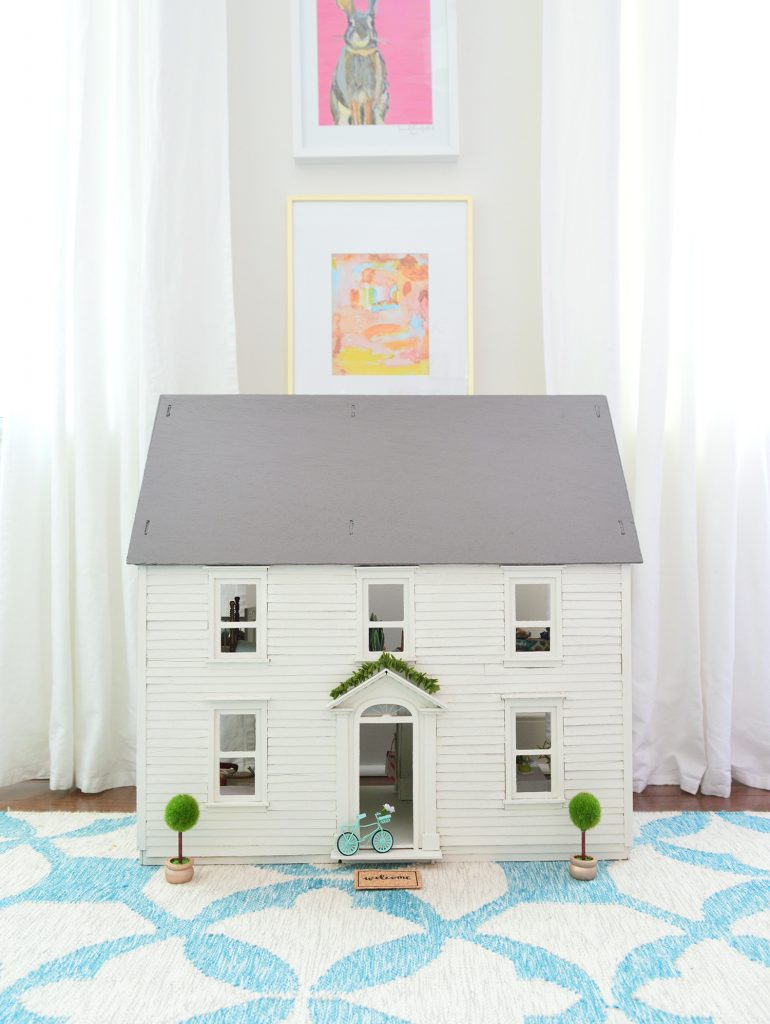 This house will probably be in progress for the next few years as we add more furniture, and lights that really work, and maybe even a spiral staircase that leads up to the attic (squeeee!). But even though there's pretty much always an ever-growing list of stuff we'd love to add, it has already come such a long way. Here's how the front of it looked when we got it (you can hear the story of how it came to be ours on this podcast episode):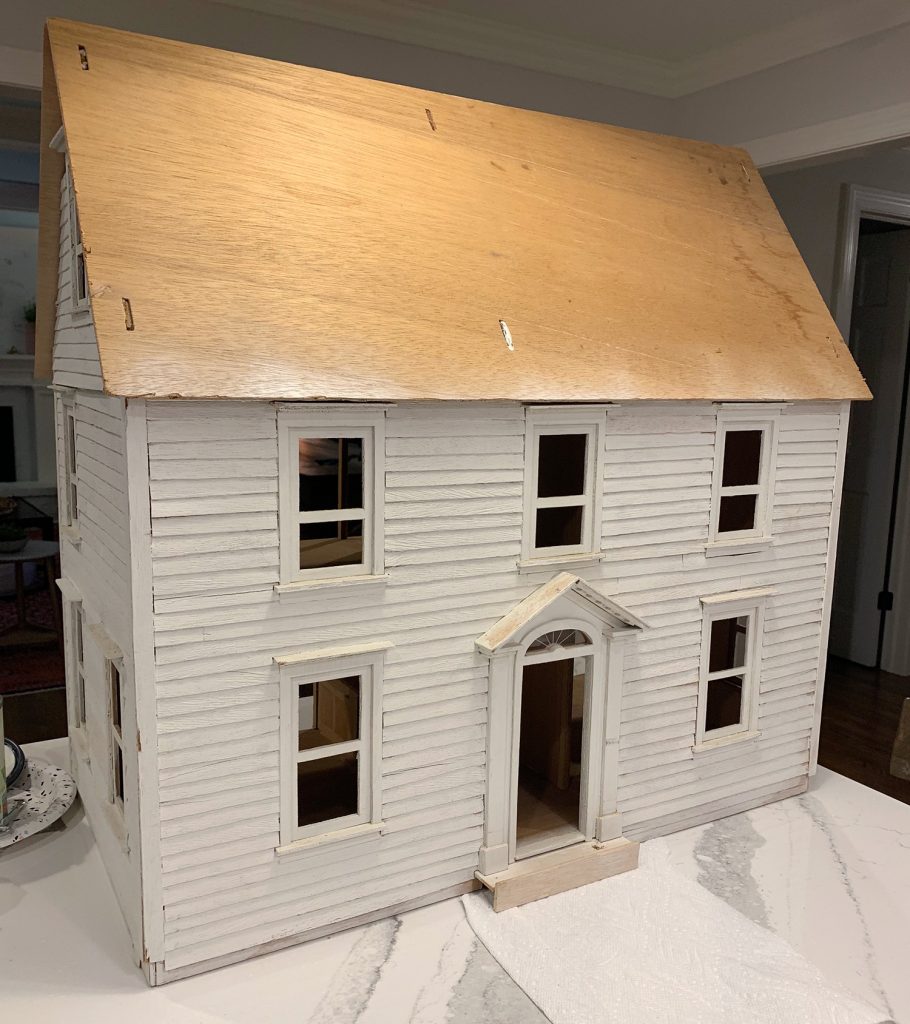 We pretty much just gave things a fresh coat of paint since our daughter wanted it to remain white because it looks so much like our house. We painted the roof gray like our existing roof – although our nine-year-old project manager wants to make it look like slate… so perhaps we will get super shiny paint and use those little cedar shingles to try to get that slate look down the line. Will keep you posted on that!
Meanwhile, the back of the dollhouse was a totally blank canvas when we got it: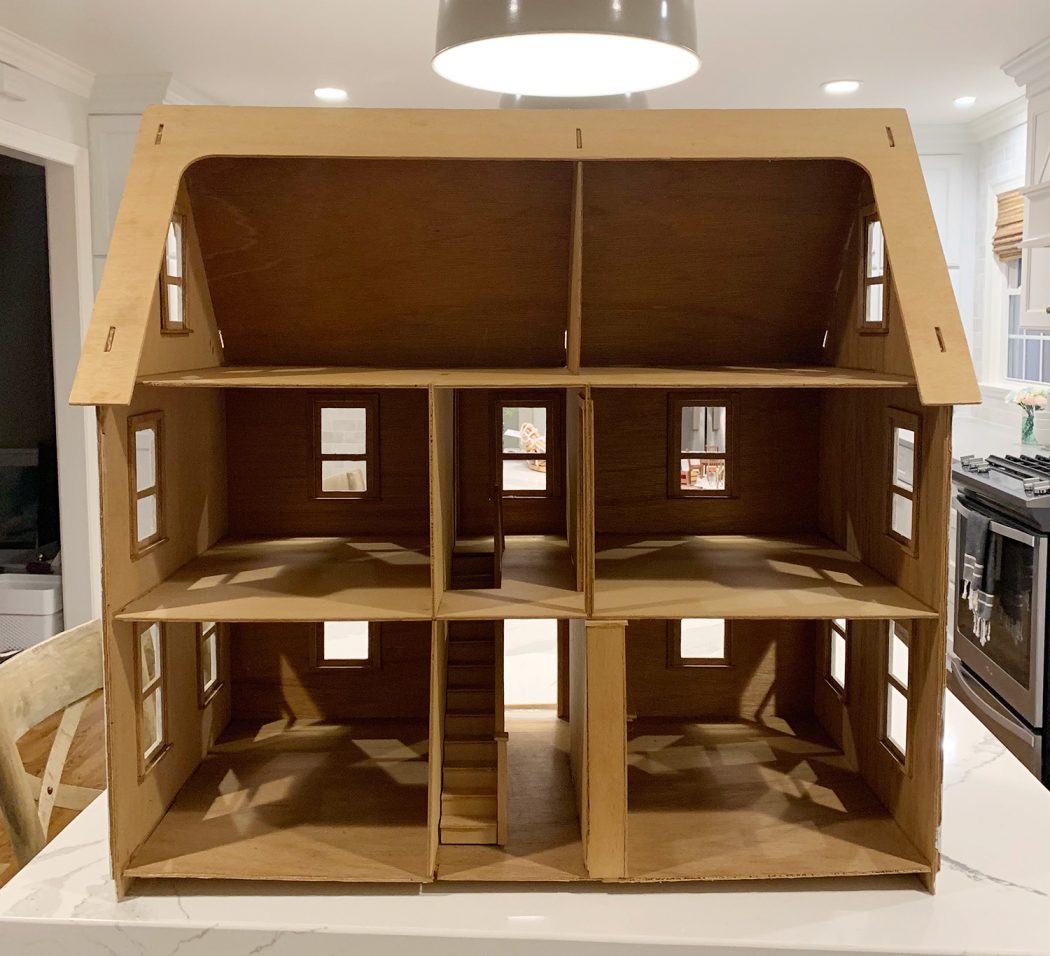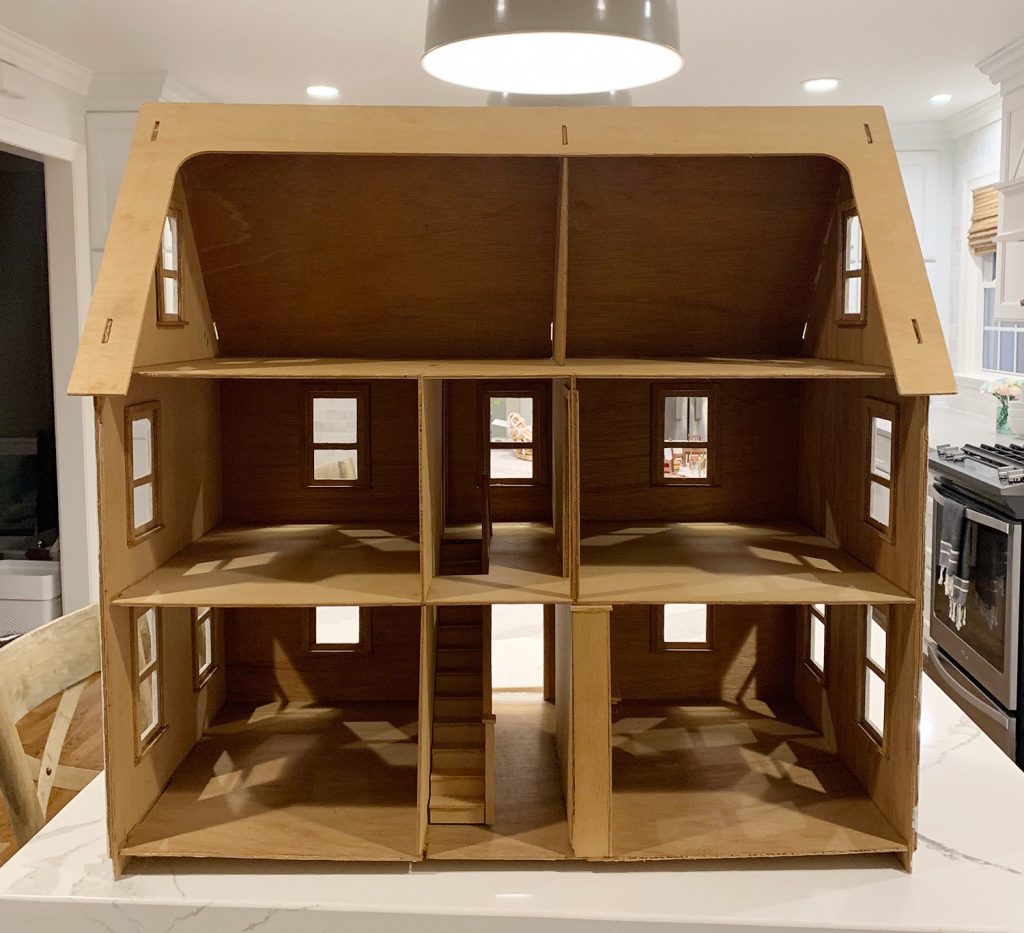 And here it is now, thanks to fresh white walls and floors. I think we have a chip off the ol' block situation with the light background choices our daughter made in here, and I have to say it's super smart because it means bold furniture colors (navy! turquoise! red!), colorful patterned fabrics (like the bedding and the sofa upholstery), and even faux pink marble in the kitchen can layer right in. Remind me to consult my kids for every design project that we do from now on, because they are brilliant ;)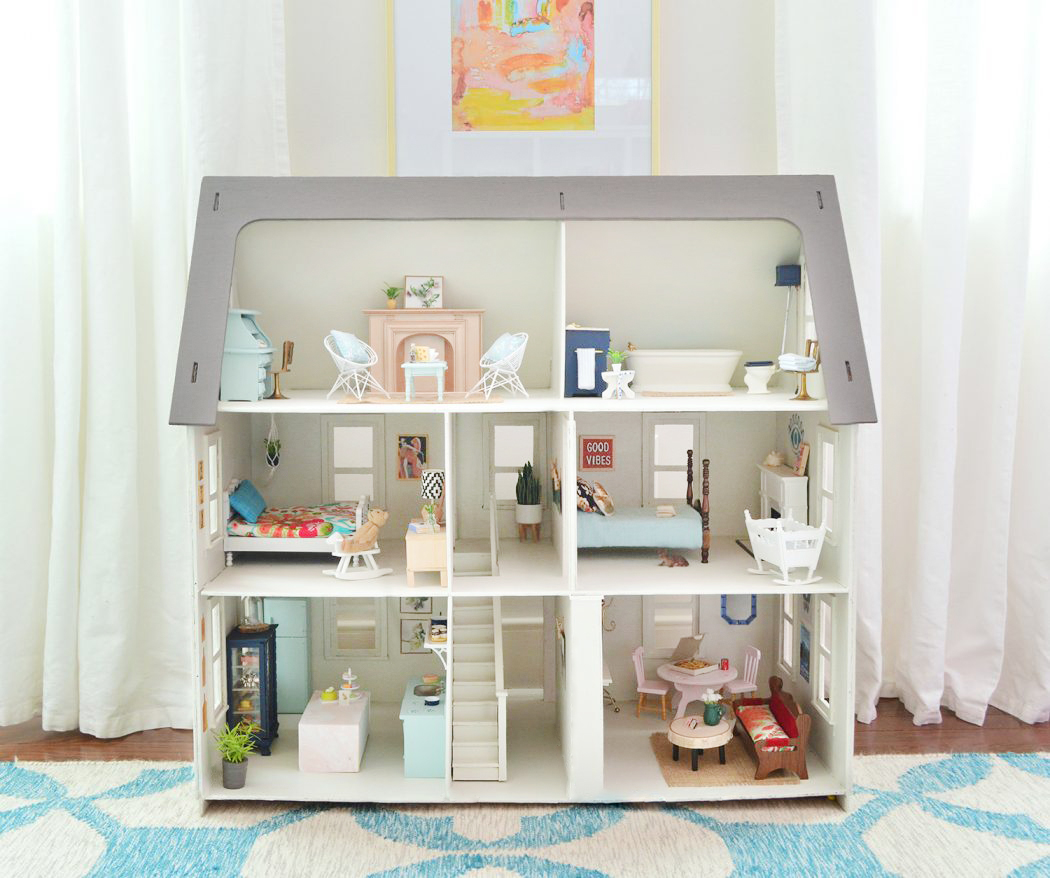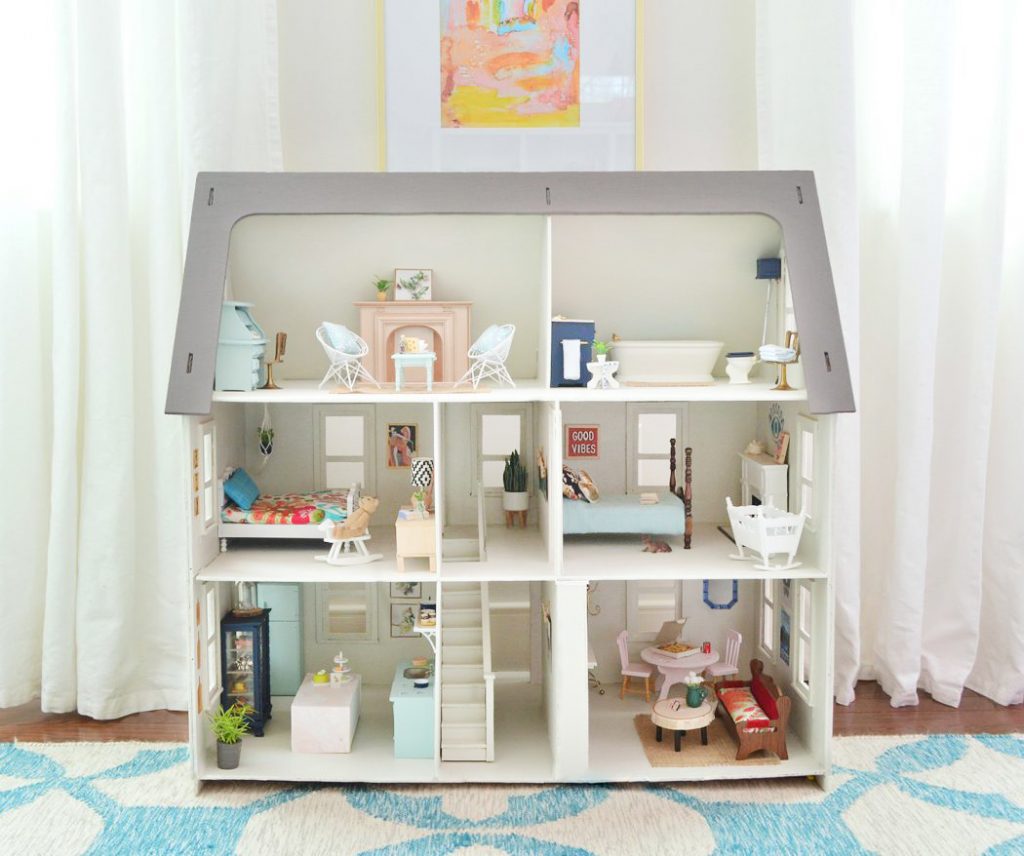 If we could blast ourselves with that Honey-I-Shrunk-The-Kids raygun, we'd get to walk through the house, and eat in this cute little kitchen. I ADORE the faux pink marble island, and I'll show you how we made that in a second. We also had fun painting all the appliances and cabinetry with light blue craft paint, except for the little shelving unit that she wanted to make navy. There were even little brackets that came with the lot of hand-me-down furniture that we got with this dollhouse (I DIDN'T KNOW UNTIL THE MOMENT WE DISCOVERED THEM IN THE OLD DUSTY BOX THAT TINY SHELF BRACKETS ARE THE CUTEST THING EVER MADE ON THIS PLANET).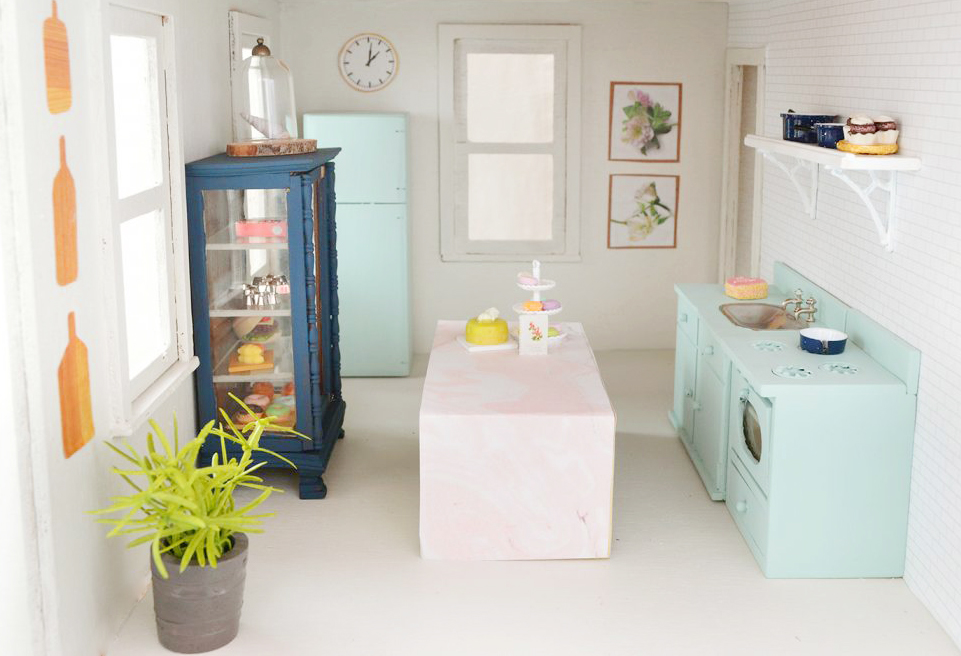 Oh and we made that little potted plant in the bottom corner – just by shoving some faux greenery (a tiny clipping from my favorite faux desk plant) into a little bucket that came with the dollhouse furniture that we got secondhand. I think it was an old bucket that went to a well… but there was no well. So we painted it gray and it looked a lot more like a plant pot than a rustic bucket.
As a reminder, every single item of furniture in both this dollhouse and our first one is secondhand, and is from a "lot" of furniture (that either came with each of the dollhouses, or from one "lot" that we purchased on Facebook marketplace separately). I get asked a lot about finding affordable dollhouse furniture, and the answer truly is secondhand lots. You can get a ton in one box for under $30 or even $15! Then you can paint it or repurpose it or fix it up, and it's a lot cheaper than buying new things individually (which can often be $15 each!).
We also did a subway tile wall thanks to a quick image search online for white subway tile, which we printed out a few times until we got the scale right. We just used a glue stick to fill the entire right wall with it from floor to ceiling. THIS PROJECT WAS 99.99% EASIER THAN DOING REAL TILE, BTW.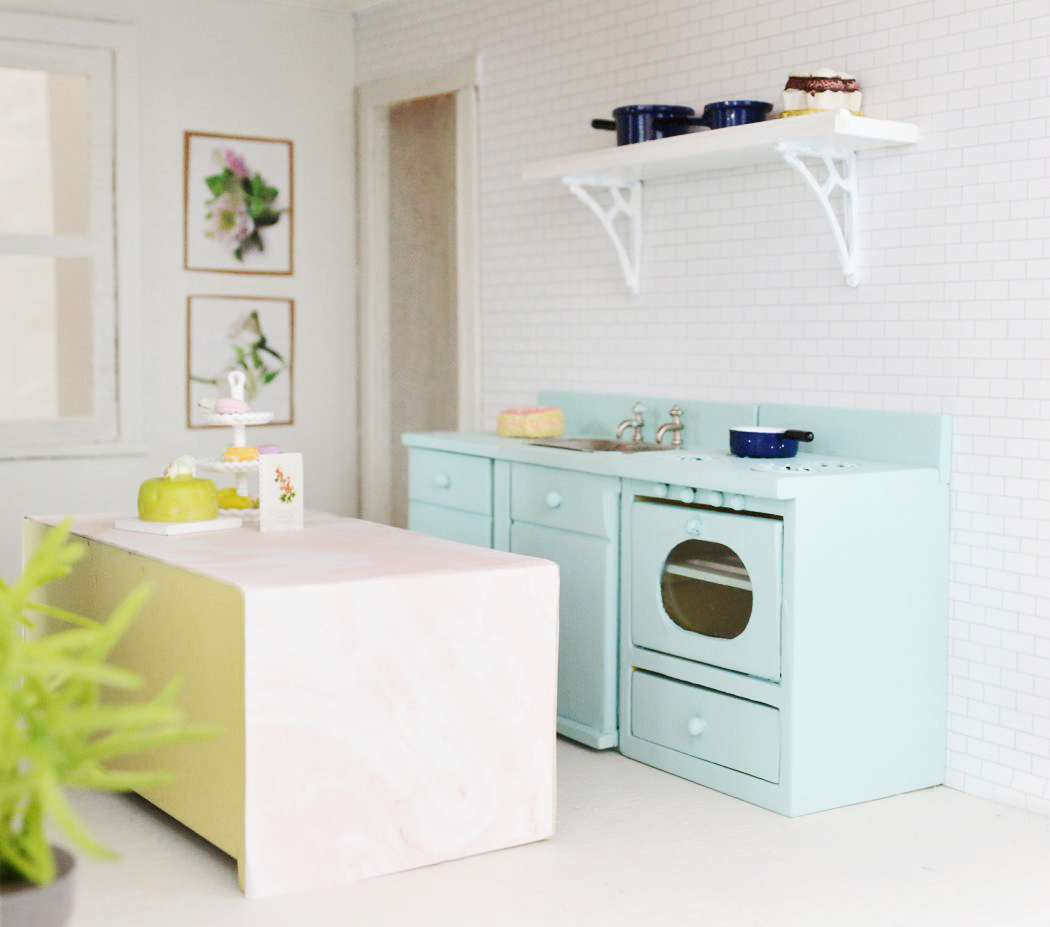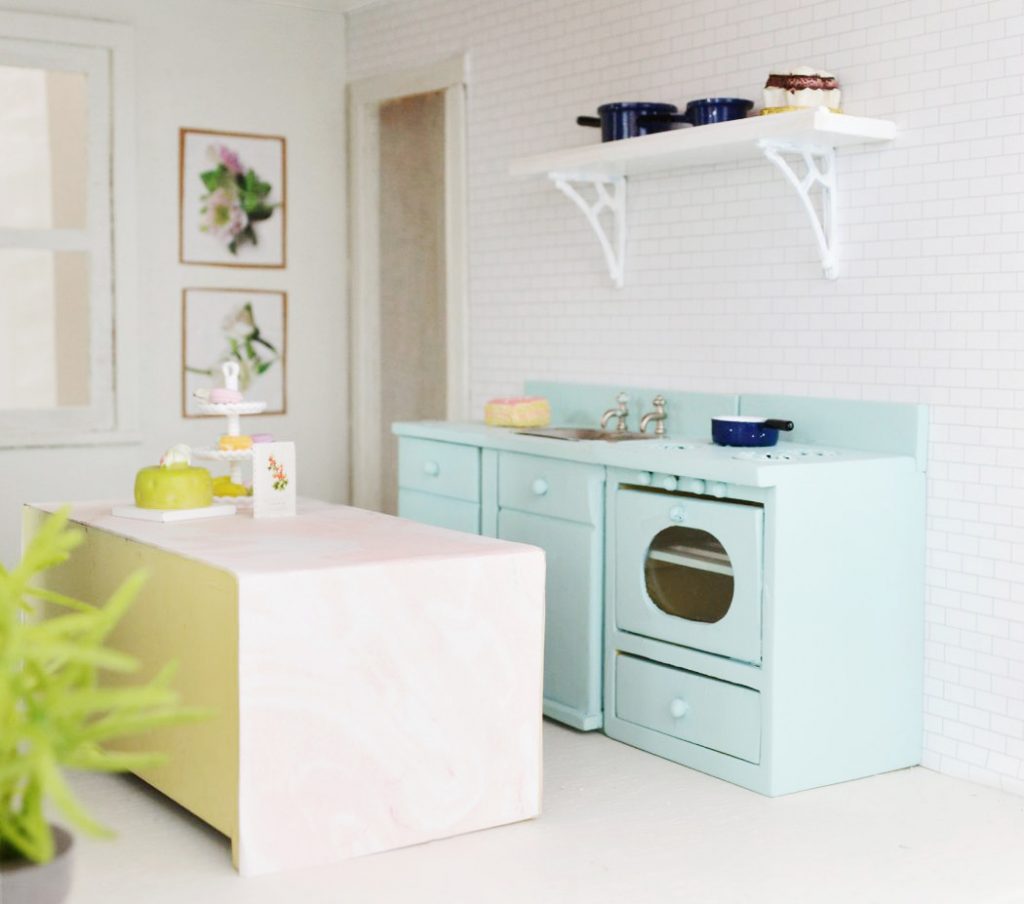 Oh and we found those blue pots on Amazon. I promised to show you how we made that island, so here you go. The island is actually a broken refrigerator that came with our other dollhouse. There apparently used to be two vertical doors that were on the front of it (this is it laying on its back, instead of standing up like a refrigerator would), but it made me realize that if we turned it over so the back that's on the ground in this photo faced up…. it would look a whole lot like an island.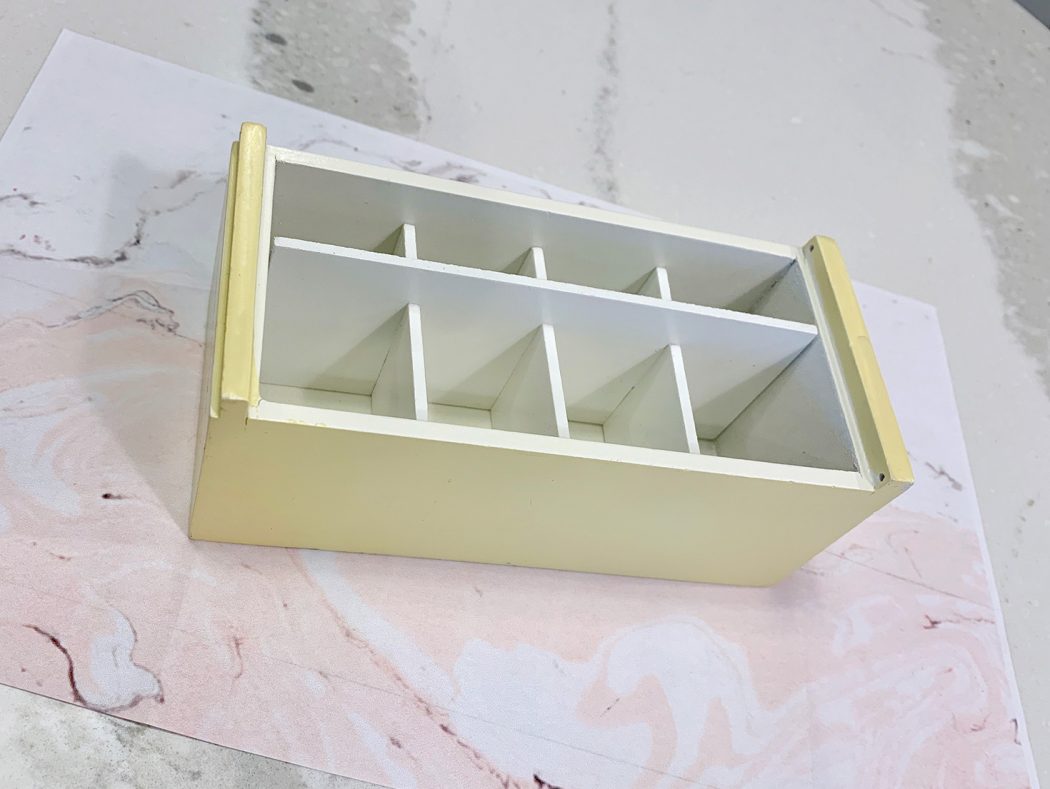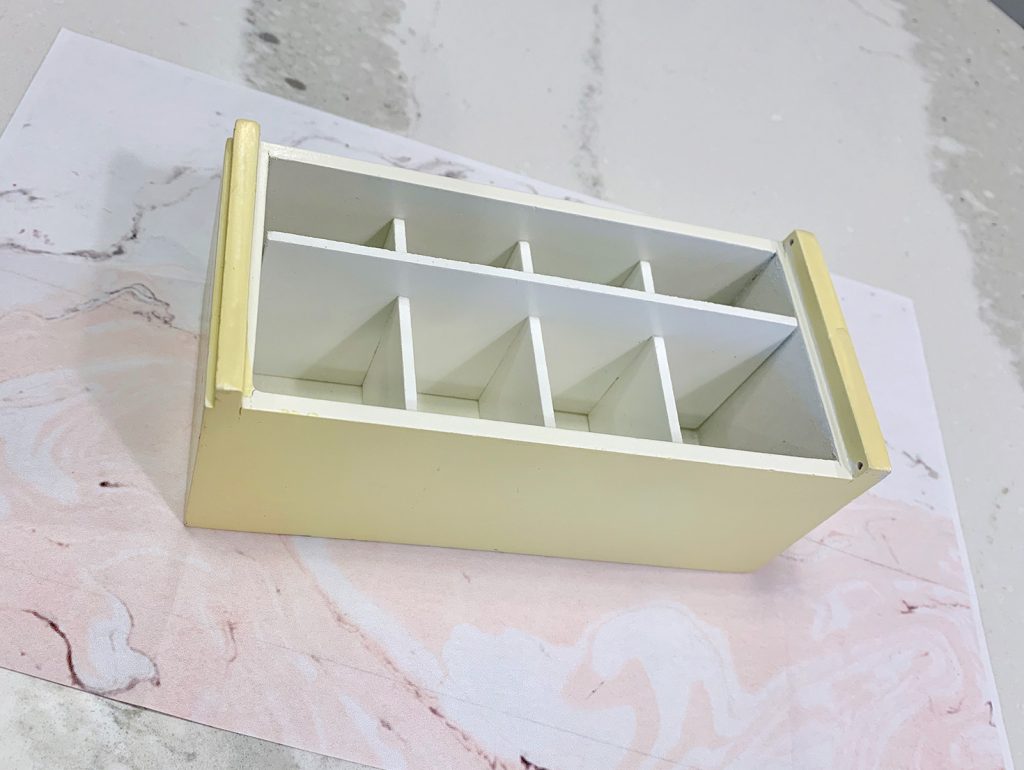 And when I asked our daughter what type of counter she wanted on the island, pink marble was the answer. Did you even know that was a thing? I didn't, but we google image searched it, and it actually popped up! So we printed it out, and glue-sticked it on. That's it! DONE! Dollhouse kitchen renos are so easy they're going to ruin real kitchen projects for me…
Here's another angle to show you that cute little navy cabinet that was originally brown, but the blue is such a fun touch, and all of the little cakes and treats came from the little treat shop the kids got from my mom for Christmas (more on that debacle here). Except that little tiered dish of macaroons on the island was something our daughter bought on Amazon with a Christmas gift card. You should have seen our kids carefully weigh all of the tiny options for their dollhouse, and finally settle on the cutest things (remember they also picked out this cute gingerbread platter thanks to an Amazon gift card from their uncle?).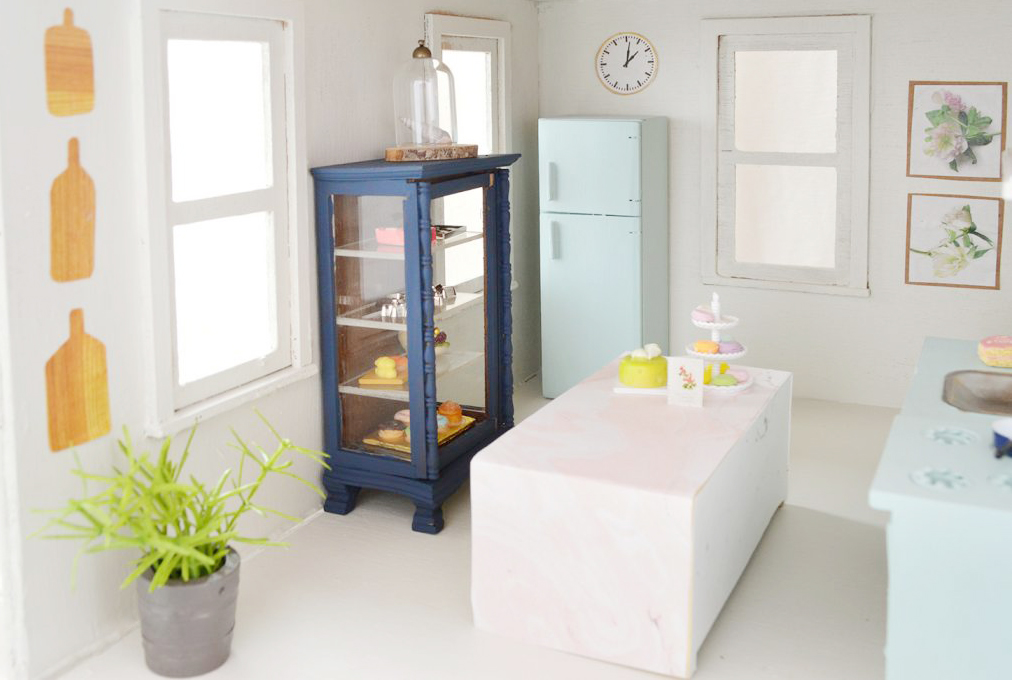 We also had some fun making framed botanical art (clippings from a magazine that we "framed" by gluing them onto paper bag rectangles that we cut slightly larger than the art). And we made those wood cutting boards on the wall by just cutting those shapes out of a page in a magazine that had a wood pattern on the whole bottom of the page (we just sketched cutting board shapes on the wood part of the picture and cut them out and glued them to the wall). Even the clock came from a magazine – just some cutting and pasting and we instantly had a way to tell time ;)
Let's move over to the living room, which is a gem of a space because it came with built-ins and a fireplace! I KNOW! Hello, dream house. We've been keeping an eye out for some tiny birch logs to make a little faux fire in the firebox, but for now we have a bunch of cute stuff on the built-ins and that amazing tiny version of some real art we made a while back. Remember this project?! Well, my friend Jessica over at Craftiness Is Not Optional sent me a little dollhouse surprise care package for the kiddos! And we squealed when we saw that she had made that mini art for us!!!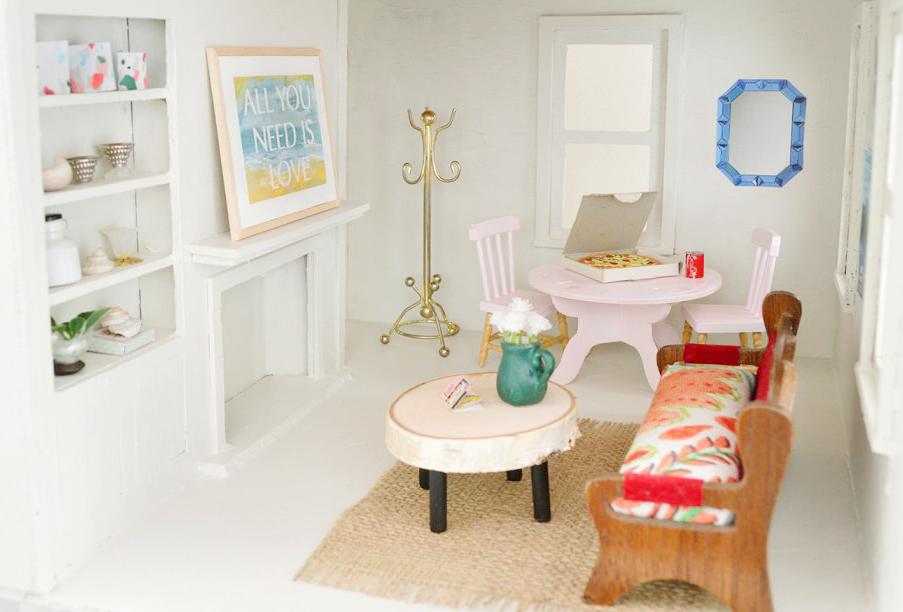 She also made that cool birch slice coffee table, and the brass coat rack and the sofa and chairs were just old furniture that came with the dollhouses, but I pried up the formerly red velvet seat of the sofa and covered it with some bold fabric that our daughter picked out. Instantly made it feel fresher and took five minutes! Literally I didn't even sew it, I just stretched it around the seat cushion, used a strip of duct tape on the bottom to hold it down, and then glued it down with craft glue. INSTANT DOLLHOUSE UPHOLSTERY IS RUINING HOW MUCH HARDER REAL UPHOLSTERY IS! Oh and the blue mirror is another magazine cutout that we just glued to the freshly painted wall. Free & fun!
And check out the rug above. That's SUCH an easy DIY. We had some old burlap scraps in my fabric drawer, and we just cut little rectangles of it, and frayed the edges a little on each of the two short sides. Boom. Instant jute rug.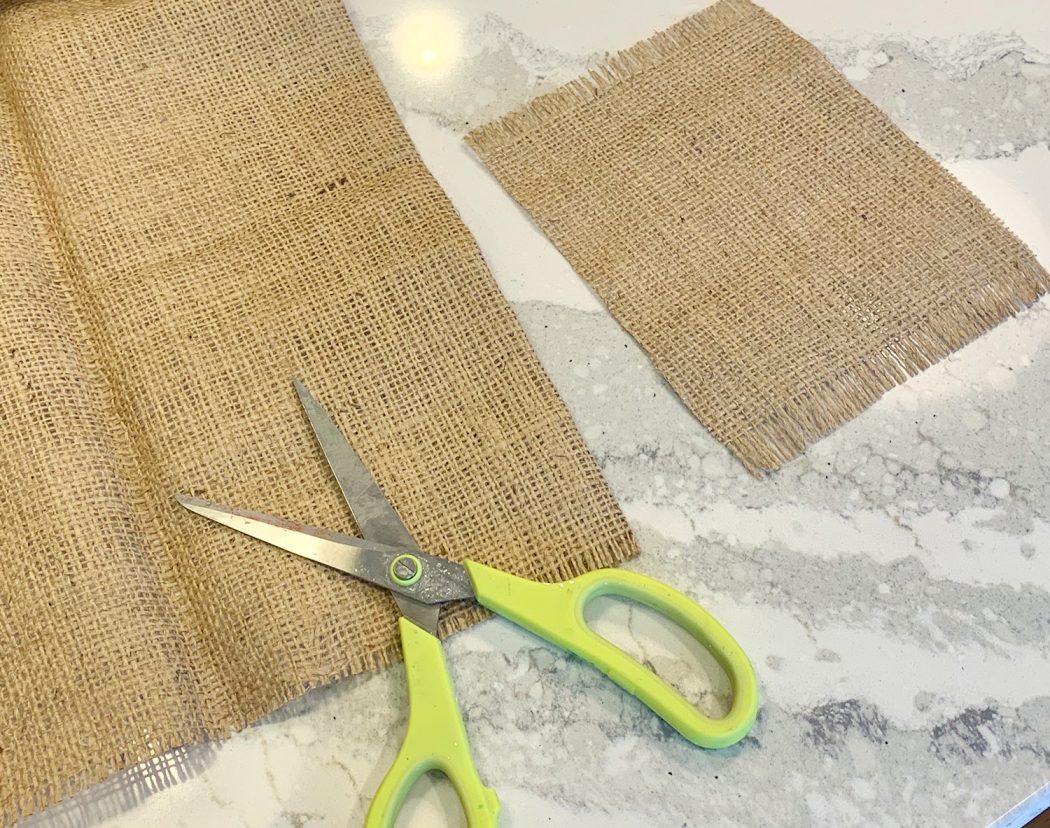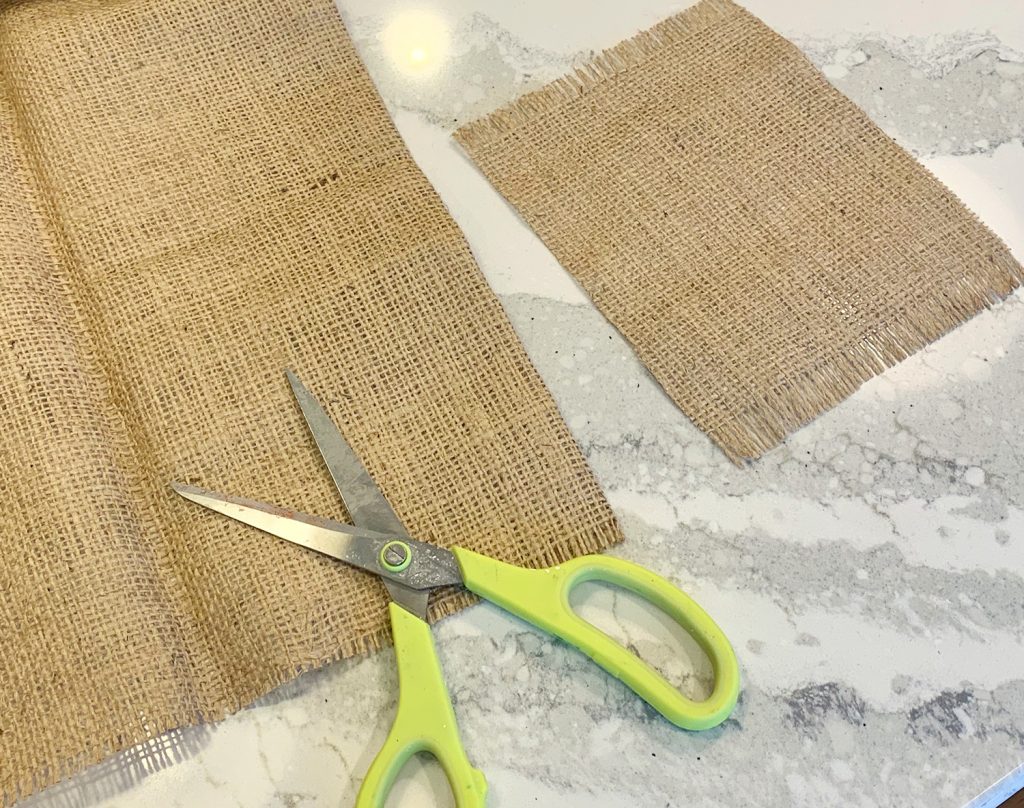 We're also planning to add some hardware to the cabinets under the bookcases, and maybe even some tile to the inside of the firebox, but it's pretty cute as-is for the time being. As for what's on the built-in shelves, we just Tim Gunned it ("MAKE IT WORK!") with some folded magazine cutouts that look like colorful cards, some random small things like thimbles and tiny shells we had collected on the beach, and even a little bottle – any little small item we had around got tried on the shelves to just see what worked. Oh and remember you can see how I make small dollhouse plants here.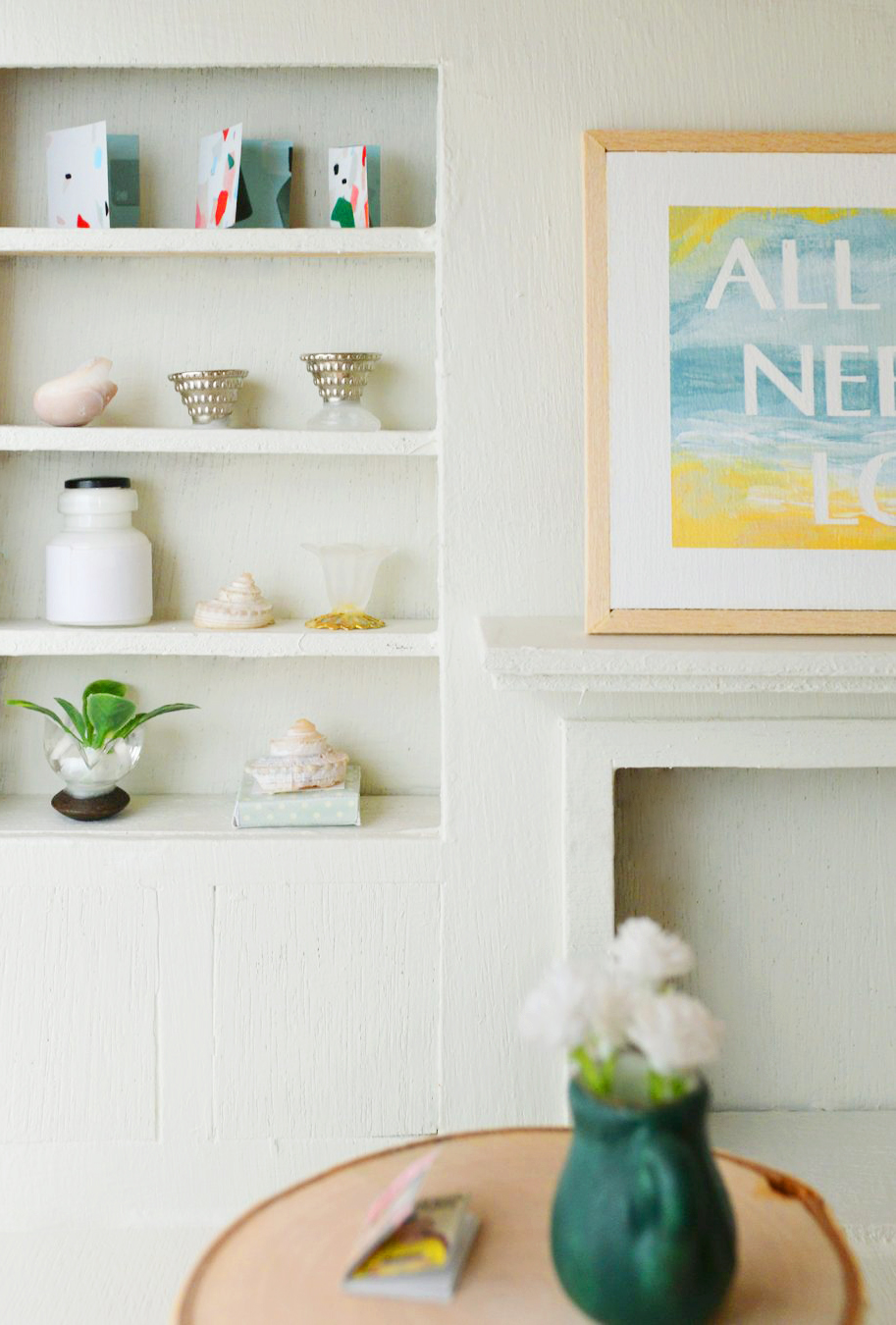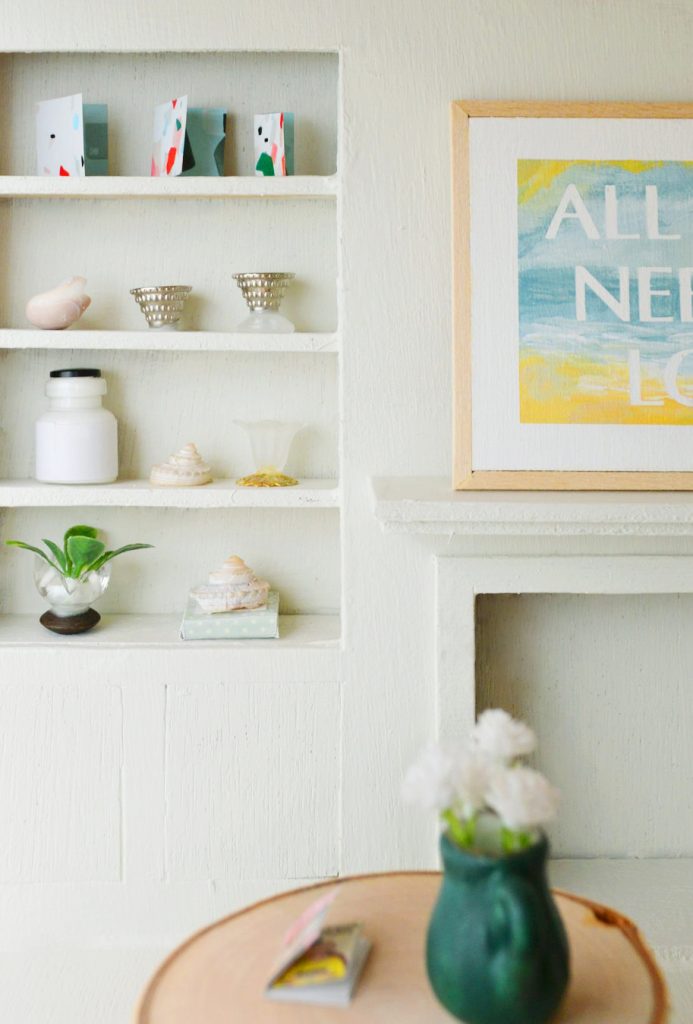 Here's a shot so you can see how the downstairs foyer and upstairs landing shaped up. We used some tiny clothespins that we already had in the junk drawer to clip up some more magazine-clippings-turned-art (hooray for me saving all the tiny and cute things that come into our house for some inexplicable reason! I'm sure you could buy them at a craft store if you haven't saved them in your junk drawer). And that adorable plant in the plant stand upstairs by the window is another amazing dollhouse gift to the kiddos from my crafty friend Jessica. We all squealed when we saw it!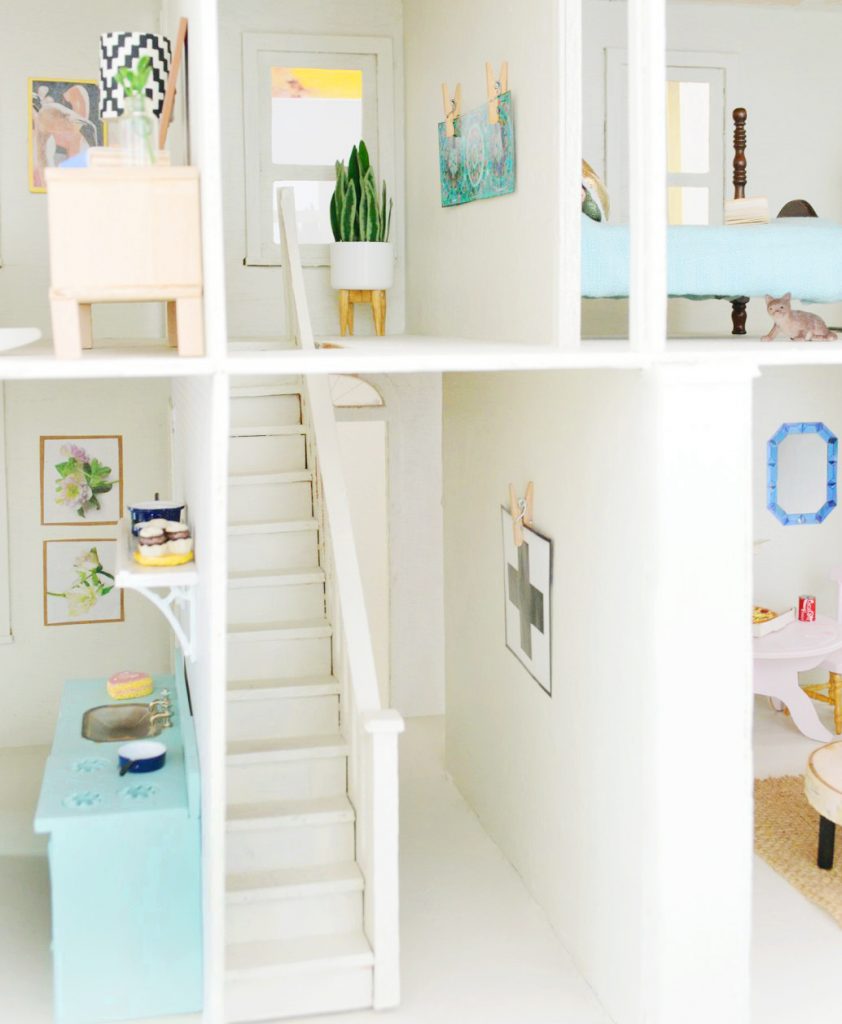 Oh and as for the stairs, we have big plans to make some sort of fabric or painted runner that leads up them. It's a tiny tight space, so it's hard to cram your hand in there and access a few of the more pinched places, but I'm confident that my small handed project manager will figure something out.
Oh and I snapped this photo of our workspace on the kitchen counter, where we were laying things out and brainstorming ideas. Everything from a bike-shaped paperclip to those aforementioned tiny clothespins and even some twine + a magazine clippings came together to make little signs, art, and even those little wood-look cutting boards. Free repurposing of everyday objects = really fun in dollhouse world!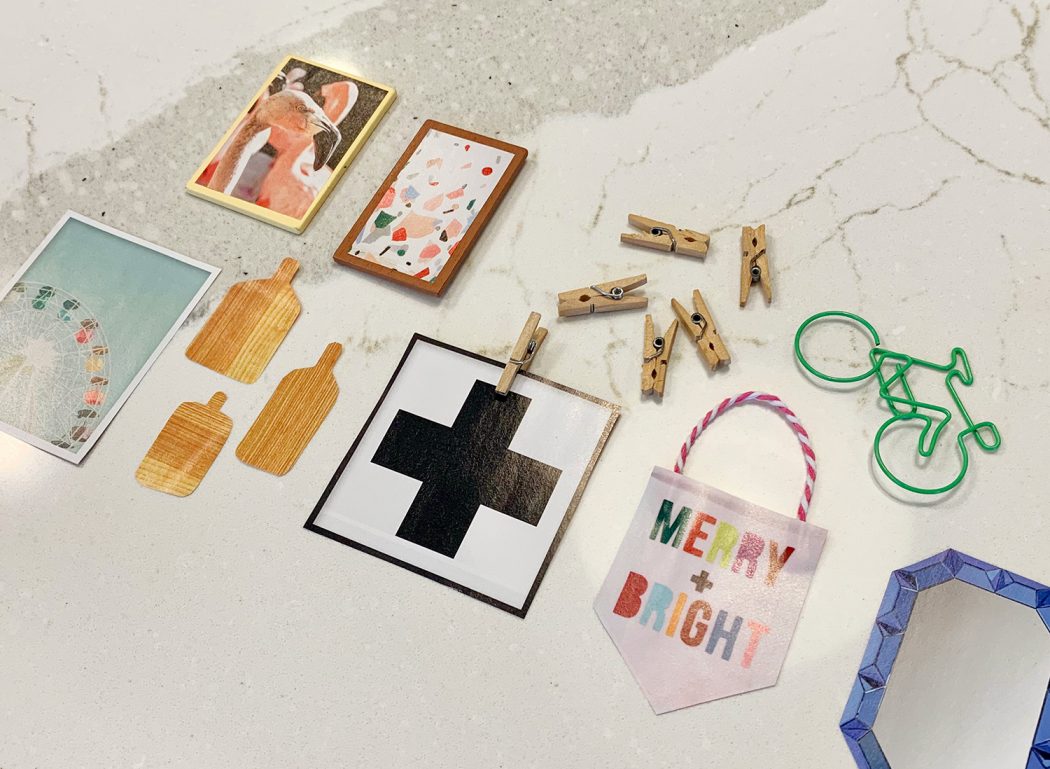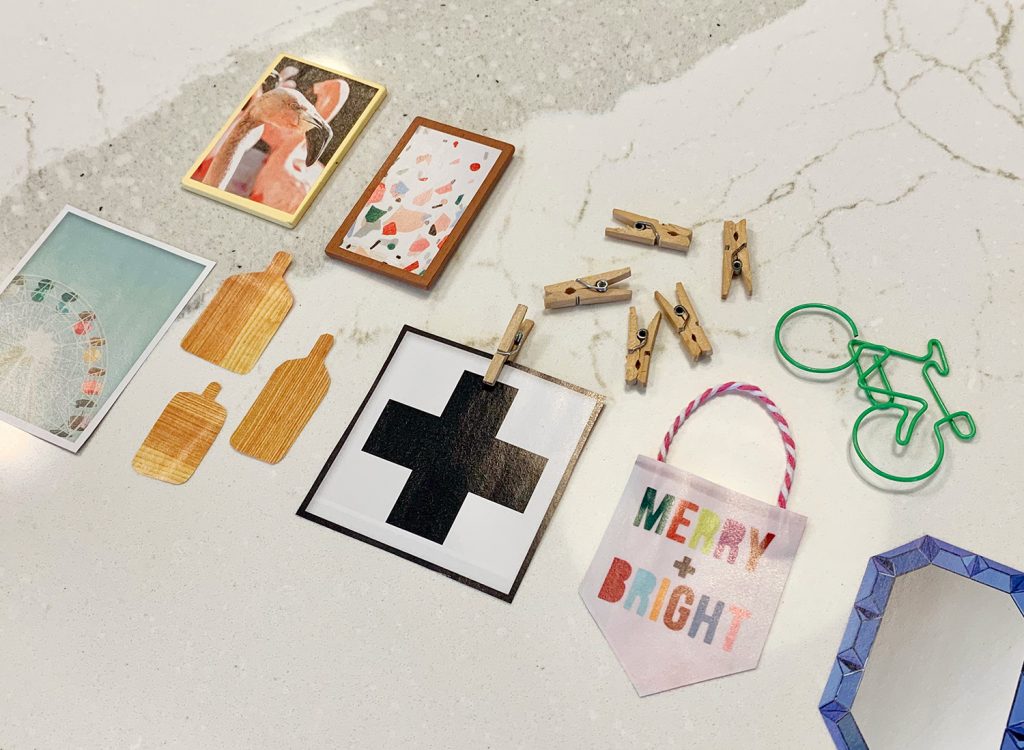 Here's one of the upstairs bedrooms, complete with a tiny potted plant, our book (!!!!!) and a cute little geometric lamp…. all courtesy of… you guessed it, my crafty friend Jessica. She sparked so many ideas of our own, like using a piece of scrap wood and gluing a colorful magazine clipping onto it so we could make leaning art for the table next to the lamp. We also want to make lots of books like the tiny replica she made of ours. It's just a block of wood with paper glue-sticked around 3 of the 6 sides.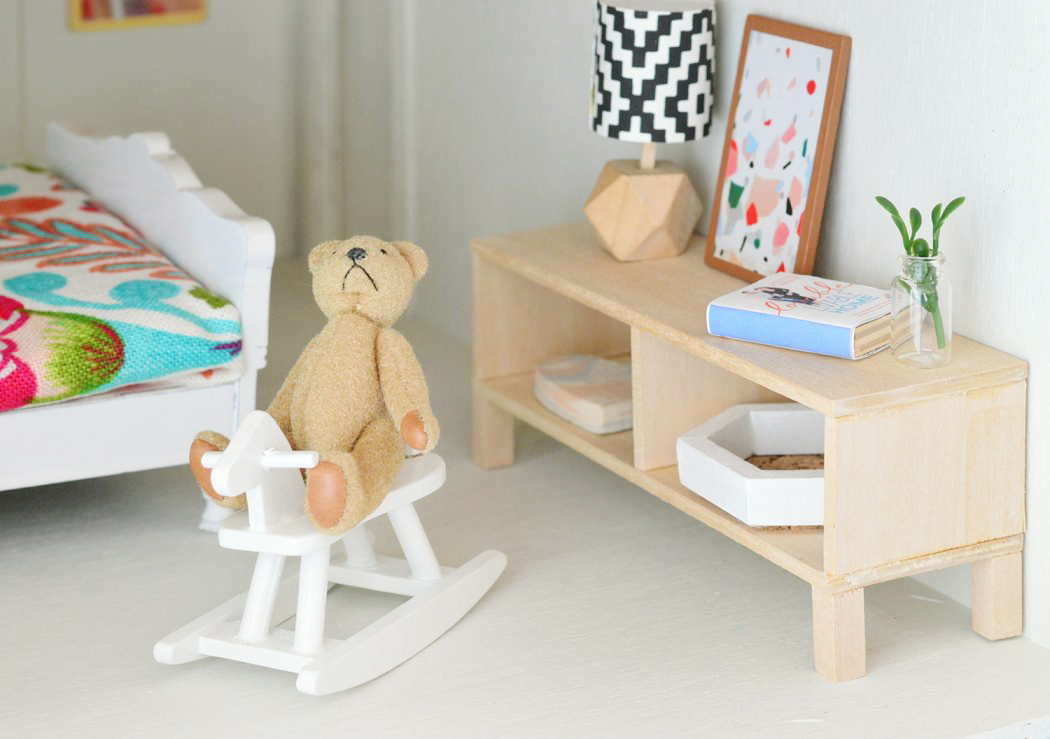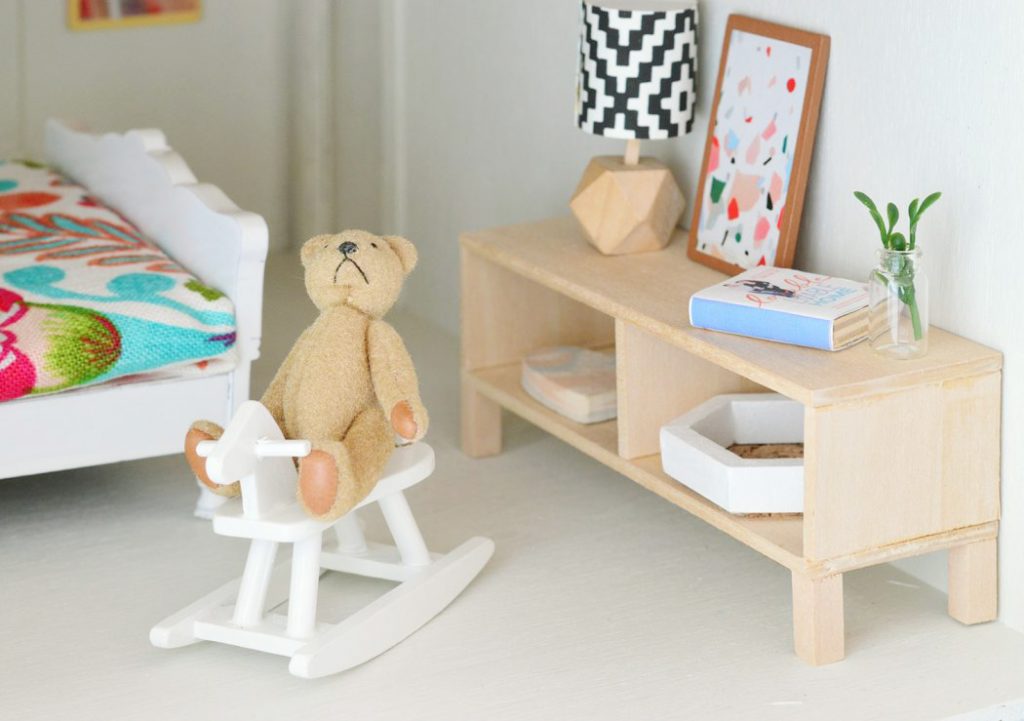 Here's a wider shot of that room, which also has that adorable hanging plant from Jessica, and some flamingo art that we made with more scrap wood + a magazine clipping, and the bed that we easily reupholstered (the bed came with a pink cushion glued to the formerly wood-toned frame, so we peeled that off, painted the bed white, and covered the pink cushion with patterned fabric that we duct taped in place from behind and glued back down to the bed with craft glue).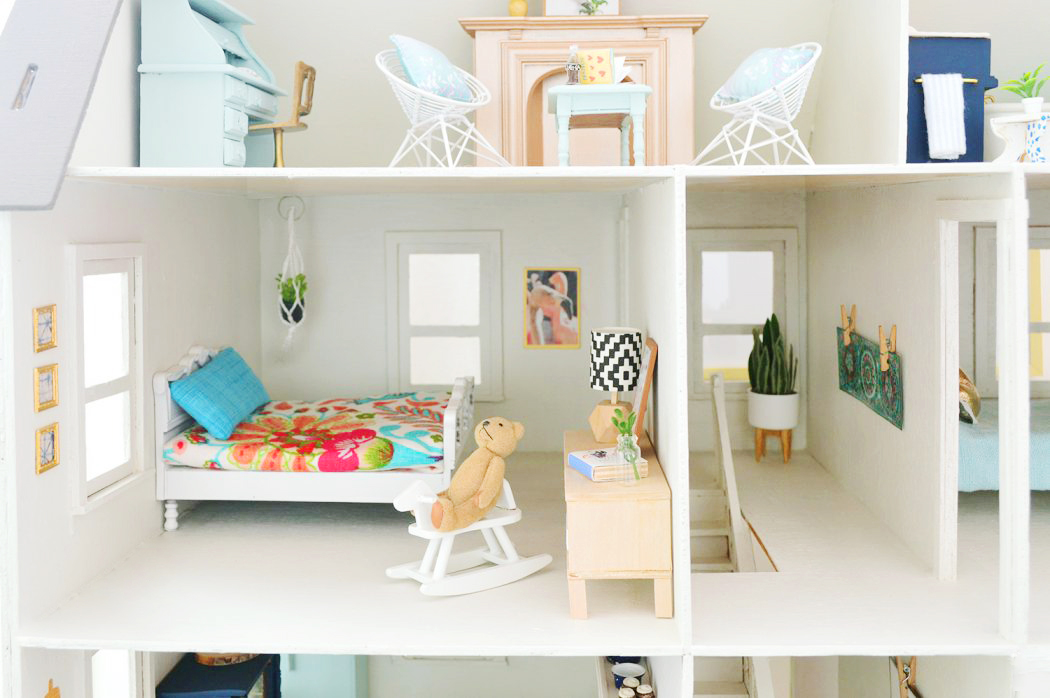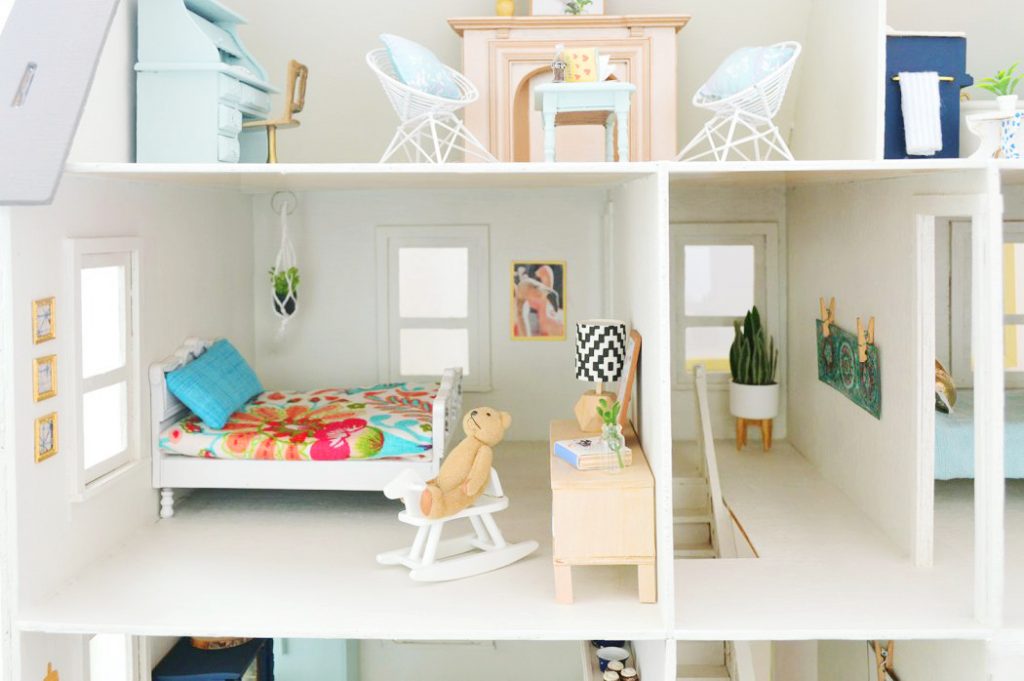 Oh and see those gold frames on the left wall? Those were old dingy frames with maroon and brown art that came with one of the dollhouses (they were glued to the walls of our other one) so I peeled them off, popped out the old art, and we framed some more tiny magazine clippings of things we thought were cute (indigo dyed pillows, cropped into small squares = tiny indigo dyed art prints).
Over on the other side of the hall in the middle level of the dollhouse is another bedroom, complete with a small plastic cat we had leftover from some small toy our kids have had for ages. We also made more wood art leaning on the mantel, and even cut out that glowing eyeball wall sign that we found in a magazine (our daughter loves how the plug makes it look like it's plugged in behind the fireplace).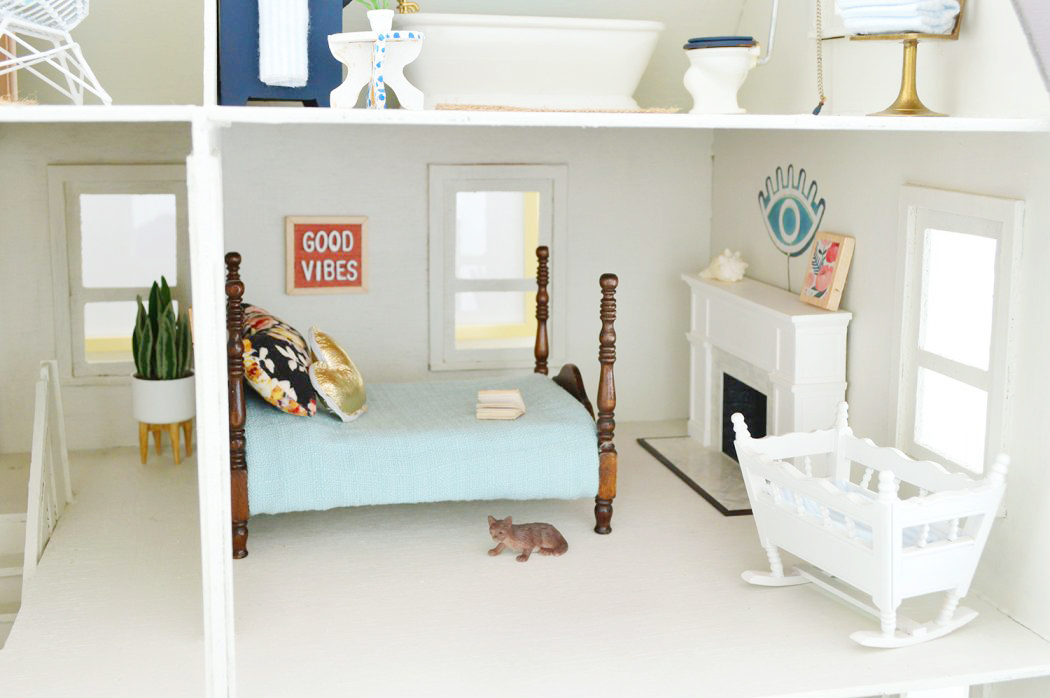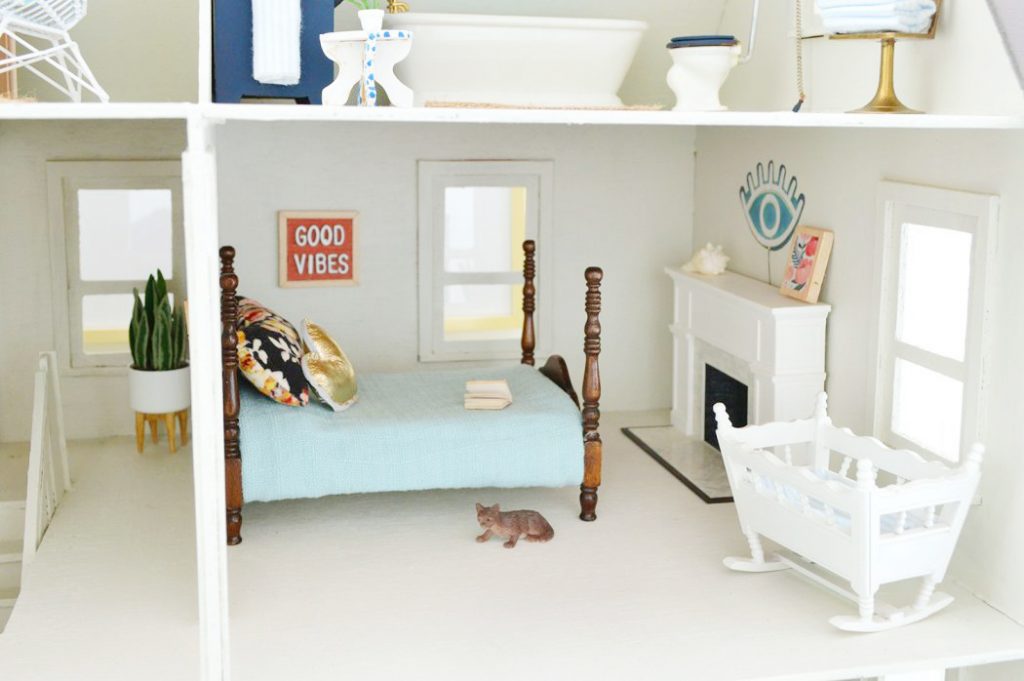 And speaking of that fireplace…. does anyone recognize it?! It's a tiny replica that our UK friend Lisa Harrold sent us of our actual fireplace makeover from our last house six years ago! I told you I save all the miniature things!!! Isn't that amazing?!?! Our dollhouse has a replica of a marble fireplace that we actually installed in our last house. HOW AM I EVER GOING TO GET OVER THAT?!?!
We reupholstered this bed in a similar way – this time the fabric base didn't pop off like the other bed, so we just wrapped fresh fabric from our scrap pile right around both sides of the bed and used duct tape to secure it around the bottom of the bed. SO EASY! Took ten seconds. And as for that tiny letterboard that says GOOD VIBES, and the little gold heart pillow – I can take no credit. It's my crafty friend Jessica again! Maybe if we all beg her she'll open a little dollhouse store and we can buy all of her cute miniature things because SHE IS MADE FOR THIS!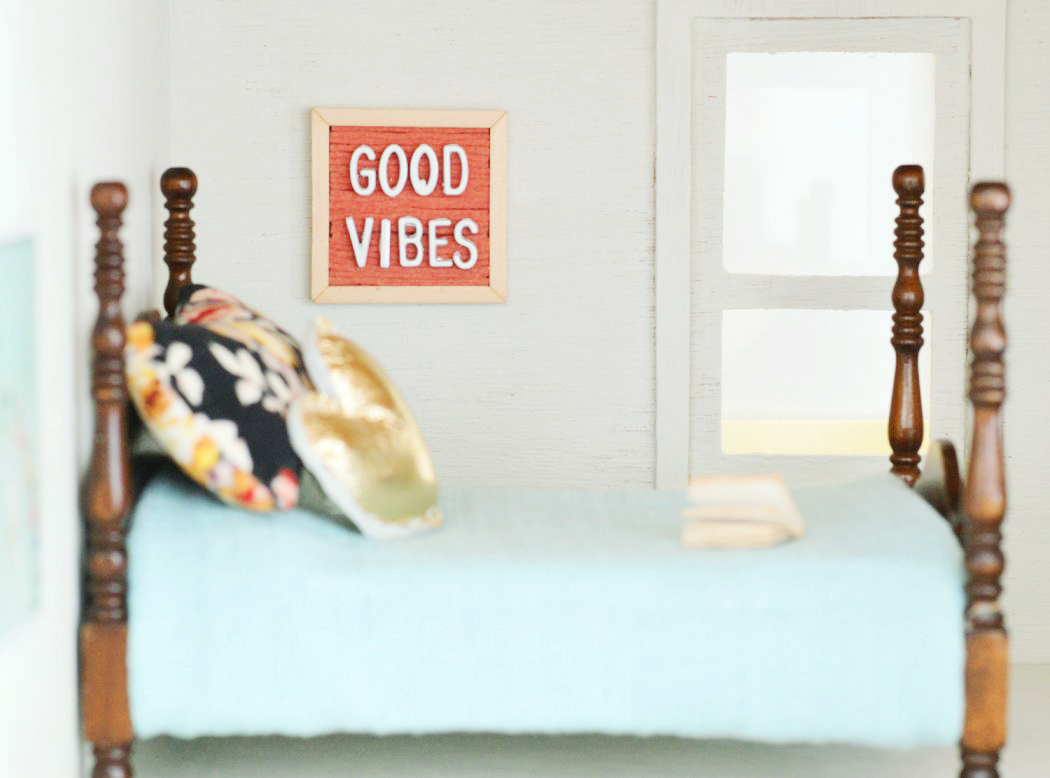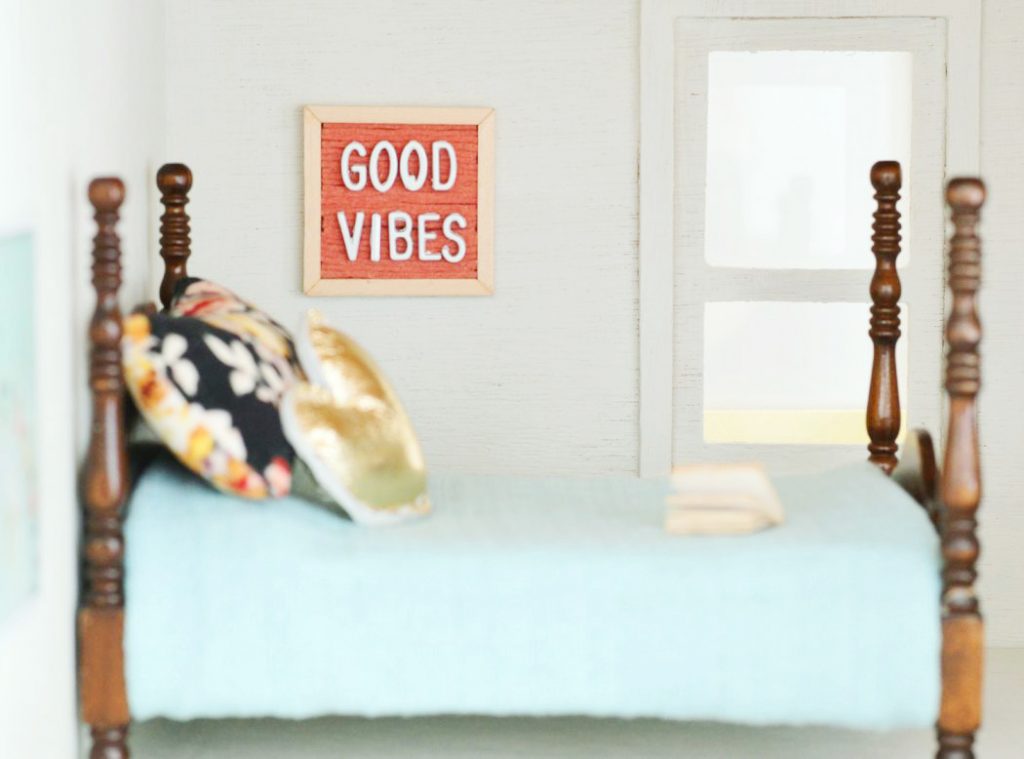 Popping up to the attic, we have a bunch of old secondhand furniture that we rescued with fresh paint. The fireplace got some rose gold paint (we used that a lot in our first dollhouse makeover – my biggest tip is to super shake it before you use it or it's really thin) and the old secretary desk got some light blue craft paint (the same color we used on the kitchen cabinets & appliances). The little wire chairs are things we had bought for our daughter's very first dollhouse back when she was two (they were little shelf decor items from West Elm… but you know me and miniatures! I save them forever!).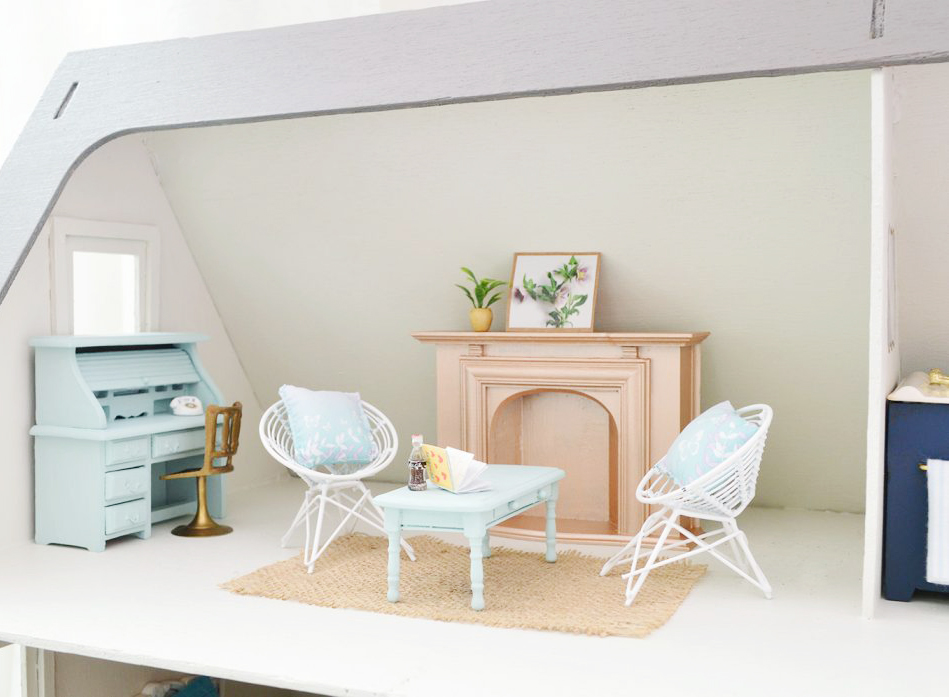 And the pillows I made. No duct tape on 'em, I actually sewed them! And I stuffed them with cotton balls! Ha! We also made another super easy burlap swatch rug for this space, and I'm not usually one to brag, but did you notice that this house has three fireplaces?! I mean…. HIGH LIFE. We made the art on top of the fireplace (magazine clipping glued to a slightly larger rectangle cut from a grocery store paper bag) and the little potted plant on the mantel is a wood bead + a faux sprig I cut and glued into it (more on making faux dollhouse plants here).
We also tried our hand at making a tiny notebook and it was a success! The cover is a clipping from a magazine that we found (it was an illustration of a small notebook cover that said "Projects", which sparked the idea) and then we just cut some white craft paper to make a bunch of interior pages and folded it and stapled that seam to make a spine (and glued the cover to the front). It might be our daughter's favorite thing in the house because we made it ourselves and it's so small and cute. The little coke bottle came with this dollhouse, along with a ton of old furniture and stuff.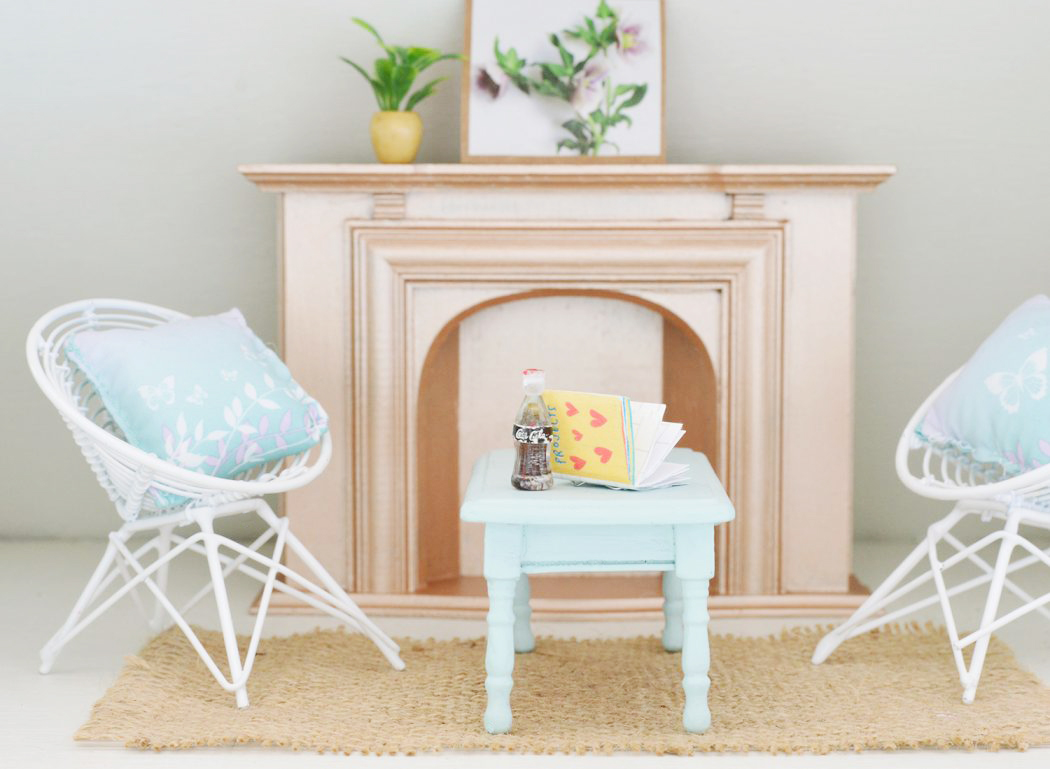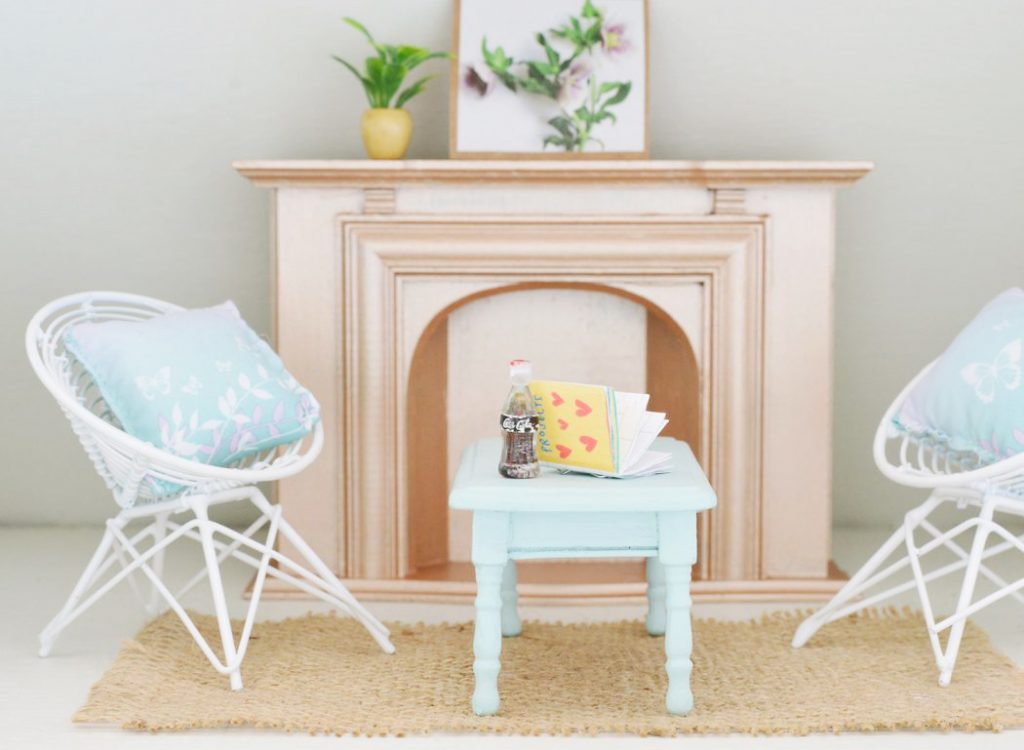 Oh wait, but I just realized I didn't call out another one of our daughter's favorite things in the house. Let's revisit the living room for a second. See that pizza in a box on the little pink table by the window? That's actually AN OLD PIZZA SHAPED ERASER! It came in a pizza box, and it's some GENIUS SAVED IT WITH THIS DOLLHOUSE! So when we dug through the old box of dusty old furniture it was in there and our daughter was SO PSYCHED. It's so much fun with that little fake coke can. Also, the imaginary residents of this house clearly have a soda addiction.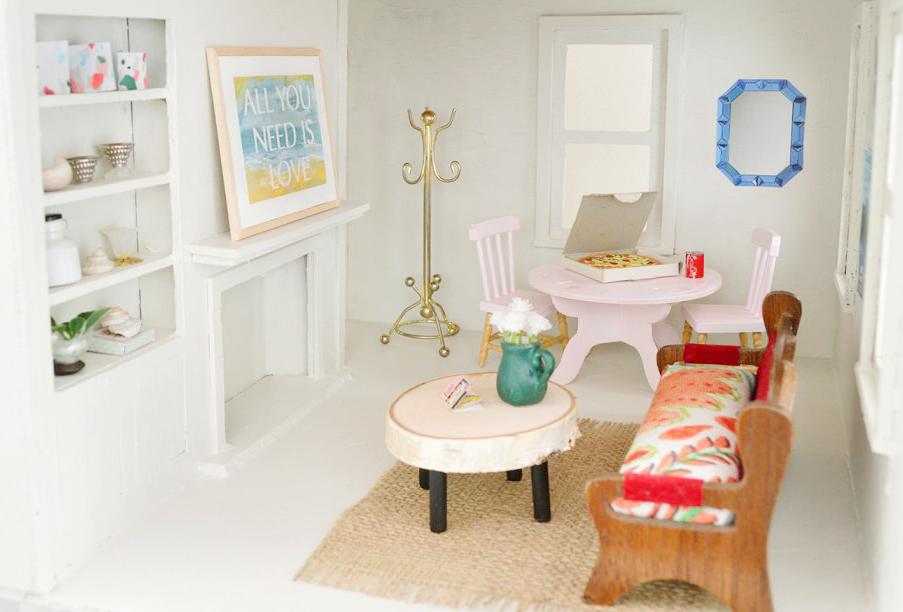 Ok, but back to the third floor, where you can find this cute little old fashioned bathroom on the right side of the space. I LOVE the old toilet tank with the pull chain, which also came with this dollhouse. It was all brown and scratched up, so our daughter used more navy paint for the toilet, the seat, and the sink vanity, which looks AMAZING with the gold hardware and faucet. Like stellar move. I'm HERE FOR THIS BATHROOM. We made one more little burlap rug for in front of the tub. So easy.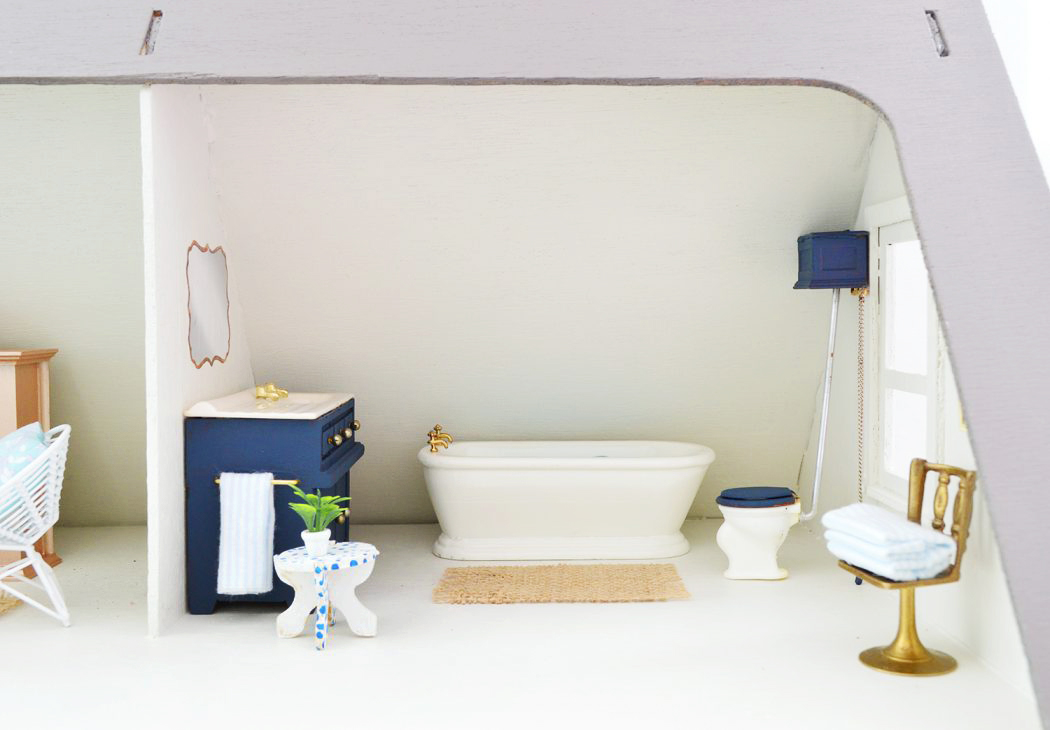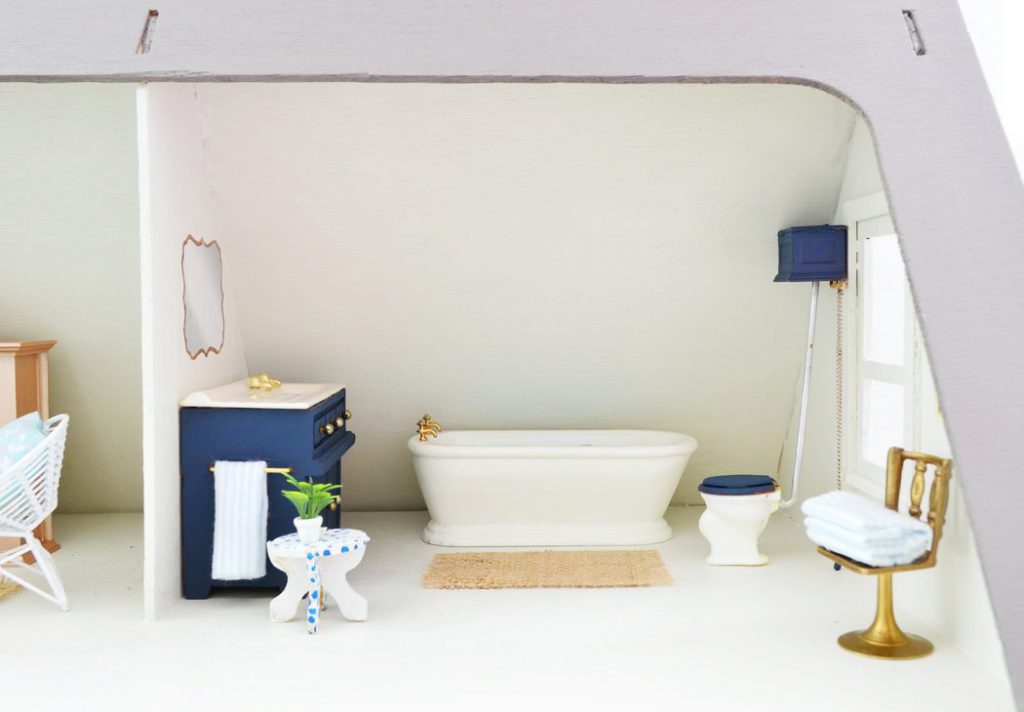 Here's a better shot of the toilet pull chain. Is that not adorable or what? You can also see some more art we made (tiny clothespin + magazine cutout), and I also sewed that little stack of towels that you see on the gold chair. It was just basically a few folded loops of free fabric from our stash, and I used some white thread through the whole stack to "pin" them in place so the folded stack stays together.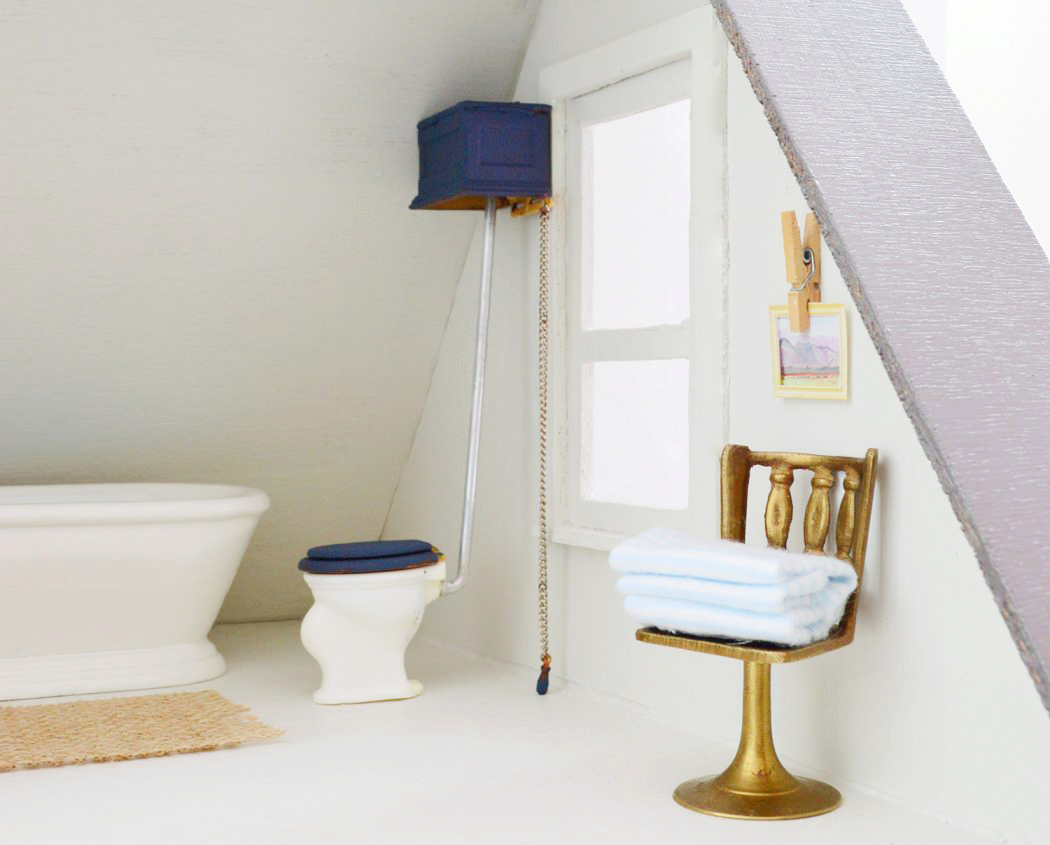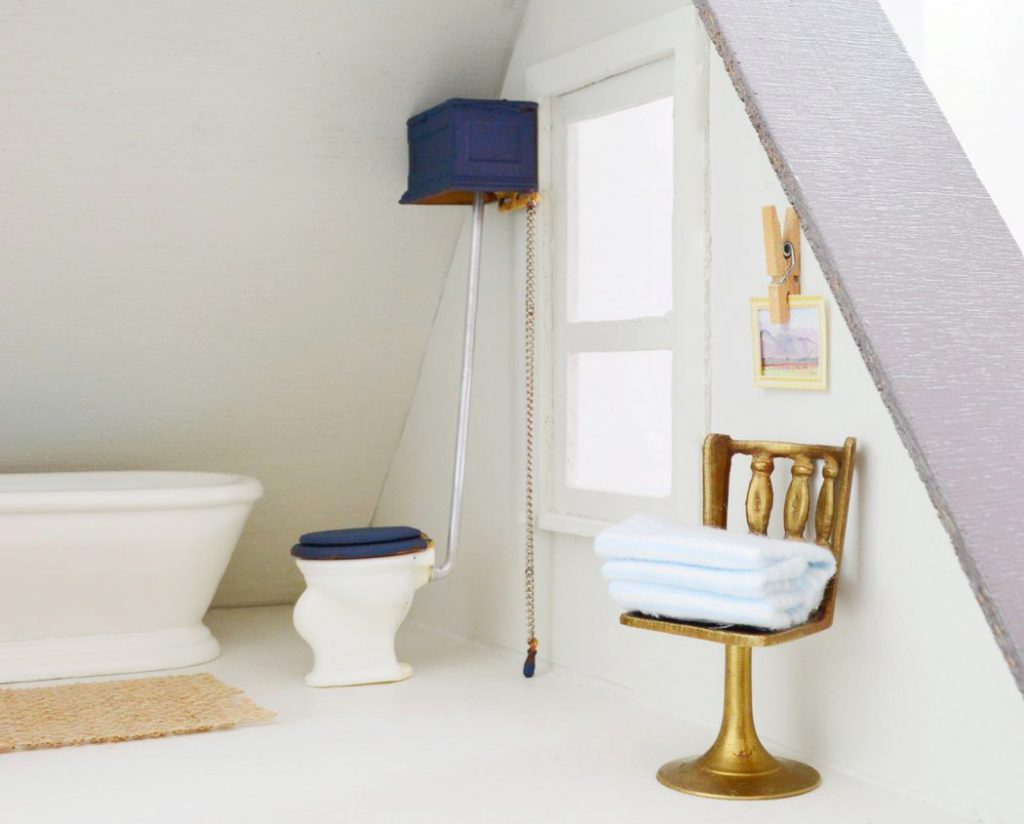 I also cut out a little rectangle of the same fabric to loop over the little gold hardware bar on the side of the sink as a hand towel. ALSO HOW CUTE IS THAT SINK?! I died over the little ceramic top and all the gold touches. We also cut out a gold mirror from a magazine and glued it on the wall above it. We want to eventually add more real 3D stuff (real miniature mirrors, real lights that work – maybe even some real sconces!!!) but for now, it's a good start.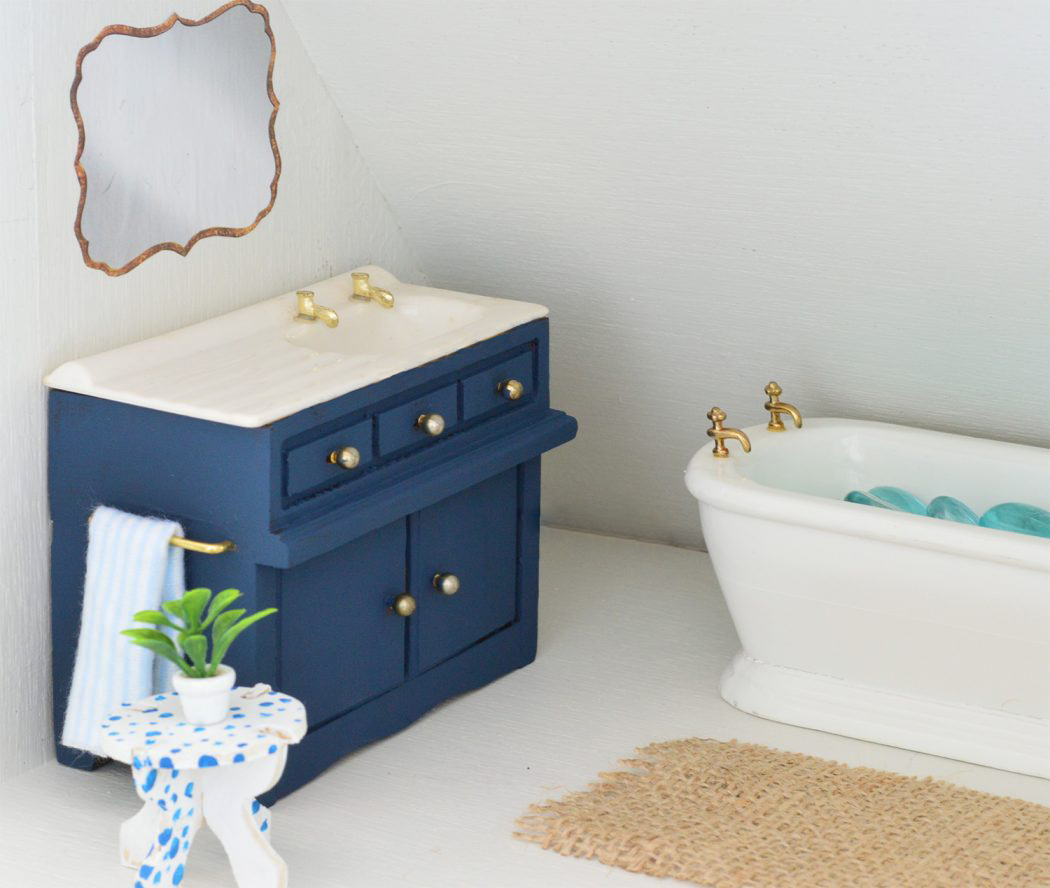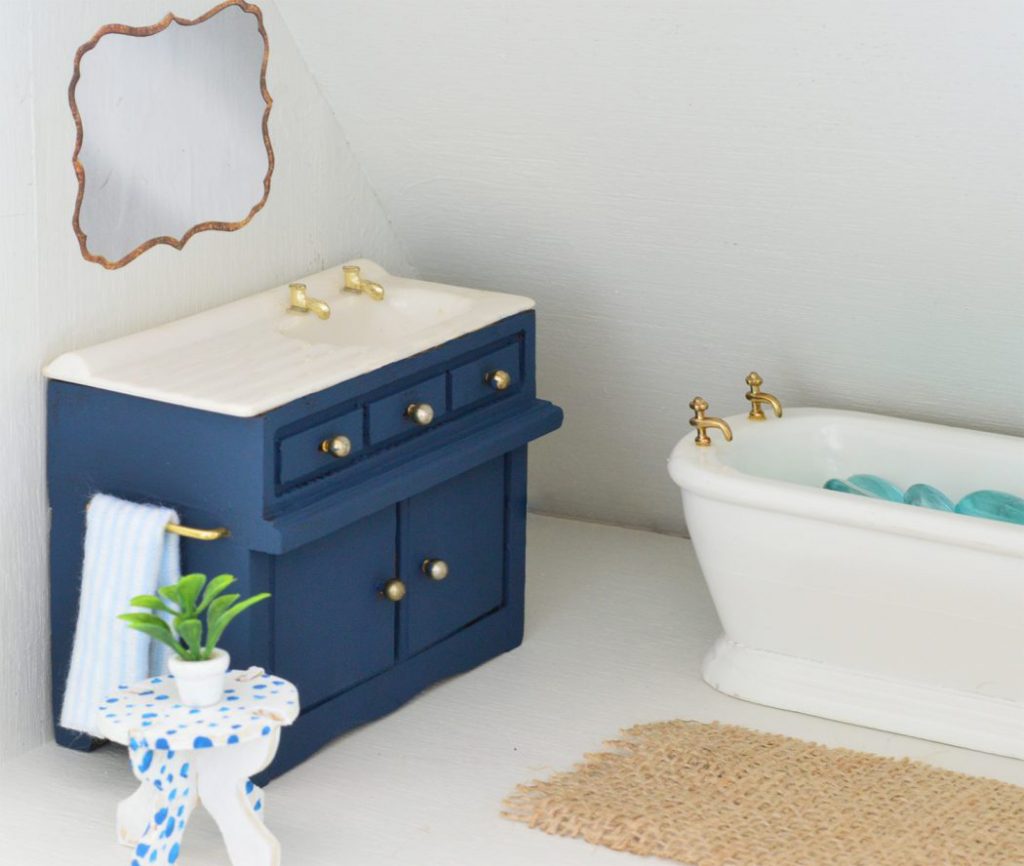 Oh and can you see how in the tub there are little blue-green beads you might use as vase filler or whatever in the photo above? They're these little round disks, and the kids LOVE IT in the tubs for their figures to take real baths (minus real water). Adding little interactive things like towels for hand drying and "water" for baths makes everything more fun in these little houses!
So there it is, a tour of our second tiny house makeover, and I promise to update you guys down the road when we've done enough to warrant some sort of big update. In other words, I won't do a post all about how we made the slate roof – but if we redo the roof, add a spiral staircase, and install some real working lights for example, I'll update you in one big post.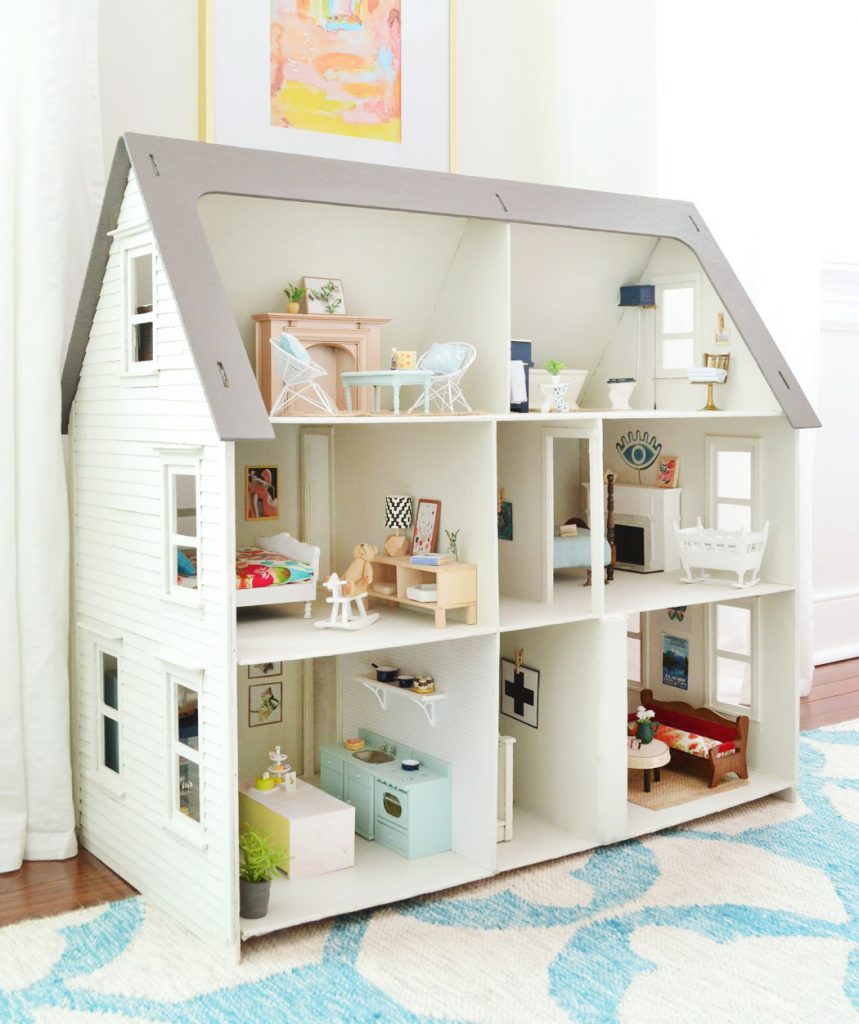 P.S. These have been such a joy to work on with the kids. I LOVE seeing their little minds churn with ideas, and I love showing them that whatever they dream up can probably be done…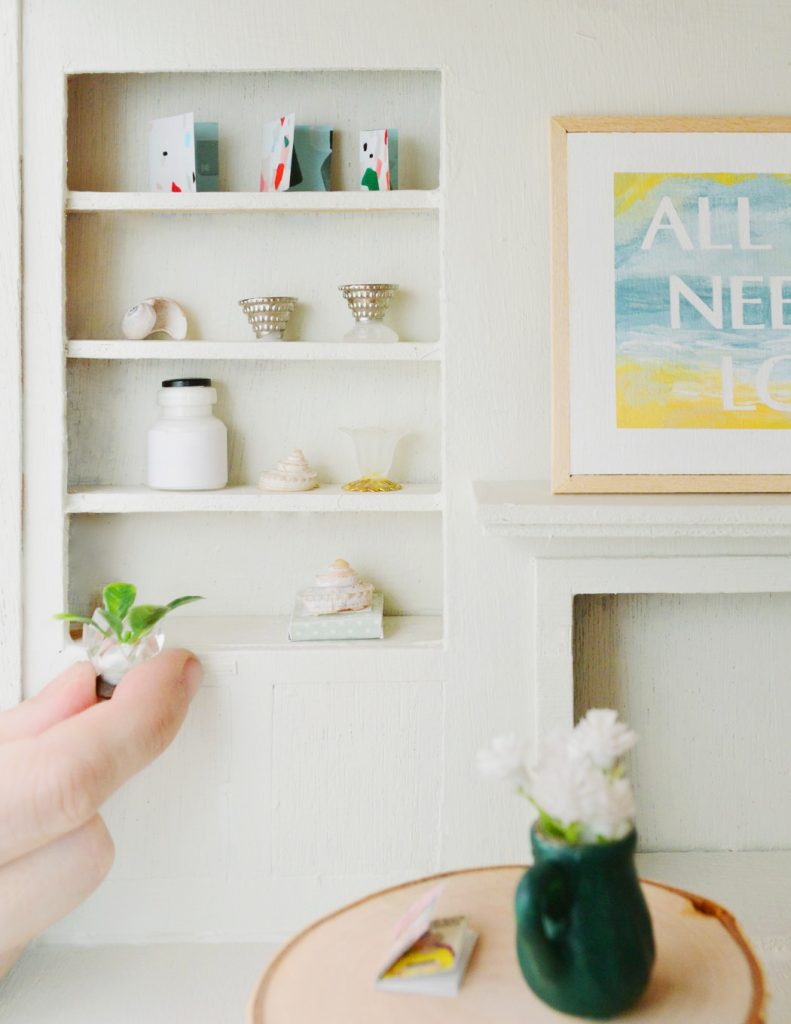 … and probably a lot easier and for a heckova lot less money than real life renovating! Ha!
P.S. Don't forget to check out our first dollhouse makeover if you missed that. And for the backstory on that amazing miniature fireplace made by Lisa in the UK, here's the full scoop (the Burger pictures in that post kill me).
*This post contains affiliate links*