We can officially stick a fork in it, guys. Well, Sherry actually stuck an oversized fauz clam shell in it, but that's doesn't roll off the tongue quite as well. Either way, the fireplace makeover is complete.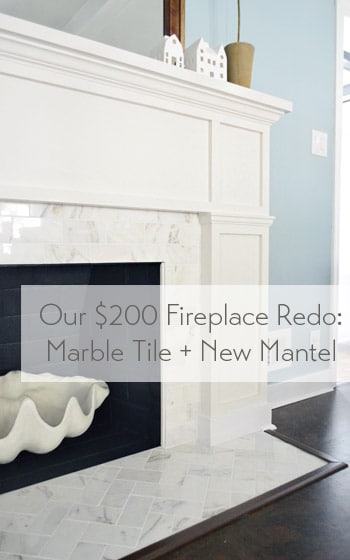 To back up a smidge, you saw us devise a plan for this little refacing makeover, add some marble subway tile and then build out around it. Reminder: fireplace code is different in every area (and requirements vary if it's wood burning or if it has a gas insert, etc) so it's a good idea to check that before going nuts on your fireplace.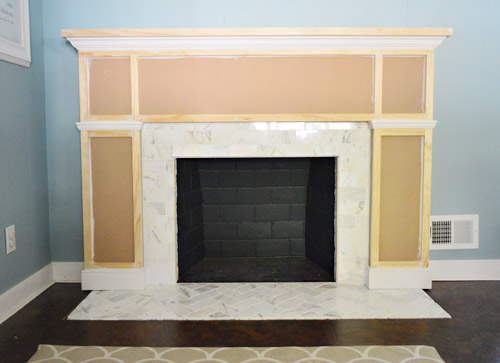 Our fireplace is non-working (we'd love to add a gas insert and even double-side it down the road) but for this phase of the process all that was left was to add some primer and paint.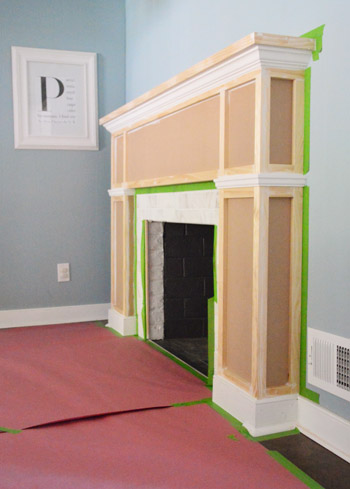 I'll spare you the play-by-play of the painting process because it wasn't all that exciting. First we primed (using what we already had on hand) then painted the whole thing with Benjamin Moore's Cloud Cover since it's what's on the nearby cabinets (and because we had some leftover). After that we did some touch-ups, like giving the firebox itself a fresh coat of its original color (Benjamin Moore's Temptation) Note: use fireplace-approved high heat paint if you have a working fireplace.

And after giving it a couple of days to "cure" we put everything back so that we could call this puppy complete. And it's a puppy that I kind of want to curl up with (yes, Sherry pets it).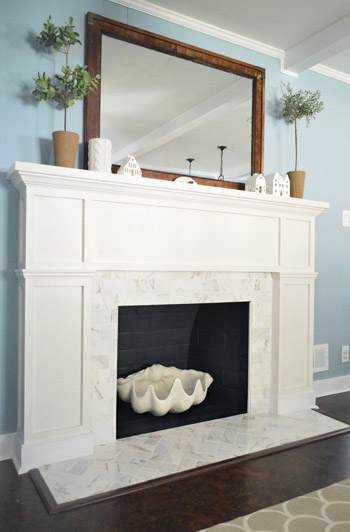 Update: A few folks are asking if we considered widening the tiled heath to match the width of the built-out sides of the fireplace – we did, but since it's just a bit of shoe molding (which also extends around all of our cabinets) it didn't bother us enough to rip up cork to make it happen. Perhaps down the line we'll paint the brown floor trim white to make it appear wider if it bothers us :)
Here's an obligatory before and after for ya: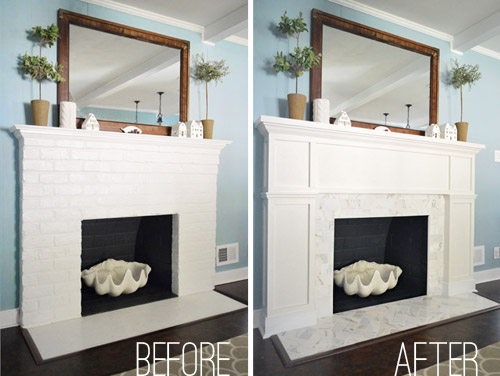 But I much prefer this one, which shows what the fireplace looked like when we bought our house back in 2010…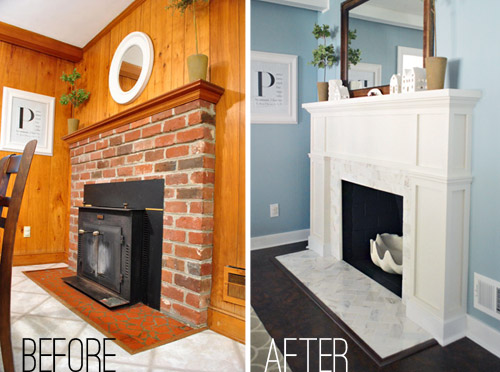 Since the painting step didn't cost us any extra money (we used supplies that we already owned), the total cost for the project is just the addition of the two budgets we've already shared (tiling was $99 and building out was $98.75) but here's the full breakdown:
Cement board (2 sheets): $16
Masonry screws: already owned
Liquid Nails Heavy Duty: $2
Subway tile: $5.50/sq ft, totaling $70
Thinset: already owned
Tiling tools (saw, trowel, float, etc): already owned
Grout: $11
Tile sealer: already owned
MDF frame: $35
Mantle top: $17
Crown, baseboard, & decorative trim: $22.75
1 x 2″ boxes: $24
TOTAL: $197.75 (* thanks to holiday gift cards from the family we only spent $147.75 – but without gift cards or already owned supplies this might be a $250 upgrade)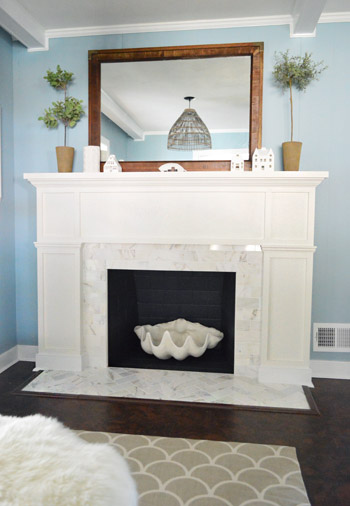 Definitely not our cheapest project, but we love it. The herringbone marble tile and the tailored built-out surround looks pretty darn expensive (at least in our humble opinion). We've never had a tiled fireplace so we suddenly feel very swanky indeed. Perchance I'll start sporting an ascot.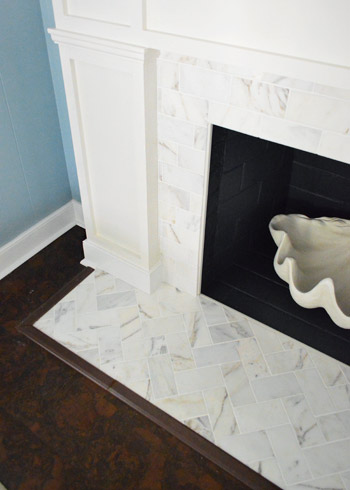 Some of you were curious about how we concealed the exposed edge of the cement board around the firebox. We just used a piece of trim that we had in our scrap pile (it's slightly rounded on both sides). Before grouting we glued it in place to provide a clean edge to grout up against and now it's painted to match everything else. Obviously for a functioning wood-burning fireplace that's no bueno, so you'd probably want to use something like this. And if we ever convert our fireplace to a wood-burning one (which is unlikely since it would require a ton of chimney work) we'll just pop out the wood trim and install tile edge pieces.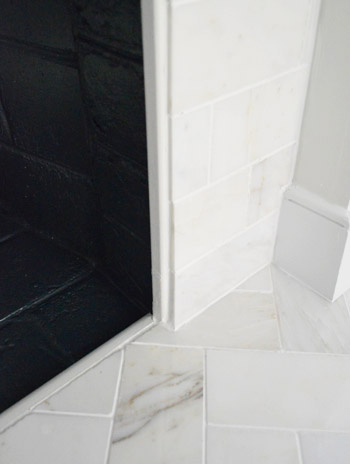 Now back to the gratuitous after shots.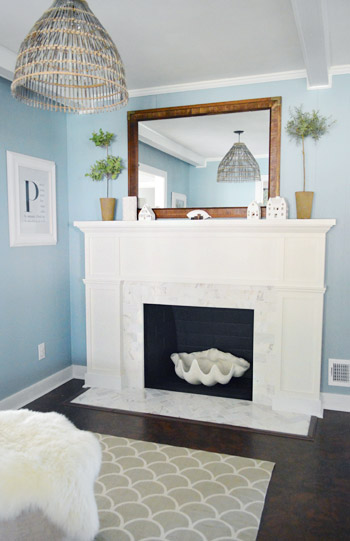 Ok, one more and we're done.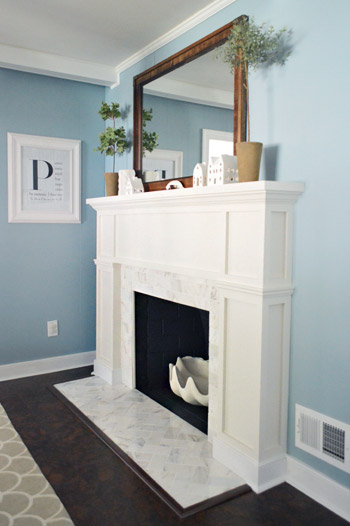 Just this guy and I'm out.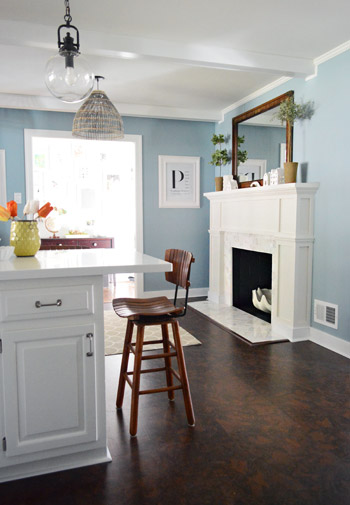 Oh wait, here's a good comparison shot that shows how the original fireplace was pretty thin and even a little top-heavy, while the new chunkier tiled-and-framed-out version feels more "focal-point-ish." In person has even more dimension (unfortunately photos of a white-ish surround with white-ish tile don't depict all the texture and interest that they have in real life).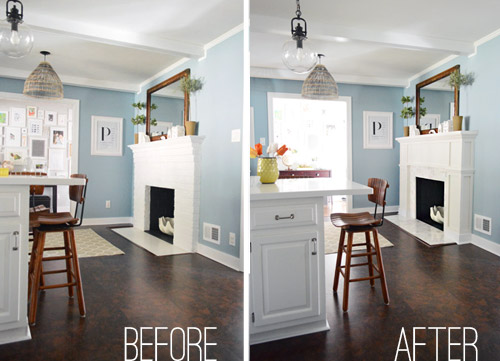 But perhaps best of all, our wall of penny tile on the other side of the room no longer feels like it's "the fancy wall" while the rest of the kitchen struggles to keep up. The herringbone marble fireplace finally gives the penny tile a run for its money, in the best possible way. According to Sherry "it's a swank-off in our kitchen." Fireplace vs. wall o' penny tile. Who will win? It's anyone's guess. (Spoiler alert: Sherry says the wall of penny tile wins because she pets it slightly more than the marble but it's very close.)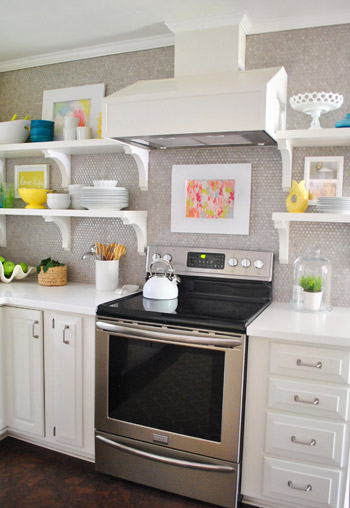 So that's the end of our little fireplace update. We're really glad to have it done and are looking forward to some porch and carport updates. So come on end-of-March snow, give it a rest so we can get outside and start working! What are you guys doing? Any tiling, mantel building, priming, or painting? What about placing giant clam shells around the house? Any of that going on? That's all in a days work for my lady.
P.S. If you want to read about this makeover from the beginning, check out our planning process, how we tiled and how we built out the wood frame around it.
Update – Wanna know where we got something in our house or what paint colors we used? Just click on this button: