I took home another ceramic animal.
Is there a support group for this? (Hi my name is Sherry and I hoard porcelain mammals)
I totally understand that they're not everyone's cup of tea – not even close – but for some reason they're like catnip to me. I can't stay away. And I've realized that I'm attracted to certain characteristics when it comes to these fake friends of mine. I don't like them too cutesy and sweet. In fact I usually like them very hard and prickly looking. For example, my beloved rhino is ruff and tough and armed with horns.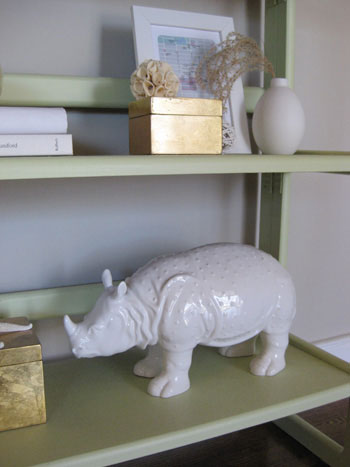 Kind of like my no-nonsense iron bull.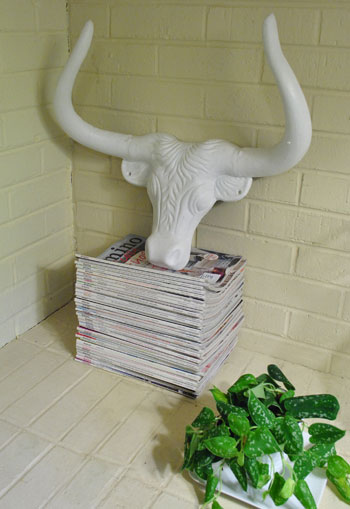 And my muscular bite-your-face-off ceramic pooch. And my harsh and haunting concrete greyhound (decked out with a bow for Christmas in this pic). Ok, so he's not ceramic, but he's close…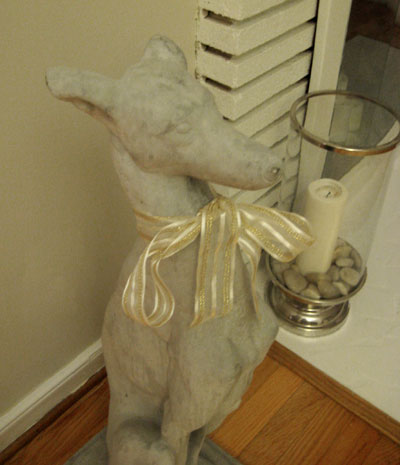 And my serious and angular horse bust (there's nothing my-little-pony about him).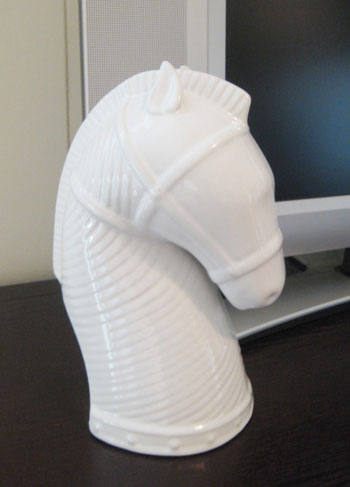 Sure I have a few cute-ish porcelain pig hooks (gotta get Clara on the ceramic animal bandwagon early)…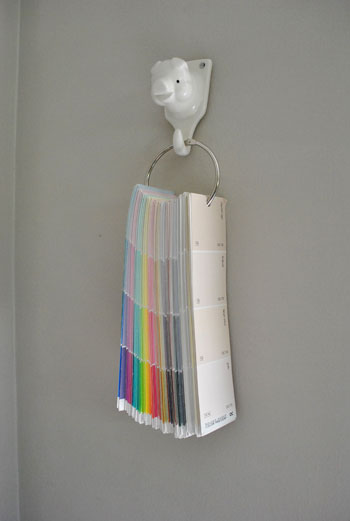 … and even some sweet ceramic birds. Sidenote: You know that scene in Cinderella where birds fly through her window and try to dress her? In my dream version they'd be ceramic and instead of dressing me they'd land on all available surfaces and live there permanently.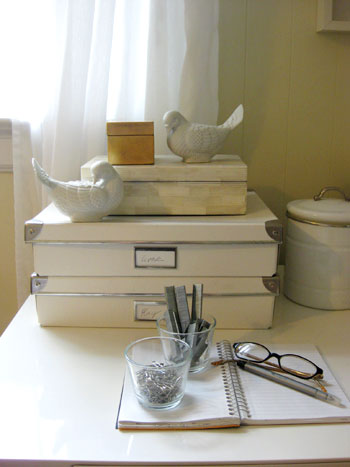 But more often than not I fall hopelessly in love with tough- even sinister- objects that make up for their malice with glossy and chic white exteriors. Maybe it's that balance of rough and smooth or angular and light that I love.
So when I saw this nasty wart-riddled ceramic frog for $1.99 at Goodwill I had to take him home and add a crisp white coating of high gloss spray paint…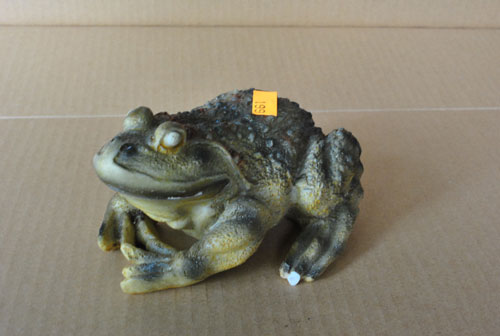 There, so much more charming! Almost kissable I'd say. How many points do I get for working two random Disney movie references into one post?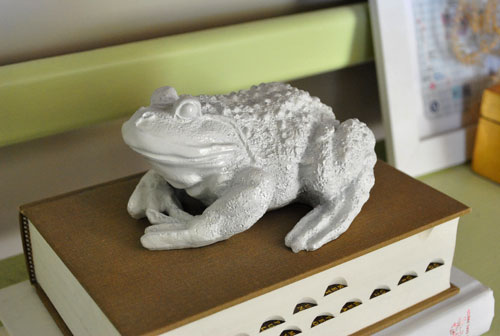 Or is it just me who finds glossy white ceramic frog friends to be approachable and endearing?
It's probably just me.
But the lesson here is that: something you like from Goodwill (not necessarily the color, but the shape) + spray paint = your own personal state of Nirvana. And it doesn't have to be white paint either. We think a hot pink or a turquoise frog (or even an antique bronze or hammered platinum one) would look quite posh indeed. Just go with whatever color you're feeling at the moment. Remember our buddy Lumiere who we recently spruced up? Bam, there it is: a third Disney reference.
What have you guys been collecting or spray painting lately? Is there anything in particular that you're always on the lookout for? Or any specific animal that you'd like to add to your own personal menagerie?